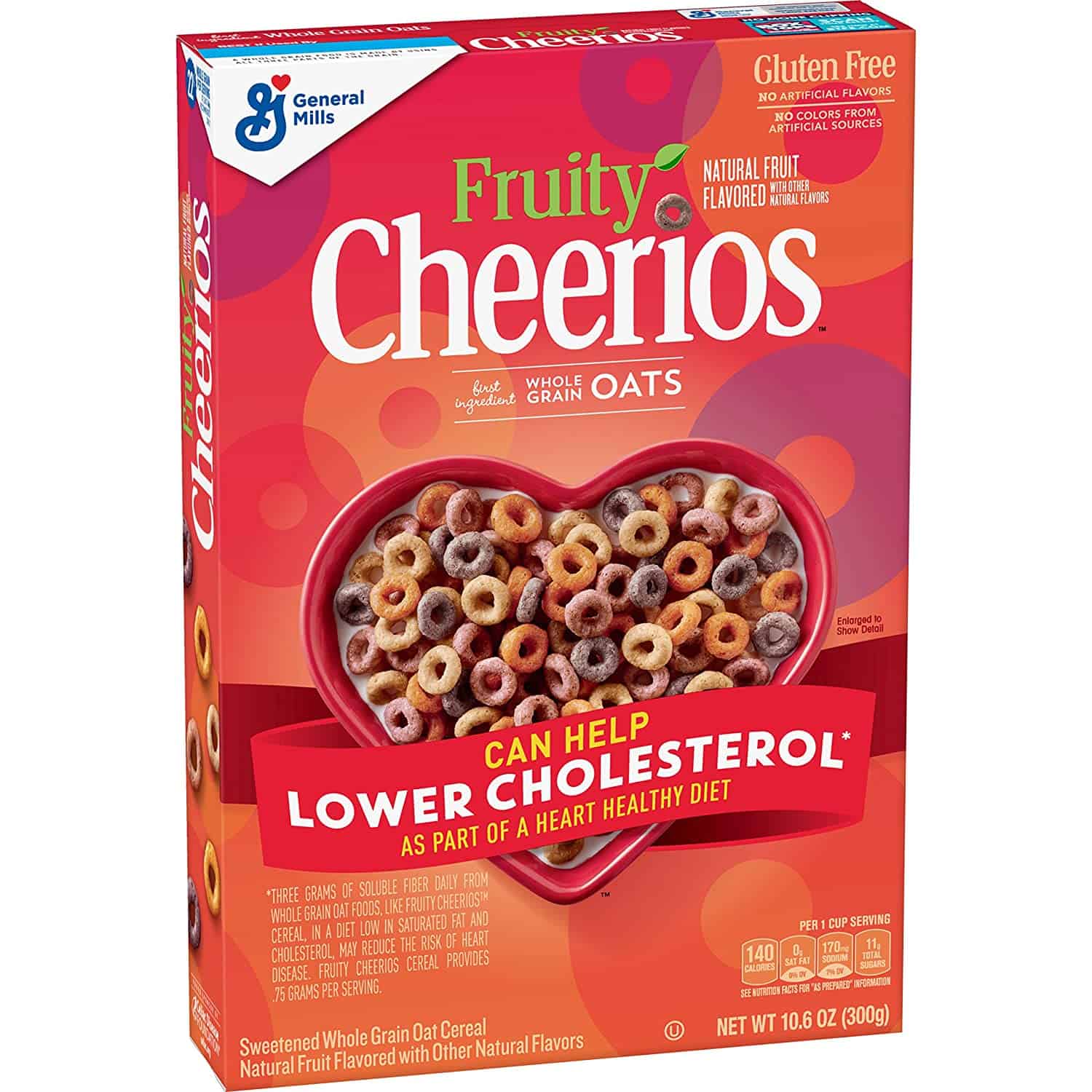 Crunchy with a tasty natural fruit flavor, Fruity Cheerios was introduced by General Mills in 2006. Now available worldwide, it's become a go-to breakfast option for many households.
After all, most of us would love the idea of having a ready-to-eat bowl of cereal on busy mornings! But how healthy are those little O's? Are they a good source of fiber?
Here we'll break down the nutritional facts of this breakfast cereal to see whether it can be considered a healthy option or not. To find out more about this fruit-flavored treat, scroll down as we explore it in detail.
Nutrition Facts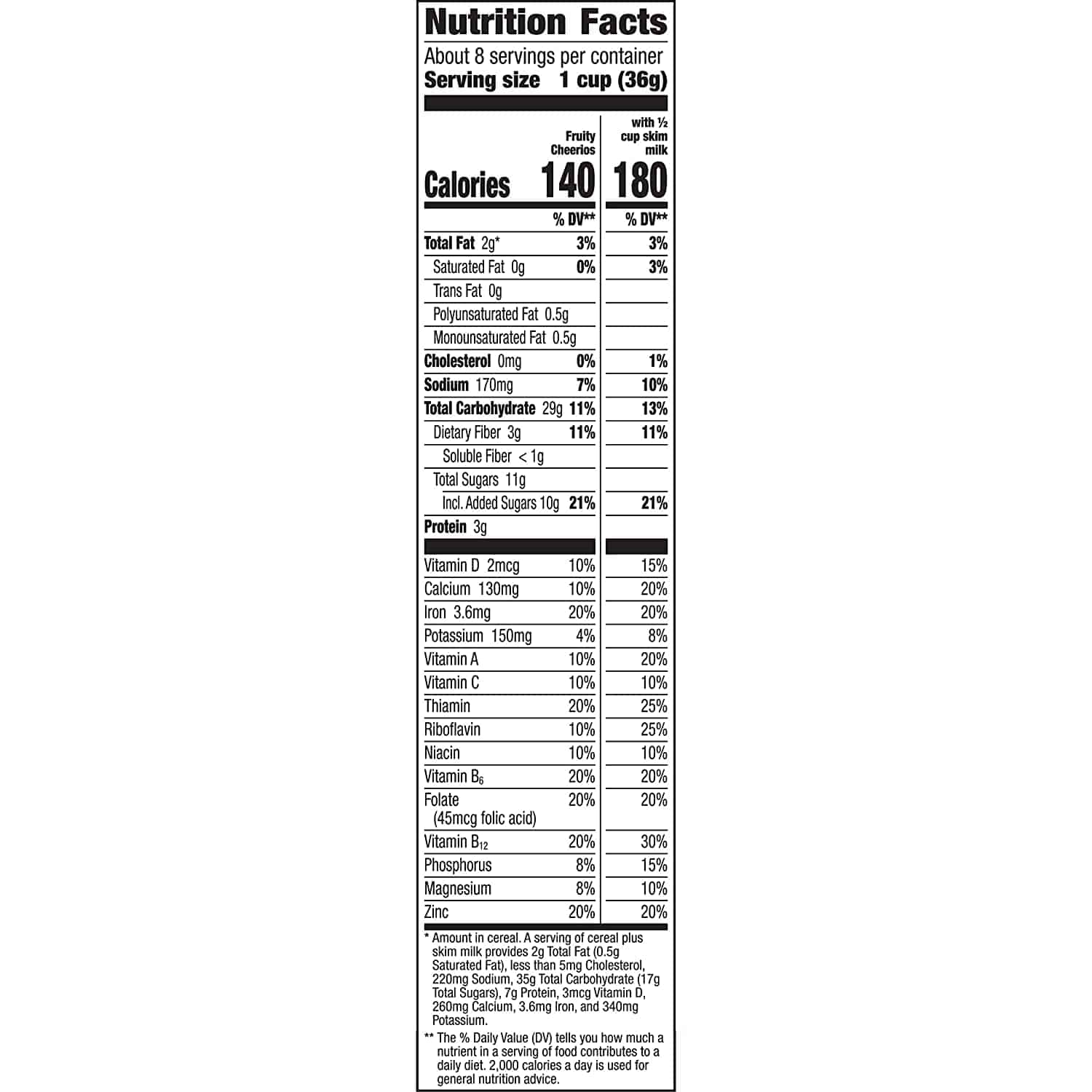 Fruity Cheerios is a breakfast cereal made from whole grains in a tiny ring-shaped pieces, with the taste of fruit juice. But, how unprocessed are the ingredients responsible for the "fruitiness" of the cereal?
Thanks to the pear puree concentrate, there's some fruit, but the fruit flavors are artificial flavors mainly derived from "natural flavors" rather than real fruit.
The colorful fruit colors come from artificial colors such as Red 40, Yellow 6, and Blue 1, which are possible carcinogens and have been linked to causing hyperactivity in children.
As for the claim on the box that Cheerios is a good source of vitamin and mineral nutrients, they are artificially added to the cereal – they're not part of the initial ingredients. Relying on nutrients that are simply fortifications of an already nutrient-poor food product isn't the way to eat healthily.
Consuming artificially added nutrients isn't the same as eating them in their naturally-occurring state from vegetables, fruit, or unprocessed whole grains. Let's take a look at the nutrition facts of this cereal:
Calories: 100
Fat: 1.5g 5% DV (daily values)
Sodium: 125mg 5% DV
Carbohydrates: 21g 7% DV
Sugar: 8g
Fiber: 2g 8% DV
Protein: 2g
Calcium: 10% DV
Iron: 25% DV
Zinc: 25% DV
Folic acid: 50%
Vitamin C: 10%
Ingredients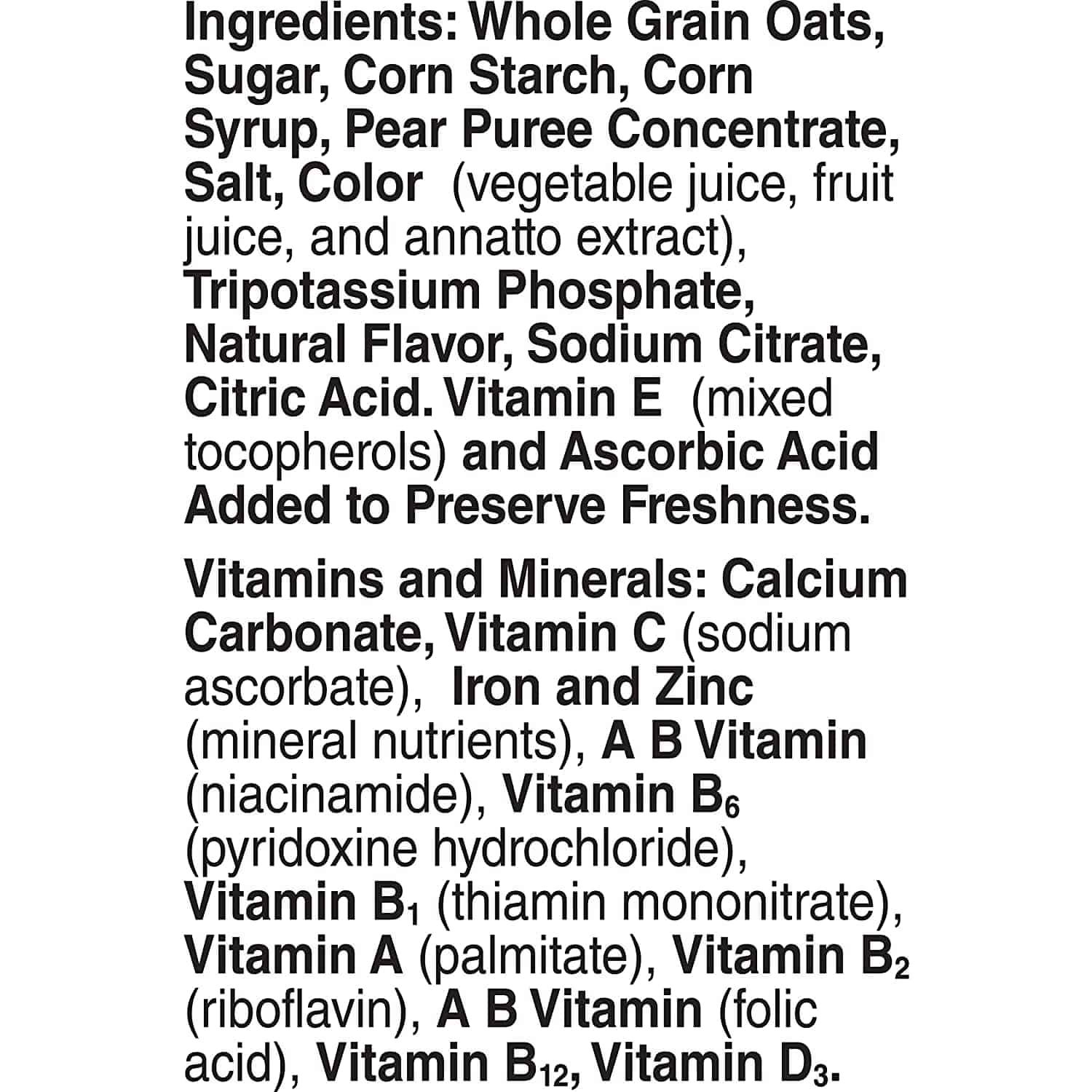 The ingredients in these fruit-flavored Cheerios cereal includes:
Whole grain oats
Whole grain corn
Sugar
Pear puree concentrate
Color – Red 40, Yellow 6, Blue 1
Corn syrup
Corn starch
Natural flavor
Ascorbic acid added to preserve freshness
Are Fruity Cheerios Healthy?
All Cheerios varieties, this fruit flavor included, are marketed as a healthy breakfast cereal that can help reduce cholesterol thanks to its base of whole grain oats.
Whole grains are indeed good for you. But, one look at the label, and you'll see some rather unwelcome ingredients in those little ring-shaped pieces—one of those being sugar.
As far as sweetened cereal goes, this variety does contain slightly fewer sugar levels than the average cereal, which typically has three teaspoons in each serving.
With 9 grams of sugar, Fruity Cheerios contain over two teaspoons. A good cereal to aim for has less than 6 grams of sugar, or a teaspoon and a half.
Are Fruity Cheerios Gluten-Free?
Yes, most Cheerios cereal flavors are labeled as gluten-free, and Fruity Cheerios is no exception. This label means the product has been thoroughly tested to ensure it contains no barley, wheat, or other gluten ingredients. If you suffer from intolerances or Celiac disease, you can safely eat this fruit-flavored cereal.
Are Fruity Cheerios Vegan?
Technically, no, Cheerios, in general, are not vegan-friendly. However, this depends on your preferences and how strict of a vegan you are. The reasons for it not being vegan-friendly may be surprising – the first culprit being sugar.
Before it has its trademark snow-white color, cane pulps were brown. To transition from brown to white, the pulps are filtered with animal bone char.
So, although sugar itself isn't an animal product, the process it undergoes uses animal by-products which some vegans may not feel comfortable consuming.
Are Fruity Cheerios Keto?
Unfortunately, no, Cheerios aren't suitable for keto dieters. This is because it's a highly processed grain product and the ingredients undergo substantial processing to make the cereal.
It's also packed with unhealthy ingredients such as sugar, preservatives, and corn syrup. The sugar and syrup could raise your blood sugar levels, which completely defeats the point of a keto diet.
It's also very high in carbs which is bad news for keto dieters, whose carb intake is generally kept to around 20-30 grams per day to stay in ketosis.
Are Fruity Cheerios High In Protein?
Breakfast cereals are usually marketed as complete meal options. But, many of them severely lack protein, and Fruity Cheerios is no different. We're all aware that protein is essential for a healthy diet.
Consuming a good protein source at each meal is a great way of ensuring you meet your daily protein needs. Sadly, with only 3 grams per serving, Cheerios is a very poor source of this important nutrient.
Are Fruity Cheerios High In Fiber?
Despite the whole grain goodness promise, the fiber count in this cereal is very low – just 2 grams per serving. This is disappointing considering General Mills' whole-grain goodness marketing. Look for cereals that provide at least 3-4g of fiber.
Fruity Cheerios Varieties
This natural fruit flavor of Cheerios cereal doesn't come in any other varieties, but there are other fruit flavors if you can't find this one in stores. This includes Chocolate and Strawberry, Very Berry, Blueberry, and Apple Cinnamon.
Fruity Cheerios Store Brand Alternatives
There are a few store brand alternatives available in places such as Kroger, which sells its own Toasted Strawberry cereal and Apple and Raisin instant oatmeal for a high fiber option.
Alternatively, if you're looking for a high-protein cereal, Kroger sells a delicious own brand Mixed Berry Granola.
Where You Can Buy Fruity Cheerios?
These fruit-flavored Cheerios can be found on sites such as Amazon. They may also be available in major grocery stores. Unfortunately, Fruity Cheerios can't be viewed on the Cheerios website, so there's a chance they've been discontinued.
Famous Fruity Cheerios Cereal Commercials
Because this variety of Cheerios isn't as old as other flavors, there aren't many commercials for it. However, a commercial was released in 2006 to celebrate its launch. It features two children imagining themselves diving into a huge bowl of Fruity Cheerios during their breakfast!
User Reviews
Review Summary
0 out of 5 stars (based on 0 reviews)
Recent Reviews
There are no reviews yet. Be the first one to write one.
Submit a Review