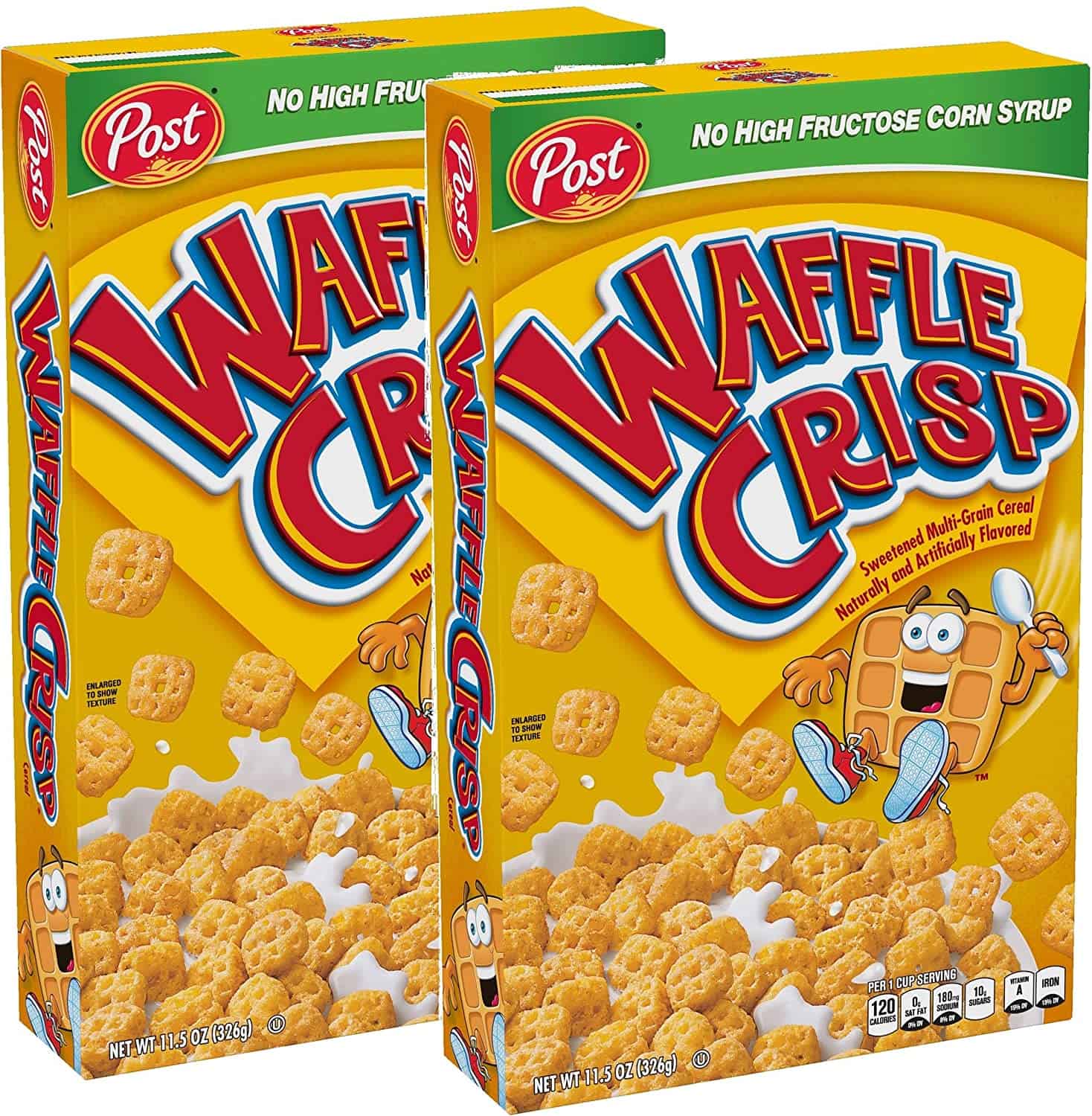 Waffle Crisp cereal is a much-beloved delicious cereal that many of us enjoyed as children. Waffle Crisp is a budget-friendly breakfast cereal thats a great option for those seeking a delightful breakfast treat for the whole family without the hefty price tag that high-brand products come with.
In 2018, the manufacturer, Post, discontinued the product. However, you might have heard that in 2021 they announced it would be returning to shelves and in stock for customers to enjoy once again- promising the same great taste youll remember from crunching your way through a bowl before school.
This hearty cereal features tasty checkered, maple-flavored pieces. The texture and smell of this cereal made it a huge hit with kids all over the country. The fact that the flavor recalls the taste of home-cooked waffles is just another nostalgia-inducing bonus!
Although its color and the fact that it contains no high fructose corn syrup might fool some into thinking its healthy, especially when compared with other artificially flavored and colored cereals like Lucky Charms or Fruit Loops, it isnt quite as healthy as you might think.
That being said, its definitely not the worst cereal on the market either! In this article, well delve into the nutritional features of Post Waffle Crisp cereal to give you the whole lowdown.
Nutrition Facts

A single serving of 1 cup of Waffle Crisp cereal contains 120 calories. Heres a full breakdown of the nutritional values found in a serving:
Total Fat: 2g/3% DV
Saturated Fat: 0g
Trans Fat: 0g
Cholesterol: 0mg
Sodium 220mg/10% DV
Total Carbs: 34g/12% DV
Dietary Fiber: 1g/4% DV
Total Sugars: 15g
Added Sugars: 15g/30% DV
Protein: 2g/4% DV
Thiamin: 0.9mg/75%
Niacin 2mg/13%
Vitamin B-6: 0.2mg/12%
Folate: 40mcg/10%
Pantothenic Acid: 1mg/20%
Calcium: 80mg/6%
Iron: 5.4mg/30%
Potassium: 50mg/1%
Phosphorus: 20mg/2%
Zinc: 2.3mg/20%
Iron: 1.8mg/10%
Vitamin D: 1mcg/5%
Ingredients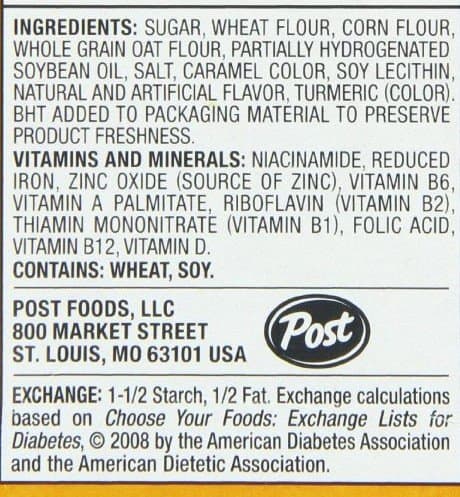 Sugar
Wheat Flour
Corn Flour
Whole Grain Oat Flour
Partially Hydrogenated Soybean Oil
Salt
Caramel Color
Soy Lecithin
Natural and Artificial Flavor
Turmeric (Color)
Vitamins and minerals:
Calcium pantothenate
Niacinamide (B Vitamin)
Reduced Iron
Zinc Oxide (Source of Zinc)
Vitamin B6
Vitamin A Palmitate
Riboflavin (Vitamin B2)
Thiamin Mononitrate (Vitamin B1)
Folic Acid (B Vitamin)
Vitamin B12
Vitamin D
Note that BHT is also added to the packaging material of the cereal box to preserve product freshness.
Is Waffle Crisp Cereal Healthy?
On the box, this cereal refers to itself as sweetened multi-grain cereal. Right off the bat, the word sweetened doesnt bode well. But, despite being artificially flavored, theres still hope for all you Post Waffle Crisp fans out there!
One of the main reasons Post Waffle Crisp isnt a particularly healthy cereal option is that it contains 15g of sugar per serving, which accounts for 30% of the daily recommended intake.
It also contains a range of other ingredients, including artificial flavor, caramel color, corn flour, partially hydrogenated soybean oil, and zinc oxide, which can be detrimental to our health when consumed too often.
Despite the unhealthy amount of sugar in this cereal, it does contain some healthy ingredients. These include whole-grain oat flour and a range of vitamins and minerals (see above) that benefit our bodies. Moreover, it doesnt contain other calorific, unhealthy ingredients like invert sugar syrup or canola oil, present in many other kinds of breakfast cereal.
We wouldnt recommend you eat this product for breakfast every day, but every once in a while, theres no harm in enjoying a bowl of this delicious treat!
Is Waffle Crisp Cereal Gluten-Free?
No, its is not gluten-free as it contains wheat flour and whole grain oat flour, both of which contain gluten. This means that this cereal isnt suitable for anyone following a gluten-free diet, and youll need to find other gluten-free breakfast options.
Is Waffle Crisp Cereal Vegan?
Yes, this product is vegan as it doesnt contain any animal-derived products such as dairy or gelatin in its ingredients list.
Is Waffle Crisp Cereal Keto?
A single serving of this cereal contains 34g of carbs, which means its not suitable for anyone following a keto diet. The keto diet requires you to consume between 20-30 net grams of carbs per day, so a single serving of this cereal will put you over the daily required amount!
If youre following a keto diet, you might want to consider alternatives like eggs and proteins or search for brands selling keto-friendly breakfast cereals that dont contain high levels of sugar and carbs.
Is Waffle Crisp Cereal High In Protein?
Containing just 4g of protein per serving, a box of this Post cereal isnt high in protein. If you want an option that offers more protein, Post manufactures other cereals, including Bran Flakes and Great Grains, that include more protein in their ingredients.
Is Waffle Crisp Cereal High In Fiber?
Although Post Waffle Crisp consists of sweetened multi-grain cereal made with wheat and oat flour, it only contains 1g of dietary fiber. This means its not high in fiber, as it only accounts for 4% of the daily recommended intake.
Where You Can Buy Waffle Crisp Cereal
You can find out where you can buy Post Waffle Crisp in-store using the product store locater on the Post website. Search using your location that itll provide you with directions to the nearest store.
You can also get your hands on a box of this delicious breakfast treat at Walmart.
Famous Waffle Crisp Cereal Commercials
The most famous Post Waffle Crisp commercial was released in 1996 and depicted a factory of grandmas making waffles which were then deposited into the cereal box in miniature form. While this is happening, the narrator states that Waffle Crisp was just like Grandmas homemade waffles! Its not something youd see on TV nowadays, but its definitely iconic!
Post created a range of commercials following on from the same idea of the grandmas in the factory, which worked well to improve brand recognition around the product.
User Reviews
Review Summary
0 out of 5 stars (based on 0 reviews)
Recent Reviews
There are no reviews yet. Be the first one to write one.
Submit a Review