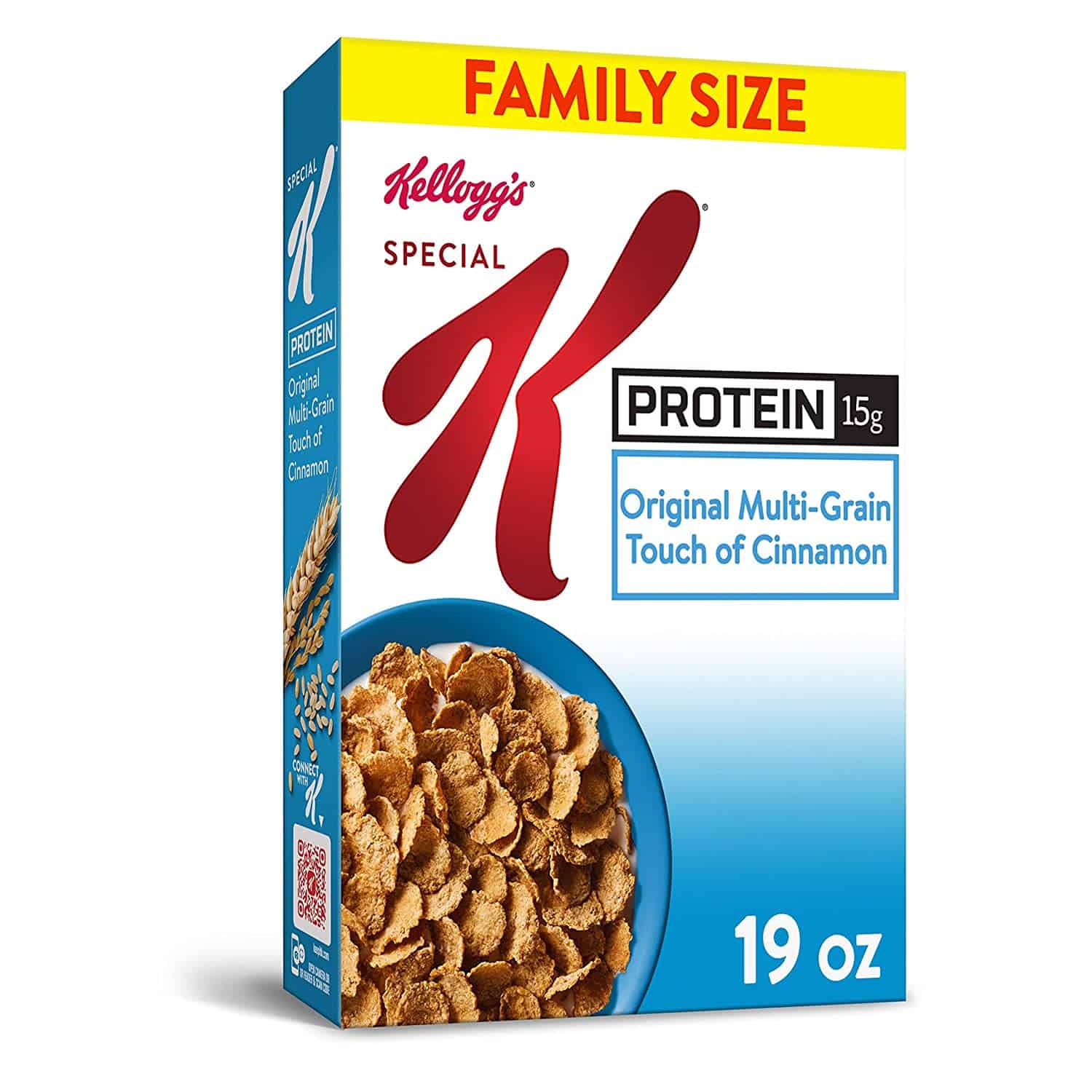 If you're searching for a breakfast cereal that gives you that extra hit of energy, Kellogg's Special K Protein could be just that! It's certainly a cereal that promises to keep you feeling full all morning long and is a great option post-workout.
Nutrition Facts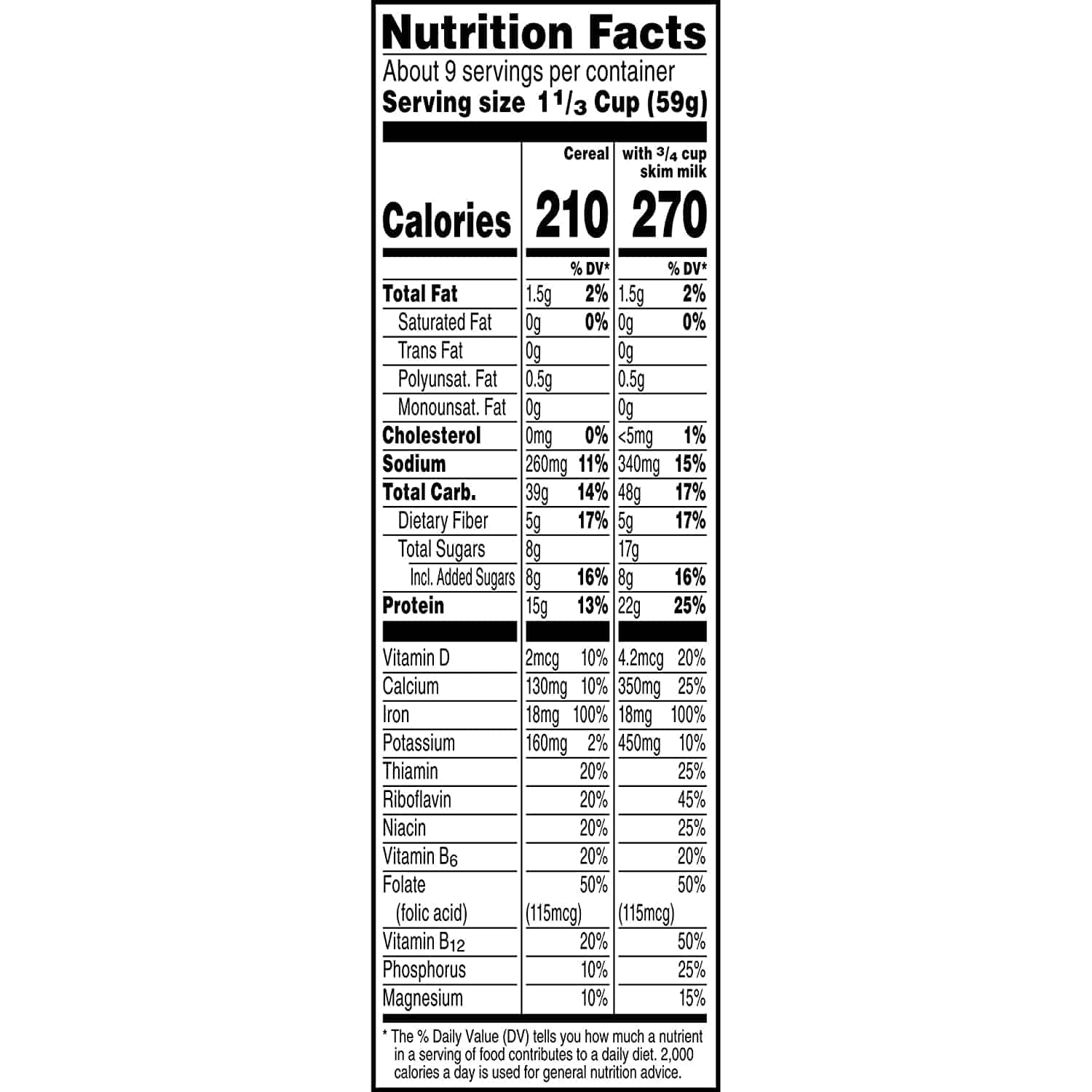 Each box of Kellogg's Special K Protein contains around nine servings, based on a serving size of one-third of a cup, which is the equivalent of 59 grams. This equates to 210 calories.
Total fat: 1.5 grams (2% DV)
Saturated Fat: 0 grams (0% DV)
Trans fat: 0 grams
Polyunsaturated Fat: 0.5 grams
Monounsaturated Fat: 0 grams
Cholesterol: 0 grams (0% DV)
Trans Fat: 0. 5 grams
Sodium: 260 mg (11% DV)
Total Carbohydrates: 39 grams (14% DV)
Dietary Fiber: 5 grams (17% DV)
Total Sugars: 8 grams
Protein: 15 grams (13% DV)
Vitamin D: 2 MCG (10% DV)
Calcium: 130 mg (10% DV)
Iron: 18 mg (100% DV)
Potassium: 160 mg (2% DV)
Thiamin (20% DV)
Riboflavin (20% DV)
Niacin (20% DV)
Vitamin B6 (20% DV)
Folate (115 mcg Folic Acid): 200mcg (50% DV)
Vitamin B12 (20% DV)
Phosphorus (10% DV)
Magnesium (10% DV)
Ingredients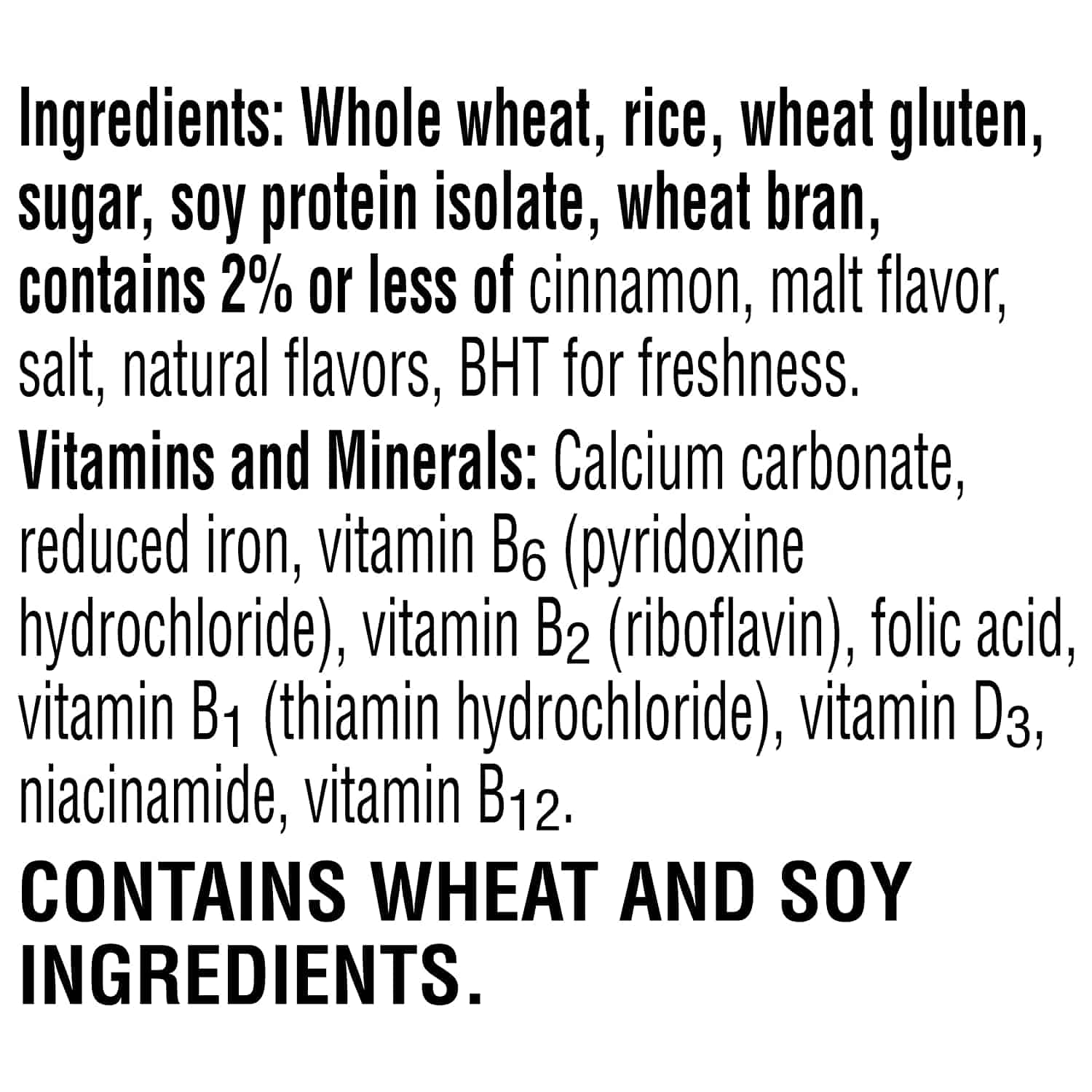 Kellogg's Special K cereal contains the following ingredients:
Whole Wheat
Rice
Wheat Gluten
Sugar
Soy Protein Isolate
Wheat Bran
2% Or Less Of Cinnamon
Malt Flavor
Salt
Natural Flavors
BHT For Freshness
Vitamins and Minerals:
Calcium Carbonate
Reduced Iron
Vitamin B6 (Pyridoxine Hydrochloride)
Vitamin B2 (Riboflavin)
Folic Acid
Vitamin B1 (Thiamin Hydrochloride)
Vitamin D3
Niacinamide
Vitamin B12
Is Special K Protein Cereal Healthy?
Low in fat and simple sugars, Kellogg's Special K is a healthy option for breakfast for those looking to stick to a balanced diet. In comparison to your daily allowance, one bowl of Special K supplies few calories.
Is Special K Protein Cereal Gluten-Free?
Finally, a great-tasting cereal that is gluten-free! Kellogg's Special K protein boasts an array of taste-tantalizing crispy flakes crafted out of whole-grain brown rice.
Is Special K Protein Cereal Vegan?
Due to the vitamin D3 found in this complete protein cereal, this food product is not classed as a vegan for those who are on a strict vegan diet as vitamin D3 is derived from sheep's wool.
However, if you need to up your intake of this vitamin, there is an incredibly small amount of it in this breakfast cereal, which means some vegans will consider adding Special K to their daily diet plan.
Just remember to swap your skim milk for a plant-based alternative, such as almond or cashew nut milk.
Is Special K Protein Cereal Keto?
Special K Original Protein Cereal isn't classed as a keto-friendly breakfast option as it is a processed food that is high in carbs and other unhealthy ingredients such as BHA/BHT and sugar, although it isn't overly sweet.
Is Special K Protein Cereal High in Protein?
In total, Kellogg's Protein Breakfast Cereal boasts 15 grams of protein, which means those that enjoy this staple food as part of a balanced lifestyle stay satisfied for longer.
This product is both nutritious and delicious and is made with high-quality ingredients, including rice, lightly sweetened wheat, and soy flakes. For best results, team it with a protein shake.
Is Special K Protein Cereal High in Fiber?
Kellogg's Protein Breakfast Cereal contains 3 grams of fiber. Crafted out of fiber-rich shreds and lightly sweetened Special K flakes, this is a great option for those looking for a tasty, high-fiber, healthy cereal. One serving of Special K provides over 20% of your daily fiber requirements.
Wishing to add even more fiber to your breakfast bowl? Add some fresh fruit, such as fresh blueberries, almond milk, sliced almonds, or dehydrated cranberries to your healthy breakfast cereal. All of these ingredients play a huge contributing factor to your daily fiber intake.
Special K Protein Cereal Varieties
The Protein Grain Touch of Cinnamon Brown Sugar Crunch Cereal is one of the alternative Kellogg's Special K protein cereals available. It may be a mouthful of a name, but this wholesome breakfast cereal is delicious warmed up in the winter months.
The warming cinnamon flavor and sweet brown sugar are guaranteed to put a spring in your step. To add even more flavor, pair your breakfast cereal with fresh blueberries.
Special K Protein Cereal Store Brand Alternatives
From the trail mix recipe to the original multi grain touch of cinnamon cereal, to the crunchy mix cereal – there are various brand alternatives (including several other low-fat cereal options) to choose from, all of which can be found in your local grocery store, on the same aisle as this popular cold cereal.
Looking for a non-brand alternative, try Benefit. This great-tasting cereal helps those looking to improve healthy eating habits do so on a budget.
Where You Can Buy Special K Protein Cereal
You can buy Special K cereal (along with the other variants) online or from your local grocery store. Simply head to the cereal aisle!
Famous Special K Protein Cereal Commercials
The advertisement surrounding 'The Special K Challenge' – this particular commercial encouraged people to swap two of their daily meals for a 45g bowl of Special K, complete with skimmed milk. The goal? To lose weight in a speedy fashion.
The 'Pinch an Inch' campaign, created in 1984, is described as one of the most disheartening commercials you'll ever see. We'll let you come up with your own verdict; watch it here.
Today, Special K have taken a different approach in their marketing campaigns, switching women in little red dresses for those who enjoy working out and eating healthily. You can view the latest advert here.
User Reviews
Review Summary
5 out of 5 stars (based on 1 review)
Recent Reviews
Submit a Review