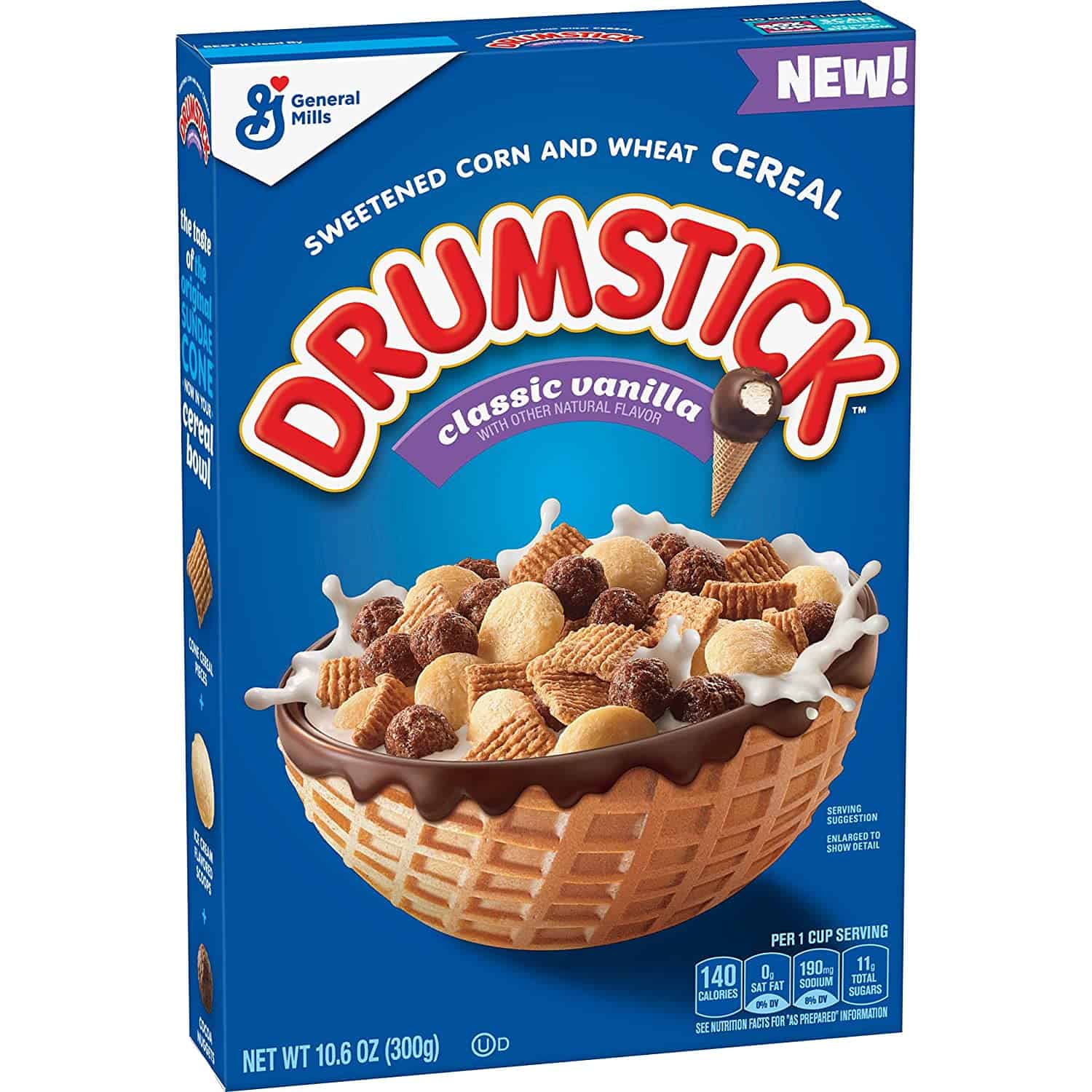 In 2019, General Mills launched Drumstick cereal, and it soared to instant fame. It's now possible to enjoy one of America's ice cream favorites for breakfast. Each bowl tastes like the beloved Drumstick cone, which remains very popular.
Primarily made from wheat, sugar, and sweetened corn, General Mills launched with two flavor options; classic vanilla or mint chocolate. Those two bowls of cereal are still some of America's favorite breakfast options and continue to be very popular with the original sundae cone fan group.
Nutrition Facts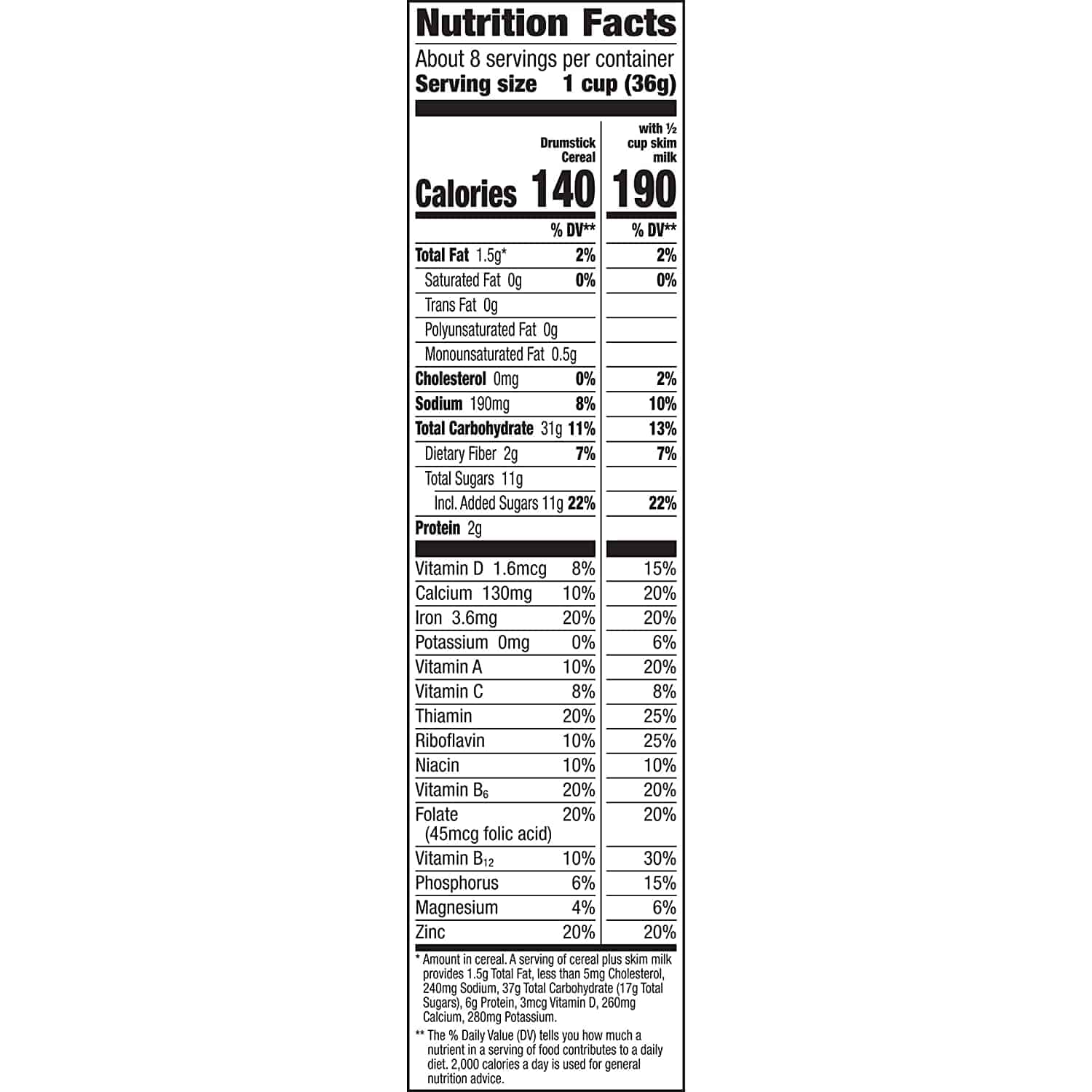 For one serving of General Mills Drumstick cereal (37 grams), the nutritional facts are:
Calories – 150
Fat – 1.5 grams / 2% DV

Saturated fat – 0 mg
Trans fat – 0mg
Polyunsaturated fat – 0mg
Monounsaturated fat – 0mg

Cholesterol – 0mg
Sodium – 200mg / 8% DV
Total carbohydrates – 31 grams / 10% DV

Total sugars – 12 grams (added sugars) / 24% DV
Other carbohydrates – 17 grams
Dietary fiber – 2 grams / 8% DV

Protein – 2 grams / 0% DV
Vitamin A – 10% DV
Vitamin B1 (Thiamin) – 20% DV
Vitamin B2 (Riboflavin) – 10% DV
Vitamin B3 (Niacin) – 10% DV
Vitamin B6 – 20% DV
Vitamin C – 10% DV
Vitamin D – 2 mcg / 10% DV
Folate – 8% DV
Vitamin B9 (Folic acid) – 15 mcg
Vitamin B12 – 20% DV
Calcium – 130mg / 10% DV
Potassium – 0mg / 0% DV
Phosphorus – 6% DV
Iron – 4mg / 20% DV
Zinc – 20% DV
Magnesium – 4% DV
The Daily Value (DV) percentage shown above is based on a diet of 2,000 calories per day.
One 496 grams box of Drumstick cereal contains around 13 servings.
General Mills Drumstick cereal contains some whole grains.
Ingredients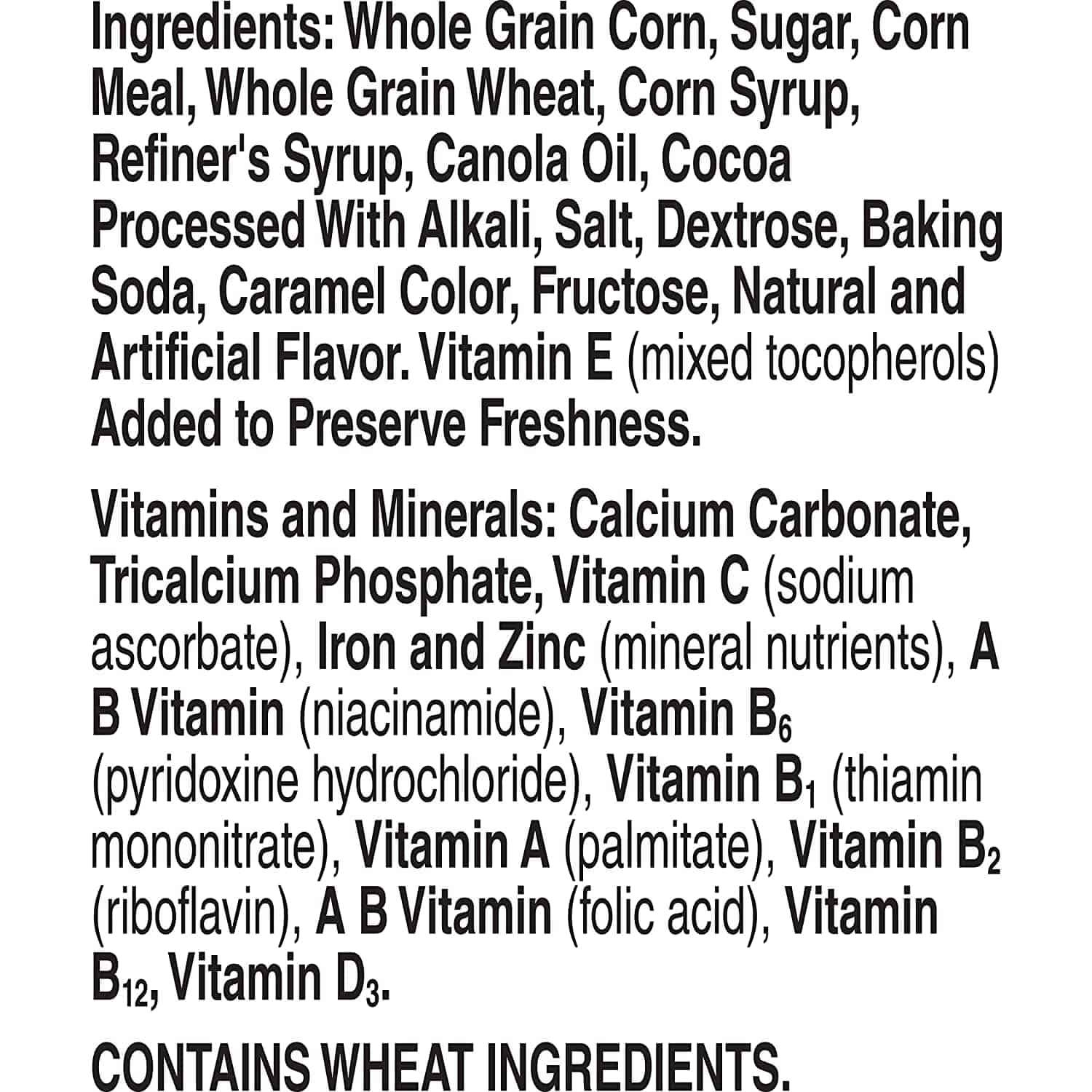 The ingredients list for Drumstick cereal includes:
Whole grain corn
Sugar
Cornmeal
Whole grain wheat
Corn syrup
Refiner's syrup (also known as golden syrup)
Canola oil
Cocoa (processed with alkali)
Salt
Dextrose
Baking soda
Caramel color
Fructose
Natural and artificial flavors
Vitamin E (Mixed Tocopherols) added to preserve freshness
Calcium carbonate
Tricalcium Phosphate
Vitamin C (Sodium Ascorbate)
Iron
Zinc
Vitamin (Niacinamide)
Vitamin B1 (Thiamin Mononitrate)
Vitamin A (Palmitate)
Vitamin B6 (Pyridoxine Hydrochloride)
Vitamin B2 (Riboflavin)
Vitamin B9 (Folic Acid)
Vitamin B12
Vitamin D3
Is Drumstick Cereal Healthy?
No, Drumstick cereal cannot be considered a healthy breakfast cereal. It was designed to be a version of the Drumstick ice cream cone in a cereal bowl. Adding milk does add some nutritious value.
Firstly, the cereal is full of refined and processed sugar, much like Cinnamon Toast Crunch. It contains five forms of sugar: sugar, refiner's syrup, corn syrup, dextrose, and fructose.
Secondly, one bowl of cereal contains a lot of sodium. A cereal bowl equals nearly one-tenth of an individual's total salt consumption for an entire day.
Finally, while the cereal does contain numerous beneficial vitamins and mineral nutrients and is cholesterol-free and made from several healthy grains, the amount of preservatives with the artificial flavor greatly diminishes any real, nutritious value those ingredients may have added.
Is Drumstick Cereal Gluten-Free?
No, Drumstick cereal is not a gluten-free food. While this cereal is primarily made from corn, there is enough wheat to consider this a wheat cereal. As grain is not conducive to gluten-free diets, this cereal is not a portion of good gluten-free food.
Is Drumstick Cereal Vegan?
This depends upon how strictly a person adheres to a vegan diet. The cereal contains a significant amount of refined sugar. Many strict vegans do not consider refined sugar acceptable because it is typically processed with animal bone char.
Is Drumstick Cereal Keto?
No, this cereal is not a Keto-friendly food product. Keto is all about greatly restricting the number of carbohydrates that a person consumes. This is not only in regards to the total consumed daily but also at each meal.
On cereal bowl of Drumstick cereal contains a lot of sugar and a total carbohydrate total of over 30 grams. For Keto, the acceptable daily consumption of carbohydrates is 20 -30 grams. Thus, one bowl of this cereal would not fit into a Keto diet.
Is Drumstick Cereal High in Protein?
No, this is not a high-protein cereal. One bowl of Drumstick cereal only provides 2 grams of protein. While 2 grams is the average protein content of other sugar-based breakfast cereals, it is far from the amount needed to be high in protein.
Cereals high in protein typically provide 10 grams of protein per serving.
Is Drumstick Cereal High in Fiber?
No, this is not a great source of daily fiber. The FDA recommends 25 grams of dietary fiber each day. While Drumstick cereal does contain dietary fiber, one serving is only 2 grams of fiber. High fiber foods typically provide at least 5 grams of dietary fiber per serving.
Drumstick Cereal Varieties
Pillsbury has created two flavors of Drumstick cereal:
Drumstick Mint Chocolate Breakfast Cereal
This is the ability to enjoy mint chocolate ice cream flavored scoops as a breakfast cereal. As authentic as a taste could be, the mint chocolate cone cereal pieces are both fun and classic.
Drumstick Classic Vanilla Breakfast Cereal
The original sundae cone cereal pieces and the classic vanilla were the first variety produced and have continued to be a favorite choice for ice cream lovers.
Where You Can Buy Drumstick Cereal
General Mills Drumstick cereals should be easy to find in the cereal aisle. Or it can be found on online stores such as Amazon and Instacart.
Famous Drumstick Cereal Commercials
General Mills benefited greatly because the original Drumstick ice cream sundae cones already had a huge fan base. So, when they launched this new cereal, most of the commercial hype was simply triggered by the launch and picked up by the media.
Sites such as People and Delish ran articles about how America could now enjoy their favorite ice cream cone like an ice cream cereal. Of course, Walmart ran their advertising for it, including the Instagram post.
User Reviews
Review Summary
0.0 out of 5 stars (based on 0 reviews)
Recent Reviews
There are no reviews yet. Be the first one to write one.
Submit a Review