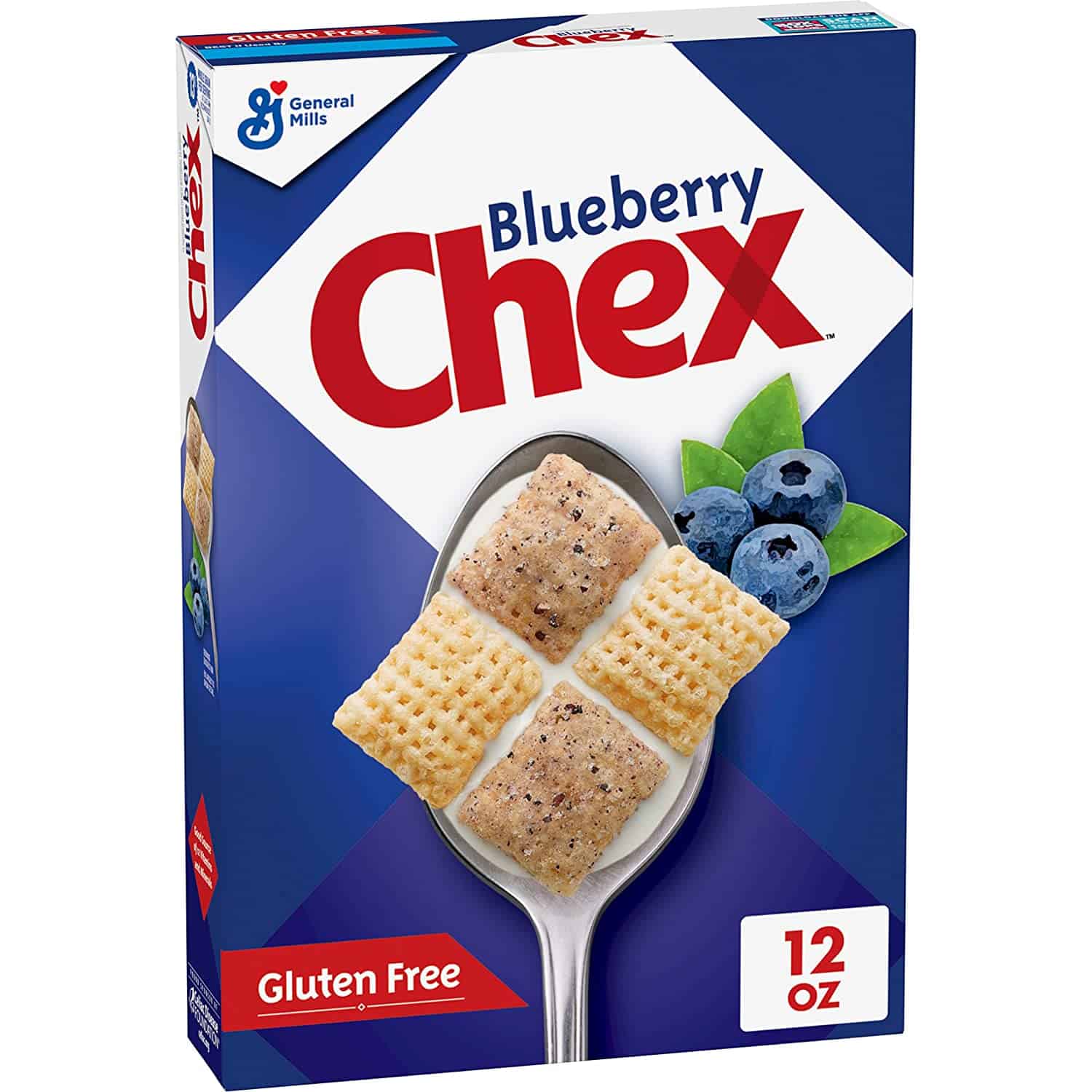 Blueberry Chex Cereal is a delicious treat for breakfast, snack time, or party time. Delivering fruity goodness in every bite, this flavor Chex breakfast cereal is gluten-free and contains no high fructose corn syrup, preservatives, or artificial flavors.
The delicious blueberry flavor that bursts out when you bite into the crispy rice Chex exterior will give you the energy you need to start the day off in the right way. This gluten-free cereal holds 10 grams of whole grain rice per serving and is an excellent source of calcium. With no artificial colors, preservatives, and flavors, you can rest assured that you're eating a well-rounded breakfast.
Enjoy the mouth-watering taste of this rice cereal with a splash of milk, or top it off with some Greek yogurt and sliced fruit. You can also use this cereal as a key ingredient in snacks like Blueberry-Lemon Muddy Buddies (a treat that'll definitely be a hit with the kids!) Whether you want to enjoy a bowl of Chex as a wholesome breakfast or an afternoon snack, there's plenty of munching, mixing, and making to be done with this cereal!
Nutrition Facts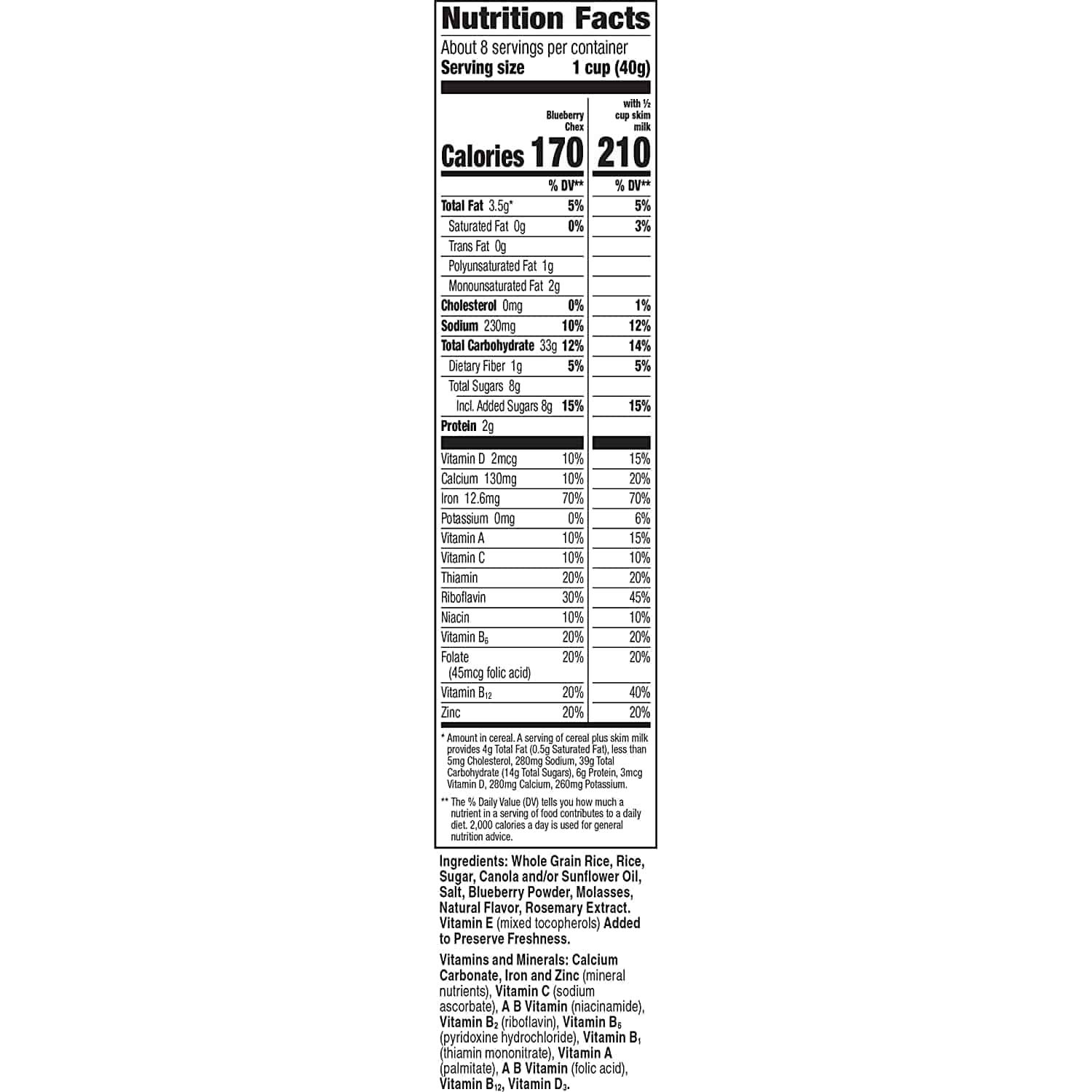 Serving size: 1 cup (40 grams)
Servings per box: 8
Calories per serving: 170
Calories with 1/2 cup of skim milk: 210
Total Fat:3.5g** / 5% DV
Saturated Fat: 0g / 0% DV
Trans Fat: 0g
Polyunsaturated Fat: 1g
Monounsaturated Fat: 2g
Cholesterol: 0mg
Sodium: 250mg / 11% DV
Total Carbohydrate 33g: 12% DV
Dietary Fiber: 1g / 4% DV
Total Sugars: 8g
Incl. Added Sugars: 8g / 16%DV
Protein: 2g
Vitamin D: 2mcg / 10% DV
Calcium: 130mg / 10% DV
Iron 12.6mg: 70% DV
Potassium: 0mg / 0%
Vitamin A: 10%
Vitamin C: 10%
Thiamin: 20%
Riboflavin: 30%
Niacin: 10%
Vitamin B6: 20%
Folate (45mcg folic acid): 20%
Vitamin B12: 20%
Phosphorus: 4%
Magnesium: 4%
Zinc 20%
Ingredients
Whole Grain Rice, Rice, Sugar, Canola and/or Sunflower Oil, Blueberry Powder, Salt, Molasses, Natural Flavor. Vitamin E (mixed tocopherols) Added to Preserve Freshness.
Vitamins and minerals
Calcium Carbonate, Zinc, and Iron (Mineral Nutrients), Vitamin C (Sodium Ascorbate), A B Vitamin (Niacinamide), Vitamin B6 (Pyridoxine Hydrochloride), Vitamin B1 (Thiamin Mononitrate), Vitamin A (Palmitate), Vitamin B2 (Riboflavin) A B Vitamin (Folic Acid), Vitamin B12, Vitamin D3
Is Blueberry Chex Cereal Healthy?
Blueberry Chex cereal shines as a healthy morning treat that provides a range of essential nutrients, vitamins, and minerals that you need to start the day.
The fruit flavor of blueberry comes from blueberry powder and isn't created using high fructose corn syrup or any other unnatural ingredients. The great fruit flavor of this gluten-free breakfast cereal will give you that boost of energy you need to tackle the day ahead.
Each serving of this Blueberry flavored rice cereal contains just 170 calories and makes up just 5% of your daily recommended intake of total fat. A serving also contains just 8 grams of sugar, which makes it a much healthier alternative than various other sweet cereals on the market.
In every bowl of Chex, you'll also get a variety of nutrients to help energize you for the day, such as vitamin A, magnesium, and zinc. Moreover, this Chex cereal is a great source of calcium, with 130 mg per serving making up 10% of the daily recommended intake.
Is Blueberry Chex Cereal Gluten-Free?
Yes, Blueberry Chex is gluten-free and therefore suitable for anyone who has a gluten intolerance.
Most Chex products, like this blueberry-flavored rice cereal, are gluten-free, with the obvious exception of Wheat Chex.
Is Blueberry Chex Cereal Vegan?
Yes, all Chex cereals are generally considered to be vegan as they contain no dairy products.
They do, however, contain sugar, natural flavors, and vitamin D3, which are sometimes considered to be non-vegan ingredients.
Enjoy a bowl of Chex with your favorite non-dairy milk alternative such as soy milk, oat milk, or rice milk.
Is Blueberry Chex Cereal Keto?
No, this rice cereal and other Chex products are not generally considered to be acceptable on a keto diet. Each serving contains 33 grams of carbohydrates, which is 12% of the daily recommended intake.
The keto diet focuses on high fat and low carb foods such as meat, dairy, and some vegetables. What's more, most people don't consume more than 20-50 grams of carbs per day. So if you're following a keto diet, it's best to avoid high-carb, processed cereal like this one.
Is Blueberry Chex Cereal High in Protein?
No, each serving of this rice cereal contains just 2 grams of protein. This means it's not particularly high in protein in comparison to other breakfast cereals on the market.
Is Blueberry Chex Cereal High in Fiber?
This gluten-free, sweetened rice cereal isn't particularly high in fiber, with just 1 gram per serving. This makes up just 4% of the daily recommended fiber intake. If you're looking for a high-fiber breakfast cereal, there are plenty of other options out there.
Blueberry Chex Cereal Store Brand Alternatives
If you're looking for other blueberry-flavored breakfast cereal options, there are plenty of store-brand alternatives available. Some options include blueberry Cheerios gluten-free cereal, Kellogg's Special K blueberry cereal, or Kellogg's blueberry-flavored Frosted Mini-Wheats.
Where You Can Buy Blueberry Chex Cereal
You can purchase this gluten-free breakfast cereal from Amazon, Walmart, or your local supplier. Visit the Chex official website to find out which places stock this breakfast cereal near you.
Famous Blueberry Chex Cereal Commercials
The Chex crunchy squares have featured in many famous television and print commercials over the years. One famous commercial from 1960 featured children posing as secret agents because each box of Chex contained a piece of a "secret agent kit."
Another well-known animated Chex commercial from 1980 features the "Chexpress Train" and a very memorable jingle.
User Reviews
Review Summary
0.0 out of 5 stars (based on 0 reviews)
Recent Reviews
There are no reviews yet. Be the first one to write one.
Submit a Review