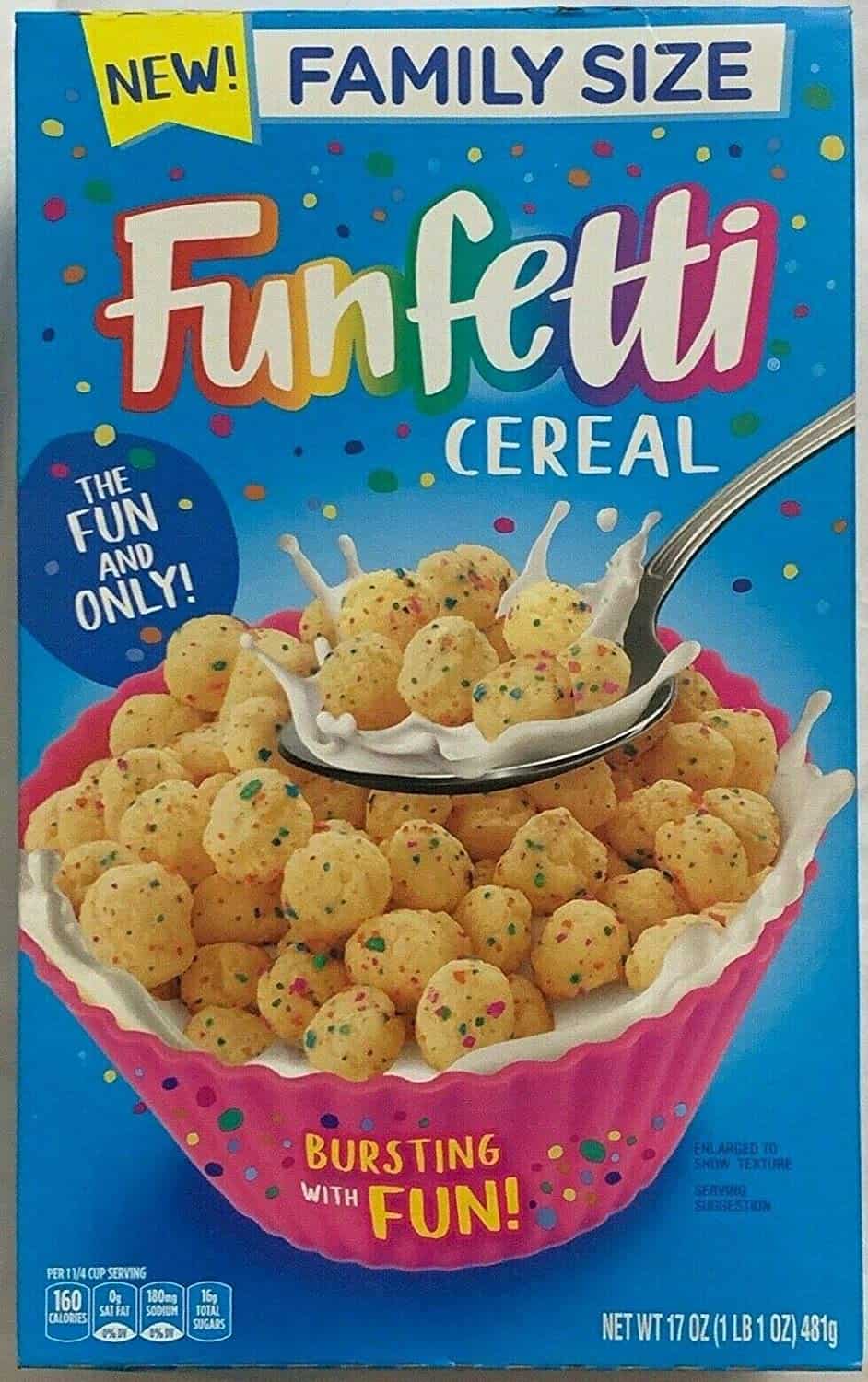 Pillsbury, the hometown food company, went the entire Funfetti cake crazy in 2020 by adding a breakfast cereal to the massive line of Funfetti options.
With the trendy cake mix being re-introduced into a whole line of products, cake for breakfast was the logical next step. Pillsbury made sure it wasn't just after birthday parties that people ate cake in the morning. After all, who doesn't want to eat cake with milk for breakfast?!
Funfetti cereal is little balls, around the size of Cocoa Puffs, but very vanilla forward in flavor. The bright colors and taste, even immersed in milk, is a morning food that remains true to its Funfetti origins.
Duplicate content and flavor as the cake but in cereal form.
Nutrition Facts
One serving of Funfetti cereal equals 41 grams and contains the following nutrition:
Calories – 160
Fat – 1.5 grams / 2% DV

Saturated fat – 0 mg
Trans fat – 0mg
Polyunsaturated fat – 0mg
Monounsaturated fat – 0mg

Cholesterol – 0mg
Sodium – 180mg / 8% DV
Total carbohydrates – 36 grams / 13% DV

Total sugars – 16 grams (added sugars) / 32% DV
Other carbohydrates – 19 grams
Dietary fiber – 1 grams / 2% DV

Protein – 1 grams / 0% DV
Vitamin B1 (thiamin) – 60% DV
Vitamin B3 (niacin) – 15% DV
Vitamin B6 – 15% DV
Vitamin D – 0 mcg / 0% DV
Folate – 40 mcg / 10% DV
Vitamin B9 (folic acid) – 25 mcg
Calcium – 150mg / 12% DV
Potassium – 20mg / 0% DV
Pantothenic acid – 10% DV
Phosphorus – 0% DV
Iron – 6.3mg / 35% DV
Zinc – 15% DV
As shown in the nutritional facts, the Daily Value (DV) percentage is based on a diet of 2,000 calories per day.
One 481 grams box of Funfetti cereal contains around 12 servings.
General Mills Funfetti cereal can be considered a good source of whole grains.
Ingredients
The ingredients list of Funfetti cereal includes:
Corn flour
Sugar
Cornmeal
Corn syrup
Canola oil
Degermed corn
Calcium carbonate
Salt
Trisodium Phosphate
Natural and artificial flavors
Yellow 6
Turmeric (for color)
Red 40
Blue 1
BHT added to preserve freshness
Ferric Orthophosphate (source of iron)
Vitamin B3 (niacinamide)
Zinc oxide
Vitamin B1 (thiamin mononitrate)
Vitamin B5 (calcium pantothenate)
Vitamin B6 (pyridoxine hydrochloride)
Folic acid
Is Funfetti Cereal Healthy?
No, Funfetti cereal is not, but neither does it claim that it is a healthy option for breakfast. This is a fun cereal, which is typical of sweet grain.
First off, like all sugary cereals, one serving of Funfetti is packed full of refined sugar. A single serving bowl of this cereal provides more than one-third of a person's daily recommended sugar intake.
Secondly, this cereal contains other ingredients that cannot be deemed healthy. Specifically, the amount of coloring, preservatives and artificial flavor is relatively high. Finally, while not considered dangerous in low doses, Trisodium Phosphate is harmful in large amounts, leading to some very adverse health issues.
Is Funfetti Cereal Gluten-Free?
Yes, based on the ingredients list for Pillsbury Funfetti cereal, there does not appear to be anything that would be considered adverse to a gluten-free diet. It is primarily a cereal made from sugar and corn products, both of which are gluten-free.
Is Funfetti Cereal Vegan?
As is typical with many sweet breakfast kinds of cereal, whether or not Funfetti grain is acceptable for a vegan diet genuinely depends upon how strictly a person adheres to being a vegan. While the ingredient list does not have any directly animal-based products, there is a lot of refined sugar.
Those who strictly adhere to a vegan diet often do not accept refined sugar because the refining process very commonly includes animal bone char.
Is Funfetti Cereal Keto?
This is not an acceptable food to eat on a Keto diet. Keto diets are very strict about carbohydrate intake. Those who strictly adhere to Keto only permit themselves to consume 20 -30 grams of carbohydrates in an entire day. One bowl of Funfetti has 36 grams of carbohydrates and thus is not Keto-friendly.
Is Funfetti Cereal High in Protein?
No, however, this is very typical of sugar-based breakfast cereal. To genuinely be called a high in protein food, it needs to provide at least 10 grams of protein per single serving. This cereal is actually below average of most grains in that each serving contains only 1 gram of protein.
Is Funfetti Cereal High in Fiber?
No, Funfetti is not a food that is high in dietary fiber. The FDA guidance for every person is that daily consumption of at least 25 grams of dietary fiber is necessary. Most experts agree that for a food to be called a product high in fiber, that food needs to contain at least 5 grams of fiber per serving. Funfetti's single gram of fiber doesn't make the cut.
Funfetti Cereal Store Brand Alternatives
Staying true to the product line of Pillsbury, Funfetti cereal does an outstanding job at duplicating the Funfetti cake taste. This genuinely cannot be found with any other grain, so there are no natural alternatives.
Where You Can Buy Funfetti Cereal
You can most likely find Pillsbury Funfetti cereal in the cereal aisle of any supermarket or grocery store, including your local Walmart. If you'd like to buy this tasty cereal online, you can find it on Amazon and Instacart.
Famous Funfetti Cereal Commercials
Pillsbury did not need to go overboard with marketing Funfetti cereal. There was already a huge fan base for Funfetti products, such as Funfetti pancake mix, Funfetti muffin mix, and the Funfetti cupcake and cake mix.
Pillsbury let the media go crazy with the news of the launch as early as the summer of 2020. Outlets like the Food Business News and the New York Post wrote about the new cereal as early as May 2020.
User Reviews
Review Summary
0.0 out of 5 stars (based on 0 reviews)
Recent Reviews
There are no reviews yet. Be the first one to write one.
Submit a Review