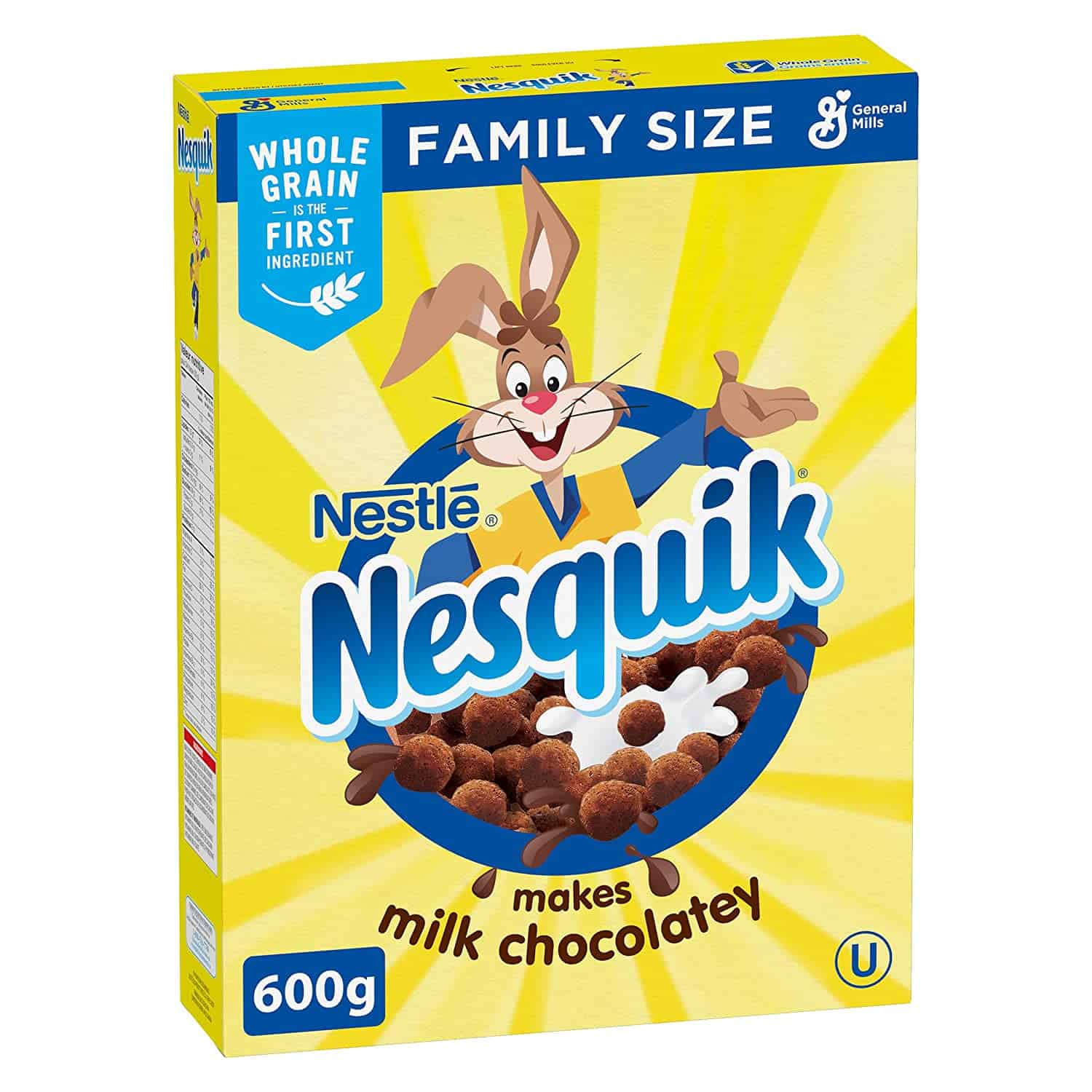 Nesquik, often referred to as Nesquik Cereal or Nestlé Nesquik, is a family favorite when it comes to breakfast cereals.
This particular whole grain cereal has been created by the Worldwide Partners General Mills (an American company) and Nestlé (a Swiss company) and is based on the prevalent Nesquik product line.
Their aim? To create a series of products boasting a recipe brimming with whole grains, vitamins, and minerals, whilst still offering a great taste.
Nutrition Facts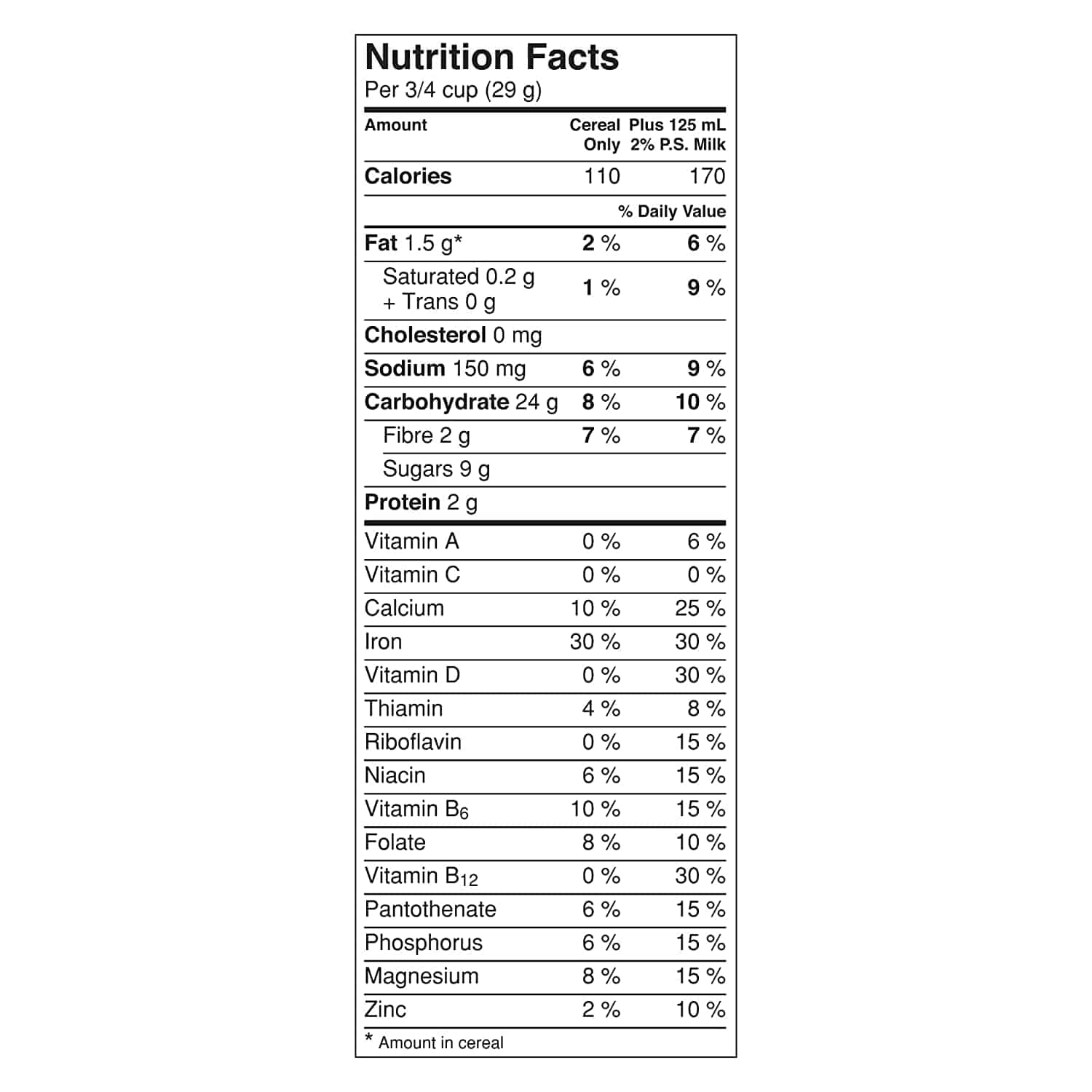 Based on an adult-sized portion of 30 grams, with an average daily intake of (8400 kJ/2000 kcal):
Energy: 477kJ / 114kcal (6 % of your daily allowance)
Fat: 0.8 grams (1 % of your daily allowance)
Saturated fat: 0.2 grams (1 % of your daily allowance)
Sugars: 6.7 grams (7 % of your daily allowance)
Salt: 0.07 grams (1 % of your daily allowance)
Protein: 2.6 grams
Carbohydrates: 22.6 grams
Carbohydrates that sugar: 6.7 grams
Fiber: 2.6 grams
Vitamins and Minerals
Vitamin D: 0.75 µg (16% of your daily allowance)
Thiamin: 0.33 mg (30% of your daily allowance)
Riboflavin (B2): 0.45 mg (32% of your daily allowance)
Niacin (B3): 4.5 mg (28% of your daily allowance)
Vitamin B6: 0.42 mg (30% of your daily allowance)
Folic Acid: 60.0 µg (30% of your daily allowance)
Pantothenic Acid: 1.86 mg (30% of your daily allowance)
Calcium: 138 mg (17% of your daily allowance)
Iron: 3.15 mg (23% of your daily allowance)
Ingredients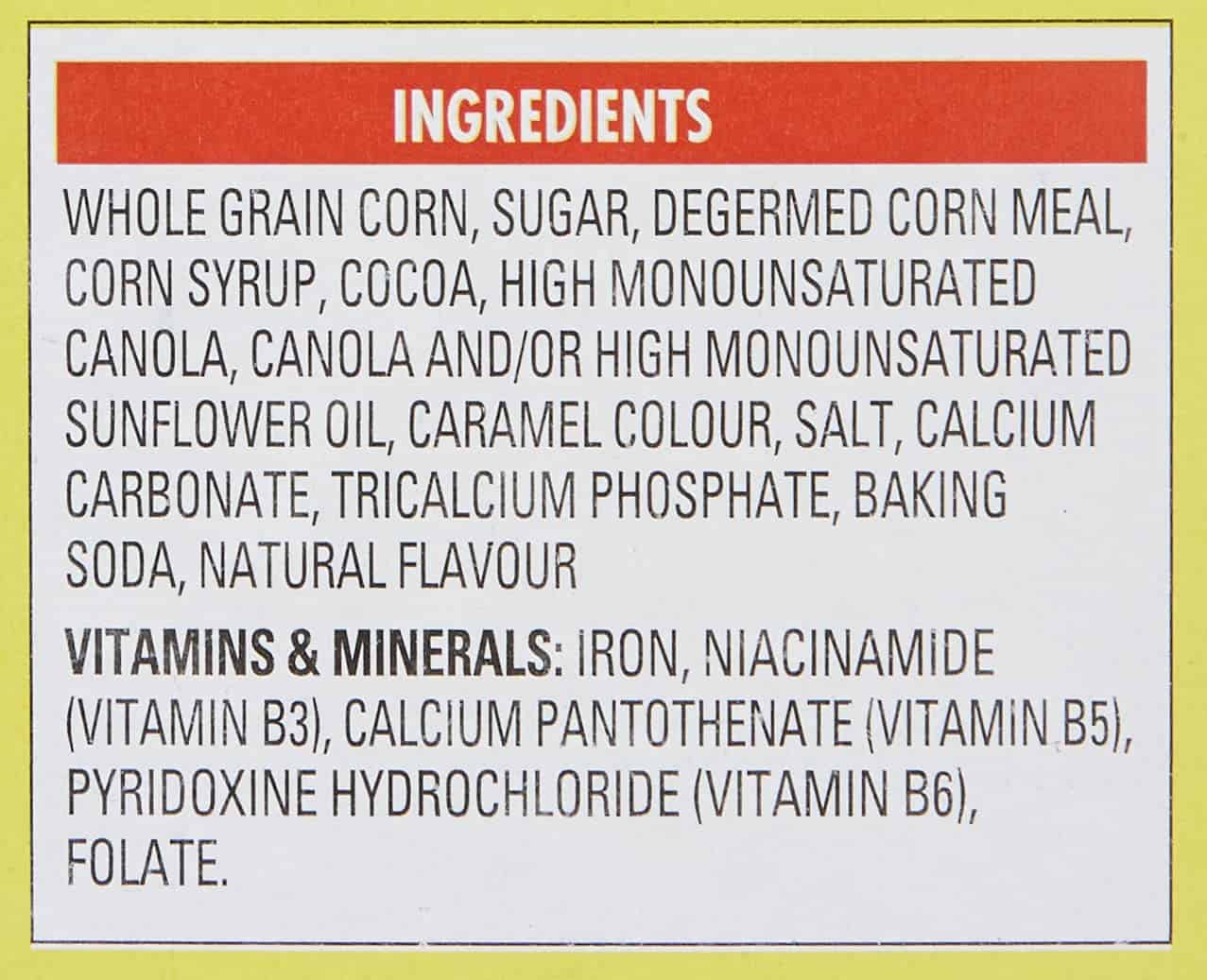 Whole Grain Wheat Flour (53.1%)
Sugar
Maize Semolina
Glucose Syrup
Fat-Reduced Cocoa Powder
Calcium Carbonate
Sunflower Oil
Salt
Flavorings
Iron
Vitamin B3, B5, D, B6, B1, B2 and B9
Is Nesquik Cereal Healthy?
Created out of seven vitamins and whole grain wheat, with zero artificial flavors or colors, Nesquik chocolate flavor cereal is not only a healthy option and a good iron source, it's a fun whole grain cereal to eat.
Why? When you add milk, you can watch it turn chocolatey! This is down to one of the rice cereal ingredients being a fat-reduced cocoa powder which blends perfectly into milk in your bowl.
Is Nesquik Cereal Gluten-Free?
Unfortunately, Nesquik chocolate Cereal is not gluten-free. However, other products in their line, such as the Ready-to-Drink Nesquik bottles are gluten-free.
If opting for a gluten-free diet, avoid the Nesquik syrups and powders. To be sure, always read the nutritional information and ingredient labels carefully.
Is Nesquik Cereal Vegan?
Nestlé Nesquik cereal contains vitamin D, which means it isn't strictly vegan, as this vitamin is often derived from the wool of a sheep. It doesn't however contain dairy and can be served with alternatives such as nut milk.
One point to note is that it is created in factories where milk products are also made, which means those with dairy allergies should avoid this snack, just in case any cross-contamination has occurred.
Is Nesquik Cereal Keto?
Nesquik Cereal is classed as a Keto-suitable food as the Net Carbs make up 18% of calories per portion. This is based on a 22g serving of cereal grains.
Is Nesquik Cereal High in Protein?
In Nestlé Nesquik Cereal, you will find a total of eight grams of protein per 100-gram serving. Looking to boost your protein intake? Try adding protein-high foods, rich in both vitamins and minerals, to every meal.
Is Nesquik Cereal High in Fiber?
Nesquik cereal is made with whole grain and contains 2.6 grams of fiber per serving. You can add more fiber to your cereal by adding nuts like almonds, seeds, nut butter, or berries to your cereal grains.
Nesquik Cereal Varieties
There are several Nestlé Nesquik kinds of cereal to choose from, all of which are made with whole grain and promise a great taste, some of which we have listed below…
Nestlé Nesquik Chocolate Breakfast Cereal
This particular Nesquik cereal can turn the milk in your bowl chocolatey. Not only does it change color, but it also adds great taste!
On top of this, this variety is a great source of whole grain and iron and contains plentiful vitamins, including B5, B3, and B6.
Nestlé Nesquik Duo Breakfast Cereal
As the name suggests, this cereal is a combination of two breakfast cereal items – marbles of Nesquik® flavored white chocolate and cocoa grain cereal balls.
This is a great option for kids who have an active day ahead of them as it contains all of the essential nutrients required in one bowl! Just be wary of the sugar content!
Nestlé Nesquik Alphabet
Are your children natural storytellers? If so, Nesquik® Alphabet cereal is a great option for breakfast time as it inspires creativity in every bite.
On top of this, it is a strong source of vitamin D and calcium and contains no artificial flavors or colors.
Nestlé Nesquik Choco Hearts
One for the romantic! Nesquik Choco Hearts cereal is crafted from moreish cereal pieces filled with chocolate and mixed with super yummy Nesquik balls.
As well as being delicious, this is also a healthy breakfast choice crafted out of whole grain wheat and an impressive six essential vitamins, as well as calcium, niacin, and iron.
Where You Can Buy Nesquik Cereal
You can buy Nesquik cereal online or from your local grocery store. For example, their range is available at Target, Walmart and on amazon.com. Not only do these whole grains taste great, but they're also easy to get a hold of too!
Famous Nesquik Cereal Commercials
1993 – 2004 bunny collection of adverts – these popular adverts all feature the celebrated Nesquik bunny in different scenarios.
The famed hashtag 'KeepOnChuggin' has stood alongside numerous Nestlé Nesquik cereal products and commercials since the brand first launched its range of cereal and drink products.
'The Nesquik brand later launched a collaboration with DK Metcalf, the rookie wide receiver. The aim of these campaigns? To entice fans to always strive for the best – Nesquik is simply there to give them the fuel required to hustle every day of life, irrespective of the challenges put in their way.
User Reviews
Review Summary
0 out of 5 stars (based on 0 reviews)
Recent Reviews
There are no reviews yet. Be the first one to write one.
Submit a Review