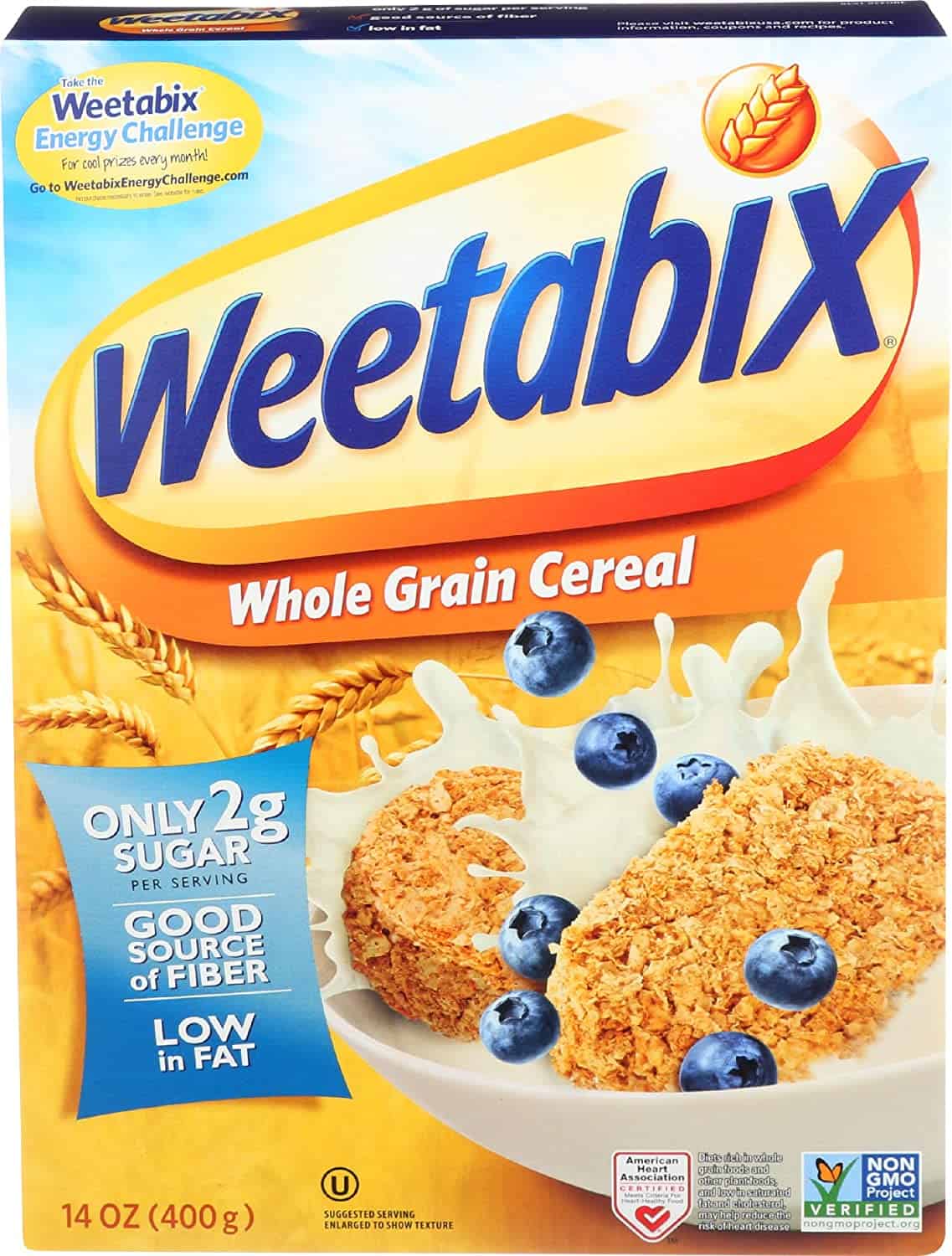 Weetabix has been one of the most prominent breakfast cereals in the UK for nearly a century now and was first introduced to the U.S. in 1968. Although many Americans haven't eaten Weetabix, you can find this popular UK cereal in many grocery stores. Several popular health diets have emerged that incorporate the product, namely the Right Weight Fiber Diet.
Weetabix cereal comes in an oblong biscuit shape and is defined by its simple whole wheat taste. It is generally eaten alongside fruits and sweeteners but is also available in several pre-flavored varieties, such as chocolate and banana. Once the milk is added to the cereal, the biscuits soften, and the cereal becomes more like oatmeal.
It is unanimously considered a healthy breakfast option, but how true is this?
Nutrition Facts

The standard recommended serving of Weetabix is two servings, which contains the following nutritional value:
Calories – 136
Total fat – 0.8 grams (1% Daily Value)
Trans fat – 0 grams
Saturated fat – 0.2 grams (1% DV)
Polyunsaturated fat – 0.5 grams
Monosaturated fat – 0.1 grams
Cholesterol – 0mg
Potassium – 140mg (4% DV)
Sodium – 1.6mg (0% DV)
Total carbohydrates – 32 grams (11% DV)
Dietry fiber – 4.6 grams (18% DV)
Sugars – 0.3 grams
Protein – 4.4 grams
Iron – 7.2% DV
Calcium – 1.4% DV
Ingredients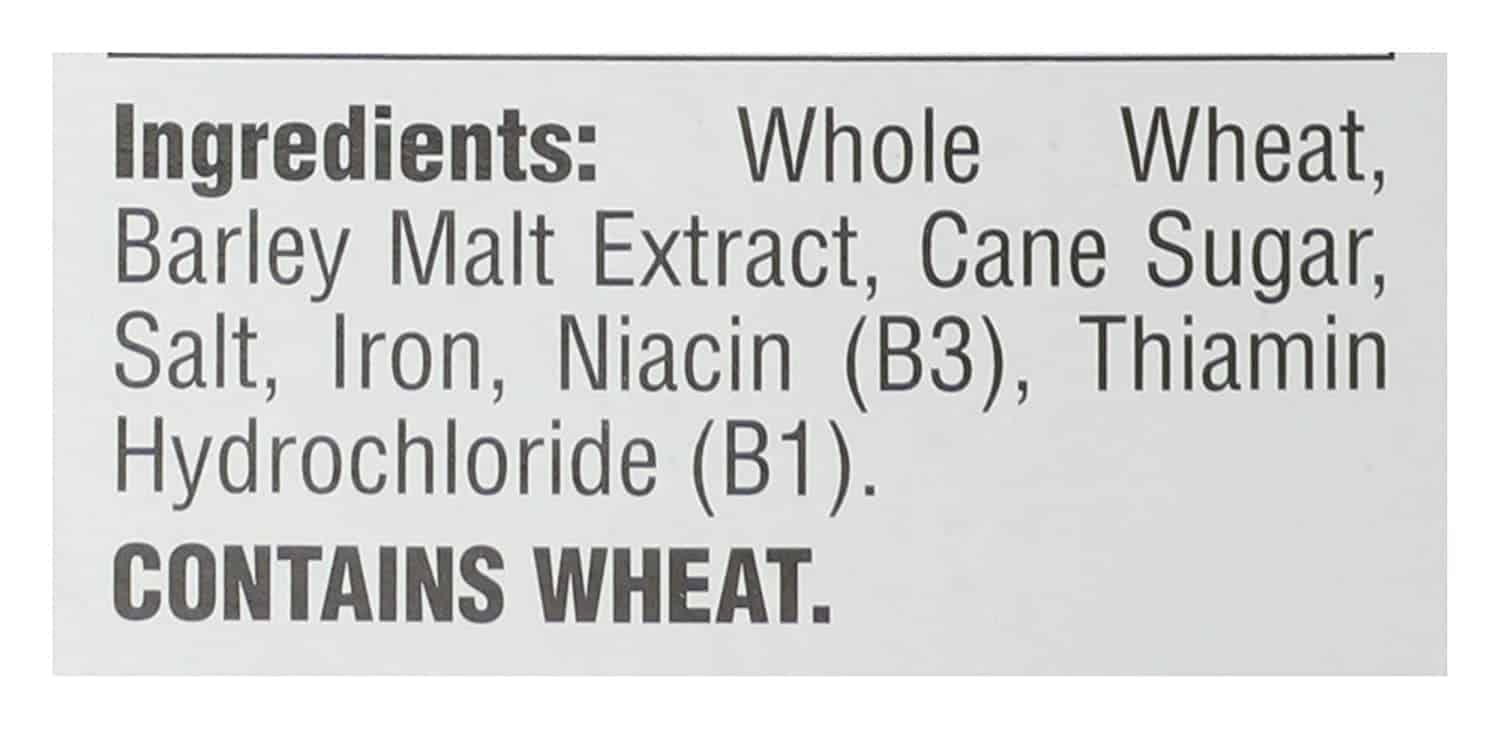 Weetabix has a simple but effective ingredient list, which consists of the following:
Wholegrain Wheat
Malted Barley Extract
Sugar
Salt
Niacin
Iron
Riboflavin (B2)
Thiamin (B1)
Folic Acid
Is Weetabix Cereal Healthy?
Considering that 89-95% of the cereal is made using whole grain wheat, Weetabix cereal is a healthy breakfast option. This whole-grain cereal fills you up in the morning, but it also provides you with a good source of fiber while also reducing the risk of heart disease, cancers, and several other health problems.
Weetabix is also linked to healthy weight maintenance, given that it provides high fiber, low fat, and particularly low sugar, with just 2 grams of sugar per serving.
Additionally, the breakfast option comes with a whole host of minerals and vitamins, including folic acid, niacin, thiamin, and riboflavin, providing daily consumers of this whole-grain cereal with a range of health benefits, from healthy brain function to fuel and cell maintenance.
Lastly, given how much whole grain is used in the cereal, there is little room for unhealthy additives, sweeteners, or colorings. You won't find anything in the ingredients list for Weetabix cereal that you haven't heard of.
Weetabix does contain some added sugars. However, this only equates to less than 1 gram per biscuit. Still, this small quantity prevents Weetabix from being considered a fully healthy cereal, as this sugar count could lead to tooth decay and other health problems.
Is Weetabix Cereal Gluten-Free?
Weetabix is not gluten-free and should be completely avoided if you suffer from a gluten allergy. All varieties of Weetabix contain wheat, while several varieties also contain oats and barley malt extract, which should also be avoided if you need to follow a gluten-free diet.
Is Weetabix Cereal Vegan?
Weetabix original is vegan, as it does not contain any direct animal-derived ingredients. It does, however, contain cane sugar, which is arguably unsuitable for vegans as it may have been refined alongside bone char. Whether or not consuming cane sugar is acceptable for a follower of veganism is up to the individual, but on the whole, Weetabix original is safe for vegans.
Other vegan-friendly varieties of Weetabix that are considered vegan-friendly include Weetabix Organic, Chocolate Weetabix, and Banana Weetabix.
The same cannot be said for several Weetabix varieties, including Weetabix Crispy Minis and Weetabix Protein, as these products contain D3. This vitamin is derived from sheep lanolin or fish oils, rendering it unsuitable for vegans.
Is Weetabix Cereal Keto?
Weetabix biscuits cannot be considered a keto product for several reasons. Firstly, a standard serving of the cereal will put you right over the keto limit of 20 grams per day. 2 Weetabix biscuits will give you 29 grams of carbohydrates, which is 9 grams over the keto limit.
Weetabix contains a small amount of sugar, classed as a high-glycemic sweetener, and should be avoided when following a keto diet.
Is Weetabix Cereal High In Protein?
Two Standard Weetabix biscuits contain 4 grams of protein, equating to 4% of your recommended daily value. Although this is higher than other breakfast cereals, it's nowhere near as high as some 'high-protein' cereals, sometimes containing well over double this amount.
Take Weetabix Protein, which offers 12 grams of protein in a single serving!
Traditional Weetabix should perhaps be seen as the basis of a healthy, well-rounded breakfast. You need to add fruits and nuts to bring the protein count up. Adding a 1/2 cup of nuts to your Weetabix could easily top up the protein numbers and get it closer to 'high protein' cereal territory.
Is Weetabix Cereal High In Fiber?
Weetabix is often billed as a high-fiber cereal, and it does contain 4 grams of dietary fiber per serving, which is a decent amount from a breakfast cereal. However, this isn't close to some other high-fiber cereals. Even Raisin Bran offers more fiber than standard Weetabix, with 6.7 grams per cup.
Weetabix cereal varieties
Banana
Weetabix Banana features the same barley malt extract-based cereal with added banana flavoring.
Chocolate
The chocolate edition of this classic whole-grain cereal comes with chocolate chips throughout each biscuit.
Crispy Minis
Weetabix crispy minis come in various flavors and are essentially a smaller, more crispy version of the whole-grain cereal.
Weetabix Organic
Weetabix Organic is made using organic whole wheat.
Weetabix Protein
Weetabix Protein is just like regular Weetabix, except with 7.6 grams of protein per 40g serving!
Weetabix Cereal Store Brand Alternatives
You may be able to find store brand alternatives to Weetabix at your local grocery store. However, given that Weetabix itself isn't that prominent in the U.S., you may be unable to find one. For similar wheat-based cereals, check out Wheaties and Shredded Wheat.
Where You Can Buy Weetabix Cereal
While Weetabix cereal may not be as predominant in America as in the UK, you can find it whole-grain cereal at Walmart, Kroger, and other grocery stores.
User Reviews
Review Summary
0 out of 5 stars (based on 0 reviews)
Recent Reviews
There are no reviews yet. Be the first one to write one.
Submit a Review