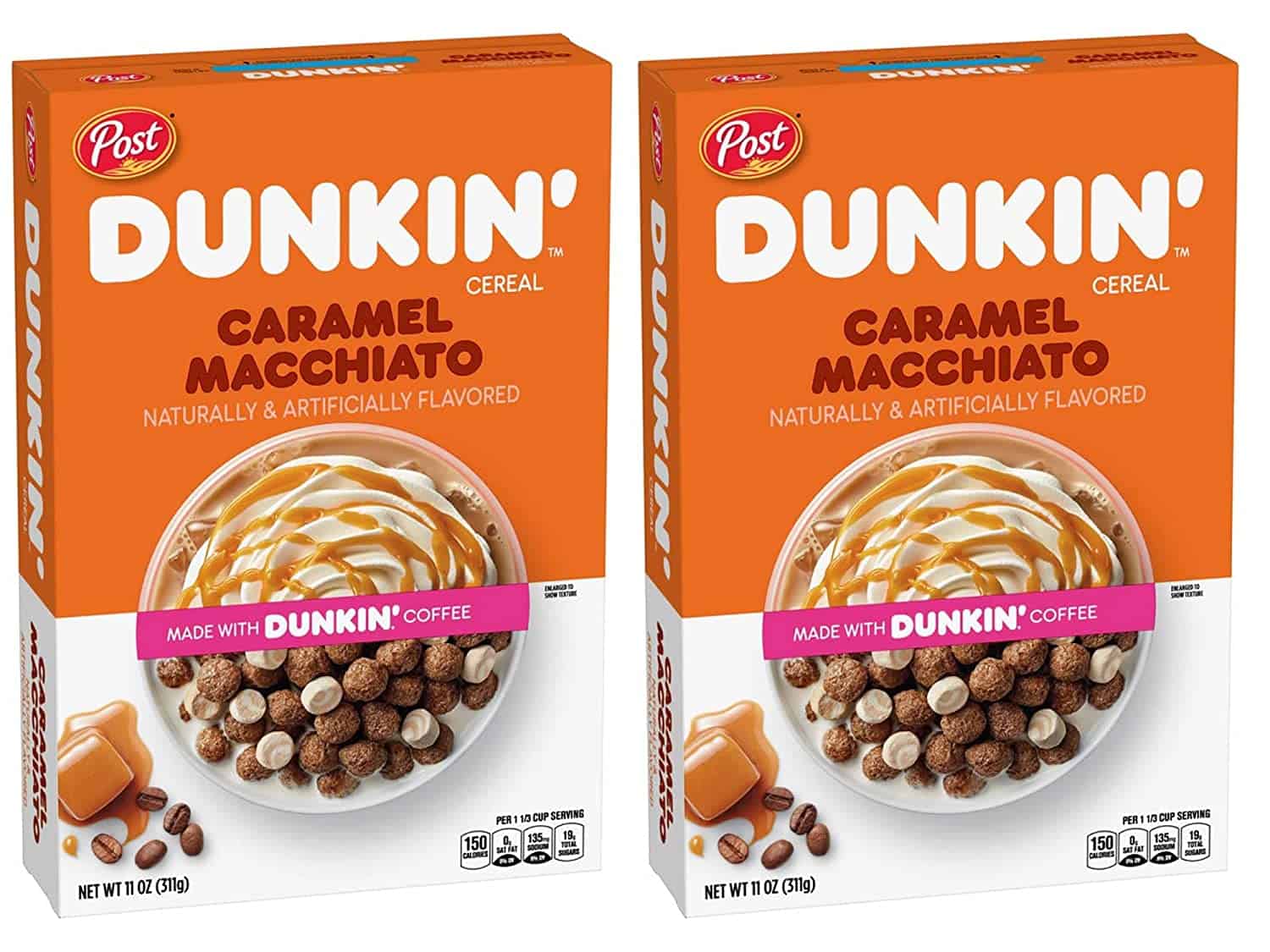 Dunkin Donuts is one of America's longest-running donut chains, first established in Massachusetts in 1950 and since spread across the country and the globe to become one of the largest donut purveyors in the world.
As one of the first words in breakfast in America, with their sweet filling pastries and excellent coffee drinks, it made perfect sense for Dunkin to branch out into breakfast cereals. Originally released in 1988, the crunchy cereal pieces in Dunkin Cereal came in chocolate and glazed donut flavor.
Dunkin has now updated their flavors to mirror the success of Dunkin coffee, capturing the indulgent flavor of America's favorite morning brew and sweetening it up with a mix of corn pieces and caramel swirled marshmallows in two delicious flavors.
Made with Dunkin coffee, the Dunkin Caramel Macchiato and Mocha Latte cereals also pack 1/10th cup shot of caffeine into every serving.
Nutrition Facts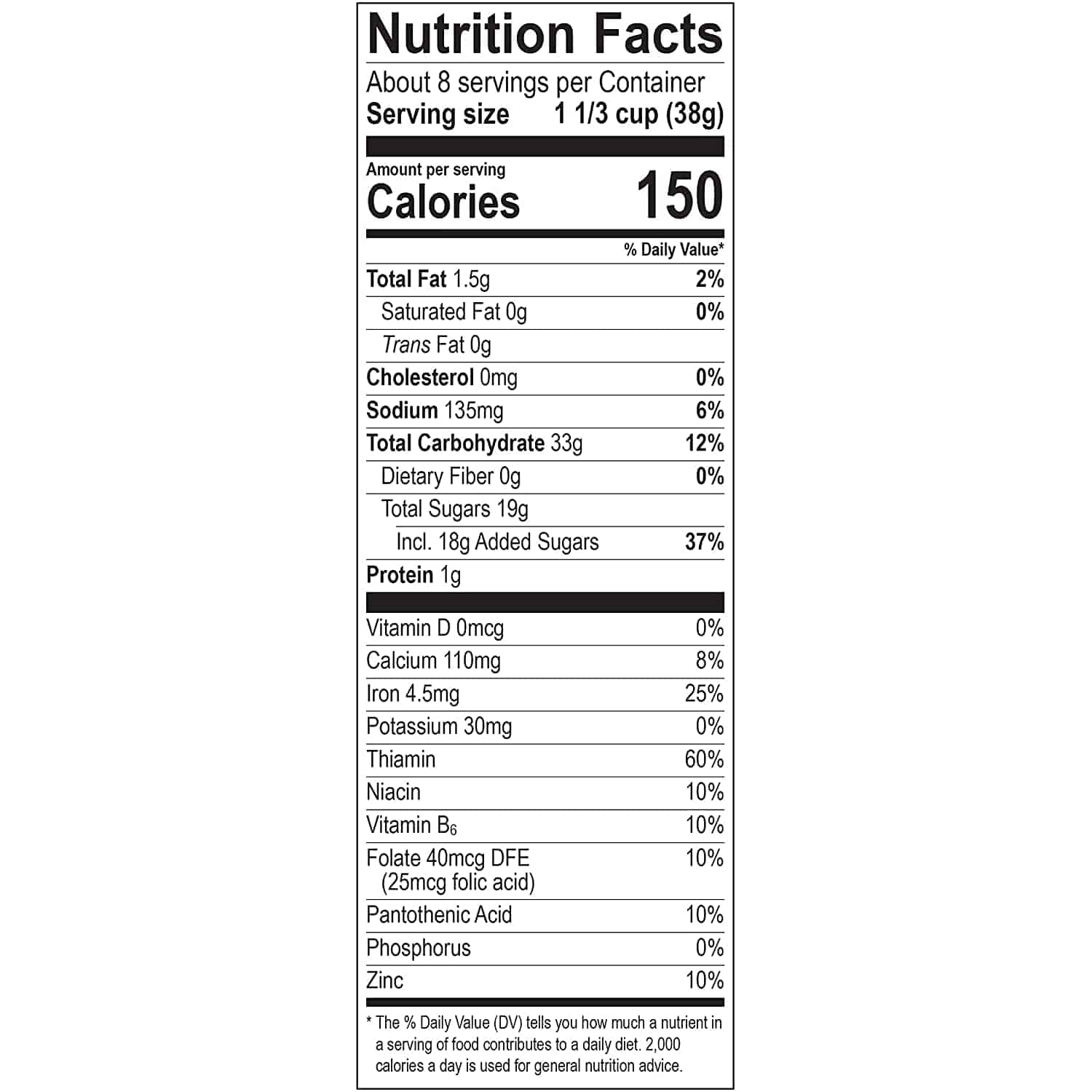 One 1/3 cup (38g) serving of Dunkin Caramel Macchiato or Mocha Latte cereal contains:
Fat – 1.5g/2% DV
Carbohydrate – 33g/88% DV
Fiber – 0g
Sugars – 19g
Added sugars – 18g
Protein – 1g/3% DV
Minerals and nutrients:
Calcium – 86.4mg/9% DV
Sodium – 135mg/6% DV
Potassium -60mg/2%
Iron – 25%
Thiamin – 60%
Niacin – 10%
Vitamin B6 – 10%
Folate – 10%
Pantothenic acid – 10%
Zinc – 10%
Ingredients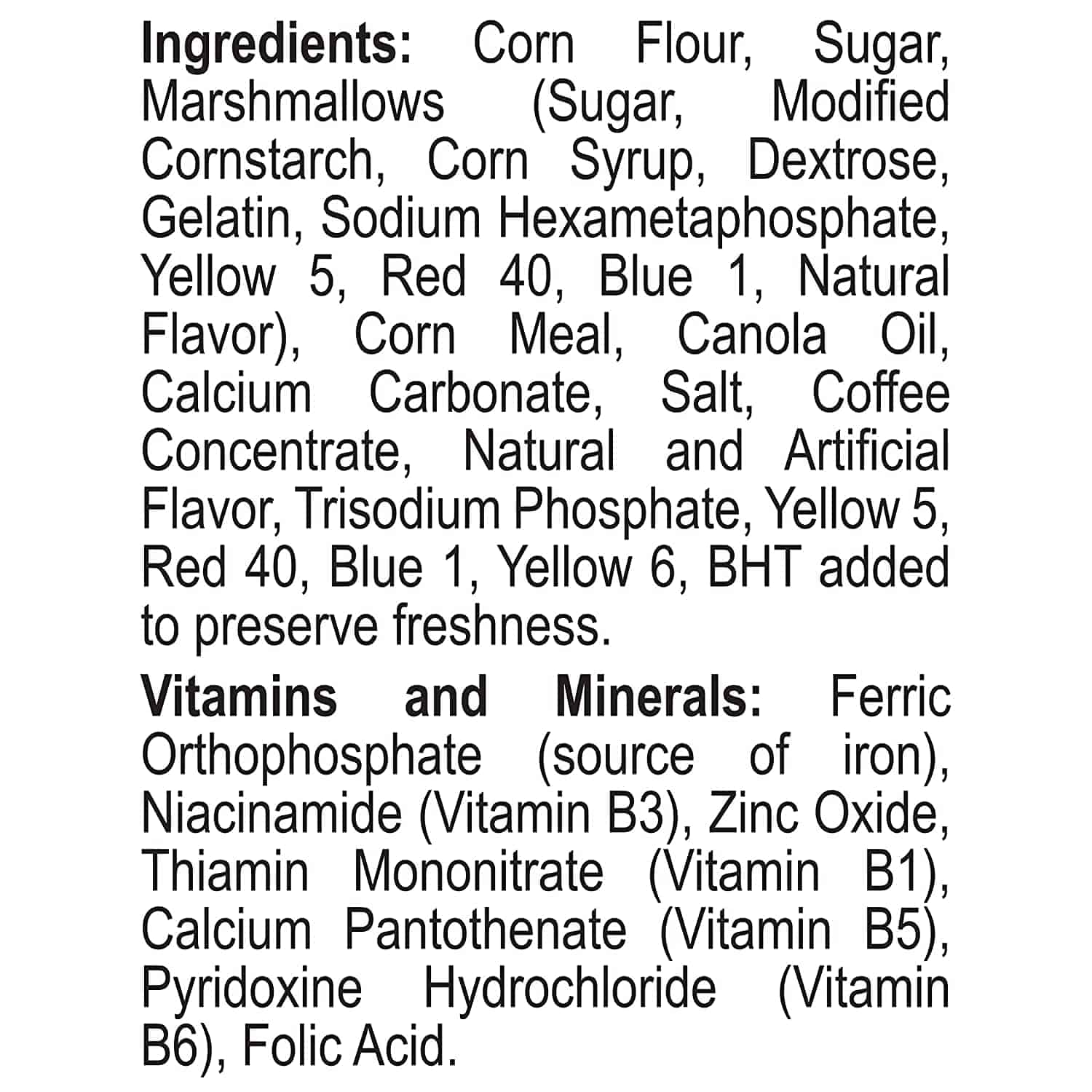 Corn flour
Sugar
Marshmallows (sugar, modified cornstarch, corn syrup, dextrose, gelatin, sodium hexametaphosphate, yellow 5, red 50, blue 1, natural flavor)
Corn meal
Canola oil
Calcium carbonate
Salt
Coffee concentrate
Natural and artificial flavor
Trisodium phosphate
Yellow 5
Red 40
Blue 1
Yellow 6
BHT added to preserve freshness
Vitamins and minerals – ferric orthophosphate, niacinamide, zinc oxide, thiamin mononitrate, calcium, pantothenate, pyridoxine hydrochloride, folic acid.
Is Dunkin Donuts Cereal Healthy?
Unfortunately, you don't get the deliciously indulgent taste of this cereal and get to eat a healthy breakfast at the same time!
All the flavor comes from the high sugar content, with 33g of carbohydrate making up a huge majority of the 150 calories serving size. With such a huge amount of your meal going on quickly burnt up energy, Dunkin cereals might taste great but are not a long-lasting form of energy in the morning, leaving you hungrier and open for a second bowl.
That being said, the calorie count is low, so if you're simply observing calories, a bowl won't send you into the red.
The caffeine hit might make a difference with the daily grind, but it's better to get our energy from more well-rounded sources in the morning.
Is Dunkin Donuts Cereal Gluten-Free?
Corn is a gluten-free grain, so the corn flour in this cereal is suitable for those on a gluten-free diet.
Is Dunkin Donuts Cereal Vegan?
Unfortunately for the vegans reading this, the caramel macchiato and latte swirled marshmallows in this cereal are made with gelatin, a substance derived from animal ligaments, making this cereal incompatible with a vegan diet.
Further to this, there is controversy surrounding the use of bone char as a coloring agent in high sugar cereals. Though there is no way to pinpoint the use of bone char as cereals will use sugar gathered from a range of sources. So, eating high sugar cereals should be something you do at your discretion if you are following a vegan diet.
Is Dunkin Donuts Cereal Keto?
A keto diet encourages a high intake of healthy fat and a negligible sugar intake to promote the body's production of ketones as an alternative energy source.
The very high sugar content in a single serving of this breakfast cereal would be more than enough to take your body out of ketosis. Furthermore, the 1.5g of fat is too little to encourage your body towards producing ketones.
If you're trying to observe a keto diet, sugary foods like sweet breakfast cereals are best avoided as a rule of thumb.
Is Dunkin Donuts Cereal High In Protein?
Dunkin Donuts cereal is very low in protein, offering only 1g in a serving, just 3% of your recommended daily allowance.
Is Dunkin Donuts Cereal High In Fiber?
Dunkin Donuts cereal contains no fiber as it's made with corn flour, which starts off with low fiber when in its kernel form and loses even more during the milling process.
Dunkin Donuts Cereal Varieties
Making sure the sweet-toothed real Dunkin coffee lovers are covered, Dunkin's breakfast cereal comes in two great flavors to evoke the taste of your favorite layered iced coffee beverage.
Post Dunkin Caramel Macchiato Cereal
The Mocha Latte coffee cereal, made with Dunkin coffee, features a chocolatey blend of cereal pieces and tasty latte swirled marshmallows that evoke the smooth taste of its namesake drink.
Post Dunkin Mocha Latte Cereal
The Dunkin Caramel Macchiato cereal mixes crunchy cereal pieces and caramel-swirled marshmallows together with a hit of Dunkin's famous coffee, giving all the indulgent flavor of this beloved caramel breakfast treat in a cereal bowl.
Where You Can Buy Dunkin Donuts Cereal
Dunkin cereals can be purchased at reputable grocery stores where cereals are sold.
Also, due to the worldwide fame of Dunkin, if the cereals aren't available at your local store, there are a host of online sweet stores and general stores where you can get your Dunkin Donut cereal fix.
Famous Dunkin Donuts Cereal Commercials
When Dunkin rolled out their first cereal in the 1980s, they released it with this commercial, depicting one of their bakers making lots of tiny little donuts for cereal boxes.
This current rendition of Dunkin, however, didn't get a commercial. This may be because Dunkin knew the worldwide fame of their brand and the passion and curiosity of their consumers, as well as the sweet novelty taste, would be enough to encourage word of mouth to build the cereal's popularity.
User Reviews
Review Summary
0.0 out of 5 stars (based on 0 reviews)
Recent Reviews
There are no reviews yet. Be the first one to write one.
Submit a Review