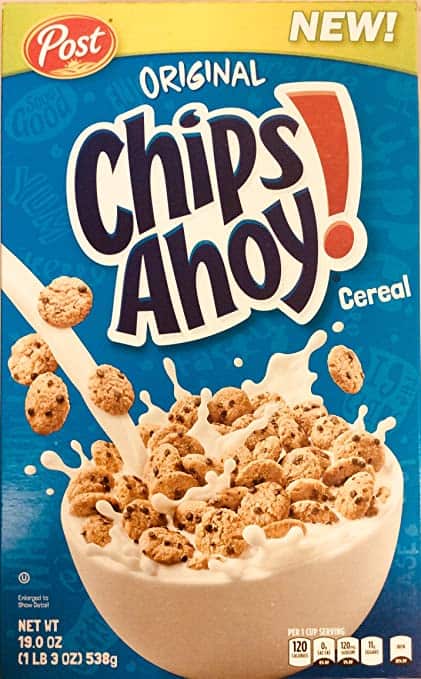 In the world of breakfast cereal celebrations, there are several cookie-based options to choose from. Post Chips Ahoy cookies were the most logical variation for this very popular style of cereal. Who doesn't love milk and cookies? A match made in heaven! So it only made sense to put the taste of America's favorite chocolate chip cookie in a breakfast bowl. Simply genius!
However, while this cereal is the breakfast adaptation of the most beloved chocolate chip cookie, the mini-cookie in this cereal is not an exact duplicate. They are more aligned with General Mill's Cookie Crisp cereal though they still provide a bit of the coveted taste you want from Chips Ahoy.
All in all, this is another great addition to the numerous cereal achievements from Post. While it will not replace the original Chips Ahoy cookie any time soon, this cereal will probably simply make you crave them more. But, as far as a sweet and fun way to start the morning, Chips Ahoy is a great way to get you up and out of bed to take on the day.
Nutrition Facts
One serving (38 grams) of Post Chip's Ahoy cereal contains:
Calories – 150
Calories from fat – 22.5
Fat – 2.5 grams / 3%
Saturated fat – 0 mg
Trans fat – 0mg
Cholesterol – 0mg
Sodium – 160mg / 7%
Carbohydrates – 32 grams / 12%
Total sugars – 14 grams / 29%
Dietary fiber – less than 1 gram / 3%
Protein – 1 gram / 0%
Vitamin B1 (Thiamin) – 70%
Vitamin B5 – 15%
Vitamin B3 (Niacin) – 10%
Vitamin C – 0%
Folate – 40 mcg DFE / 10%
Vitamin B9 (Folic acid) – 25 mcg
Pantothenic acid – 15%
Potassium – 40 mg / 0%
Calcium – 90 mg / 6%
Phosphorus – 2%
Iron – 6.3 mg / 35%
Zinc – 15%
Vitamin B6 (Pyridoxin) – 0%
*The above Daily Value percentage is based on a diet of 2,000 calories per day.
One 481 grams box of Chip's Ahoy cereal contains around 13 servings.
Chip's Ahoy cereal contains 0 grams of whole grains.
Ingredients
Corn flour
Whole grain oat flour
Sugar
Cocoa processed with alkali
Canola oil
Corn syrup
Cookie bits (sugar, cornflour, cocoa (processed with alkali), soybean oil)
Sodium (salt)
Caramel color
Natural and artificial flavor
BHT added to preserve freshness
Calcium carbonate
Ferric orthophosphate (source of iron)
Niacinamide (vitamin b3)
Zinc oxide (source of zinc)
Thiamin mononitrate (vitamin b1)
Calcium pantothenate (vitamin b5)
Pyridoxine hydrochloride (vitamin b6)
Folic acid
Is Chips Ahoy Cereal Healthy?
Post Chips Ahoy cereal takes everything that there is to love about America's favorite chocolate chip cookies and puts it into a breakfast cereal. After all, cookies and milk are one of the ultimate snack foods. With that in mind, while Chips Ahoy is an incredibly satisfying cereal, it is not a healthy cereal.
Firstly, it contains a lot of refined and added sugars. Other than cornflour, sugar is the primary ingredient, making Post Chips Ahoy nearly 50% sugar. One serving of Chips Ahoy contains almost one-third of an entire day's recommended sugar consumption and equals nearly four teaspoons of sugar.
Secondly, Chips Ahoy contains several additives and preservatives, such as BHT, coloring, and artificial flavoring, which are not considered healthy.
Is Chips Ahoy Cereal Gluten-Free?
The product labeling for Chips Ahoy does not state that the cereal is gluten-free or safe to consume by those who have gluten allergies. The main ingredient in the cereal version of Chips Ahoy is corn flour. Corn flour is gluten-free flour. The cereal also contains oat flour, which is generally considered gluten-free.
It is worth noting that some ingredients present the possibility of cross-contamination, and those with gluten intolerance or an allergy should be cautious.
Is Chips Ahoy Cereal Vegan?
Chips Ahoy cereal can be considered a vegan food. The cereal does not contain any milk-based ingredients. However, depending on how strict a vegan you are, there may be other ingredients in Chips Ahoy cereal that may concern you, such as refined white sugars that can become cross-contaminated by animal bone char.
Is Chips Ahoy Cereal Keto?
As a primarily sugar-based cereal, Chips Ahoy cereal cannot be considered a keto-friendly food. The sugar content in Chips Ahoy cereal far exceeds the daily diet of someone who practices keto. A keto diet typically only permits a daily intake of 20 -30 grams of carbohydrates. One serving of Chips Ahoy cereal is more than 30 grams of carbohydrates by itself.
Is Chips Ahoy Cereal High In protein?
No, Chips Ahoy cereal is not high in protein. Based on the nutritional information, there is nearly no protein contained in the cereal. Thus, Chips Ahoy cereal should not be considered a way to contribute to your daily protein allowance at all.
Is Chips Ahoy Cereal High In Fiber?
As with protein, Chips Ahoy cereal provides essentially none of the dietary fiber you should consume each day. One serving of Chip Ahoy provides less than 1 gram of dietary fiber. According to the FDA, the recommended dietary fiber intake should be around 25 grams. So, Chips Ahoy does not adequately supply fiber to your diet.
Where Can You Buy Chips Ahoy Cereal?
Chips Ahoy cereal can be bought at Walmart, Target, and any other major grocery store chain. The cookie-based cereal can also be purchased online through Instacart.
Famous Chips Ahoy Cereal Commercials
Post didn't overly invest in marketing the cereal version of Chips Ahoy because, well, who doesn't love chocolate chip cookies already, right? And as Chips Ahoy was already America's favorite chocolate chip cookie, the consumer base was already established.
Post didn't even need to compete against General Mill's Cookie Crisp cereal in the beginning. Post simply created a commercial informing the country that the dream of having Chips Ahoy for breakfast was now a reality.
User Reviews
Review Summary
0 out of 5 stars (based on 0 reviews)
Recent Reviews
There are no reviews yet. Be the first one to write one.
Submit a Review