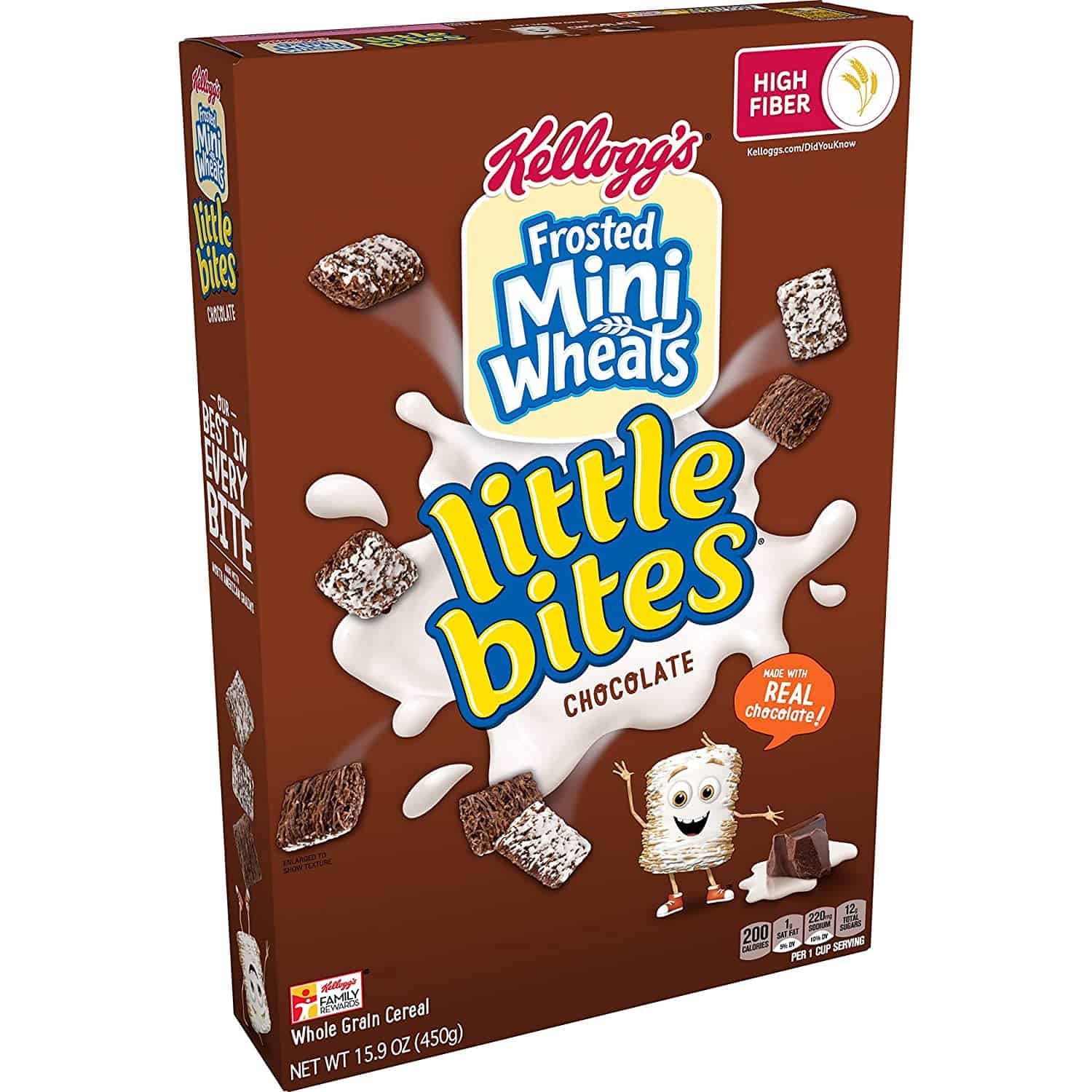 If you're a fan of the original mini-wheats cereal by Kellogg's and you love chocolate, you're sure to enjoy Kellogg's frosted mini-wheats chocolate little bites!
For most people, the morning breakfast routine is usually a rush, and breakfast cereals have rapidly become popular thanks to their quick preparation. Although breakfast is the most important meal of the day, you're probably seeking a quick and easy option.
This delicious chocolate frosted mini wheat cereal is an obvious choice for quickness, but how healthy is it? It is a good enough source of fiber and protein? Is it suitable for those on a gluten-free diet? Read along as we answer all these questions and more!
Nutrition Facts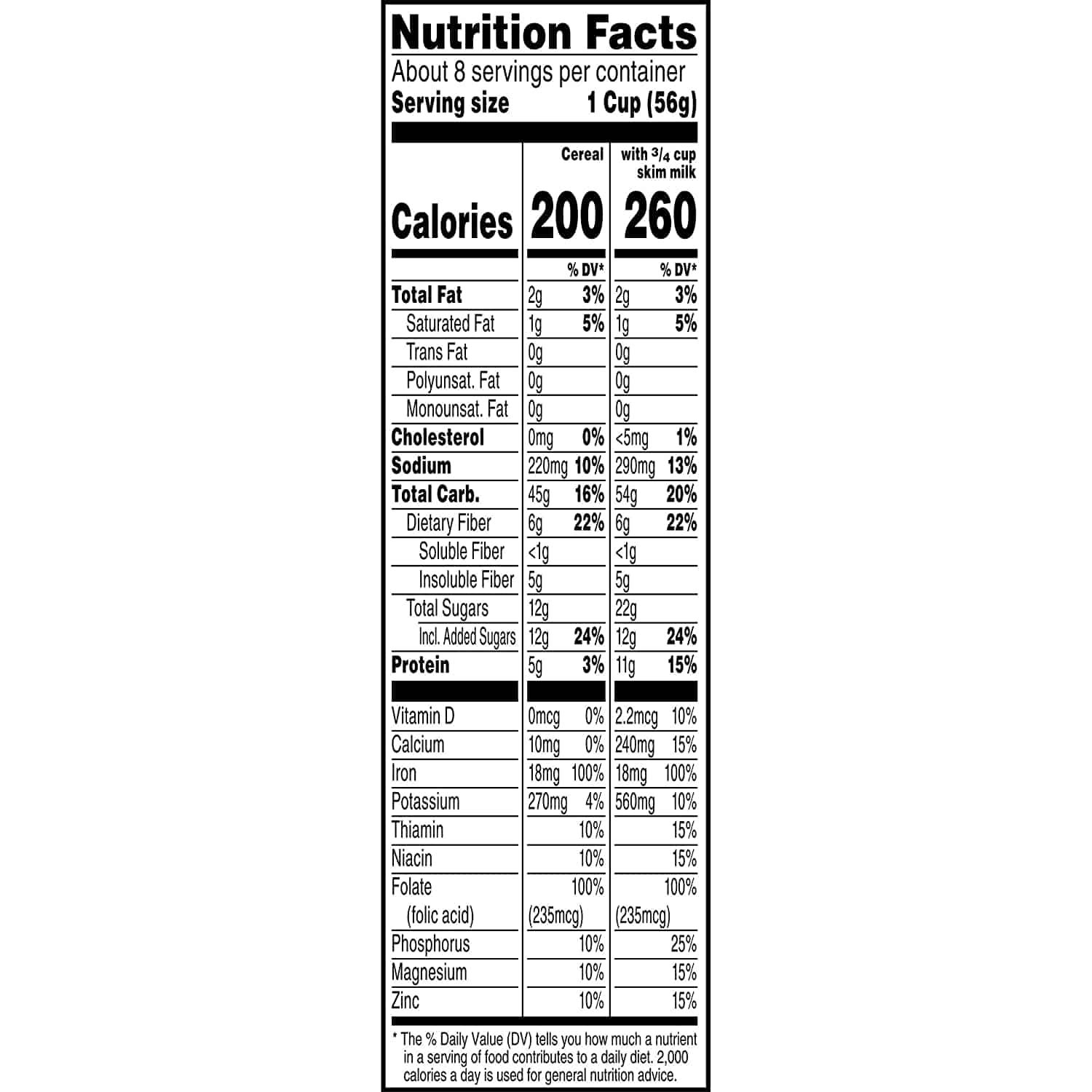 Marketed as a high-fiber, low-fat breakfast cereal, Kellogg's Chocolate Frosted Mini-Wheats little bites are 50% smaller than the original biscuits but with the same flavor!
The bite-size biscuits pack a satisfying crunch into every spoonful, along with layers of crispy wheat, each one featuring a delicious frosting for an irresistible taste. This chocolate flavored Mini-Wheats little bites cereal is super versatile, here are a few ways to eat them:
Add them to a homemade trail mix as a tasty snack
A snack in the office as an afternoon pick me up
Post-workout snack
As a tasty movie-night snack!
A weekend breakfast treat
Now, let's take a look at the nutrition facts of this crunchy cereal:
Calories: 190
Fat: 2g 3% DV
Sodium: 210mg 9% DV
Carbohydrates: 45g 16% DV
Sugar: 12g
Fiber: 6g 22% DV
Protein: 5g 4% DV
Calcium: 10mg
Iron: 18mg
Magnesium: 10% DV
Niacin: 10% DV
Potassium: 280mg 4% DV
Ingredients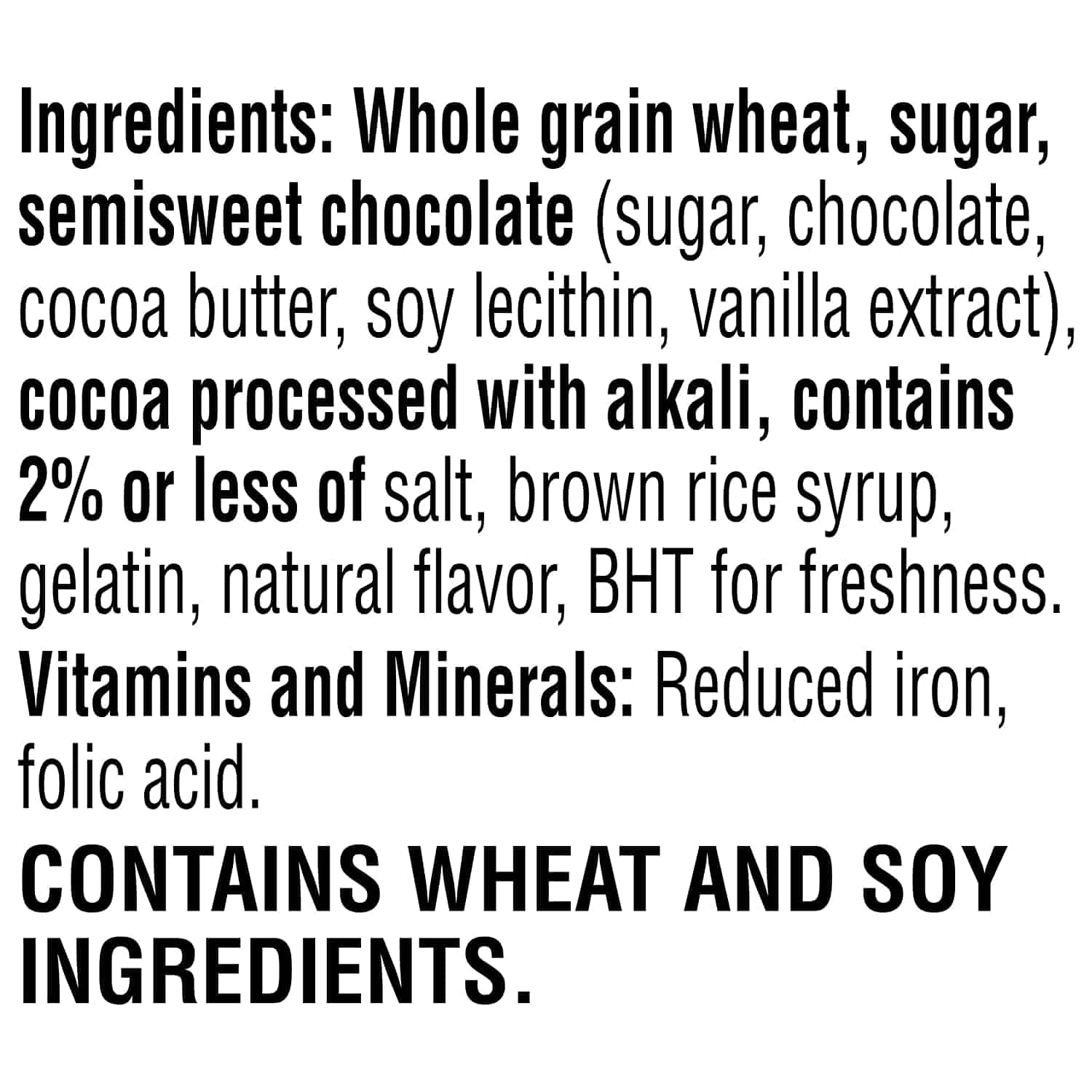 Kellogg's chocolate frosted mini-wheats little bites contain:
Whole grain wheat
Sugar
Brown rice syrup
Semisweet chocolate – chocolate, soy lecithin, vanilla extract, sugar, cocoa butter
Cocoa – this is processed using alkali
Salt – 2% or less
Gelatin
BHT – added to keep the product fresh
Natural flavoring
Is Frosted Mini-Wheats Chocolate Cereal Healthy?
Healthy food generally refers to whole foods that are as minimally processed as possible such as fruits, vegetables, unprocessed whole grains, and natural animal products such as fresh meat, eggs, and fish.
Unfortunately, Kellogg's Frosted Mini-Wheats little bites cereal is heavily processed and contains high levels of sugar. It therefore can't be described as a healthy cereal. Sugar is the second ingredient on the label, signaling that it contains high levels.
The chocolate flavor combined with the sweet frosting on each biscuit means that this cereal should ideally be eaten as an occasional snack rather than an everyday breakfast cereal.
Is Frosted Mini-Wheats Chocolate Cereal Gluten-Free?
Sadly, no. As the name suggests, Kellogg's Chocolate Mini-Wheats Cereal is not gluten-free as it contains wheat. This means it's not safe for people suffering from Celiac disease or gluten intolerances.
Is Frosted Mini-Wheats Chocolate Cereal Vegan?
No, unfortunately, vegans and vegetarians will need to avoid this cereal as it contains gelatin. Not very often seen in breakfast cereals, gelatin is derived from the bones, skin, and cartilage of animals.
Another ingredient that may make this cereal unsuitable for vegans is sugar. This does depend on how strict of a vegan you are because although sugar itself is vegan, the way it's often processed isn't.
It's usually mixed with the bone char from animals to get rid of impurities which, technically, means it isn't vegan.
Is Frosted Mini-Wheats Chocolate Cereal Keto?
No, Kellogg's Chocolate Mini Frosted Wheat bites should ideally be avoided by those following a ketogenic diet. The whole point of a keto diet is so that the body reaches ketosis – where the body burns fat and produces ketones, which it uses for fuel.
To do this, most people restrict their carb intake to 20-30 grams of net carbs each day. With 40 grams of net carbs in every serving, Kellogg's Chocolate Mini-Wheats are far too high in carbs, meaning your body highly likely won't reach ketosis.
Not only is this cereal high in carbs, but it's also highly processed, containing some ingredients with very high GI (glycemic index) levels. These can cause blood sugar levels to spike rapidly, also preventing you from reaching that state of ketosis you've worked hard for!
Is Frosted Mini-Wheats Chocolate Cereal High in Protein?
Kellogg's Chocolate Mini-Wheats contain 5 grams of protein in each serving which, for a breakfast cereal, isn't too bad. However, other less processed foods offer lots more protein.
If you're wanting to build muscle or improve your performance recovery, this cereal isn't a very good option as it doesn't offer enough protein. You may want to look at other foods such as eggs or protein pancakes.
Is Frosted Mini-Wheats Chocolate Cereal High in Fiber?
Kellogg's chocolate frosted little bites contain 6 grams of dietary fiber in each serving. This is a fairly good amount for a breakfast cereal. Despite this, the whole grains that are responsible for the fiber are highly processed, and the fiber benefits are canceled out by the high sugar levels.
Frosted Mini-Wheats Chocolate Cereal Store Brand Alternatives
If you can't get your hands on Kellogg's chocolate bite-sized wheat biscuits, don't worry! Kroger stocks its own brand of frosted shredded wheaty bites that you're sure to love! You could also try the original delicious frosted mini wheat cereal from Kellogg's.
However, if you've got a serious chocolate craving, these frosted flakes from Kellogg's are sure to please!
Where You Can Buy Frosted Mini-Wheats Chocolate Cereal
This chocolate frosted cereal from Kellogg's can be found in grocery stores across the country. This includes all major stores like Kroger and Target. However, if you're struggling to find it in stores or you're not able to buy it in person, don't panic! It can also be bought online here at Amazon.
Famous Frosted Mini-Wheats Chocolate Cereal Commercials
Kellogg's frosted mini-wheats were first introduced in 1969 with multiple flavors being released in the years after. This commercial for the chocolate frosted mini-wheats little bites was originally aired in 2010.
It features the "little bites" learning that they have just as much fiber and taste as the larger variety!
https://www.youtube.com/watch?v=nxhmwOnGBA4&ab_channel=TOKENFATK1D
User Reviews
Review Summary
0.0 out of 5 stars (based on 0 reviews)
Recent Reviews
There are no reviews yet. Be the first one to write one.
Submit a Review