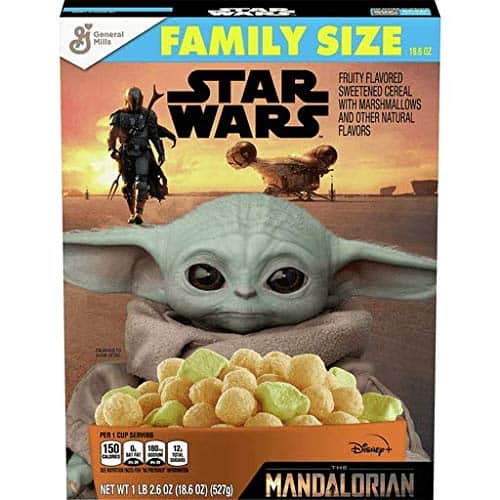 Calling all Star Wars fans, a call to all Star Wars fans! The Mandalorian has arrived! Well, the Mandalorian is in a cereal format but close enough.
For anyone who loves the movie franchise of Star Wars will likely want to check out the cereal, whether they're a typical breakfast cereal eater or not. Enjoy the thrill of this cereal with its flavored, sweetened puffed corn and fun marshmallows shaped like Grogu or baby Yoda, as some people like to refer to him.
It may not be the healthiest of cereals, but it's undoubtedly one of the coolest.
Nutrition Facts
The fun marshmallow bounties shaped Grogu combined with the fruity flavored sweetened cereal is a great mix. Here are some nutritional facts about the cereal.
Calories: 150
Saturated Fat: 0g
Trans Fat: 0g
Cholesterol: 0.0mg
Sodium: 180mg
Total Carbohydrate: 32g
Dietary Fiber: 1g
Sugars: 12g
Includes Added Sugars: 12g
Protein: 2g
Calcium: 130.0mg
Ingredients
Star wars, the Mandalorian cereal may not be the healthiest of combinations for its ingredients. Here's what you can expect to find in this family-size cereal box.
Whole Grain Corn
Corn Meal
Sugar
Marshmallows (Sugar, Modified Corn Starch, Corn Syrup, Dextrose, Gelatin, Blue 1, Yellow 5, Artificial Flavor)
Corn Syrup
Canola Oil
Salt
Trisodium Phosphate
Natural Flavor
Is Mandalorian Cereal Healthy?
While we hope that every mouthful of the Mandalorian Cereal is giving us Jedi powers, it's quite a sugary rush that isn't too healthy for our bodies to have regularly. With the Star Wars, the Mandalorian cereal, you will be digesting quite a lot of sugar as part of this breakfast bowl.
As a result, you're likely to have a sugar crash mid-morning, despite it giving you a bit of temporary energy in the morning. You might want to enjoy it as a little snack every now and then. It's a family-size box, so you can always store it in an airtight container and enjoy it over a longer period of time if you're worried about eating it too quickly.
Is Mandalorian Cereal Gluten-Free?
The Mandalorian cereal is unfortunately not gluten-free. The reason for this is that it contains whole grains that are likely cross-contaminated with wheat products. For someone who is gluten-intolerant or has celiac disease, it's not the best choice to start eating this cereal.
The Star Wars, the Mandalorian cereal, is actually one in a long list of Disney+ series cereals that will likely come out over time. That means we might see some gluten-free options coming out shortly.
Is Mandalorian Cereal Vegan?
The Mandalorian Cereal isn't vegan mainly because of the gelatin that is found in the marshmallow pieces. While there are gelatins that can be made out of plants, this one is animal-derived, making it a no-go for vegans.
There are also some gray areas when it comes to this cereal, particularly when it comes to the sugars and some of the vitamins found in the ingredients. Some vegans may choose to avoid this cereal, even if it doesn't contain the marshmallow pieces.
Is Mandalorian Cereal Keto?
For someone who may be on a keto diet and an avid Star Wars fan, you sadly won't be able to enjoy this Mandalorian cereal. With a keto diet, it's low carb and low sugars, which this cereal doesn't offer.
As for a breakfast cereal, with its high sugar content, it is going to be a big cross when it comes to passing the keto check.
The Star Wars, the Mandalorian cereal, is also heavily carb-filled, so this is another thing that keto restricts for its dieters.
Is Mandalorian Cereal High In Protein?
This cereal contains two grams of protein, which is fairly low in comparison to other cereals. It's not the type of cereal that you'll likely combine with protein-rich foods, especially as it's a heavily sweetened cereal with marshmallows. You might want to consider a different breakfast cereal entirely instead.
While this breakfast cereal may contain other healthy nutrients like Vitamin C, it's not got enough going for it in protein value.
Is Mandalorian Cereal High In Fiber?
The Mandalorian breakfast cereal contains just 1g of fiber. While kids love this cereal, some may not benefit from the low fiber levels, especially when it comes to a breakfast option.
This cereal continues to be popular, and if you want to buy it, then it makes for a great treat. However, for those looking to improve their digestive system, with the marshmallows fortified and the sweetened cereal, it might not be the best for your stomach.
You may want to look elsewhere for a more fiber nutritious cereal.
Mandalorian Cereal Varieties
When it comes to this cereal, there are no varieties within this range made by General Mills. However, there are plenty of other cereals by this cereal brand that is worth trying if you enjoy the Mandalorian cereal. You may want to try one of these popular cereals:
Mandalorian Cereal Store Brand Alternatives
While there's unlikely to be any store brand alternatives of the Mandalorian cereal exactly, there are certainly a few similar ones worth trying that are made up of the same marshmallow and sweetened corn combination. It's a popular mix with a lot of young ones! Here are a few to look out for:
Marshmallow Mateys
Marshmallow Fruity Pebbles
Fruit Loops Marshmallows
Chocolate Frost Flakes & Spooky Marshmallows
Where You Can Buy Mandalorian Cereal?
Where can you buy the Mandalorian Cereal? As this is a fairly unique one, you may find better luck online shopping than in-store, but here are a few places you can look:
Famous Mandalorian Cereal Commercials
Sadly, there don't seem to be any Mandalorian cereal commercials in existence. Still, we've found a couple of YouTube reviewers' videos Star Wars: The Mandalorian and The Mandalorian Review: Taste Test and Review! where you can watch people try out the cereal for the first time and give their opinions.
User Reviews
Review Summary
0.0 out of 5 stars (based on 0 reviews)
Recent Reviews
There are no reviews yet. Be the first one to write one.
Submit a Review