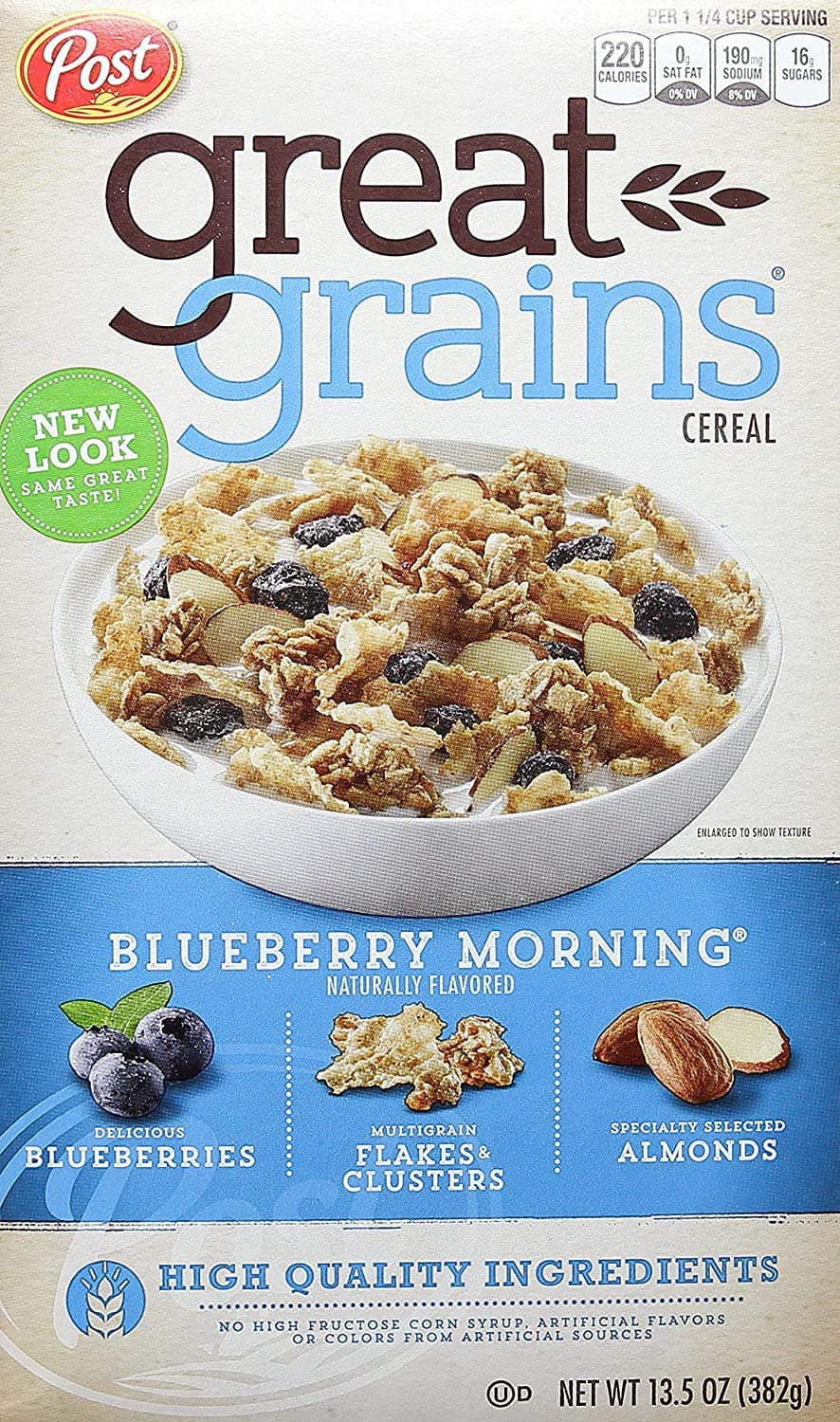 Inspired by the flavor of freshly made blueberry and almond muffins, Post Great Grains Blueberry Morning cereal is a clear favorite of many who describe it as eating a mouthful of summer with every bite.
It is a popular option as part of a heart-healthy, balanced diet since it is made with crunchy granola clusters, sweet, tangy blueberries, crispy multi-grain flakes, and tasty almonds. Despite its high sugar content, this breakfast cereal may be an excellent addition as a welcome treat for the entire family.
Nutrition Facts

A single serving (55g) of Great Grains Blueberry Morning cereal contains:
Calories – 220
Total fat – 3g / 5%
Sodium – 190mg / 8%
Potassium sorbate – 115mg / 3%
Total carbohydrates – 44g / 15%
Dietary Fiber – 3g / 12%
Sugars – 16g
Protein – 4g
Vitamin A – 15%
Calcium – 2%
Iron – 10%
Ingredients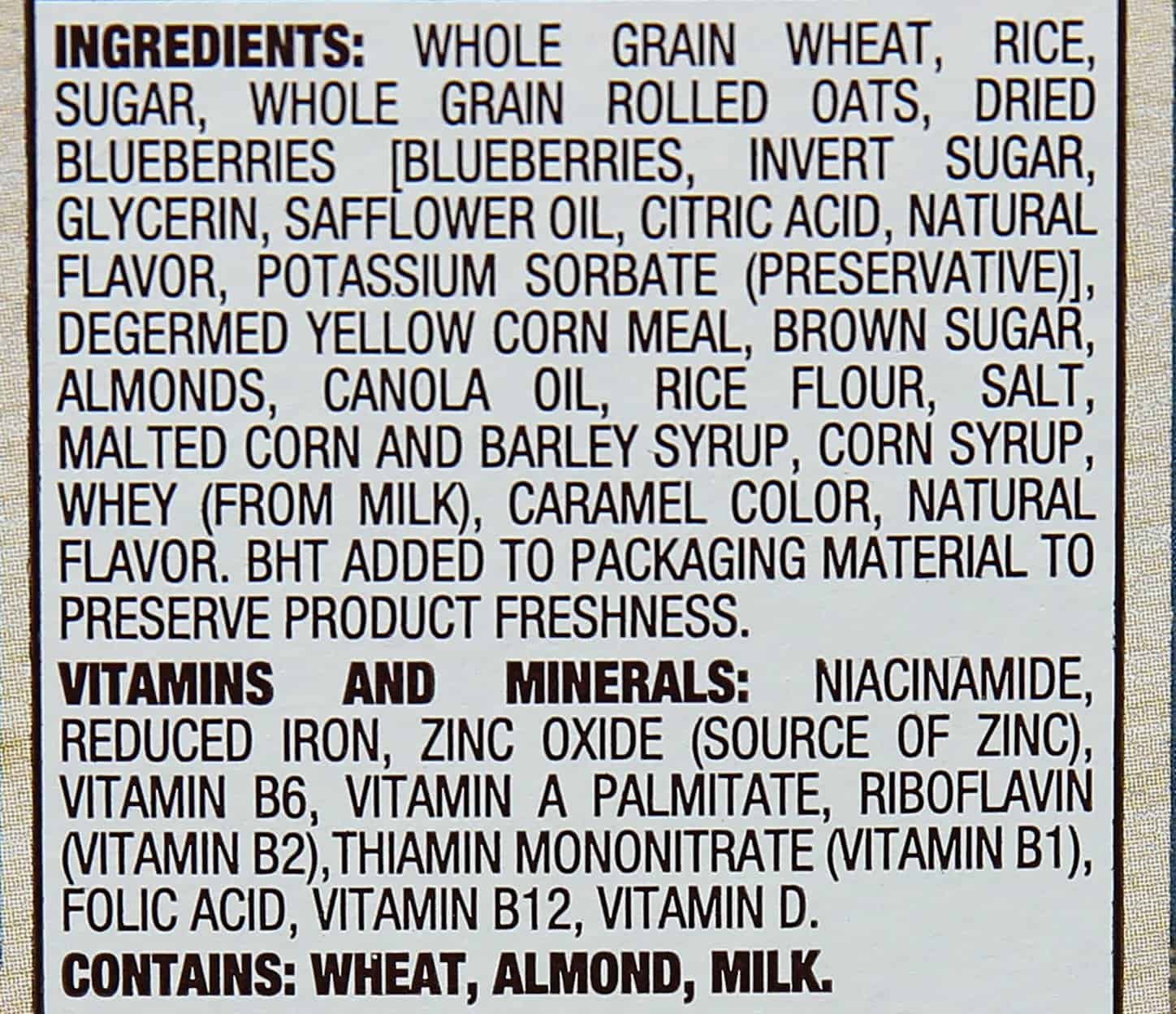 Great Grains Blueberry Morning cereal contains the following ingredients:
Whole Grain Wheat
Rice Flour
Cane Sugar
Dried Blueberries (Blueberries, Invert Sugar, Glycerin, Sunflower Oil, Natural Flavor)
Whole Grain Rolled Oats
Almonds
Expeller Pressed Canola Oil
Salt
Barley
Malt Extract
Rice Syrup
Molasses
Caramel Color
Natural Flavor
Bht Added To Preserve Freshness
Vitamins and Minerals: 
Niacinamide (Vitamin B3)
Reduced Iron
Zinc Oxide
Vitamin a Palmitate
Pyridoxine Hydrochloride (Vitamin B6)
Thiamin Mononitrate (Vitamin B1)
Riboflavin (Vitamin B2)
Folic Acid
Vitamin D3
Vitamin B12
Is Blueberry Morning Cereal Healthy?
Post Great Grains Blueberry Morning cereal is not particularly healthy, given the quantity of sugar included in molasses, rice syrup, and cane sugar. 190mg sodium per serving is equivalent to 2 tablespoons of salt. Moderation is essential, and it's even better if this breakfast cereal is consumed as a treat.
Is Blueberry Morning Cereal Gluten-Free?
Grains Blueberry Morning cereal contains wholewheat and whole grains, which is not gluten-free. Avoid this breakfast cereal if you have gluten sensitivities or have been diagnosed with celiac disease.
Is Blueberry Morning Cereal Vegan?
Post-Blueberry Morning cereal is not suitable for vegans as a breakfast cereal. It contains Vitamin D3, which is an animal byproduct. There are two primary animal-based vitamin D3: fish oils derived from fatty fish skin and sheep lanolin, the waxy substance secreted by the glands in a sheep's skin.
Is Blueberry Morning Cereal Keto?
Although this cereal only contains 48 grams of carbohydrates, the high fructose corn syrup plus the high carbohydrate content found in Great Grains Blueberry morning cereals are not suitable for anyone following a ketogenic diet. Ketosis may be broken by eating more than 50 grams of carbohydrates each day.
Is Blueberry Morning Cereal High in Protein?
Great Grains Blueberry Morning cereal provides just 4 grams of protein, which is insufficient to meet the daily requirements of the human body.
A nutritious breakfast should include at least 5 grams of protein, which is realistic until you consider that skim milk has 3,75 grams and whole cream milk provides 3.4 grams of protein per serving. We need 50 grams of protein per day from food alone.
Is Blueberry Morning Cereal High in Fiber?
According to the Post, the Blueberry Morning cereal is a healthy source of fiber, with 3 grams of dietary fiber per serving. A high-fiber food should have between 2.5 and 4.9 grams of fiber per serving, and a good source has 5 grams or more per serving. This breakfast is an excellent way to start your day with a daily fiber intake.
Blueberry Morning Cereal Store Brand Alternatives
If you thought Post Blueberry Morning was the extent of Post Great Grains' products, think again! Great Grains cereals are available in four delectable varieties:
Banana Nut Crunch Cereal
Great Grains' Banana Nut Crunch is made with delectable crunchy walnuts, almonds, and dried bananas. The dried bananas in the cereal make it taste authentic rather than artificially flavored, something you won't find in Great Grains Banana Nut Crunch.
Raisins, Dates, And Pecan Cereal
Staying on-brand with dried fruit and nuts, Great Grains Raisins, Dates, and Pecans contain raisins, dates, and thinly sliced but crunchy pecans. The grain cereal, like Blueberry Morning, is composed of whole-grain flakes and has a similar crunchy multi-grain cluster, but it tastes only like raisin bread.
Cranberry Almond Crunch Cereal
This fiber-rich breakfast cereal is high in iron, phosphorus, and zinc and has no high fructose corn syrup, artificial flavors, or colors. The grain cereal, which contains dried cranberries and almond flakes, seems most favored in Post's Great Grains' whole line.
Crunchy Pecan Cereal
If you are not a fan of dried fruit and prefer a whole-grain cereal with pecan nuts, you are spoiled for choice. Crunch Pecan cereal has less sugar than the entire range of grain cereals; however, you should always read the labels if you are following a strict diet.
Where You Can Buy Blueberry Morning Cereal
You will find Post Great Grains Blueberry Morning cereal in any aisle in all major retail stores or even a local store in your neighborhood. If you struggle to find your favorite breakfast cereal, they are also available online at major online stores like Amazon, Walmart, and Instacart.
Famous Blueberry Morning Cereal Commercials
In 1994, Post successfully marketed Banana Nut Crunch as freshly baked banana nut bread in every bowl. To introduce consumers to what they might anticipate from each mouthful of the grain cereal, the famous tagline was "Home-baked flavor in your cereal bowl."
Blueberry Morning was introduced in 1995 and was touted as "a little piece of summer all year." Post used this notion for advertising blueberries produced in Maine and Nova Scotia throughout the summer months, as Post mentioned on the cereal box.
Both kinds of cereal were sold separately until 2012 when Post began marketing them under the Great grains name. Both types of cereal are Great grain brand mainstays.
User Reviews
Review Summary
0 out of 5 stars (based on 0 reviews)
Recent Reviews
There are no reviews yet. Be the first one to write one.
Submit a Review