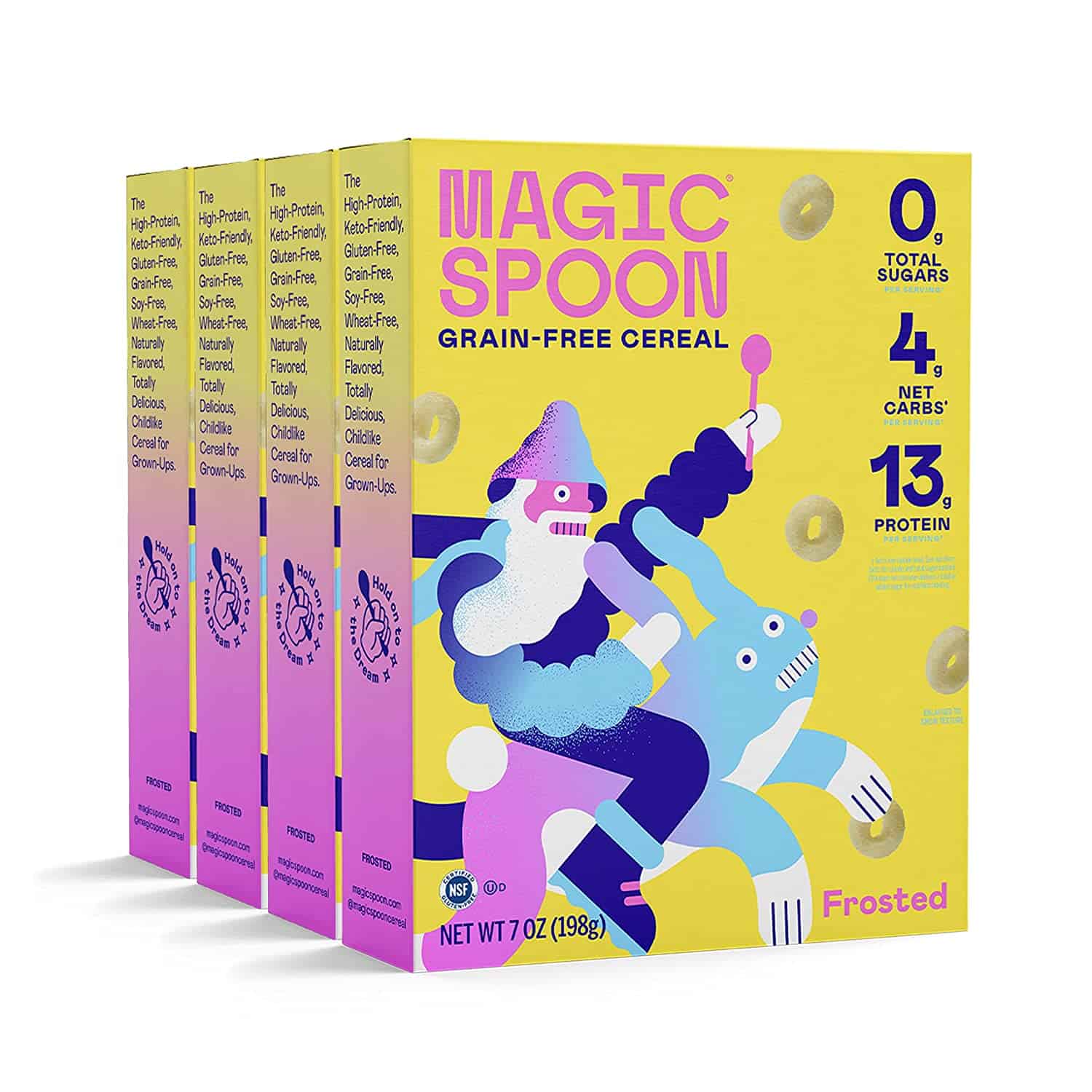 Magic Spoon Frosted Cereal provides a delicious breakfast that will help you start your day right whilst remaining low in carbs and high in protein content. This cereal is grain-free, contains 0 grams of sugar, and has no artificial flavors.
Instead, it has a specially crafted sweetener blend that provides the same burst of flavor with every spoonful without the unhealthy side effects. This cereal is vanilla and marshmallow flavored, and is grain-free and suitable for those with gluten-free diets.
Nutrition Facts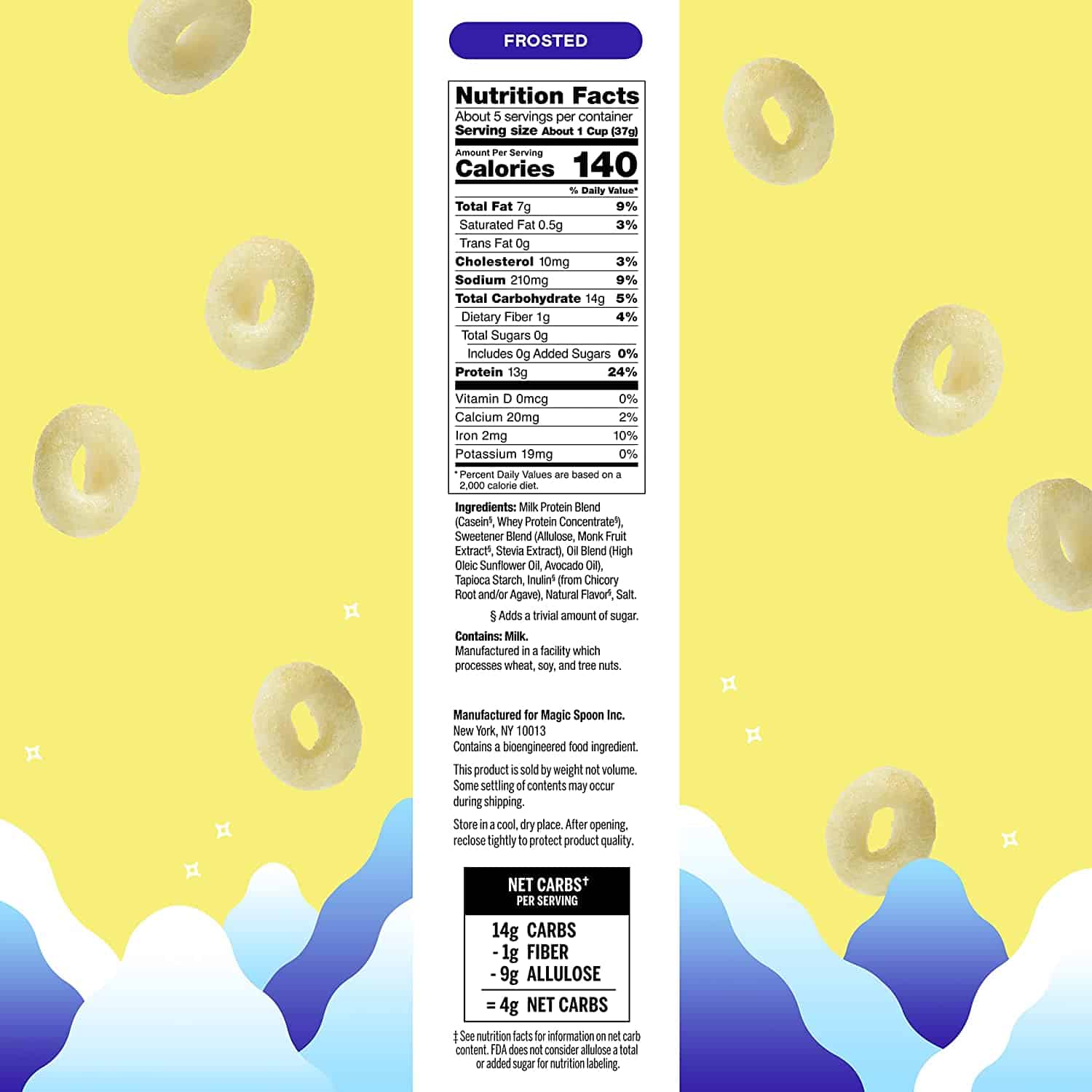 One portion (28g) of Magic Spoon Frosted Cereal contains:
Calories – 111
Totalled fat content – 6 grams/9% DV
Trans fat – 0%
Saturated fat – 5 grams/25%
Cholesterol – 10mg/3% DV
Total carbohydrates – 8 grams/3% DV
Total sugars – 0 grams
Dietary fiber – 2 grams/8% DV
Protein – 12 grams
Vitamin D – 0mcg
Calcium – 260mg/20% DV
Iron – 0mg/0% DV
Potassium – 0%
Sodium 150mg/7%
Vitamin A – 0%
Vitamin C – 0%
A 198g box of Magic Spoon Cereal contains 7 servings.
Ingredients
The ingredients list of this Magic Spoon Cereal contains:
the protein blend of milk made from whey protein concentrates and milk protein isolates
sweetener blend made from monk fruit extracts, allulose, and steviol glycosides
oil blend made with high oleic sunflower oil, vitamin E, and avocado oil
starch made from Tapioca
Chicory Root fiber – inulin
natural flavors
salt
Is Magic Spoon Frosted Cereal Healthy?
This Magic spoon cereal is regarded as a healthy cereal due to its high protein content and relatively low net carbs. With 12 grams of protein per serving, it certainly qualifies as a high-protein cereal that will give you a good burst of energy in the morning.
Magic Spoon's cereal also prides itself on using zero artificial colors or sweeteners and instead uses only natural flavors. At 8 grams of carbs per serving, it is also a low-carb breakfast option for those looking to reduce their daily intake of carbs.
Because this cereal has no sugar alcohols, cane sugar, or syrup, it doesn't affect your blood sugar levels which can contribute to issues like obesity and weight gain.
Is Magic Spoon Frosted Cereal Gluten-Free?
Yes. Magic Spoon's frosted flavor cereals contain no gluten ingredients and are suitable for those that can't eat gluten. The cereal contains no wheat, soy, or rice which is ideal if any of these ingredients are also excluded from your diet.
Is Magic Spoon Frosted Cereal Vegan?
No, Magic Spoon cereal is not suitable for those with a vegan diet due to largely being made from dairy protein. Unfortunately, this brand doesn't actually have any vegan alternative cereals currently on offer, so you might have to opt for a different brand to meet your vegan dietary requirements.
Is Magic Spoon Frosted Cereal Keto?
For those following a strict keto diet, you will be happy to know that this cereal qualifies as keto-friendly. It contains just 4 grams of net carbs per serving (28g), which is low enough for those trying to keep the intake of net carbs very low.
Is Magic Spoon Frosted Cereal High in Protein?
The protein content is where this brand of cereal excels compared to others. With an impressive 12 grams of protein per 28-gram serving, this cereal certainly qualifies as being high in protein content. In fact, it is 12 times higher than the average protein content of cereals which is just 1 gram.
Is Magic Spoon Frosted Cereal High in Fiber?
This cereal has 2 grams of fiber per 28-gram serving, which equates to around 8% of your daily fiber intake. This isn't necessarily a high amount of fiber, but it will still contribute to maintaining a healthy gut.
If you are looking to increase your fiber intake, then you might be better suited with a high-fiber cereal like Fiber One Cereal. Fiber One cereal contains 18 grams of fiber which is 65% of your daily fiber intake.
Magic Spoon Frosted Cereal Store Brand Alternatives
If you want to try different flavors, Magic Spoon has a cinnamon roll flavor that is similar to the famous Cinnamon Toast Crunch that is loved around the world. Many people say that Magic Spoon's version of this cereal actually has a stronger cinnamon taste.
If you are a huge chocolate fan, then make sure to check out the cocoa flavor cereal. It has been described as being similar to the well-known Cocoa Puffs by General Mills and gives you the same delicious chocolate milk at the bottom of your bowl.
Other alternatives to frosted flakes include their fruity flavor, which is similar to the childhood favorite, Fruit Loops. You get the same tasty flavors with fewer total carbs and 0 artificial flavors.
Looking for a cereal that has the same crunch as the famous Cap'n Crunch? Try out the Cookies & Cream flavor that delivers the same satisfying crunch with a deliciously sweet and creamy twist.
Perhaps you want to experiment with several of the different flavors on offer. You can opt for a variety pack that contains four boxes and four flavors. This way, you can decide which flavor is your favorite.
Other flavors that people have been pleasantly surprised by are the Peanut Butter and Maple Waffle cereal.
Where You Can Buy Magic Spoon Frosted Cereal
You can find this cereal in the popular local supermarket, Walmart. If you don't want to leave the comfort of your home, you can also find and order all of the different cereal flavors on their website. Amazon also sells the cereal, which currently offers the best value for money.
Famous Magic Spoon Frosted Cereal Commercials
This company is relatively new and was founded in 2018. This being said, they have released a number of popular commercials since their creation. One of the more memorable ones was released back in August 2021, titled "Unbelievable."
It described the cereal as being a magic breakfast option that delivered all of the desirable flavors whilst still being very healthy. The main selling points were its high protein and low carb content with a taste that you will never believe is good for you.
Another popular commercial called "Healthy & Happy" described the cereal as satisfying your sweet tooth without sacrificing health.
User Reviews
Review Summary
0 out of 5 stars (based on 0 reviews)
Recent Reviews
There are no reviews yet. Be the first one to write one.
Submit a Review