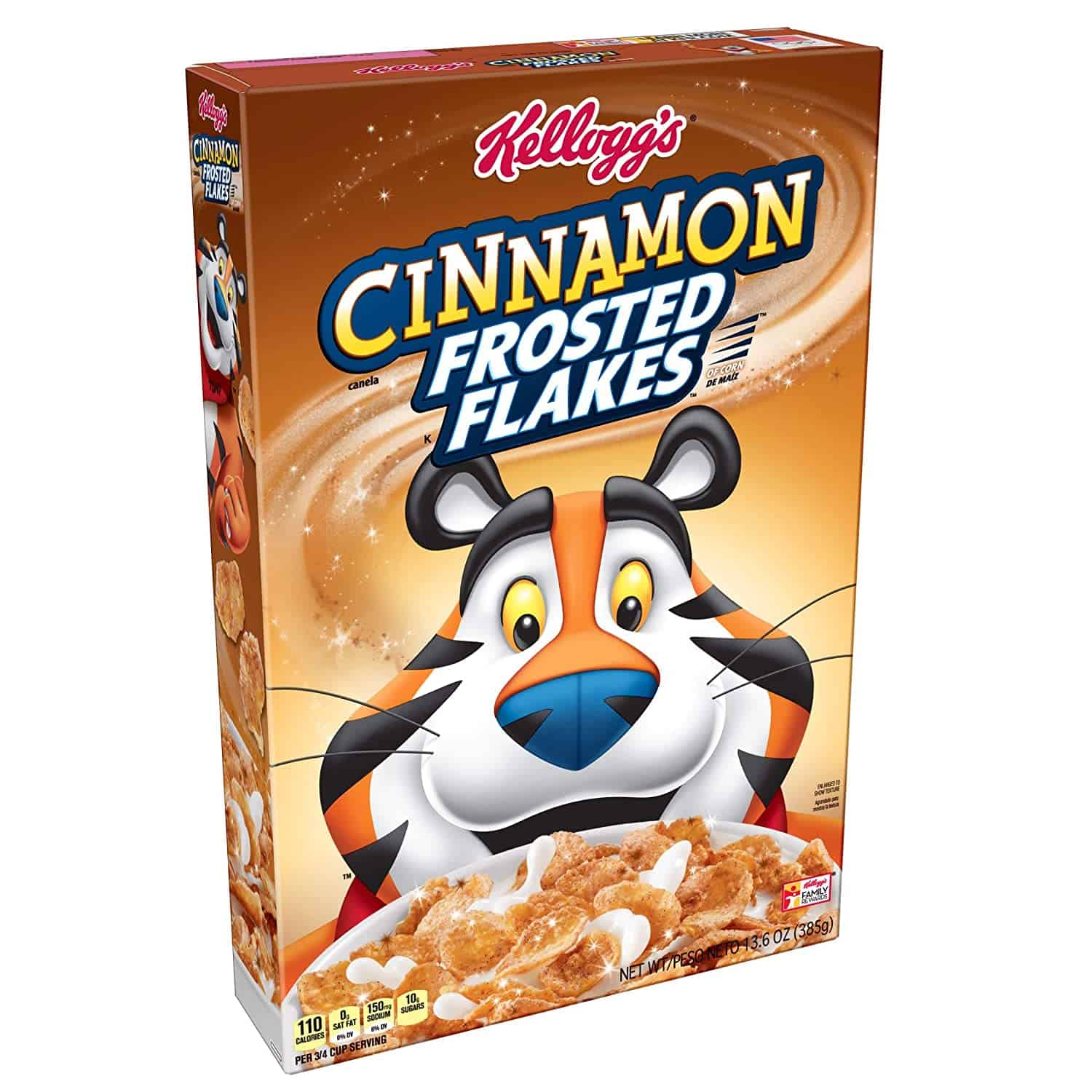 Strangely, over Kellogg's Frosted Flakes' 64 years on our grocery store shelves, not once have they made a cinnamon variety. So now that they've decided to do one, they decided to do it right.
Kellogg's allegedly tried 100 different formulas before they settled with the formula for Kellogg's Cinnamon Frosted Flakes, and when you take a bite of this crunchy and warming new cereal, you'll know it's been worth the wait.
These aren't just regular Frosted Flakes with a dusting of cinnamon; oh no, Kellogg's has baked the cinnamon into the frosting of each and every flake, so every bite brings that sweet and spicy combo.
By using this genius method, they've made what starts out as a tasty Cinnabon-style pastry that starts to develop a gentle spicy heat as you chew. This blend of sweet and spicy is such a great combination; you'll wonder what took them so long.
In short, Cinnamon Frosted Flakes taste great and make for a tasty morning bowl of cereal. Let's take a look inside the box of this deliciously crafted cereal.
Nutrition Facts

A 3/4 cup serving size (29g) of Cinnamon Frosted Flakes contains:
Calories 110
Total Fat 0.0g/0%DV
Saturated Fat 0.0G/0% DV
Trans Fat 0.0g
Polyunsaturated Fat 0.0g
Monounsaturated Fat0.0g
Cholesterol 0mg/ 0% DV
Sodium 150mg/7%DV
Total Carbohydrate 34.00g/9% DV
Dietary Fiber 1g/0%DV
Sugars 14g
Protein 1g
Potassium 30mg%
Ingredients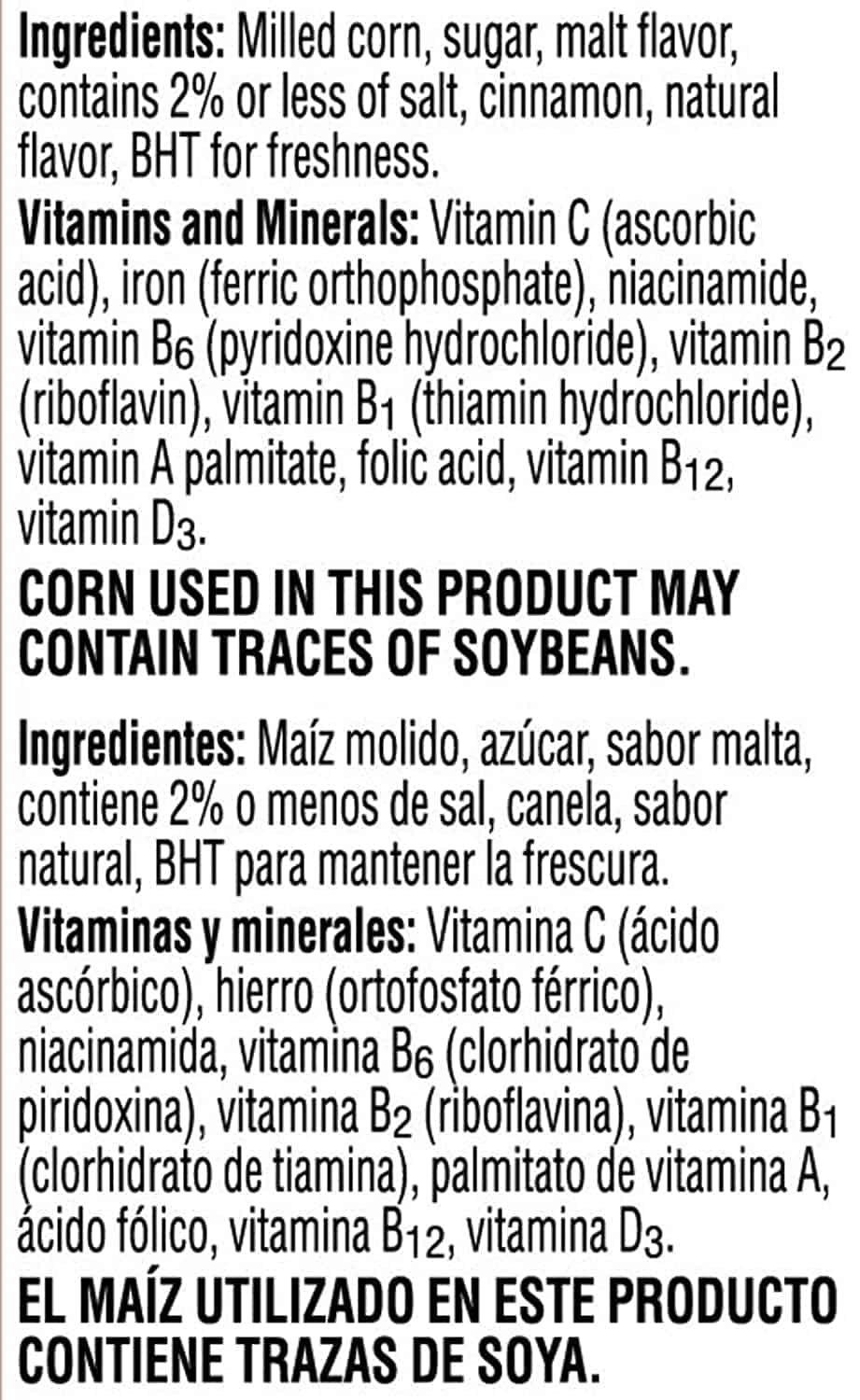 Milled Corn
Sugar
Malt Flavor (Contains 2% Or Less Of Salt, Cinnamon, Natural Flavor, Bht For Freshness.)
Vitamins And Minerals:
Vitamin C (ascorbic Acid)
Iron (ferric Orthophosphate)
Niacinamide
Vitamin B6 (pyridoxine Hydrochloride)
Vitamin B2 (riboflavin)
Vitamin B1 (thiamin Hydrochloride)
Vitamin A Palmitate
Folic Acid
Vitamin B12
Vitamin D3
Are Cinnamon Frosted Flakes Healthy?
There is no fat in a bowl of this cinnamon cereal whatsoever, so if you're looking for a breakfast that will fit in with a low-fat diet, then this is a solid bet. It also contains zero cholesterol, combine that with the negligible fat levels, this cereal could also help reduce cholesterol.
It also uses zero artificial colors or flavors to get that extra sweet taste.
However, as you might expect from a deliciously sweet new cereal, we're looking at a high sugar content. 14g of sugar goes into a 39g serving of this crispy cinnamon cereal; that's more than one-third of a serving, which is pretty huge. There's also zero fiber to go along with the healthy absorption of that sugar.
At only 110 calories per serving, with more than a third of that coming from sugar, these cinnamon-flavored crispy frosted corn flakes won't provide lasting energy at the start of your day.
Are Cinnamon Frosted Flakes Gluten-Free?
A bowl of Frosted Flakes with the crispy cinnamon coating is not gluten-free.
Milled corn is the only grain in this cereal. It is a gluten-free grain, so we can assume that at some point during the manufacturing process of this variety of Kellogg's Frosted Flakes, they share equipment or machinery with other cereals that use gluten-containing grains.
Are Cinnamon Frosted Flakes Vegan?
At a glance, Kellogg's Cinnamon Frosted Flakes look suitable for a vegan diet, but there are two ingredients in these golden corn flakes we should consider.
The first is Vitamin D, which is often acquired from lanolin, an element of sheep's wool. If this is the source, and it's impossible to tell if it isn't, these aren't vegan friendly.
Secondly, when used in cereal, white sugar is often colored with calcium carbonate, which is derived from bone char, the product of roasted cattle bones.
Because it's nearly impossible to tell if both of these processes are used, it's hard to recommend this cereal for a vegan diet, so maybe you'll want to avoid it just to be on the safe side.
Are Cinnamon Frosted Flakes Keto?
A keto diet requires less than 20g of sugar a day and a large fat intake in order to put your body in a state called ketosis, where the fat is broken down by your body into ketones, an alternative, long-lasting energy source.
One serving of this contains 34g of carbohydrates, which will stop your body from being able to reach ketosis. Furthermore, fat is crucial to producing ketones, and with zero of it, your body will have no fuel to manufacture them.
Are Cinnamon Frosted Flakes High In Protein?
With just 1g of protein in every serving, this cereal is a very low source of protein.
Are Cinnamon Frosted Flakes High In Fiber?
No, there's only 1g of fiber in a bowl of this cereal, so it's a poor source of soluble fiber.
Cinnamon Frosted Flakes Varieties
Sadly, Cinnamon Frosted Flakes was only a limited run and is no longer available, but don't worry; there's a permanent alternative.
Frosted Flakes with Crispy Cinnamon Basketballs combine original Frosted Flakes with puffed circle cereal rich with cinnamon goodness. With this version, we don't get the full flavor hit of cinnamon in every flake, but the cinnamon balls give a great variety to the crunch and add just the right amount of cinnamon sparkle.
Cinnamon Frosted Flakes Store Brand Alternatives
Cinnamon is a beloved cereal flavor that most cereal brands have marketed their own version, here are some popular alternatives you may want to consider:
Where You Can Buy Cinnamon Frosted Flakes?
Unfortunately, Cinnamon Frosted Flakes was just a limited run, but you can purchase Kellogg's Frosted Flakes with Crispy Cinnamon Basketballs at online retailers.
Famous Cinnamon Frosted Flakes Commercials
This 2017 Kellogg's commercial for Cinnamon Frosted Flakes marked the triumphant arrival of their new cinnamon twist on the Frosted Flakes iconic cereal. It was a call for cinnamon fans to let them know their time at the breakfast table had finally come as Tony The Tiger sat down to enjoy a bowl with avid cinnamon supporters.
They're Gr-r-r-r-r-r-r-r-r-eat!
User Reviews
Review Summary
0 out of 5 stars (based on 0 reviews)
Recent Reviews
There are no reviews yet. Be the first one to write one.
Submit a Review