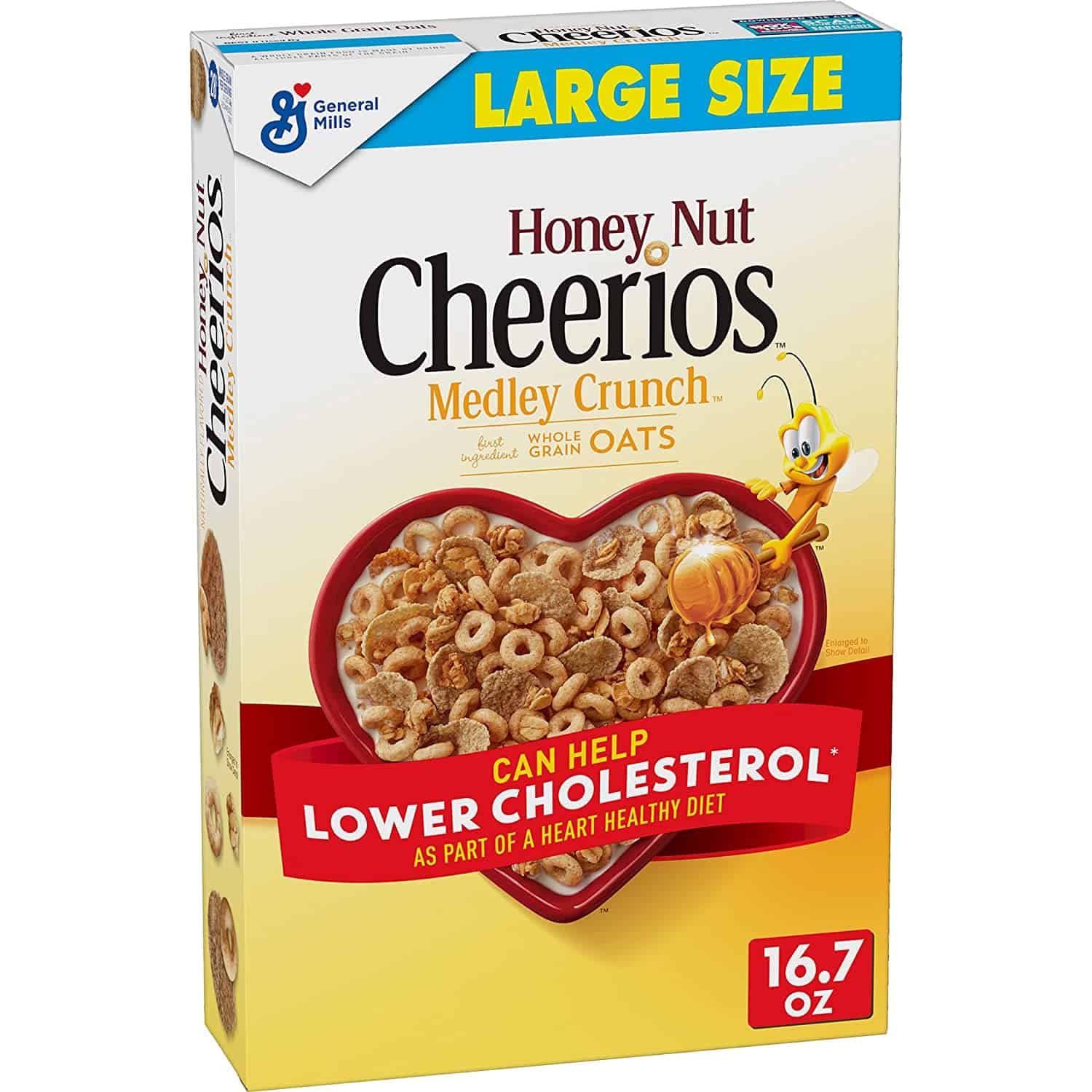 Honey Nut Cheerios cereal has been a classic since it was first introduced in 1976. The simple combination of almonds and honey makes it America's most popular cereal and great whole grain oat foods.
Knowing how beloved this flavor is, with the temporary run of Honey Nut Cheerios Medley Crunch breakfast cereal, General Mills did little to change the flavor; this was more of an overhaul of the texture of the cereal.
Take Honey Nut Cheerios and throw in a bunch of crispy flakes and almond clusters, and you've got Medley Crunch. This mix-up of different kinds of cereal is a perfect way to spice Honey Nut without getting too far away from the flavor families love.
Let's take a look inside the box of this sweet, nutty, crunchy treat.
Nutrition Facts
A serving of Cheerios Honey Nut Crunch Medley (36g) contains –
Calories 120
Calories from Fat 13.5 (11.3%)
Total Fat 1.5g –
Monounsaturated fat 0.5g
Polyunsaturated fat 0.5g
Sodium 120mg/5% DV
Potassium 110mg/3% DV
Carbohydrates 25g
Net carbs 22g
Sugar 9g
Fiber 17g/12% DV
Protein 3g
Vitamins and minerals
Vitamin A 150μg/17%DV
Vitamin C 6mg/10% DV
Calcium 100mg/10% DV
Iron 4.5mg/57% DV
Ingredients
Whole Grain oats
Sugar
Cluster (whole grain oats, sugar, corn syrup, rice flour, canola oil, almonds, molasses, wheat flour, whole wheat graham flour, baking soda, natural flavor, barley malt extract, salt, honey. Vitamin E (mixed tocopherols) added to preserve freshness.)
Whole Grain wheat
Brown Sugar Syrup
Hone
Oat Bran
Corn Starch
Salt
Canola Oil
Tripotassium Phosphate
Natural almond Flavour
Annatto Extract Colour
Vitamin E (mixed tocopherols) Added to Preserve Freshness.
Is Honey Nut Cheerios Medley Crunch Healthy?
For a delicious breakfast cereal like Medley Crunch, the nutrition label is surprisingly friendly, but it isn't perfect.
Cheerios are always made with whole grain oats, and you can expect no less than 3g in any variety. Medley Crunch has a huge 17g of whole grain in each serving, making it great for heart health.
The 3g of soluble fiber combined with the very low levels of fat and cholesterol makes this a great choice if you're trying to lower your cholesterol or keep your heart healthy.
There are also no artificial colors or flavors, so you don't have to worry about the negative effects of these unfriendly chemicals.
However, at only 120 calories, this breakfast cereal is not going to fill you with lasting energy. It's important to remember that calories are simply a measurement of energy, and after not eating for the past 8 hours while you've been asleep, your body will need a lot of energy.
120 calories will leave you hungry soon after and craving another bowl, so it may be best to treat this as an afternoon or evening snack and not fuel for your busy day.
Is Honey Nut Cheerios Medley Crunch Gluten-Free?
Honey Nut Cheerios, and most Cheerios, are made with whole grain oats and are gluten-free. However, with Medley Crunch, the inclusion of wheat flour to make its crunchy flakes means this breakfast cereal is not suited for those on a gluten-reduced or restrictive diet.
Is Honey Nut Cheerios Medley Crunch Vegan?
This breakfast cereal lists no animal products on its ingredients, so that it will be suitable for a vegan diet.
Is Honey Nut Cheerios Medley Crunch Keto?
A keto diet aims to minimize carbohydrate intake ultimately while increasing fat intake. This puts your body into a state called ketosis, where it begins to use fat to create ketones which are a healthy, long-lasting energy source.
To stay in ketosis, it's recommended that you consume less than 20g of carbohydrates a day, so your body is forced to find an alternative energy source. At 22g of carbs a serving, Medley Crunch will stop your body from being able to reach ketosis.
As well as this, fat is crucial to ketone production, and with so little of it in this cereal, your body would not be able to manufacture them, making this cereal unsuitable for keto.
Is Honey Nut Cheerios Medley Crunch High In Protein?
This Cheerios breakfast cereal contains only 3g of protein, so it is an ineffective source to help you meet your daily intake.
Is Honey Nut Cheerios Medley Crunch High In Fiber?
There are 3g of fiber in a Honey Nut Medley Crunch serving, which equals 12% of your daily intake. This is pretty good considering the serving size of 32g, but it doesn't meet the 5g requirement stated by the FDA to be considered as a high fiber food.
Honey Nut Cheerios Medley Crunch Varieties
If you love the taste and crunch of Medley Crunch but aren't able to find it in your local store, here are a few whole-grain oats cereal alternatives from the Cheerios family:
Honey Nut Cheerios – A family favorite since the 70s, this inspiration for Medley Crunch is America's most popular cereal, and after one spoon, it's easy to see why. Honey Nut Cheerios are flavored with real honey and natural almond flavor for an authentic taste and are low in fat and cholesterol and fortified with 12 vitamins and minerals.
Oat Crunch Almond – Multigrain Cheerios combined with almond flakes and clusters pack this cereal with a flavorful crunch. One serving contains more than half your daily values of wholegrain from 5 different forms of grains and offers 6g of fiber per serving, not to mention no artificial colors or flavors.
Honey Nut Cheerios Medley Crunch Store Brand Alternatives
Honey and almonds have proven themselves to be a winning combination at breakfast tables across the country, so if you can't find Medley Crunch, guaranteed you'll be able to find a similar cereal in the cereal aisle.
Where You Can Buy Honey Nut Cheerios Medley Crunch?
Honey Nut Cheerios Medley Crunch can be found in many national grocery store chains such as Kroger, Harris Teeter, and Ralphs. You can also find this crunchy medley of honey and nuts through online retailers like Amazon and CVS.
Famous Honey Nut Cheerios Medley Crunch Cereal Commercials
Cheerios' loveable little honey bee mascot is seen in this Honey Nut Cheerios Medley Crunch TV commercial swooning over a delicious bowl of Crunch Medley.
User Reviews
Review Summary
0 out of 5 stars (based on 0 reviews)
Recent Reviews
There are no reviews yet. Be the first one to write one.
Submit a Review