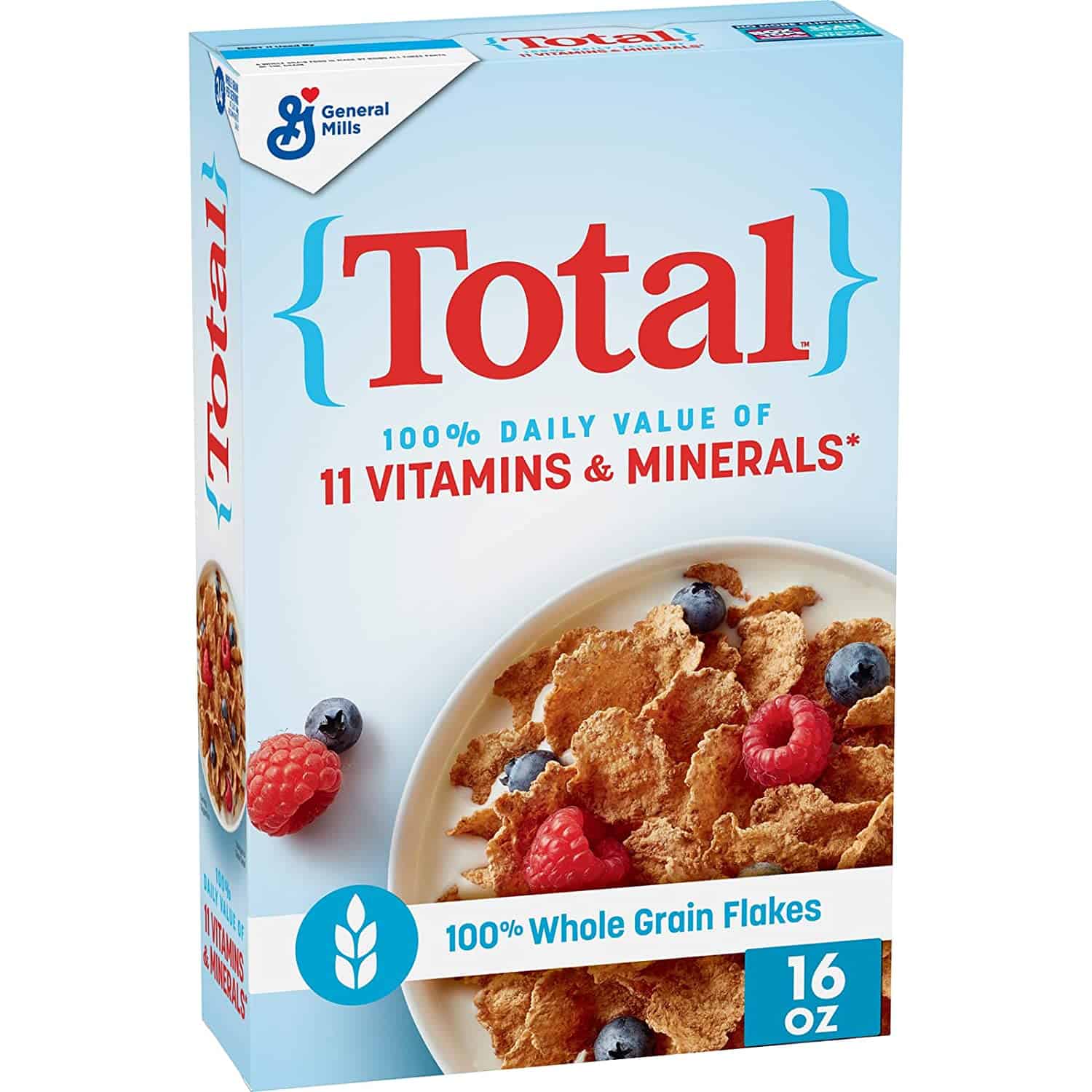 Total is a whole grain cereal produced by General Mills that was first launched in 1961.
One of the first kinds of fortified cereals, Total gave consumers a delicious bowl of cereal with no artificial flavors that would satisfy a range of dietary needs in a single serving.
This whole-grain wheat flake cereal prides itself on offering the full profile of a person's recommended daily allowance of a range of all the important vitamins and minerals needed for a healthy breakfast and a successful day.
Nutrition Facts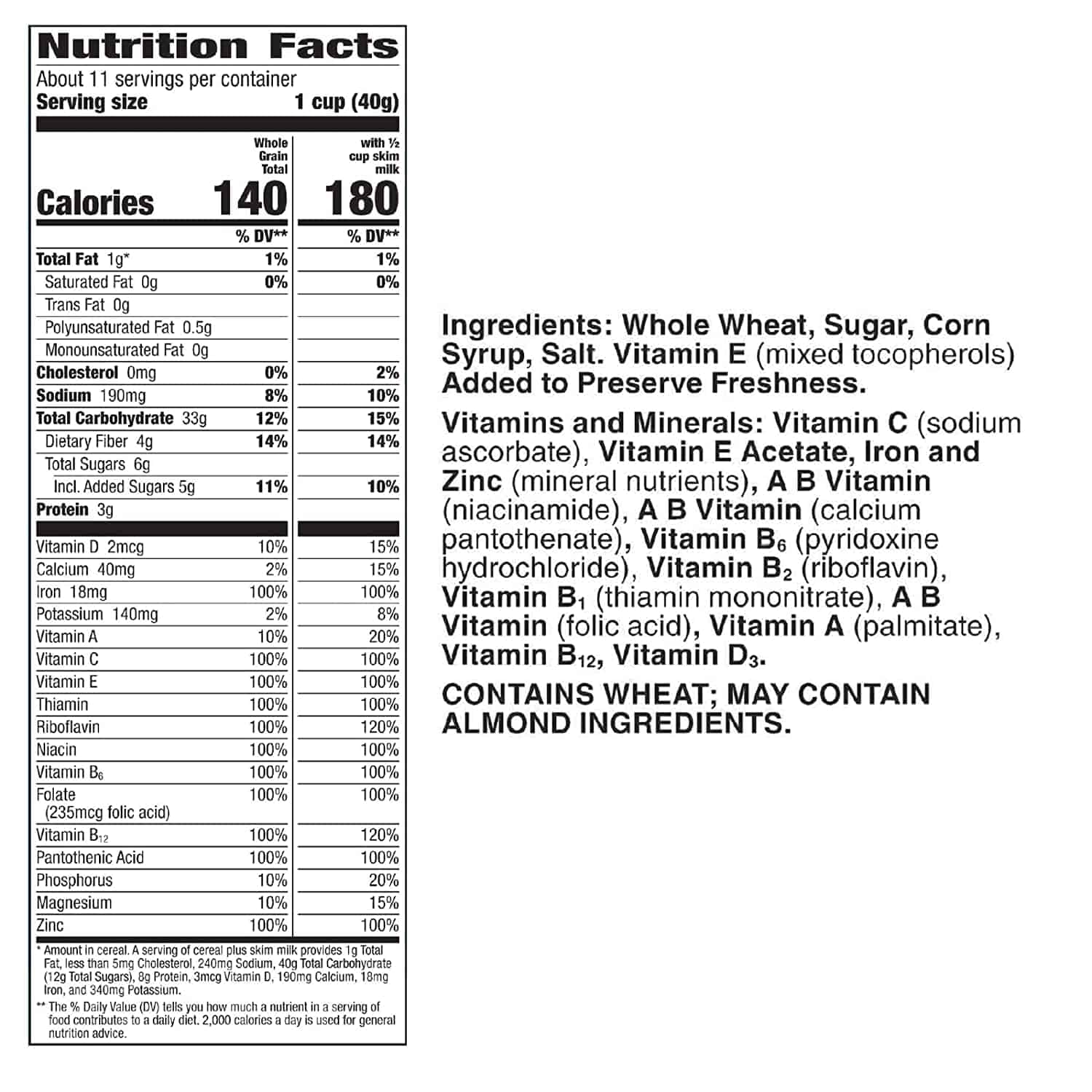 Total breakfast cereal comes in a variety of styles, below is the nutrition information for the original.
One cup (30g) of Total breakfast cereal contains:
Calories – 110Kcal
Total fat – 0.5g/1% DV
Trans fat – 0 g/0% DV
Saturated fat – 0 g/0% DV
Sodium – 140mg/6%
Cholesterol – 0mg/0%
Total carbohydrate – 25g/11%
Sugars – 5 g/7% DV
Added sugars – 5 g/21% DV
Dietary fiber – 2 g/4% DV
Protein – 12 g- 14 g
Calcium – 20mg/2% DV
Iron – 18mg/100%
Vitamin D – 2.5mcg/12%
The Daily Value percentage used above is based on a 2,000 daily calorie intake.
Ingredients
There whole-grain wheat flakes contain:
Whole Grain Wheat
Sugar
High Fructose Corn Syrup
Salt
Vitamins and Minerals:
Vitamin C (Sodium Ascorbate)
Zinc And Iron (Mineral Nutrients)
Vitamin E Acetate
A B Vitamin (Niacinamide)
A B Vitamin (Calcium Pantothenic Acid)
Vitamin B6 (Pyridoxine Hydrochloride)
Vitamin B2 (Riboflavin)
Vitamin B (Thiamin Mononitrate)
A B Vitamin (Folic Acid)
Vitamin A (Palmitate)
Vitamin B1
Vitamin D3.
Is Total Cereal Healthy?
Total breakfast cereal is designed to be a healthy cereal and covers a lot of bases when you're looking for a cereal to give you a well-rounded start to your day.
It contains 100% of your daily requirements of 12 vitamins and minerals. Total contains 100% of your daily iron intake to prevent iron deficiency. It also has 100% of your daily calcium values, as well as 25% of the daily vitamin D to promote healthy, strong bones.
The wholegrain wheat flakes in Total contain the full profile of the grain kernel and are a natural source of healthy fats, fiber, and minerals. Eating wholegrain is said to help protect against diabetes and colorectal cancer. Furthermore, reducing your intake of refined carbohydrates for whole grains can reduce your risk of cardiovascular disease.
Is Total Cereal Gluten-Free?
Total's grain flakes are made using wheat and are not suitable for a gluten-free diet.
Is Total Cereal Vegan?
Total contains no animal products and is suitable for those observing a vegan diet.
Totals grain flakes are also a good source of vitamin B12, which is very difficult to obtain unless eating meat products. So finding a fortified food that contains B12 is a great benefit for someone whose diet is restricted by veganism.
Is Total Cereal Keto?
Total, while being a healthy whole-grain option, is not suitable for a keto diet.
In order to remain in ketosis, people have to consume less than 20g of sugar a day, though ideally closer to 0g. Total contains 25g of carbohydrates in a serving, so one bowl would be enough to take you out of ketosis.
Further to this, Total has a negligible fat content, and taking on high quantities of fat throughout the day is integral to reaching a healthy ketone level.
Is Total Cereal High in Protein?
Total is not very high in protein, with only 2 grams of protein per serving. They once had a high protein version, but this has been discontinued.
Is Total Cereal High in Fiber?
A standard cereal will contain between 1-2 grams of fiber in a serving.
Total sits only a little higher on this scale at 3g, offering 12% of your daily value.
The FDA requires a minimum of 5g of fiber for them to consider food to be high fiber and Total while being full of goodness, just misses out on being a high fiber cereal.
Total Cereal Varieties
Some people seeking to gain the health benefits of a whole-grain cereal might be put off by the lack of excitement and flavor of such a cereal.
Because of this, cereal companies are always looking for ways to make the healthy option more appealing to their customers.
Total comes in a selection of varieties to make your bowl of whole-grain flakes a more interesting and delicious snack.
These include:
Total Cranberry Crunch
Total Whole Grain
Total Cinnamon Crunch
Total Blueberry Pomegranate.
Total Cereal Store Brand Alternatives
If you're looking for an off-brand cereal similar to Total, it's important to look at the nutritional profile of Total and find something that matches, as this is what sets Total apart as a cereal.
Totals whole-grain flakes contain very low sugar, a medium-range of fiber, and 100% of a range of daily vitamins and minerals, so when you're looking for an alternative cereal, it's important to look for one with a similar nutritious profile.
Where You Can Buy Total Cereal
This family-favorite cereal should be available to buy in any reputable grocery store where cereals are sold.
Famous Total Cereal Commercials
When Total began its life, General Mills was very keen to push the cereal's excellent nutritional profile. At the time, there was no other leading cereal that came that close to the vitamins and minerals contained in Total, and they used this selling point to market their cereal.
In this commercial, they draw attention to the fact that they place their nutritional values not just on the side of the box like other manufacturers, as is required, but also on the front to show buyers upfront that Total was the superior choice.
User Reviews
Review Summary
4.4 out of 5 stars (based on 5 reviews)
Recent Reviews
Best of the Best
Total cereal is a nutritious, delicious way to start my day. I consistently keep at least 6 boxes on Total in my pantry at all times. Total is truly the "Best of the Best"!
No Title
Being diabetic I have to watch what I eat all the time. Ceral is going to raise my blood sugar no matter which one I choose to eat. I have to look at the pros of eating cereal, especially during the summer months. Since I work overnight at a warehouse job I need enough carbs while I sleep but not too many where my blood sugar will get too high. I liked that I can have half a serving with soymilk and have enough carbs but neither too many nor not enough so I can sleep a good 5 hours before needing to get a drink of water and go back to sleep without my blood sugar being too low. In the summer I can have a quick bowl of cereal before going to work and Total is one of my cereal choices where I'll have a full serving, I don't have to worry about getting low blood sugar while at work before my first break.
Why add high fructose corn syrup?
As I recall, Total used to be sweetened by malt extract, a healthy alternative to HFCS or "corn syrup," as it disingenuously reads on the label (naughty, naughty!). It was my favorite cereal, but it sure isn't now. I REFUSE TO INGEST HFCS. Did you know it causes cancer, if it exists in any part of the body, to grow and become malignant? These are FACTS. I hadn't eaten it in years because as an adult, I don't drink milk. But I had a craving for Total, so I looked up its ingredients. Thank goodness I did. Won't buy it until you change the formula.
Nutritional update
Total cereal no longer has 100% of your daily calcium. This came as a surprise to me as I thought I was getting my calcium. It turns out that the absorption of calcium is interfered with by whole grain so they quit putting in
the calcium but they did not make much noise about it at least not as much noise as they did when they wanted to let us know that they had 100% of your daily calcium. So for 6 years I have not been getting my calcium. I now take a calcium supplement a couple of hours away from the time that I eat my Total cereal. I love my Total cereal I have been eating it for 30 years.
Yeah Total
Total cereal is awesome I lost 84 pounds eating total twice daily for a meal
Submit a Review