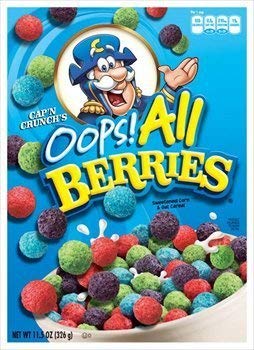 If you love a sweet tasty treat that you can enjoy either as a morning breakfast bowl or as a snack, then Cap'n Crunch's Oops! All Berries is the perfect start to your day.
Sweet and with a crunch like no other, you'll find the best cereal comes from the Captain himself! The All Berries option within the Cap'n Crunch range is a popular option for many who want a sweet kick, and if you've seen this cereal before, you'll know it's fun to look at too.
The Cap'n cereal range is great for making your mornings an adventure, no matter what your age!
Nutrition Facts
There are around 25 servings available with this cereal. Here are some helpful nutritional facts worth knowing about Cap'n Crunch's Oops! All Berries.
Calories: 150
Saturated Fat: 0.5g
Trans Fat: 0g
Polyunsaturated Fat: 0g
Monounsaturated Fat: 0.5g
Cholesterol: 0mg
Sodium: 240mg
Total Carbohydrate: 33g
Dietary Fiber: < 1g
Total Sugars: 17g – Incl. brown sugar
Incl. Added Sugars: 17g
Protein: 2g
Vitamin D: 0mcg
Calcium: 0mg
Iron: 8.4mg
Potassium: 70mg
Thiamin: 0.4mg
Riboflavin: 0.3mg
Niacin: 4.8mg
Vitamin B6: 0.5mg
Folate FDE: 240mcg
Folic Acid: 134mcg
Ingredients
Need to know what's in your cereals? Don't worry; we've got you covered! Here's everything you'll find in the Cap'n Crunch's berries cereal.
Corn Flour
Sugar
Oat Flour
Brown Sugar
Palm and/or Coconut Oil
Salt
Sodium Citrate
Natural and Artificial Flavor
Malic Acid
Red 40
Blue 1
Reduced Iron
Yellow 5
Niacinamide
Thiamin Mononitrate
BHT
Pyridoxine Hydrochloride
Riboflavin
Folic Acid
Is OOPS! All Berries Healthy?
The Quaker oats company is responsible for a variety of cereals that range from sweet, savory, and super healthy breakfast options.
With Cap'n Crunch's Oops! All Berries, unfortunately, it's not quite the nutritious breakfast that you might be looking for when trying to stay healthy. Of course, giving yourself a treat every so often is great, but when it comes to this cereal, it contains a lot of sugar, and no berries are insight.
Adding actual berries and fruit would make this healthier, but it doesn't remove the number of sugary ingredients that are in this breakfast cereal.
Is OOPS! All Berries Gluten-Free?
For those looking to buy gluten-free cereal, it's best to look elsewhere, especially with the whole range of Cap'n Crunch's cereal. It's made with regular oat flour, and this is an ingredient that may be contaminated with gluten.
If you have celiac disease, it's certainly best to avoid this cereal due to oats cross-contaminating with wheat, rye, and barley. Those with a gluten intolerance should tread carefully if trying this breakfast cereal and perhaps opt for something else instead.
Is OOPS! All Berries Vegan?
There are a number of Cap'n Crunch options that are vegan, but there are a number of them that are not guaranteed to be best for vegans.
Sadly, the Oops! All Berries is not something that can be guaranteed as being vegan. This is because certain ingredients are frowned upon by vegans. However, you may want to check all the ingredients for yourself and make a decision on whether it's the best option for you.
Other varieties of the Cap'n Crunch that are not guaranteed vegan are the Cotton Candy Crunch and the Red, White & Blue cereal.
Is OOPS! All Berries Keto?
Most of the Cap'n Crunch cereals are not keto-friendly because of them being processed and contain high levels of carbohydrates. There are also a lot of unhealthy ingredients considered to be such by the Keto diet, which includes palm oil, sugar, and BHT/BHA.
It's worth avoiding any processed cereals if you're on a keto diet, as these are unlikely to be keto-friendly.
Is OOPS! All Berries High In Protein?
The All Berries cereal contains 2g of protein which isn't considerably high for a breakfast cereal, but in comparison to a few of the other processed, sugary alternatives, it's one of the higher ones overall.
For higher protein breakfast options, we'd recommend adding nuts and seeds to your bowl of cereal or at least adding them in other ways with your lunch and dinner options. You can also enjoy more protein-filled foods as snacks throughout the day to make up for your lack of intake during breakfast.
Is OOPS! All Berries High In Fiber?
Like most of the Cap'n Crunch cereal, the Cap'n Crunch's Oops! All Berries aren't that high in fiber. In fact, there's less than one gram available in every serving. This isn't the best for helping with your digestive system, but then again, not all breakfast cereals are intended to provide an ample source of fiber for your daily value.
OOPS! All Berries Varieties
There are a variety of Cap'n Crunch cereals available to choose from if you fancy something different from this cereal in particular. Here's what you can find in the Cap'n Crunch range from the Quaker Oats Company.
Cap'n Crunch's Original,
Crunch Berries, Peanut Butter Crunch
Cotton Candy Crunch
Cap'n Crunch's Red, White & Blue Crunch
OOPS! All Berries Store Brand Alternatives
There are a number of brands that offer a similar option to the Cap'n Crunch's Oops! Cereal. Some have the same natural and artificial flavor, while others are healthier and diet-friendly. These are:
Very Berry Cheerios
Naturya Superfood Breakfast Boost
Kellogg's Blueberry, Apple & Beetroot Multigrain Shapes
Dorset Cereals Luscious Berries & Cherries Museli
Where You Can Buy OOPS! All Berries
If you're looking for a stocklist of Quaker Oats Company cereals, you'll find this cereal in the following locations:
You may find them at a number of grocery stores as well as some other specialist online stores that sell the whole range of Capn's tasty cereal.
Famous OOPS! All Berries Cereal Commercials
Like some of the other cereals from the range, there's only one for the Oops! All Berries cereal that we could find.
This Cap'n Crunch Oops! All Berries commercial from 1998 follows a group of kids on a tour at the cereal factory, pulling a leaver to release all three different colors together.
User Reviews
Review Summary
0.0 out of 5 stars (based on 0 reviews)
Recent Reviews
There are no reviews yet. Be the first one to write one.
Submit a Review