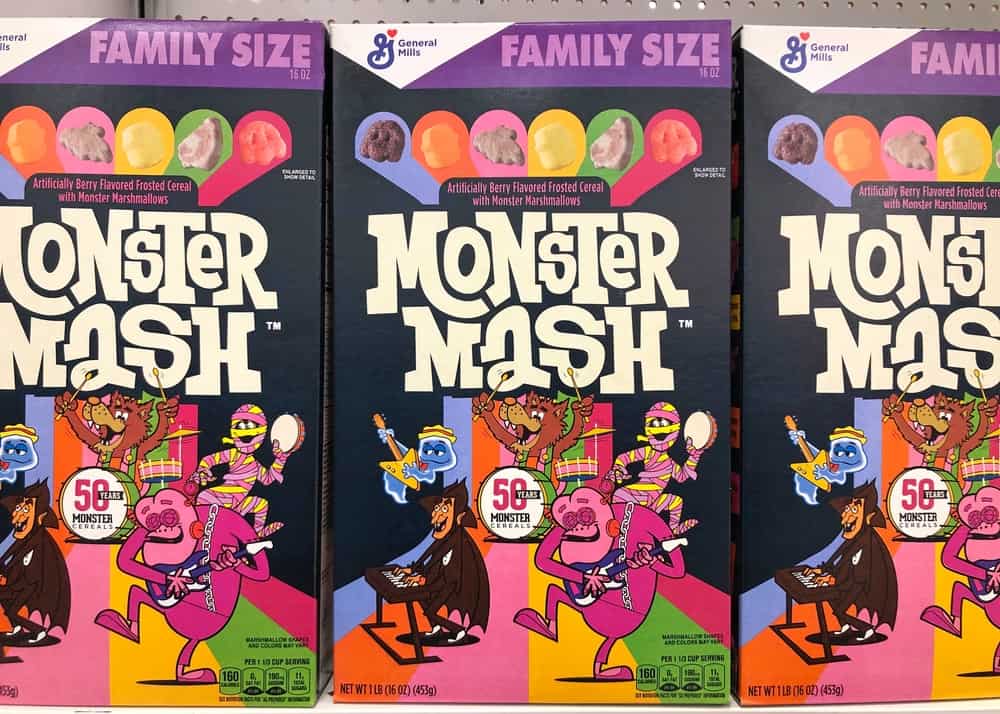 Back in 1971, Count Chocula and Franken Berry made their television debuts in a commercial for an exciting range of breakfast cereals. Monster Cereals quickly became one of the most popular cereal brands around and continued to be prevalent right into the 90s.
Since 2010, Monster Cereals have only been available for a limited time around Halloween. In 2021, General Mills announced that they would be combining all the monsters into one limited edition cereal, known as Monster Mash.
This berry-flavored frosted cereal is a delicious morning treat that is packed with nostalgia. If you remember tucking into a bowl of Boo Berry or Fruity Yummy Mummy in the past, then you're going to adore this Monster Cereals remake.
Today, we're going to take a closer look at this limited-edition cereal. We'll delve into the ingredients and nutritional content, as well as highlight which types of diets the cereal is suitable for. Finally, we'll head back in time to experience some of Monster Cereals' iconic commercials and advertisements.
Nutrition Facts
Based on a standard serving of 1.33 cups, Monster Mash cereal contains:
Calories – 160
Total Fat – 1.5g (2% daily value)
Saturated Fat 0g – (0% daily value)
Polyunsaturated Fat – 0g
Monounsaturated Fat – 0.5g
Cholesterol – 0mg (0% daily value)
Sodium – 190mg (8% daily value)
Total Carbohydrate – 35g (12%daily value)
Dietary Fiber – 2g (8% daily value)
Sugars – 11g
Protein – 2g
Ingredients
According to the Monster Mash cereal box, the product contains the following ingredients:
Whole Grain Corn
Corn Meal
Sugar
Corn Syrup
Canola and/or Sunflower Oil
Modified Corn Starch
Dextrose
Salt
Gelatin
Red 40
Blue 1
Yellow 5 & 6
Trisodium Phosphate
Natural and Artificial Flavor
The cereal also contains a range of healthy vitamins and minerals:
Tricalcium Phosphate
Calcium Carbonate
Vitamin C (Sodium Ascorbate)
Iron and Zinc (Mineral Nutrients)
Vitamin B (Niacinamide)
Vitamin B6 (Pyridoxine Hydrochloride)
Vitamin B1 (Thiamin Mononitrate)
Vitamin A (Palmitate)
Vitamin B2 (Riboflavin)
Vitamin B (Folic Acid)
Vitamin B12
Vitamin D3
Is Monster Mash Cereal Healthy?
Monster Mash is definitely one scary, delicious bowl of cereal, but is it a healthy breakfast option? Let's take a closer look at some of the nutritional values and compare them to other options on the market.
One of the first things to consider when it comes to healthy cereals is the sugar content. With 11g of sugar in every serving, Monster Mash is not a low sugar option. With that said, Monster Mash does contain less sugar than many of its competitors. For comparison, Honey Nut Cheerios contain almost 16g of sugar in a portion of the same size.
Monster Mash also contains a fairly high amount of sodium, but it's still within the boundaries of what is considered a "healthy" serving. Taking a look at some other options – just one cup of Grape-Nuts contains a staggering 580 mg of sodium, while Shredded Wheat has no sodium content whatsoever.
In summary, although this cereal is not advertised as a healthy breakfast option, the manufacturer has clearly attempted to keep the sugars and sodium levels to a minimum. The result is a bowl of cereal that is more healthy than many of its competitors.
Is Monster Mash Cereal Gluten-Free?
Since the cereal is made with whole wheat, it is not suitable for anyone with gluten intolerances or allergies.
Is Monster Mash Cereal Vegan?
According to the packaging, Monster Mash cereal contains gelatin, which is typically produced from pork fat. As a result, this cereal isn't suitable for vegans.
Is Monster Mash Cereal Keto?
If you follow a low-carb or keto diet, then Monster Mash cereal probably isn't going to be the best breakfast for you. Each serving of the cereal contains 35g of carbohydrate, which is a pretty significant amount.
Even for people not following a keto diet, a serving of Monster Mash makes up 12% of their recommended daily carb intake.
Is Monster Mash Cereal High In Protein?
Containing 2g of protein in every serving, Monster Mash contains more protein than many other breakfast cereals. We wouldn't say it's high in protein, though, and it's definitely not comparable to protein-specific keto and low-carb cereals.
Is Monster Mash Cereal High In Fiber?
A serving of Monster Mash provides around 2g of fiber, which is equivalent to 8% of an adult's recommended daily intake. Many other breakfast cereals offer more fiber than this, but 2g is a fairly reasonable amount.
If getting a good helping of fiber is important to you, then we'd point you towards cereals such as Grape-Nuts. This particular product manages to pack a whopping 7g of fiber into every bowl!
Where You Can Buy Monster Mash Cereal
This popular breakfast cereal can be found at various grocery store chains across America. General Mills is one of the largest stockists of Monster Cereals and was the first to offer the limited edition box for Halloween in 2021.
If you prefer to shop online, then you pick up the Monster Mash edition at Amazon and Instacart.
Famous Monster Mash Cereal Commercials
After 50 years on the scene, there have been plenty of iconic Monster Cereals adverts. One of the most famous ones is undoubtedly the 1978 commercial, which introduced the Franken Berry and Count Chocula characters to millions of homes across America.
Another classic is the 1989 Monster Mallow Cafe commercial, where Fruity Yummy Mummy joined the selection of flavors. The advert features the three main characters fighting to get the cafe customers to enjoy a bowl of their particular flavor.
Jumping ahead in Monster Cereal history, we come to the 1999 Scooby-Doo crossover commercial. Advertising the new Scooby-Doo edition of Count Chocula, the commercial features Shaggy and Scooby alongside the Count and his cronies.
User Reviews
Review Summary
0 out of 5 stars (based on 0 reviews)
Recent Reviews
There are no reviews yet. Be the first one to write one.
Submit a Review