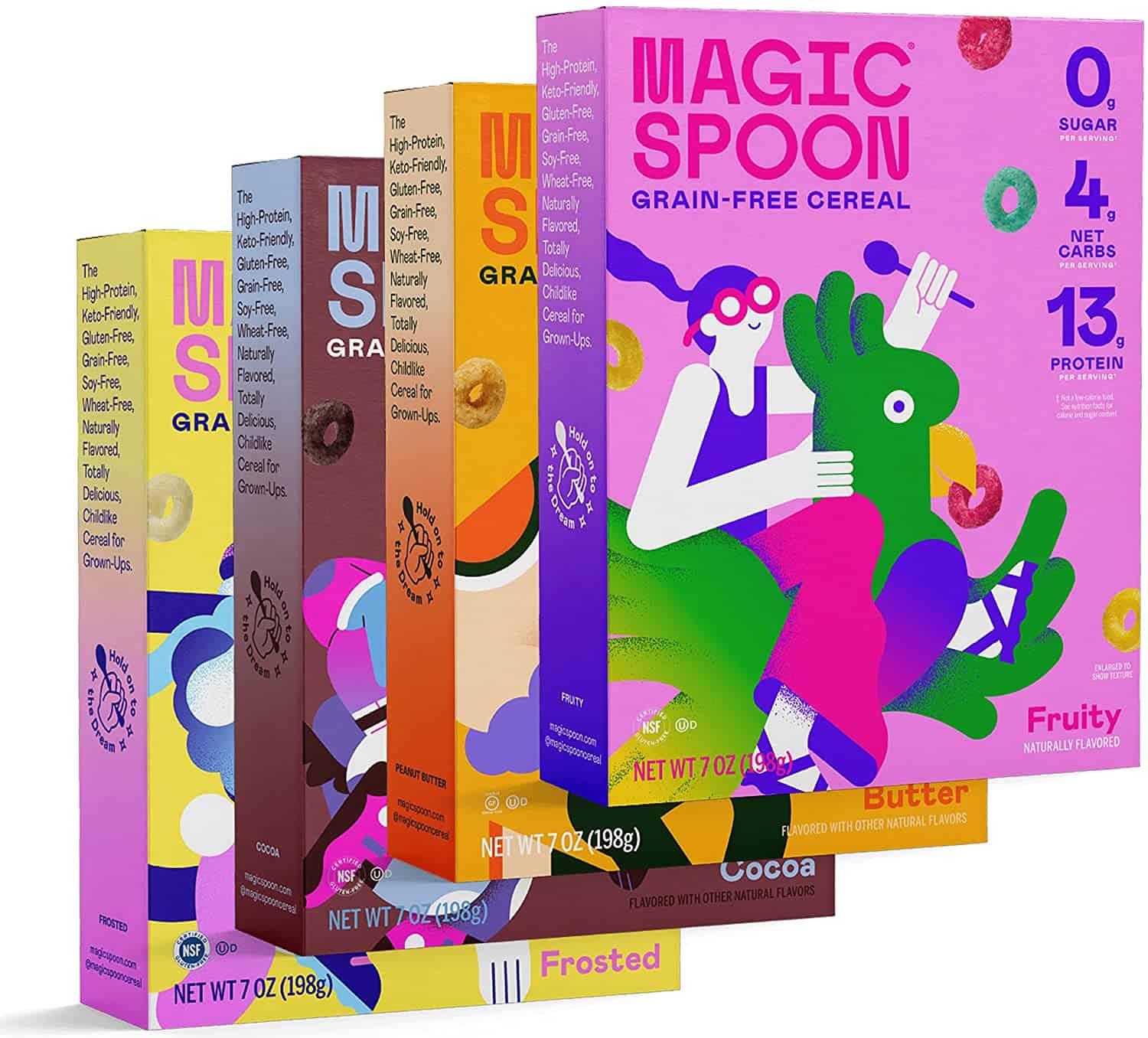 Magic Spoon Cereal is a relatively new brand to hit the shelves, having launched in April of 2018. The company has since released a range of 8 different varieties, from fruity to maple waffle, each of which features the same hooped shape. In terms of appearance, shape, and taste, Magic Spoon cereal resembles nostalgic childhood cereals, such as Froot Loops.
Upon release, Magic Spoon filled the gap for a low-carb count, grain-free, and gluten-free cereal. For this reason, it is a great way to get kids to eat healthy in the morning, while also appealing to grown-ups. Its colorful cartoon packaging aesthetic also has a cross-generational appeal, being reminiscent of vintage cereal branding, and featuring characters and games that will keep kids entertained.
The founders aimed to create a cereal that used healthy alternatives to carbs and sugar so that the product could maintain the energy of the consumer more efficiently. In addition to this, they also wanted to create a nutritious breakfast meal that was appealing to kids and one that was similar in taste and style to classic American cereals.
But is Magic Spoon the healthy cereal it is perceived to be? Continue reading as we break down the nutritional value of this newcomer brand
Nutrition Facts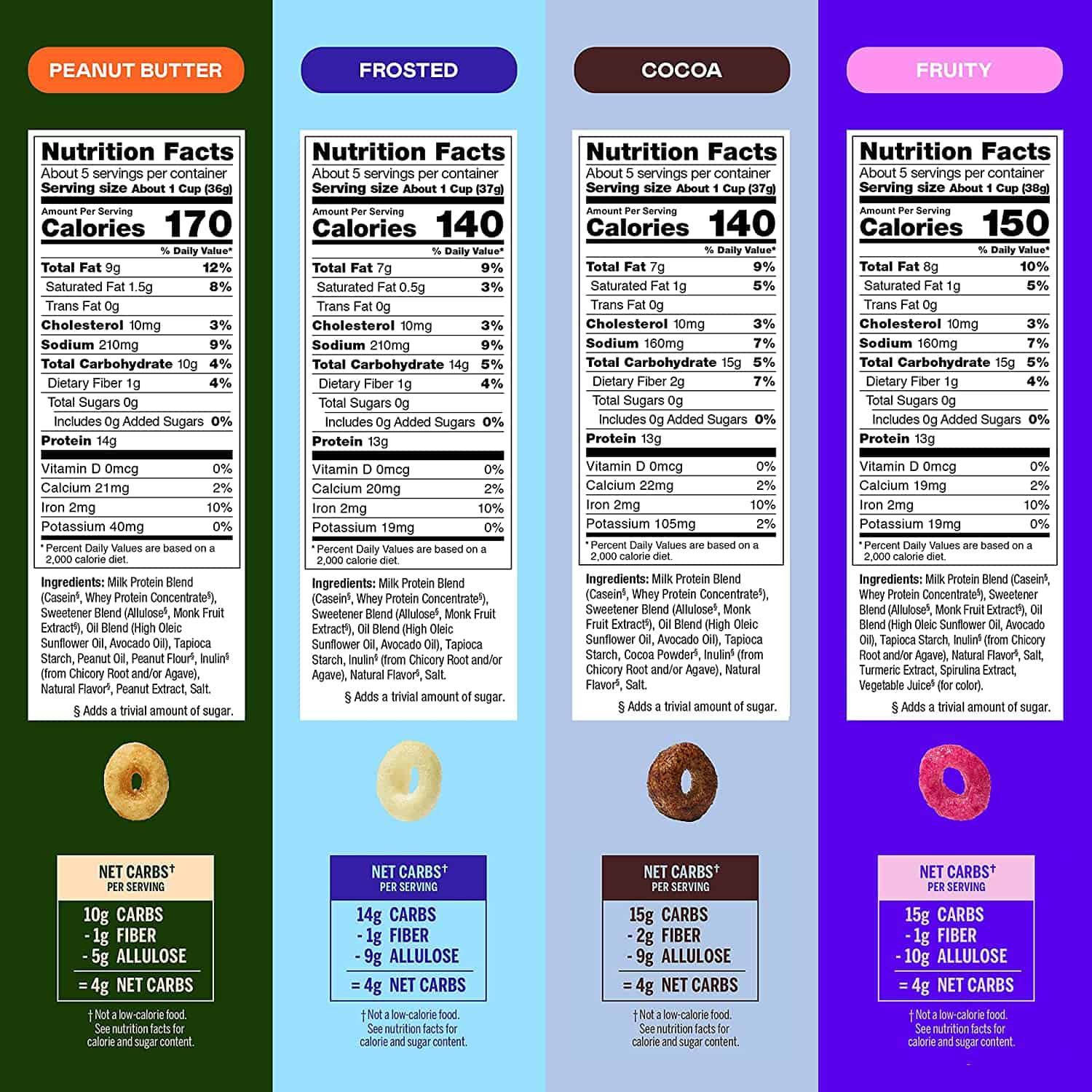 Each of the 8 main varieties of the cereal features a different nutritional value. Below, we have detailed this range where applicable.
In a 198 gram box, there is roughly 5 servings worth of cereal.
One cup (37 – 38 grams) of Magic Spoon cereal contains:
Calories – 140 – 170
Total fat – 7 grams/9% DV – 9 grams/12% DV
Trans fat – 0 grams/0% DV
Saturated fat – 0.5 grams/3% DV – 1.5 grams/8% DV
Sodium – 150mg/7% DV – 210mg/9% DV
Cholestoral – 10mg/3% DV
Total carbohydrate – 10 grams/4% DV – 15 grams/5% DV
Total sugars – 0 grams/0% DV
Added sugars – 0grams/0% DV
Dietary fiber – 1 gram/4% DV – 2 grams/7% DV
Protein – 12 grams – 14 grams
Potassium – 19mg/0% DA – 105mg/2% DA
Calcium – 19mg/2% DA – 36mg/2% DA
Iron – 2mg/10%
Vitamin D – 0mcg/0%
The Daily Value percentage used above is based on a 2,000 daily calorie intake.
This cereal comes in a standard size of 198 grams, which equates to around 5 servings.
Ingredients
Each flavor of the cereal contains the same basic ingredients, which are:
A milk protein blend (which consists of whey protein, milk, and casein)
A sweetener blend (which consists of monk fruit extract and allulose)
An oil blend (which consists of avocado oil and sunflower oil)
Salt
Inulin (which is extracted from agave or chicory root)
Tapioca starch
Natural flavors
Is Magic Spoon Cereal Healthy?
Magic Spoon Cereal fulfills its promise in creating a healthy alternative to sugary cereal in many ways. The main benefit of Magic Spoon is that it contains no sugar. An excessive amount of sugar is generally found in other breakfast cereals – even some 'health cereals' contain as much as 10 grams of sugar per serving.
Each variety of Magic Spoon contains 0 grams of sugar, making it a healthy option for tackling obesity and other diseases.
What it does contain are two alternative sweeteners: allulose and monk fruit, which are natural sweeteners. Allulose is the 'secret' ingredient of the cereal, which is a relatively new sugar alternative that can be found in figs, raisins, and jackfruit. Because of these great natural sugars, the cereal does not have to rely on artificial sweeteners, rendering it a healthy cereal option.
One of the most appealing factors of the cereal is the fact it is grain-free. It does not contain wheat, barley, rye, or any other gluten-heavy grains found in traditional breakfast cereals. A grain-free diet has numerous health benefits, including potentially aiding in weight loss, reducing blood sugar levels, and treating certain health conditions. A reduced grain diet can also lead to improved mental health.
The drawback of this is that the cereal doesn't contain as many vitamins and minerals found in other grain-based cereals. However, this can easily be resolved by adding seeds and nuts to your bowl of Magic Spoon or consuming it with plant-based milk.
Is Magic Spoon Cereal Gluten-Free?
Magic Spoon is suitable for gluten-free diets as it is rye, barley, and wheat-free. Not only does this make the cereal great for those who cannot consume gluten, but it also gives the cereal several additional health benefits. For example, eating gluten-free products can help improve your energy levels, digestion health, cholesterol, and reduce the risk of diabetes, cancers, and heart disease.
Magic Spoon uses tapioca starch instead of gluten, which can be found as a substitute in many gluten-free products. This plant-extracted starch is naturally sweet and contributes to the overall carb count of the cereal.
Is Magic Spoon Cereal Vegan?
Although Magic Spoon is a great option for many alternative diets, it is not suitable for those pursuing a vegan lifestyle. The high protein count of the product is mostly derived from dairy protein. The first ingredient listed by the cereal is a milk protein blend, which consists of both milk protein isolate as well as whey protein isolate, both of which contain dairy.
This cereal would be a great option as part of a flexitarian diet if consumed alongside plant-based milk, such as almond milk.
Is Magic Spoon Cereal Keto?
This cereal can be consumed as part of a keto diet as it is a low-carb product. A 3/4 cup serving of this cereal will only contain 3 grams of net carbs and 110 calories. This fits perfectly into a keto dieter's daily quota, which should only consist of 20-50 grams of carbs per day.
Magic Spoon is currently one of the few keto cereals on the market, with many of the leading cereal brands being unsuitable for a keto diet. For example, Cheerios has over 15 grams of carbs per 3/4 cup serving.
The sweetener blend of allulose and monk fruit that Magic Spoon contains is also considered to be keto-friendly. These are natural flavors that do not impact your blood sugar levels in any way and do not affect your ketosis.
Additionally, this cereal features healthy fats such as avocado oil, which is one of the best fats you can consume as part of a keto diet. Considering that Magic Spoon also features a high protein count, you can consider it one of the best keto cereals on the market today.
Although Magic Spoon features vegetable juice, which harms ketosis, this is only used in small quantities. Vegetable juice is used in this cereal to create the bright colors that define the product, not to add any sweet flavors. For this, only a small amount of vegetable juice is required, allowing the product to still be considered keto-friendly.
Is Magic Spoon Cereal High In Protein?
One of the main selling points of Magic Spoon is that it is protein-rich, with 11 grams of protein per 3/4 serving. This is an exceptional amount of protein to be found in breakfast cereal, considering the average amount is only 1 gram.
This significant protein level is created through the addition of a milk protein blend, which consists of milk protein isolate, casein, and whey protein isolate.
With such a high protein count, you can rest assured that Magic Spoon provides several protein-related health benefits. This includes muscle growth, supported weight loss, and glucose regulation. Magic Spoon's high protein level can also help you resist the urge of snacking throughout the day and ensure that your energy levels remain consistent.
Is Magic Spoon Cereal High In Fiber?
This cereal contains 1-2 grams of fiber per serving, which is an average amount for a standard breakfast cereal. Most sugary cereals contain between 1-2 grams of fiber, including the likes of Lucky Charms. However, some fiber-rich cereals, such as All-Bran Original and Nature's Path Organic Smart Bran, contain 10 grams of fiber per half-cup.
For this reason, Magic Spoon should not be considered as a good source of fiber, as there are cereals that can offer 10 times the amount of fiber.
Magic Spoon Cereal Varieties
Since launching in 2018, Magic Spoon has released 8 main varieties of the product. There have also been several limited-edition flavors released, including Pumpkin Chai, Jelly Donut, Gingerbread, Birthday Cake, and Oatmeal and Graham.
Interestingly, the company released a version titled Original in 2021. This title, however, is meant to imply a more stripped-back, simple taste, as opposed to it being their first-ever release.
Each variety of the 8 main flavors is made using the same basic ingredients, but feature different nutritional values due to the added ingredients that make each variety distinct. The 8 varieties of Magic Spoon are:
Fruity
The Fruity version has 150 calories and tastes the closest to Froot Loops, except with a more flavorsome aftertaste.
Frosted
Frosted has 140 calories and features colorless hoops. Frosted is noted for its marshmallow and vanilla aftertaste. The allulose is really effective in making the cereal appear sugar-coated.
Cocoa
Cocoa features 140 calories. It has 2 grams of fiber, which is more than the Peanut Butter, Frosted, and Fruity versions. Real cocoa is part of the ingredients list, and the cocoa flavor is left behind in the milk.
Peanut Butter
Peanut Butter has 170 calories, making it the variety with the highest calorie count. These extra calories come from the addition of peanut flour and peanut oil. This version is a good alternative to the likes of Reese's Puffs cereal.
Cookies & Cream
Cookies & Cream has 150 calories and features cocoa powder and other natural flavors in its ingredients list. The cereal loops are a mix of cocoa and plain, creating the cookies and cream look and taste.
Cinnamon
Cinnamon features 140 calories and 2 grams of fiber, and the ingredients list includes real cinnamon. The taste of this version has been likened to Cinnamon Toast Crunch, with added sweetness.
Blueberry
At 150 calories, real blueberry flavoring is added to this cereal, which creates a truly fruity sensation. This cereal has been noted for producing a distinctly better aftertaste than most other fruit-based cereals.
Maple Waffle
The Maple Waffle version contains 150 calories per serving. It is made to replicate the taste sensation of a waffle and maple syrup breakfast, except in a more healthy, keto-friendly, and gluten-free way.
Where You Can Buy Magic Spoon Cereal?
Magic Spoon is only available on a direct-to-consumer basis and is not available for purchase in supermarkets. The best place to purchase the cereal is directly from the Magic Spoon website, where you can buy a variety pack of 4-6 different flavors. Although expensive relative to other cereals that can be bought in-store, Magic Spoon offers a subscription option that reduces the cost and keeps you in supply.
Similar deals can also be found on the Walmart website as well as on Amazon.
Magic Spoon tend to justify their high prices by comparing their cereal to other keto or gym-friendly protein products, which are also typically more expensive.
Famous Magic Spoon Cereal Commercials
Being a relatively new product, the cereal brand doesn't have any famous commercials as of yet. So far, commercial campaigns have focused on the contrast of the product being so sweet and apparently surgery and yet healthy. Another commercial highlighted how the cereal has just as much protein as an egg-based breakfast.
User Reviews
Review Summary
4.0 out of 5 stars (based on 1 review)
Recent Reviews
Ordered a variety box
I was very interested in the cereal. I grew up eating the sugary cereal everyday. After receiving the order, I was very excited. So far my favorite flavor is the maple and the fruity one. They do have a chalky after taste slightly, but that is due to the main ingredient which is the milk protein. SO, I get it. Its very different but still taste good. Can tell the difference between regular cereal for sure, but knowing that this is the healthier option, makes it taste better.
Submit a Review