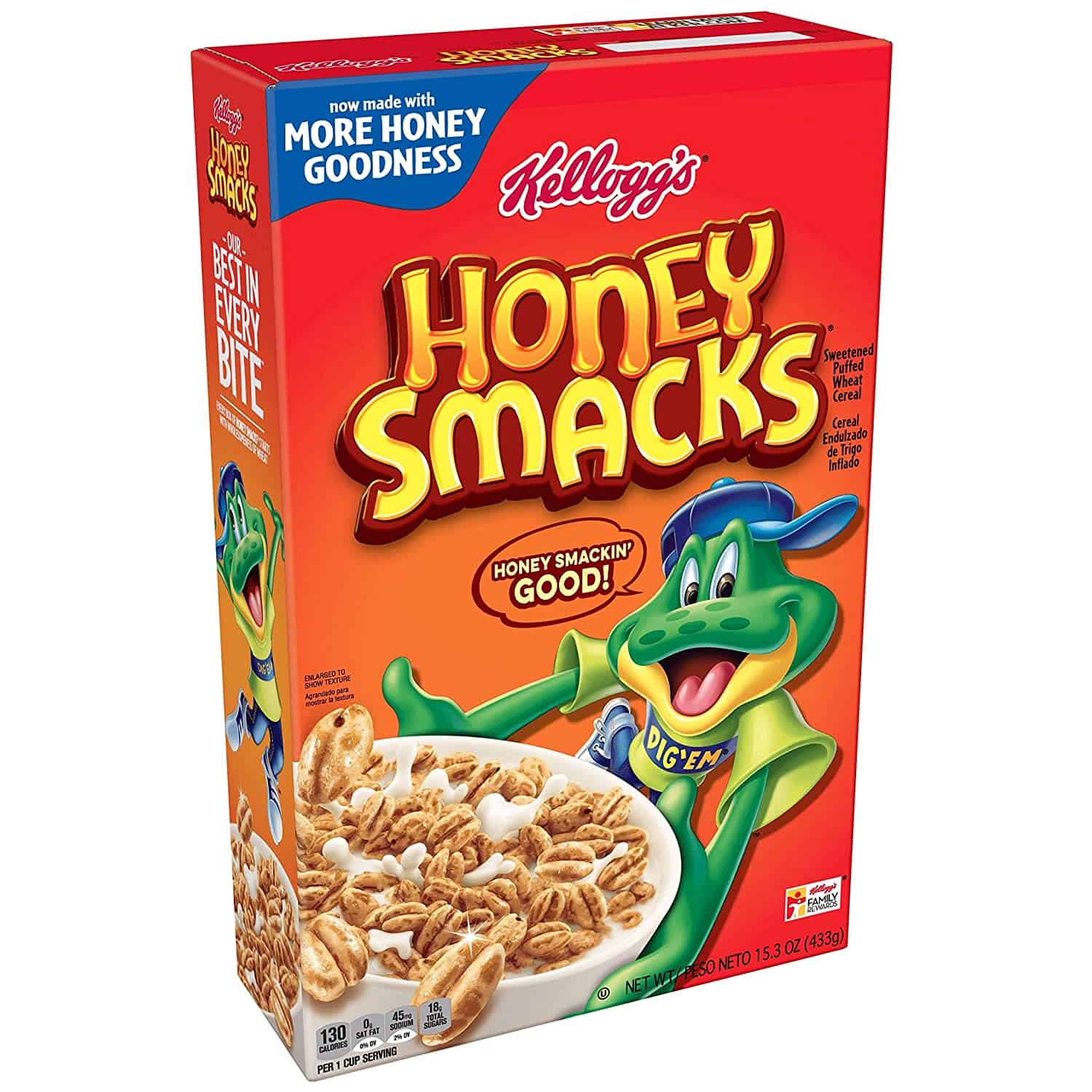 Kellogg's Honey Smacks is a prominent breakfast cereal that comes in the shape of a puffed wheat cereal that is highly sweetened. The Honey Smacks cereal has been manufactured by Kellogg's brand since the 1950s and contains an extremely high sugar content in the form of high fructose corn syrup.
Since the cereal was first introduced, it has undergone significant name and branding changes. Initially, the cereal was titled Sugar Smacks. This title was changed to Honey Smacks during the 1980s in order to meet new food labeling regulations.
During the 1990s, the cereal name was reduced to simply 'Smacks', however, this was changed back in 2004. Kellogg's produces and sells Smacks in many countries, typically under a different name and title. For example, in the U.K., the cereal is titled Honey Monster Puffs.
In recent years, there have also been many changes made to the cereal ingredient list – but has this made the Smacks a healthy cereal? This article will find out!
Nutrition Facts
Each box of Kellogg's Honey Smacks puffed wheat breakfast cereal contains around 18 servings, based on a 36-gram serving, which is equivalent to one cup. The calorie content per serving is 130 calories.
Total fat: 0.5 grams (1% DV)
Saturated fat: 0 grams
Trans fat: 0 grams
Polyunsaturated Fat: 0 grams
Monounsaturated Fat: 0 grams
Sodium: 45 mg (2% DV)
Total Carbohydrates: 32 Grams (12% DV)
Dietary Fiber: 2 grams (7% DV)
Total Sugars: 18 grams (36% DV)
Protein: 2 grams
Vitamin D: 0 mcg (0% DV)
Calcium: 0 mg (0% DV)
Iron: 0.6 mg (2% DV)
Potassium: 70 mg (0% DV)
Ingredients
The ingredients list on the back of the Kellogg's Honey Smacks cereal box is as follows:
Whole grain wheat
Sugar
Glucose syrup (high fructose corn syrup)
Honey
2% or less of palm oil
Mixed tocopherols (vitamin E)
Salt
Fruit juice for color
Canola lecithin
Is Kellogg's Honey Smacks Healthy?
Even though it may be a family-favorite cereal, it is by no means healthy.
Just one single serving of Honey Smacks contains an astonishing 14 grams of sugar. As reported by Insider, this is more sugar than that what is contained in the glazed treats from Dunkin' Donuts, which boasts 12 grams of sugar. Smacks, therefore, isn't suitable as part of a balanced breakfast.
To put it into perspective, around one-third of a packet of this breakfast cereal is pure sugar!
Other unhealthy sugar-based ingredients include glucose syrup and honey. Glucose syrup is used in Honey Smacks as a sweetener and adds additional sugars to the cereal while contributing to its high-calorie count.
Honey does contain some health benefits, for example, it can improve your blood antioxidant status, and also improve the health of your heart and contribute to wound healing. However, given its high sugar content, eating it in moderation is necessary. Consuming too much honey too regularly can have adverse effects on your blood sugar levels.
Eating sugary cereals causes your insulin and blood sugar levels to spike significantly, only to crash within hours and leave you hungry and tired.
Eating too much sugar also contributes to health problems like weight gain or tooth decay, as well as several diseases like type 2 diabetes, heart disease, and cancer.
While honey is said to be good for your health, glucose syrup and cane sugar are just the opposite.
Don't let the "made with whole-grain wheat" and "no artificial colors" fool you into thinking Kellogg's Honey Smacks Cereal is healthy. It certainly isn't. But this ready-to-eat cereal is a delicious snack – in moderation, of course.
Is Smacks Cereal Gluten-Free?
Smacks is not a gluten-free breakfast cereal as it contains whole grain wheat, in addition to several other gluten-containing ingredients. Although there are gluten-free cereals out there, such as Cheerios and Chex Cereal, there is currently not a gluten-free option for Smacks.
Wheat is an integral part of how the cereal is made, so it is imaginably difficult to create an alternative.
Is Smacks Cereal Vegan?
Smacks is not a vegan-friendly cereal mainly because one of its central ingredients is honey, an animal-derived product. Although it is possible to get vegan-friendly honey, Smacks do not currently offer this alternative in their product.
Is Smacks Cereal Keto?
Kellogg's Honey Smacks is processed food and high in carbohydrates, which means that it can't be included in a keto-friendly diet plan. The cereal features an array of unhealthy ingredients, such as honey, sugar, and palm oil, and is also particularly low in fiber and protein.
This combination will make you tired not long after eating and will hinder your ability to attain ketosis.
Another reason why it isn't keto-friendly is that it contains high-glycemic sweeteners (sugar, honey, and glucose syrup), which raise your blood sugar levels too much.
A better keto-friendly breakfast cereal alternative would be low-carb and sweetened with stevia or monk fruit, such as Magic Spoon or Catalina Crunch cereal.
Is Smacks Cereal High In Protein?
Despite what it claims on the box, Smacks is not a high-protein cereal.
According to the nutritional information found on the cereal box, Kellogg's Honey Smacks crunchy cereal is quite high in protein, as well as zinc, phosphor, retinol, riboflavin, thiamine, niacin, and other energy-full ingredients.
However, this promise of high protein is not exactly accurate, as a 36-gram serving contains just 2 grams of protein, which is very small relative to other leading cereal brands. Take, for example, Magic Spoon cereal, which can provide an impressive 11 grams of protein in a 3/4 cup-sized serving, which is a massive amount compared to Smacks.
High-protein breakfast cereals, such as Kellogg's Special K Protein, typically contain between 8 and 15 g of protein in a portion.
Top tip: You can turn your breakfast cereal into a higher-protein meal by eating it with soy milk. Just one cup of soy milk has a whopping 7.35 grams of protein. That means you'll get just over 9 grams of protein in one go if you stick to the serving size.
Is Smacks Cereal High In Fiber?
Despite Kellogg's claiming that Smacks is a high-fiber cereal, a cup serving of the cereal contains just 2 grams of fiber, which isn't much at all. This would mean that the rest of the serving is complete sugar and carbohydrates, which is a very unhealthy ratio.
To heighten this intake, try adding fresh berries or flax seeds to your breakfast bowl. This would make Kellogg's Honey Smacks part of a balanced diet and a more wholesome cereal.
Honey Smacks Cereal Alternatives
Ever tried Post's Golden Crisp cereal? You could say it's Honey Smacks' rival doppelganger!
According to plenty of reviews, people seem to prefer the sweet taste of Honey Smacks even though they have very similar ingredients.
But we'll leave you to decide which delicious whole-grain cereal you like best!
Where You Can Buy Smacks Cereal
You can buy Kellogg's Honey Smacks cereal online or at your local grocery store. Simply look for the section in the store that features cereal products.
The cereal is available at Walmart, Dillons, and Kroger.
Famous Smacks Cereal Commercials
Throughout the years, the Smacks Cereal has had a wide variety of mascots. Dig 'em Frog is perhaps the most famous of all the Smacks mascots, who still appears in most of the cereal's branding today. Generally, he appears as a character who can't get enough of the cereal and encourages kids to 'dig 'em!'.
Other mascots have included Cliffy the Clown, Quick Draw McGraw, the Smackin' Bandit, Love Smacks, Wally the Bear, and Smaxey the Seal.
Here you can view a TV advert created in 1978 that showcases Dig 'em Frog promoting the delicious taste of his beloved Honey Smacks.
Or this nostalgic Honey Smacks commercial from 1994 with Tom – the cat from Tom & Jerry.
User Reviews
Review Summary
0 out of 5 stars (based on 0 reviews)
Recent Reviews
There are no reviews yet. Be the first one to write one.
Submit a Review