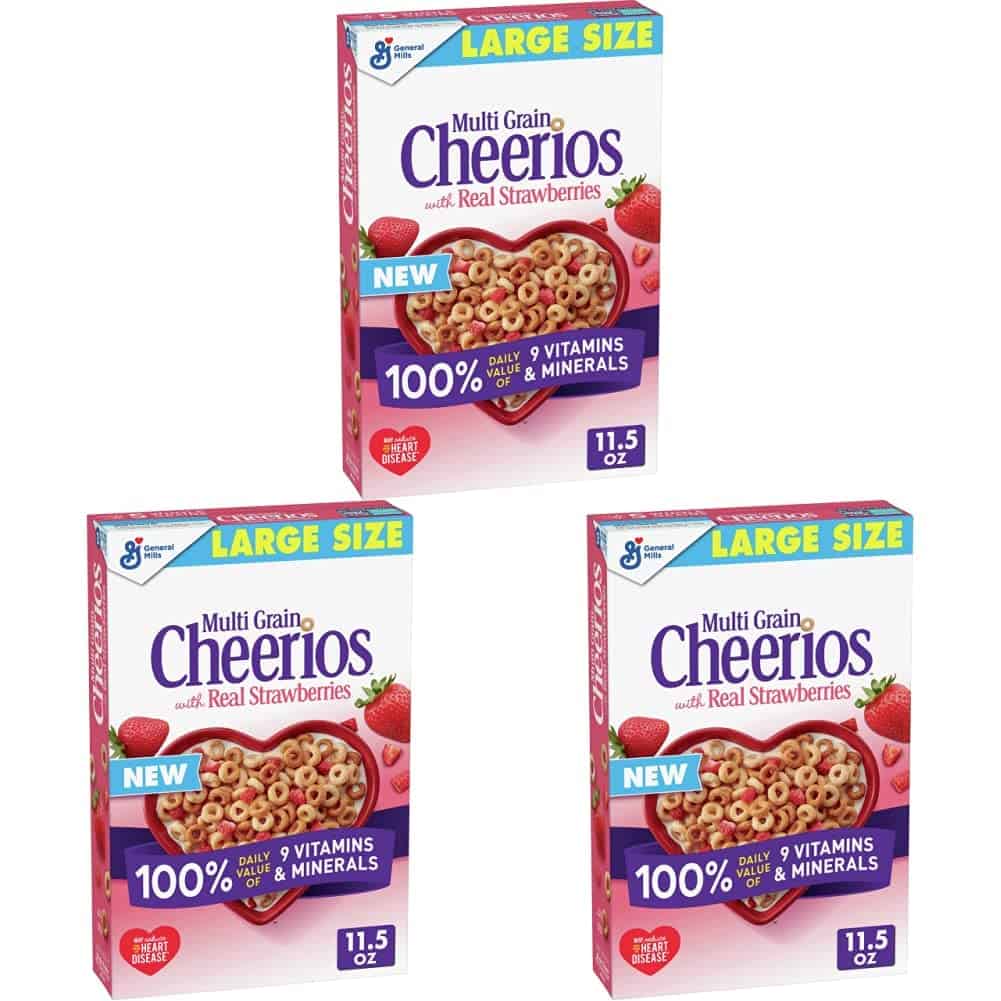 What could be better than taking the wholesome, healthy crunch of Multi-Grain Cheerios and adding a whole bunch of dried strawberries? Not much, right?
Where regular Cheerios are made with just one form of whole grain, Multi-Grain Cheerios are made with five milled and toasted grains: sorghum, oats, millet, rice, and corn bran. It was a super smart move to add the sweet taste of juicy berries as an added incentive to get that whole grain goodness.
As you can expect with Cheerios, this cereal is packed with vitamins and minerals and gets its wholesome, rustic flavor without any artificial flavors or colorings.
Let's take a look inside the box of this wholesome multi-grain breakfast cereal.
Nutrition Facts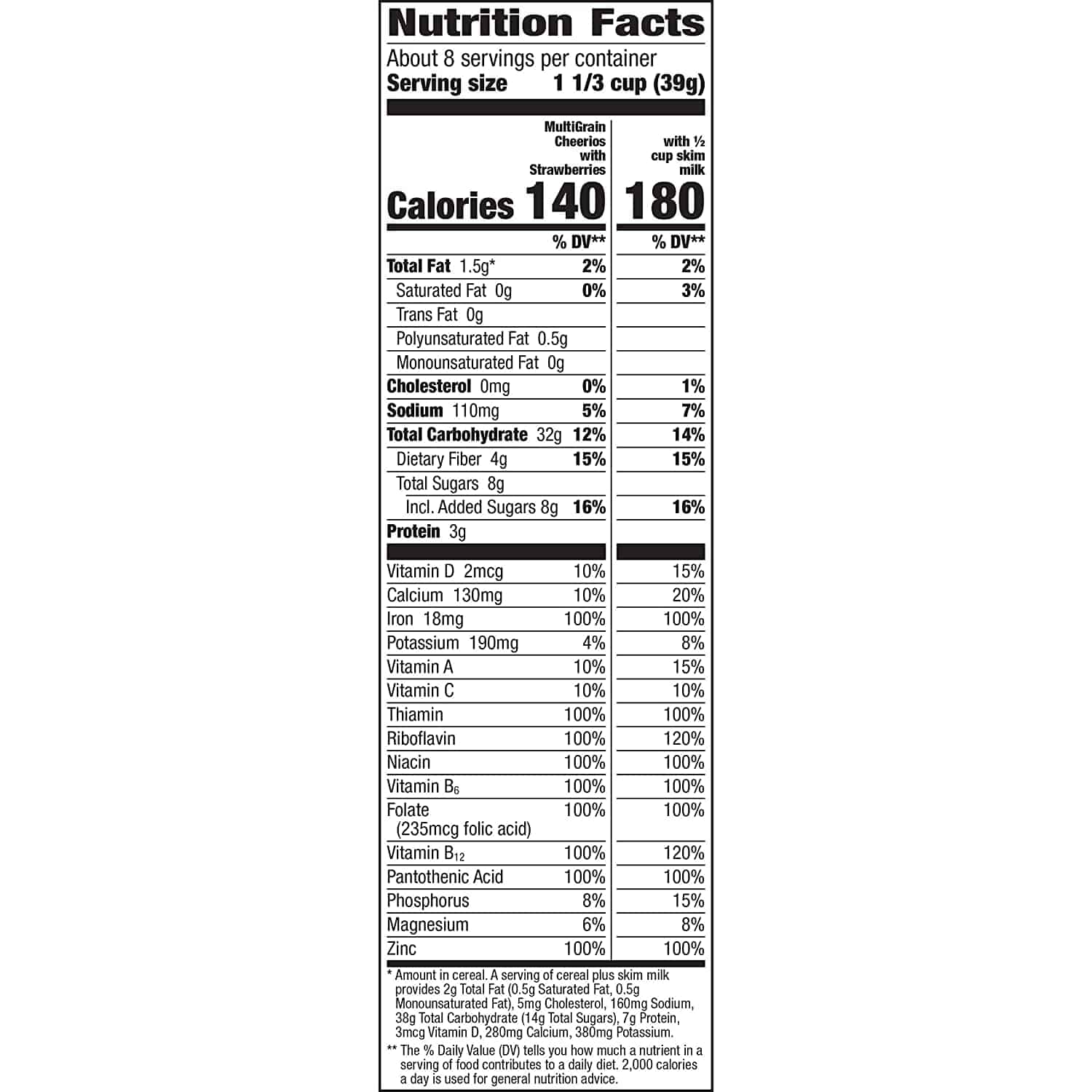 A serving of Multi-Grain Cheerios with Real Strawberries (39g) contains:
Calories – 140
Total Fat 1.5g/2% DV
Saturated Fat 1.5g/3% DV
Trans Fat 1.5g
Polyunsaturated Fat 0.5g
Monounsaturated Fat 0g
Cholesterol 0mg
Sodium 110mg/5% DV
Total Carbohydrate 32g /12% DV
Dietary Fiber 4g /15%DV
Total Sugars 8g
Incl. Added Sugars 8g/16% DV
Protein 3g
Vitamin D 2mcg /10%DV
Calcium 130mg/10%DV
Iron 18mg/100% DV
Potassium 190mg/4% DV
Vitamin A 10% DV
Vitamin C 10% DV
Thiamin 100% DV
Riboflavin 100% DV
Niacin 100% DV
Vitamin B6 100% DV
Folate (235mcg folic acid) 100% DV
Vitamin B12 100% DV
Pantothenic Acid 100% DV
Phosphorus 8% DV
Magnesium 6% DV
Zinc 100% DV
Ingredients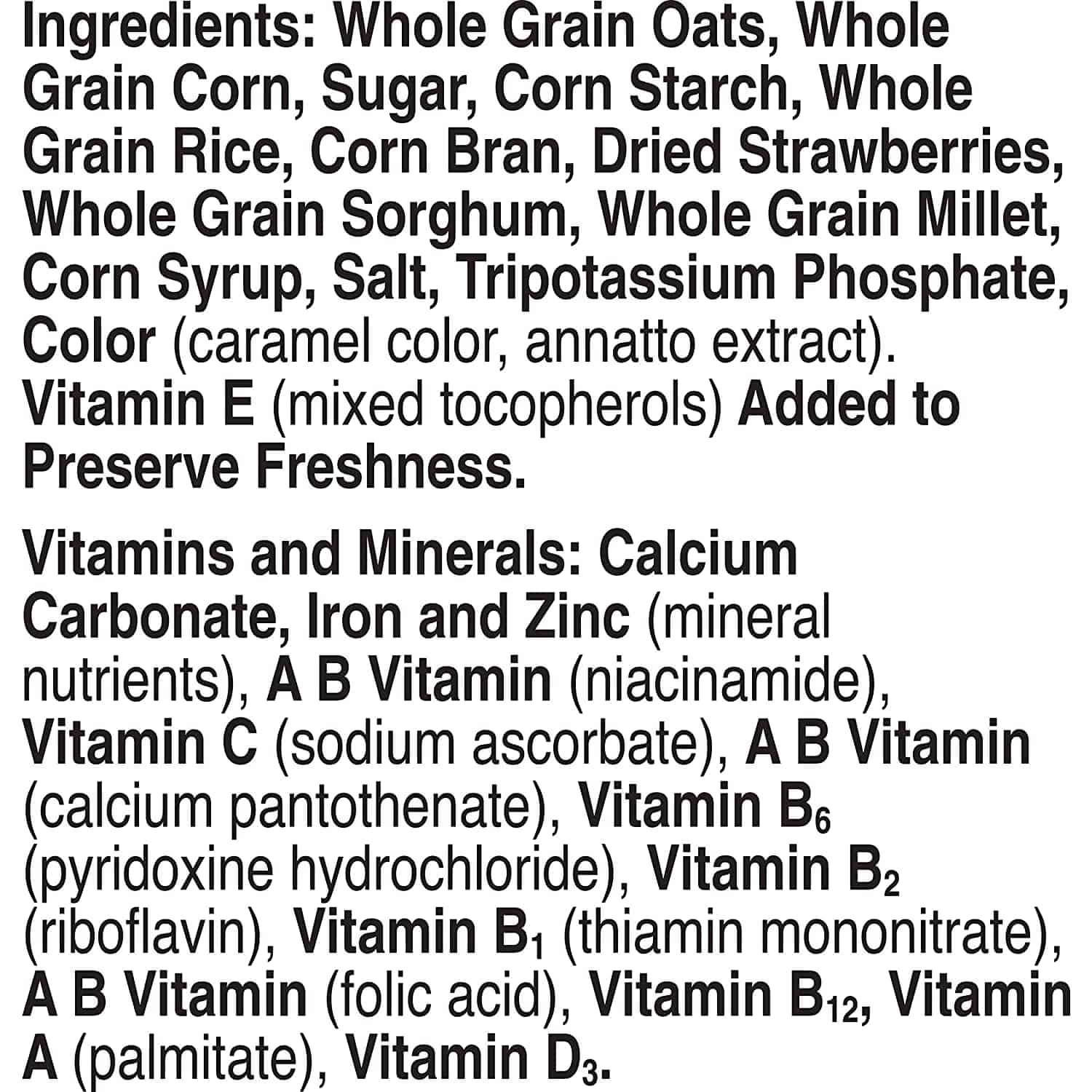 Whole Grain Oats
Whole Grain Corn
Sugar
Corn Starch
Whole Grain Rice
Corn Bran
Dried Strawberries
Whole Grain Sorghum
Whole Grain Millet
Corn Syrup
Salt
Tripotassium Phosphate
Color (caramel color, annatto extract)
Vitamin E (mixed tocopherols) Added to Preserve Freshness
Are Multi-grain Cheerios With Real Strawberries Healthy?
Cheerios never contain artificial flavors or coloring, so when you look at the label, there are no complicated chemicals with adverse side effects. This sets them apart from lots of popular breakfast cereals.
Further to this, this breakfast cereal contains a solid 4g dose of whole-grain soluble fiber, making it good for promoting a healthy heart. That, combined with zero cholesterol and very low-fat levels, makes it a great choice for lowering your cholesterol and helping decrease your risk of heart disease.
You'll also get 100% of your daily values of nine mineral nutrients in one single serving.
However, while the whole grains in this breakfast cereal provide a slower breakdown of energy, there are only 140 calories in each serving. This is a small amount of energy and is not likely to provide you with lasting fullness at the start of your day and may leave you with cravings for more food shortly after finishing your bowl.
Are Multi-grain Cheerios With Real Strawberries Gluten-Free?
All five grains in this cereal are gluten-free. However, there is no gluten-free badge on the box, which means Multi-Grain Cheerios with Real Strawberries breakfast cereal is not suited to a gluten-restricted diet.
General Mills is a sponsor of the Celiac Disease Foundation and proudly displays the 'Gluten Free' badge on all of their products, so when it isn't on one, we can assume it contains gluten.
In this case, the production process likely shares equipment or machinery with gluten-containing produce, meaning that it would fail the 20ppm (parts per million) of gluten test required to earn this badge.
Are Multi-grain Cheerios With Real Strawberries Vegan?
Multi-Grain Cheerios with Real Strawberries shows no animal products on its ingredients label, so that it will be suitable for an ethical vegan diet.
Are Multi-grain Cheerios With Real Strawberries Keto?
A keto diet is designed to place your body into a state called ketosis, where it uses fat to create ketones, an alternative, long-lasting energy source.
To do this, you need to restrict your carbohydrate intake to a maximum of 20g a day while greatly increasing your fat intake, so your body can use the fat to create ketones while low on carbs.
One serving of Multi-Grain Cheerios with Real Strawberries cereal contains 32g of carbohydrates, meaning that your body will not be able to reach ketosis after eating a bowl.
As well as this, the minimal fat levels won't provide your body with adequate fuel to create ketones.
Are Multi-grain Cheerios With Real Strawberries High In Protein?
Across the board, Cheerios products tend to contain only 3g of protein, making them a poor source for this valuable macronutrient.
Are Multi-grain Cheerios With Real Strawberries High In Fiber?
The FDA standard for high fiber food is that it contains 5g of fiber per serving. One bowl of this healthy cereal contains just 4g, meaning that it isn't quite a high fiber food source but still contributes a solid 15% to your daily intake.
Multi-grain Cheerios With Real Strawberries Varieties
If you're looking for an alternative to this tasty strawberry flavor, we've compiled a list of other options from the Cheerios family that you can try.
Very Berry Cheerios – All the goodness of whole grain Cheerios full of the flavor of raspberries, strawberries, and blueberries in perfect measure for just the right amount of sweetness in every bite.
Multi-Grain Cheerios – Made with the same five wholesome whole grains, this breakfast cereal alternative is packed with 100% of your daily values of 9 vitamins and minerals. There are no strawberries here, but you can get creative and add whatever you like!
Multi-grain Cheerios With Real Strawberries Store Brand Alternatives
Your local grocery store will probably stock muesli cereals with fruit, giving you a good profile of whole-grain goodness with juicy fruit to offset the crunch, but finding something exactly like this cereal isn't likely.
Where You Can Buy Multi-grain Cheerios With Real Strawberries?
Most national supermarkets carry this strawberry-filled multi-grain Cheerios cereal such as Giant and Kroger, along with many online stores including Amazon, Walmart, and Instacart.
Famous Multi-grain Cheerios With Real Strawberries Commercials
This cereal didn't get its own commercial slot but did get a mention at the end of commercials for regular and Honey Nut Cheerios when it was first introduced.
User Reviews
Review Summary
0.0 out of 5 stars (based on 0 reviews)
Recent Reviews
There are no reviews yet. Be the first one to write one.
Submit a Review