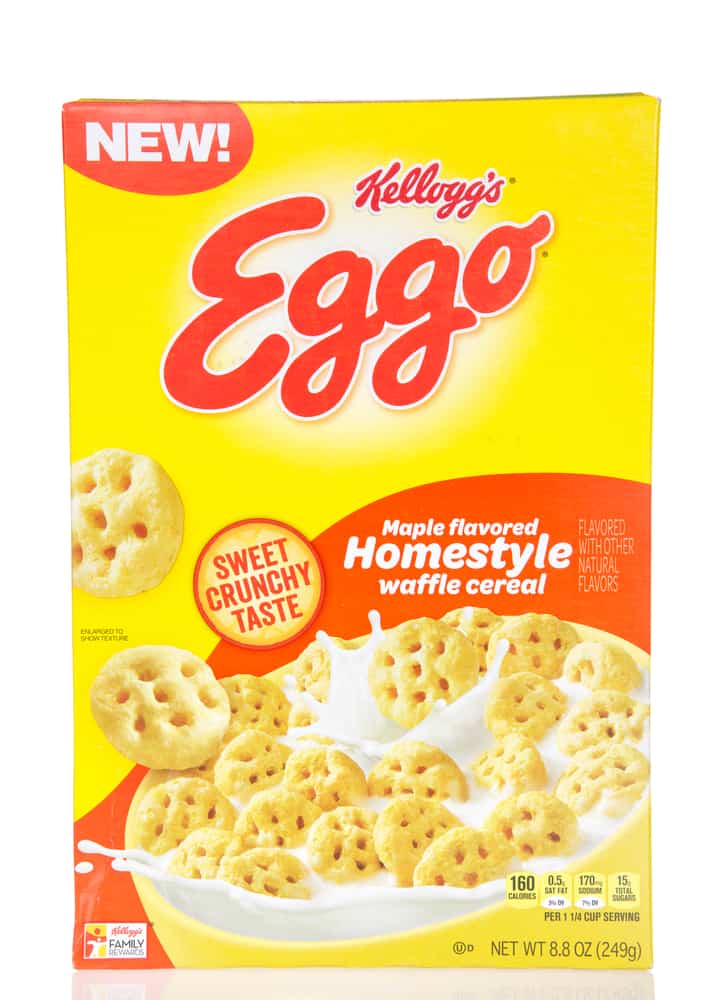 Eggo is a maple-flavored homestyle waffle cereal produced by breakfast stalwarts Kellogg's. Made with whole-grain oat and wheat flour, Eggo breakfast cereal fast became a favorite amongst young Americans following its original release in 2006.
I say original because this family favorite was initially discontinued in 2012. However, following a shrewd Twitter campaign by Kellogg's, the Eggo made its triumphant return in 2019 and has gone from strength to strength ever since.
However, while it's marketed as a delicious and easy way to snack straight out of the box, just how do the miniature maple-flavored homestyle waffle stand up under the scrutiny of today's health-conscious society?
Let's take a look…
Nutrition Facts
One cup (42 grams) of maple-flavored Eggo contains:
[% = of Daily Value based on 2000 calorie diet].
Calories: 160
Total fat: 2g (3%)
Saturated fat: 0.5g (3%)
Trans fat: 0g
Polyunsaturated fat: 0g
Monounsaturated fat: 0.5g
Cholesterol: 0mg (0%)
Sodium: 170mg (7%)
Total Carbohydrate: 34g (11%)
Dietary Fiber: 3g (9%)
Added Sugars: 15g (30%)
Protein: 3g
Ingredients
Whole Wheat Flour
Whole Grain Oat Flour
Sugar
Palm Oil
< 2% Salt
Degerminated Yellow Corn Meal
Maple Syrup
Calcium Carbonate
Natural Flavor
Turmeric Extract Color
Annatto Extract Color
Butylated Hydroxytoluene (BHT) Preservative
Vitamins And Minerals include: Vitamin B1 (Thiamin Hydrochloride), Vitamin B2 (Riboflavin), Vitamin B6 (Pyridoxine Hydrochloride), Vitamin B12 (Cobalamin), Vitamin D3 (Cholecalciferol), Reduced Iron, Folic Acid, and Niacinamide.
Is Eggo Cereal Healthy?
While Eggo maple-flavored homestyle waffle cereal makes a tasty breakfast-time treat, for those who are health conscious, it's probably fair to say that it should remain just so – a treat.
As the nutritional information provided suggests, one average-sized bowl of Kellogg's Eggo maple-flavored breakfast cereal contains 30% of your daily intake of sugars. Needless to say, this is an incredibly large proportion of your daily value for sugar.
Additionally, Kellogg's maple-flavored Eggo contains Butylated Hydroxytoluene (BHT), a preservative that is banned in Australia, New Zealand, Canada, Japan, and much of Europe.
This is due to poor performance within multiple studies, where a build-up of the substance has demonstrated a potential for causing cancers, liver enlargement, and a negative impact on cell development.
Finally, maple Eggo cereal contains relatively low fat. However, there are certainly many healthier cereals available on the market.
Is Eggo Cereal Gluten-Free?
Eggo cereal contains wheat ingredients such as whole wheat flour and so cannot be classed as gluten-free.
Is Eggo Cereal Vegan?
Despite superficially not containing any animal products, Eggo homestyle waffle cereal cannot be classed as vegan due to the fact it contains Vitamin D3, which, in the case of many breakfast cereals, is derived from animal products.
Is Eggo Cereal Keto?
A person following a keto diet with an average daily calorie intake of 2000 is required to consume between 20 and 50 grams of carbohydrates daily.
Due to the high level of carbohydrate found in just one serving of Eggo (34g), the breakfast cereal can't be recommended as part of a keto diet as it provides well over half of your daily Keto carb allowance.
Moreover, as keto diets are designed to encourage your body to stop relying on sugars for fuel, the substantial amount of added sugars found in Eggo makes the breakfast cereal more of a hindrance than a help to those striving for ketosis.
Is Eggo Cereal High in Protein?
On average, adult men should consume around 55g of protein a day, while women should consume about 45g. With that in mind, Eggo maple-flavored homestyle waffle cereal contains just 3g of protein for every 42g serving and, consequently, cannot be considered high in protein.
Is Eggo Cereal High in Fiber?
The average adult male should aim to consume approximately 30 – 38g of fiber a day. Likewise, the average adult woman should consume between 21 – 25g daily. As such, with its 3g per-serving fiber content, Eggo homestyle waffles breakfast cereal doesn't lend itself to a high fiber diet.
Eggo Cereal Varieties
Following its reintroduction to stores in 2019, Eggo breakfast cereal was available in three distinct flavors:
Maple Syrup Homestyle Flavor
Kellog's Eggo breakfast cereal in its most basic form, the maple variation of the breakfast cereal delivers a heady sugary homemade taste that makes a delightful snack or ready-to-eat cereal. When combined with fresh fruit, Kellogg's Eggo maple-flavored cereal waffles make for tasty snacks.
Blueberry Flavor
Unfortunately for fans of fruity flavors, this variety was discontinued in 2019, shortly after the cereal hit the shelves again.
Chocolate Flavor
Here your favorite Eggo homestyle waffles pack a choco punch, combining the classic Eggo taste with delicious cocoa and stuffing into that familiar mini waffle shape. If you're not a fan of the maple cereal, then these chocolate Eggo are a tasty breakfast cereal or afternoon pick-me-up.
However, while Eggo breakfast cereal is a delicious snack, due to its large sugar, carbohydrate content, and the presence of BHT, Eggo should be consumed sparingly, as a treat, and as part of a balanced diet.
Eggo Cereal Store Brand Alternatives
There is a multitude of Eggo cereal store brand alternatives available, each with its own unique quirks, flavoring, and nutritional content. These include but are not limited to:
Where You Can Buy Eggo Cereal
You can buy Eggo cereal in-store at both Walgreens and Walmart and also from various online stores, including Kroger and Instacart.
Famous Eggo Cereal Commercials
Eggo cereal has delivered several memorable commercials and, perhaps the most nostalgia-inducing of all, is that of the "Waffleman's Dive."
Yes, the original 2006 commercial smacks of nostalgia for Eggo-loving kids and grownups alike who enjoyed munching Kellogg's "irresistible cereal crispy waffles."
Therein, we saw a hesitant Eggo Waffleman climbing a towering ladder to reach a diving platform. Reluctant to take the leap into the bowl below, a spoon-toting hand is only too happy to give it the nudge it needs.
An alternative 2006 Eggo commercial saw the usually ill-fated Waffleman return as he was hunted by an airborne shadow. Was it a bird? Was it a plane? No – it was a falling cereal bowl! Give them a watch if you're keen to scratch that nostalgic Eggo itch!
User Reviews
Review Summary
0.0 out of 5 stars (based on 0 reviews)
Recent Reviews
There are no reviews yet. Be the first one to write one.
Submit a Review