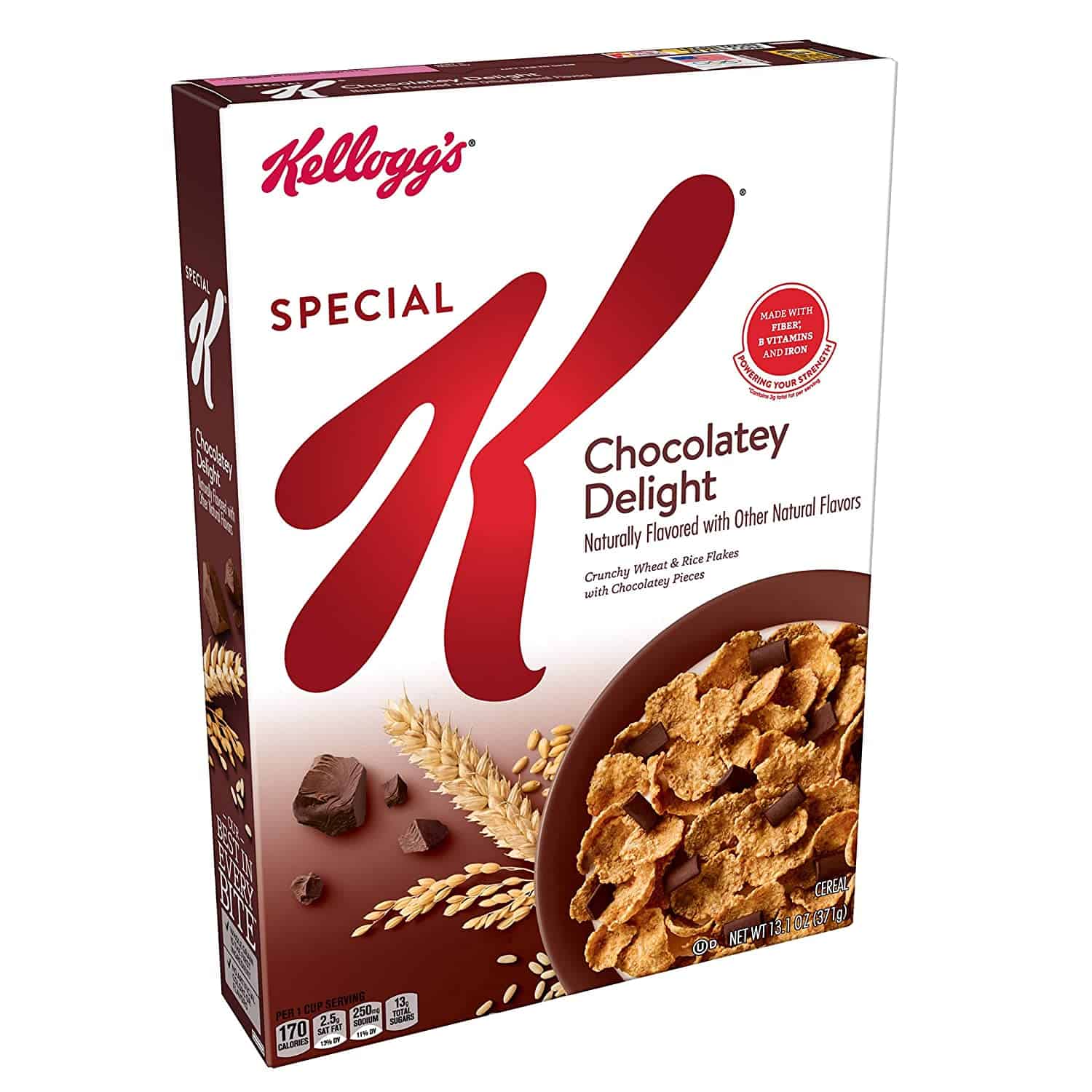 This is essentially Kellogg's Special K with chocolate bits, enough said. Where can you go wrong when you add more tasty ingredients, such as chocolate pieces and vanilla extract, to America's absolute favorite cereal?
Seriously, chocolatey pieces would be enough to make any breakfast food better, but mix them in with the crunchy wheat and crunchy rice flakes perfectly paired with more good things like your favorite yogurt or real fruit, such as red berries, then some nut milk, and WOW, that even makes a great late-night snack.
Simply, a flavorful choice with just the right amount of healthy and fun for the day ahead. In our opinion, it's 5 stars.
Nutrition Facts

One serving (42 grams) of Special K Chocolatey Delight cereal has the following nutrition information:
Calories – 170
Calories from fat – 27
Total Fat per serving – 3 grams / 3% DV

Saturated fat – 2.5 mg
Trans fat – 0 mg
Polyunsaturated fat – 0 mg
Monounsaturated fat – 1 mg

Cholesterol – 0 mg
Sodium – 250 mg / 11% DV
Total carbohydrates – 34 grams / 12% DV

Total sugars – 13 grams (12 grams added sugars) / 24% DV
Other carbohydrates – 21 grams
Dietary fiber – 3 grams / 11%

Protein – 3 grams / 0% DV
Vitamin A – 10% DV
Vitamin B1 (Thiamin) – 20% DV
Vitamin B2 (riboflavin) – 20% DV
Vitamin B3 (Niacin) – 20% DV
Vitamin B6 (Pyridoxin) – 20%
Vitamin C – 10% DV
Vitamin D – 2.1 cg / 10% DV
Vitamin E – 10% DV
Folate – 210 mcg DFE / 50% DV
Vitamin B9 (Folic acid) – 125 mcg
Vitamin B12 – 20% DV
Potassium – 120 mg / 2% DV
Calcium – 0 mg / 0% DV
Iron – 11.3 mg / 60% DV
The above Daily Value (DV) percentage is based on a diet of 2,000 calories per day.
One 18.5-ounce box of this breakfast cereal contains around 27 servings.
In total, Special K cereals contain at least 10 grams of whole grains per serving.
Ingredients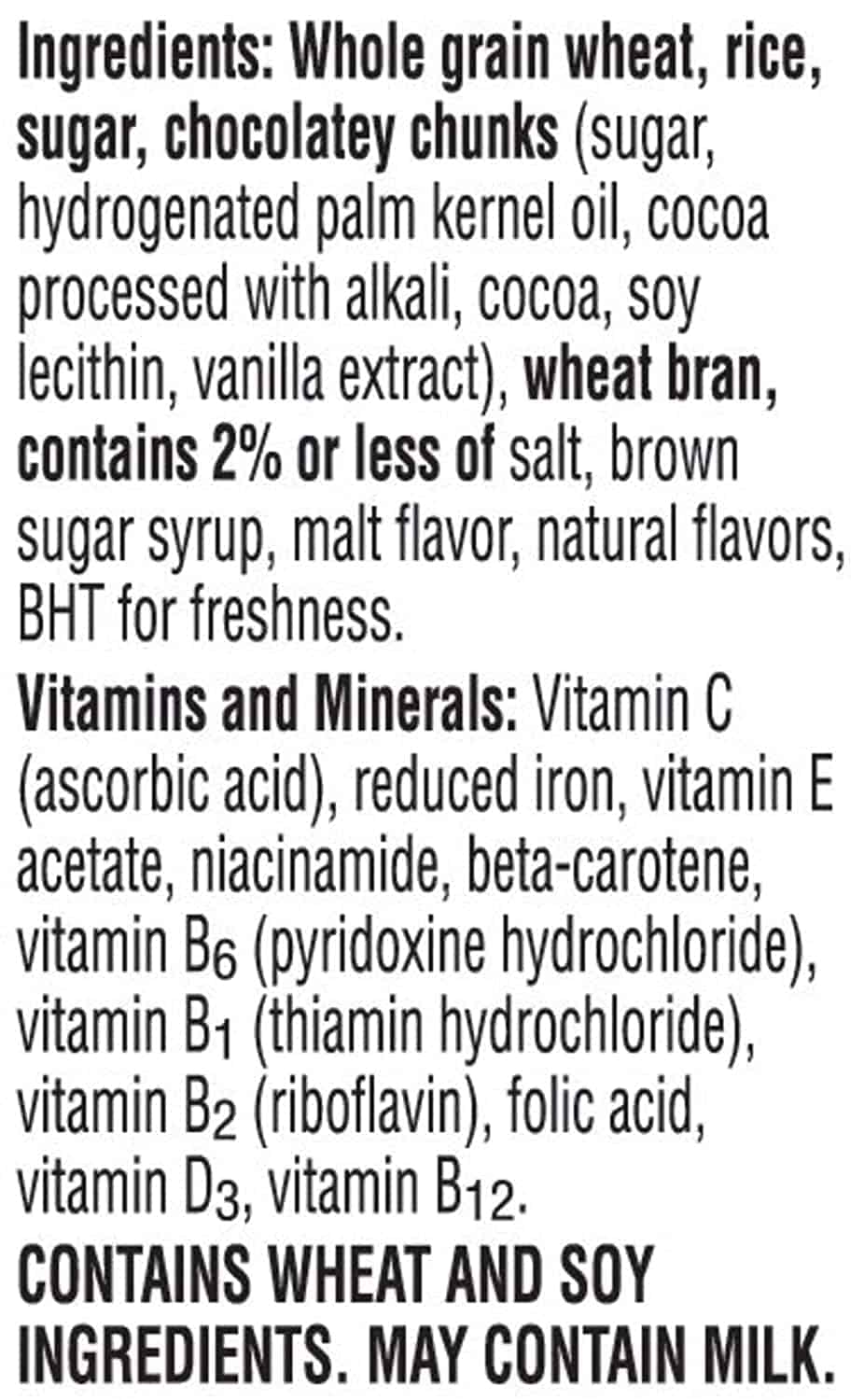 The ingredients list of Special K Chocolatey Delight breakfast cereal includes:
Whole Grain Wheat
Rice
Sugar
Chocolatey Chunks

Sugar
Hydrogenated Palm Kernel Oil
Cocoa Processed With Alkali
Cocoa
Soy Lecithin
Artificial Flavor
Milk

Wheat Bran
Salt
Brown Sugar Syrup
Artificial and Natural Flavors
Malt Flavor
BHT Added to Preserve Freshness
Reduced Iron
Vitamin C (Ascorbic Acid)
Vitamin E Acetate
Vitamin B3 (Niacinamide)
Vitamin B6 (Pyridoxine Hydrochloride)
Vitamin B2 (Riboflavin)
Beta-Carotene
Vitamin B1 (Thiamin Hydrochloride)
Folic Acid
Vitamin D3
Vitamin B12
Is Special K Chocolatey Delight Chocolatey Cereal Healthy?
It's chocolate, how can it not be healthy, right?
With that said, Kellogg's Special K Chocolatey cereal, like the other flavors, is marketed by the company as suitable for a healthy diet. And there is some truth to that.
This cereal is packed full of good whole grain and fortified with 11 vitamins and minerals. Also, this cereal is low in sodium, has no cholesterol, and provides some necessary dietary fiber and protein.
However, the carbohydrate content of this cereal is high and is significantly made up of added sugars. Also, the all-important chocolatey chunks are made of hydrogenated Palm Kernel Oil which isn't healthy at all, and in large quantities can induce adverse health issues. Also, the total fat per serving is mostly saturated fat.
Is Special K Chocolatey Delight Chocolatey Cereal Gluten-Free?
Let's be honest, how many wheat and milk chocolatey indulges are gluten-free. And, yes, this isn't one of them either. As with the original Special K, this is a wheat and rice flakes cereal, with wheat being the primary ingredient. So, as with any cereal containing wheat flakes, this is not suitable for a gluten-free diet.
Is Special K Chocolatey Delight Chocolatey Cereal Vegan?
As any vegan will know, milk is not a vegan food. Thus, milk chocolate flavored chunks would not be on the list of vegan foods either. In addition to that, sugar always has the possibility of being cross-contaminated with animal by-products. Finally, though Vitamin D3 is among the essential vitamins and minerals a human needs, it can only be found in animal sources.
For reference purposes, sites show this cereal as Kosher dairy, enjoy as a late-night treat, between-meal treat, or a satisfying bowl in the morning time for the whole family.
Is Special K Chocolatey Delight Chocolatey Cereal Keto?
Oh, the day when a breakfast cereal filled with chocolate chips is Keto. Well, it could happen but it's not today, unfortunately. There is no question that this is a delicious breakfast cereal, and even makes for a great trail mix recipe, but that is primarily due to its high carbohydrate content.
Keto practitioners regulate their daily carb intake to only 20 -30 grams of carbohydrates. One serving of this cereal is 34 grams of carbs.
Is Special K Chocolatey Delight Chocolatey Cereal High in Protein?
Kellogg's Special K Chocolatey cereal is primarily wheat and rice flakes with sugar. Not much protein there as you can imagine. With that said though, it does provide 3 grams per serving which is average for a breakfast cereal. However, to be considered high in protein, a cereal needs to provide 5 to 10 grams of protein per serving.
Is Special K Chocolatey Delight Chocolatey Cereal High in Fiber?
Dietary fiber is one of the most important nutrients we need from our food, and foods that are high in fiber make it far easier to reach our daily intake. Which, by the way, should be 25 grams every day per the FDA.
Therefore, a cereal that provides at least 5 grams of fiber would be considered high in fiber. This cereal only provides 3 grams.
Special K Chocolatey Delight Chocolatey Cereal Store Brand Alternatives
There are some possible alternatives, such as Love Grown Mighty Flakes Chocolate Joy or Kind Cereal Dark Chocolate Almond, but nothing comes close in flavor.
Where You Can Buy Special K Chocolatey Delight Chocolatey Cereal
You will find this cereal at virtually any grocery store.
Famous Special K Chocolatey Delight Chocolatey Cereal Commercials
The Kellogg company was able to rely solely on the fan base and loyal of the name Special K to do the vast majority of the marketing for this cereal. Of course, showing off the chocolatey pieces helped a lot as well.
User Reviews
Review Summary
0 out of 5 stars (based on 0 reviews)
Recent Reviews
There are no reviews yet. Be the first one to write one.
Submit a Review