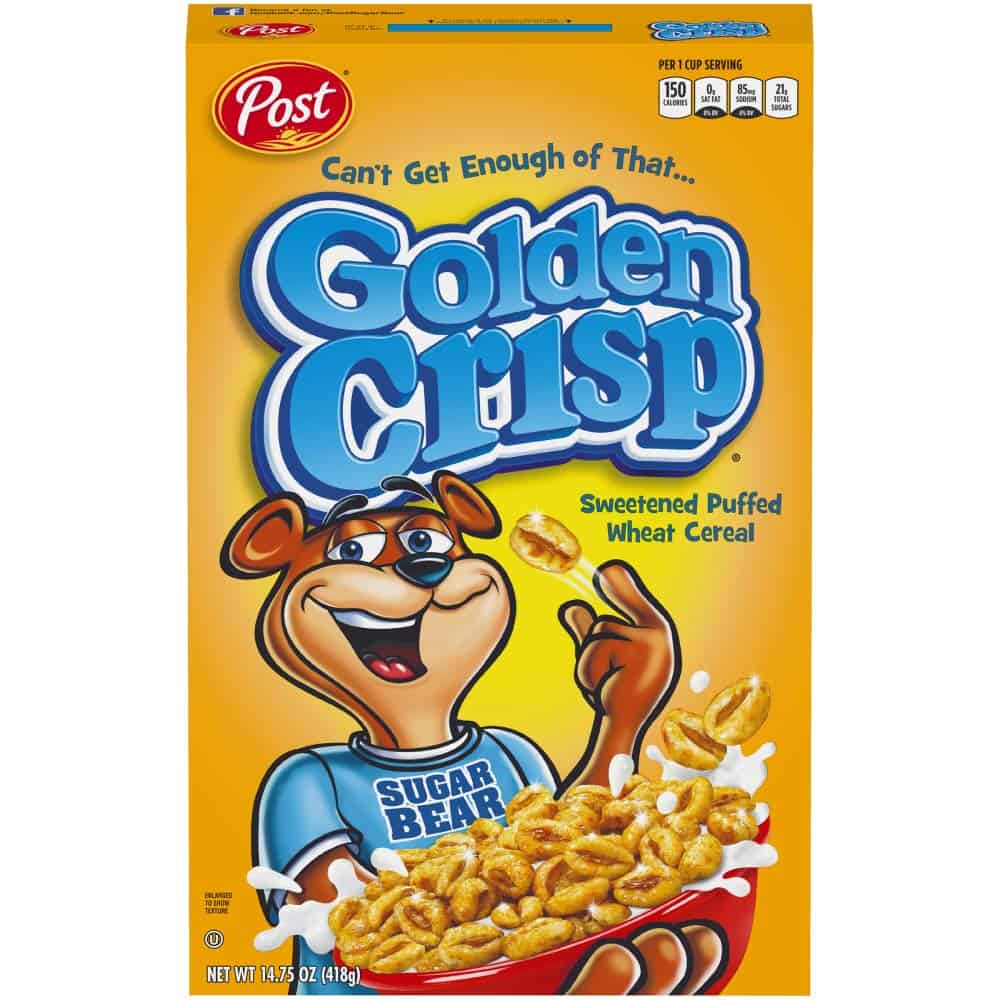 If you're looking for a delicious, no-hassle breakfast or even an afternoon snack, it's hard to beat Golden Crisp Cereal by Post Foods. This sugary, puffed wheat cereal comes in big, crunchy puffs of sweetened, honey-flavored wheat that is sure to send your taste buds into overdrive!
You can enjoy them on their own, with milk or yogurt, or even use them as the base of your next creative dessert concoction – they make for a delicious, crunchy bar to eat on the go. No matter how you eat it, this is one cereal recipe that tastes great any way you decide to prepare it!
Nutrition Facts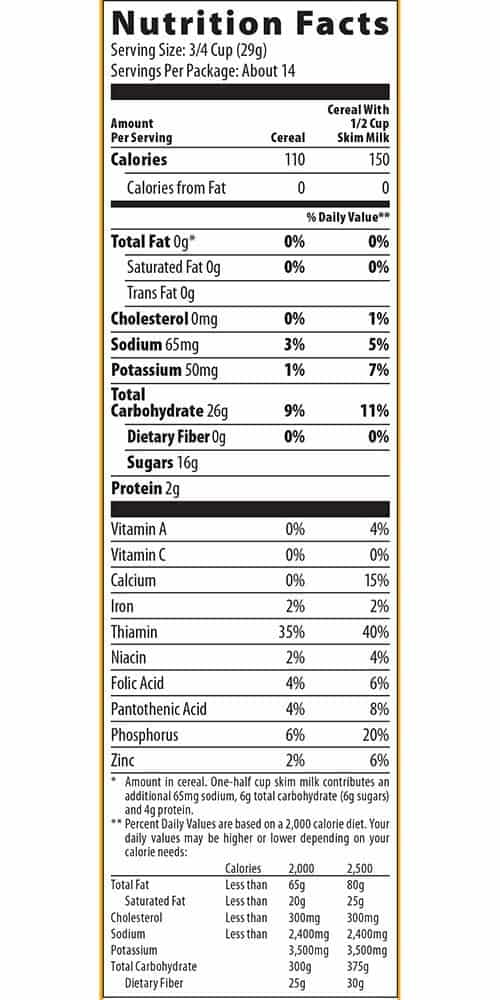 A one-cup (38g) serving of this puffed wheat cereal contains:
Calories – 150
Total fat – 0.5g /1% DV
Trans fat – 0g
Saturated fat – 0g
Sodium – 85mg / 4% DV
Cholesterol – 0mg / 0% DV
Total carbohydrates – 34g / 12% DV
Dietary fiber – 0g / 0% DV
Total sugars – 21g / 42% DV
Protein – 2g
Vitamin D – 0mcg / 0% DV
Calcium – 0mg / 0% DV
Iron – 0.5mg / 2% DV
Potassium – 70mg / 2% DV
Thiamin – 60% DV
Niacin – 6% DV
Folate – 30mcg DFE (20mcg folic acid) 8% DV
Pantothenic Acid – 10% DV
Phosphorus – 6% DV
Magnesium – 4% DV
Zinc – 4% DV
Copper – 8% DV
The Daily Value percentages are based on a diet of 2,000 calories per day.
Ingredients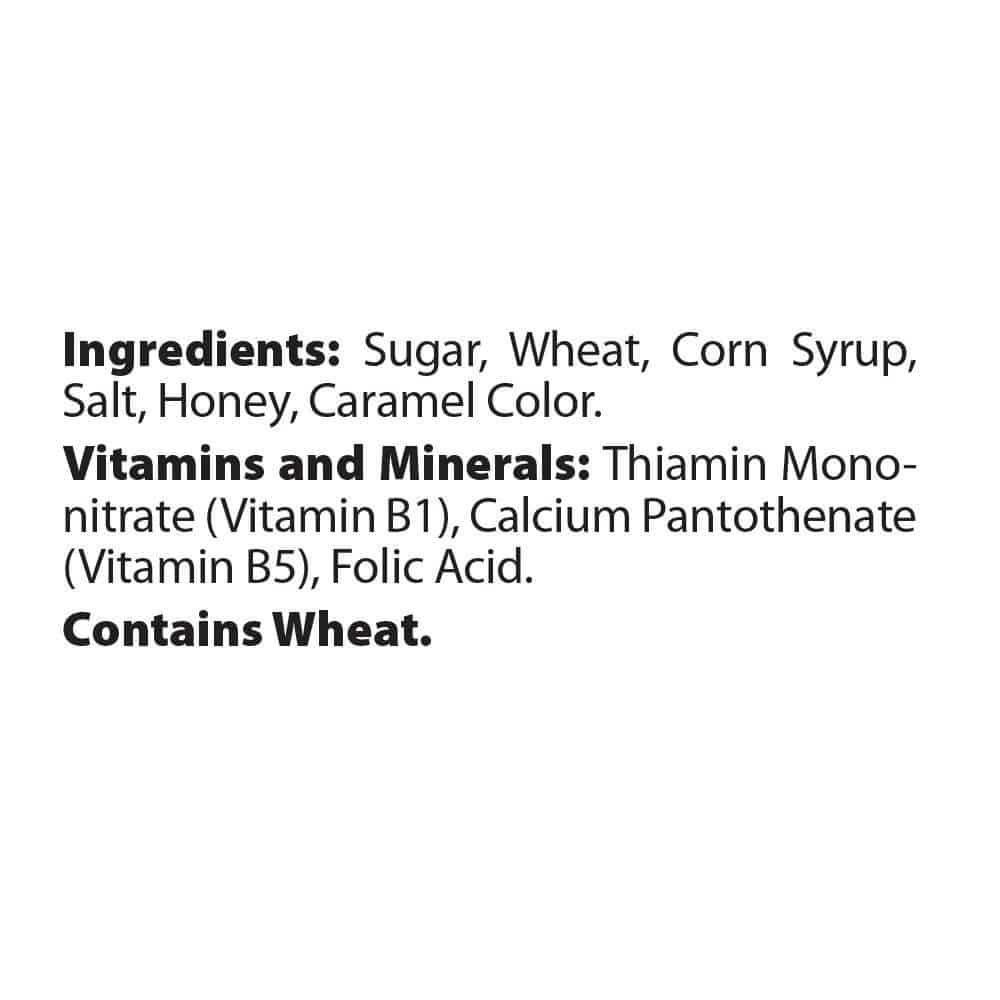 There aren't many ingredients that make up this delicious breakfast! It contains:
Sugar
Wheat
Corn syrup
Salt
Honey
Caramel color
Vitamin B1
Calcium pantothenate, a B-vitamin
Folic acid.
Is Golden Crisp Cereal Healthy?
The ingredients are listed in order of prevalence, so given that sugar is at the top of the list, it's hard to disguise the fact that Golden Crisp is far from the healthiest cereal out there! There's also corn syrup near the top of the ingredients list, as well as honey. So, there's plenty of added sugar!
It also doesn't offer any fiber and very little protein. It's safe to say this cereal should be enjoyed only as an occasional treat and not every day!
If you're looking to balance a diet with cereal, go for low-sugar cereals like Cheerios and Grape-Nuts instead.
Is Golden Crisp Cereal Gluten-Free?
No, this cereal is made from wheat, meaning it's definitely not suitable for those with gluten allergies or intolerances.
Always read ingredients lists before consuming any food product to ensure you're not allergic or sensitive to anything listed on the label.
Is Golden Crisp Cereal Vegan?
Many vegans choose to avoid honey, meaning Golden Crisp isn't suitable for those following a strict vegan diet.
Is Golden Crisp Cereal Keto?
No, this cereal isn't a good choice if you wish to remain in ketosis. That's because it is very high in both carbs and high-glycemic sweeteners.
You'll need to consume fewer than around 20-30g of carbs a day to stay in ketosis, but Golden Crisp contains a whopping 90g of carbs per 100g. Granted, you might not eat 100g in a portion, but even a small serving of this cereal with its high-sugar content will likely break ketosis.
Is Golden Crisp Cereal High in Protein?
A serving of Golden Crisp contains just 2g of protein. To compare, Kellog's Special K Protein is packed with a massive 15g of protein per serving.
However, many cereals that aren't explicitly labeled as 'high-protein' contain around the same amount as Golden Crisp.
Is Golden Crisp Cereal High in Fiber?
On the contrary – Golden Crisp doesn't contain any fiber at all! So, it's far from the best cereal if you are looking for something to help keep you fuller for longer and keep your bowels working regularly – both benefits fiber has on the body.
Golden Crisp Cereal Varieties
If you're of a certain age, you might remember Super Sugar Crisp and Super Golden Crisp. However, these aren't different varieties of the popular cereal; rather, they are past names of the same product.
It is sometimes thought that the cereal was renamed Honey Smacks, but the two products are, in fact, different. Honey Smacks are manufactured by Kellog's but have a similar look and taste to Golden Crisp. Both are a favorite with kids – they might try to eat the whole box as if it were candy!
Golden Crisp Cereal Store Brand Alternatives
As mentioned above, Honey Smacks is incredibly similar to Golden Crisp. Walmart offers Golden Puffs, or check out Cheerios Honey Nut at Target for a similar honey flavor but with less added sugar.
Where You Can Buy Golden Crisp Cereal
You can find family-sized packs of this cereal at Walmart. Smaller packs are available on Amazon.
Famous Golden Crisp Cereal Commercials
The cereal has been advertised by the Sugar Bear character throughout its history – he could be part of the reason why kids everywhere love the brand so much!
This vintage commercial from the 1960s saw Sugar Bear introducing the product to his Granny Goodwich.
There's also the 1980 commercial in which the number of vitamins added to the cereal is highlighted.
In 1989, we saw jungle animals trying to steal Sugar Bear's cereal and were introduced to free flipbooks featuring the character- they were given for free in every box!
The following year, in 1990, we learned how more coating was added to the cereal to make it taste even better than ever.
Check out this video if you want to see some more recent commercials, ending with the latest in 2006. It's interesting to see how much Sugar Bear has evolved over the years!
One thing that hasn't changed is how much children love this cereal; just make sure they aren't eating it for breakfast every morning! Overall, the cereal is great as an occasional treat or for making some delicious bakes to be enjoyed once in a while.
User Reviews
Review Summary
0.0 out of 5 stars (based on 0 reviews)
Recent Reviews
There are no reviews yet. Be the first one to write one.
Submit a Review