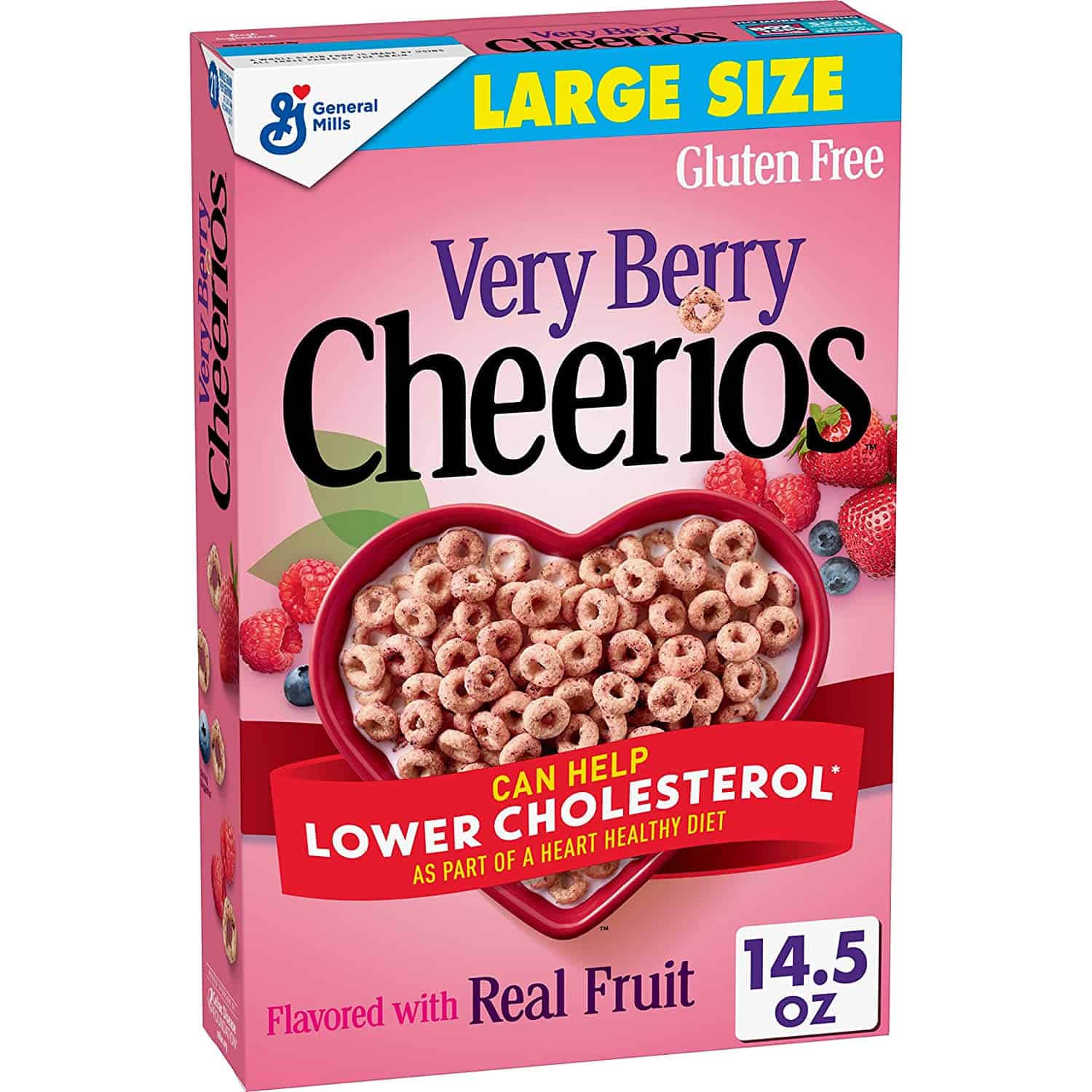 General Mills Very Berry Cheerios breakfast cereal is pretty remarkable as sweet cereals go. Each little O is bursting with a blend of raspberries, blueberries, cranberries, and strawberries, and each one is naturally flavored.
That's a lot of effort, especially in the cereal market, where it's very easy to use cheaper artificial flavors. Here we've got a huge selection of berries, and each one is authentically flavored. So what you get with Very Berry Cheerios is a breakfast cereal packed with authentic fruit flavor.
Cheerios' commitment to authenticity when they make their products is to be admired and always results in a superior breakfast cereal.
Let's take a look inside the box of this tasty berry treat.
Nutrition Facts

One 36g serving of Very Berry Cheerios contains:
Calories 140
Total Fat 2g/2% DV
Saturated Fat 0g/3% DV
Trans Fat 0g
Polyunsaturated Fat 0.5g
Monounsaturated Fat 0.5g
Cholesterol 0g/1% DV
Sodium 170mg/7%DV
Total Carbohydrate 29g/11% DV
Dietary Fiber 3g /9% DV
Soluble Fiber less than 1g
Total Sugars 11g
Incl. Added Sugars 11g/22% DV
Protein 3g
Vitamin D 2mcg /10% DV
Calcium 130mg/10% DV
Iron 3.6mg/20% DV
Potassium 140mg/2% DV
Vitamin A 10%
Vitamin C 10%
Thiamin 20%
Riboflavin 10%
Niacin 10%
Vitamin B6 20%
Folate (45mcg folic acid) 20%
Vitamin B12 20%
Phosphorus 8%
Magnesium 8%
Zinc 20%
Ingredients
Whole Grain Oats
Sugar
Corn Syrup
Oat Bran
Corn Starch
Salt
Blueberry Powder
Canola Oil
Cane Sugar
Tripotassium Phosphate
Strawberry Powder
Cranberry Powder
Raspberry Powder
Vegetable and Fruit Juice Color
Natural Flavor.
Vitamin E (mixed tocopherols) Added to Preserve Freshness.
Are Very Berry Cheerios Healthy?
For a sweet, fruit-flavored cereal, Very Berry Cheerios do pretty well.
They've got zero artificial colors or flavorings and don't use high fructose corn syrup to get that sweetness, just authentic berry extracts.
They're very low in fat and contain zero cholesterol, so they can contribute to reducing cholesterol and lowering the risk of heart disease.
They're much lower insoluble fiber than other Cheerios products, though they generally contain 3g; this one only contains 0.75g.
As well as this, one serving only contains 140 calories, meaning while a lower calorie cereal option, it may not be a great source of lasting energy during your day, possibly leaving you craving another bowl or something else soon after.
For this reason, this sweet treat might be better as an afternoon or evening treat and not a filling breakfast.
Are Very Berry Cheerios Gluten-Free?
Very Berry Cheerios uses the standard Cheerio formula made with whole grain oats, a gluten-free grain, making them a great breakfast option for those on a gluten-free diet.
Are Very Berry Cheerios Vegan?
Vegans can rejoice! Very Berry Cheerios is another of the Cheerios line that lists no animal products on its ingredients.
Are Very Berry Cheerios Keto?
A ketogenic, or keto, diet is designed to make your body produce ketones, which are an alternative and long-lasting energy source. This state is called ketosis.
In order to reach ketosis, you need to dramatically reduce your carbohydrate intake while increasing your fat intake, so your body starts to use fat to create ketones.
One serving of Very Berry Cheerios contains 29g of carbohydrates. In order to reach ketosis, you can't consume more than 20g of carbohydrates a day, making this cereal unsuitable for keto.
As well as this, it contains virtually no fat, which is essential to the production of ketones. All in all, Very Berry Cheerios are not suitable for a keto diet.
Are Very Berry Cheerios High In Protein?
This whole-grain cereal only contains 3g of protein, which is a tenth of a serving size but still very low. On the whole, sweet cereals should not be used as a protein source; they are primarily made up of carbohydrates.
Are Very Berry Cheerios High In Fiber?
According to the FDA, a food needs at least 5g of fiber per serving to qualify as high fiber.
Cheerios tend to contain at least 3g of soluble fiber, with something containing up to 9g. Very Berry, on the other hand, only contains 0.75g of soluble fiber, making them a poor source of useful fiber.
Very Berry Cheerios Varieties
If you've got a craving for fruity Cheerios and want to try other varieties or can't find Very Berry at your local grocery store, we've compiled a list of other varieties from the Cheerio family for you to try
Blueberry Cheerios – A great alternative to General Mills Very Berry, this cereal is huge on natural blueberry flavor. It can be enjoyed as a whole grain oat foods breakfast option or as an ingredient in trail mix. They are made with healthy whole grain with zero saturated fat or cholesterol, making them great for reducing your risk of heart disease.
Chocolate Cheerios – Okay, so these are a little different from the sweetness you'd get from berries, but you can't go far wrong with chocolate cereal, can you? Each serving contains only 8 grams of sugar and 100 calories, so you don't have to feel guilty while you treat yourself.
Very Berry Cheerios Store Brand Alternatives
You probably won't find a store-brand alternative that packs this much berry flavor from this many berries into one box, but berry cereals aren't that uncommon, so you may get lucky and find something similar.
Where You Can Buy Very Berry Cheerios?
Very Berry Cheerios is one of the special variety cereals made by General Mills that is a pretty easily found in most nationally recognized supermarket chains. If you prefer to do your shopping from the comfort of your couch, you can have a box delivered to your door through Amazon, Target, or Instacart.
Famous Very Berry Cheerios Commercials
Very Berry Cheerios didn't get a full commercial to themselves. Still, they did get a quick cameo at the end of this Cheerios Game Night commercial featuring a variety of General Mills Cheerios cereals.
User Reviews
Review Summary
0.0 out of 5 stars (based on 0 reviews)
Recent Reviews
There are no reviews yet. Be the first one to write one.
Submit a Review