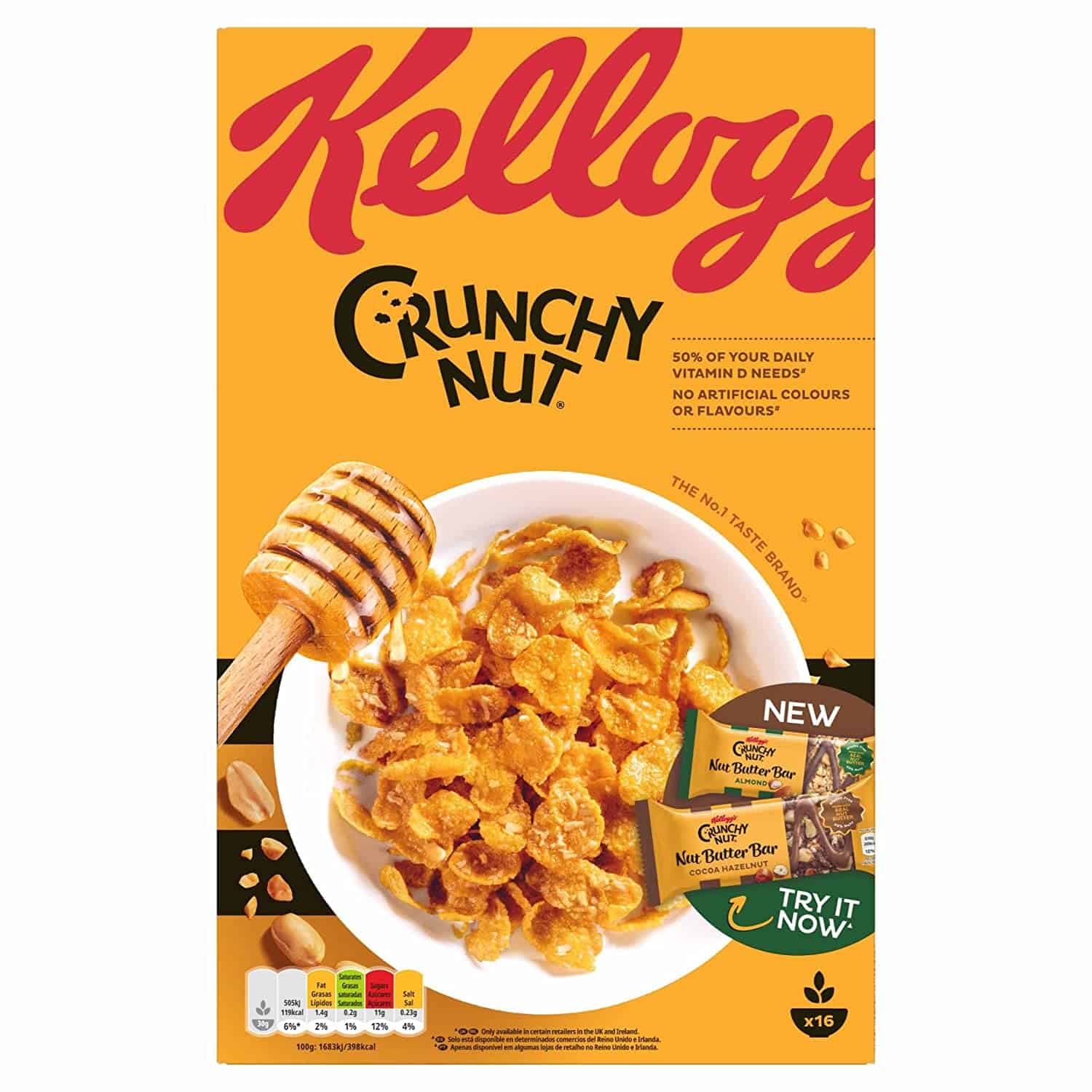 Kellogg's Crunchy Nut Corn Flakes were first launched in the UK in 1980, and are now the second most popular breakfast cereal in the country. In 2018, they became available in the US and fans were eager to get their hands on them.
Their beloved taste comes from combining honey with shavings of nuts and classic corn flakes, to create that unique honey crunch that consumers adore.
Although this classic cereal doesn't claim to be health-food, it's worth bearing in mind that the price of that sweet taste is a lot of sugar in each spoonful.
So, is that signature Crunchy Nut taste worth the spike in your blood sugar?
Nutrition Facts
One serving (32g) of this serial contains:
Calories – 120
Fat – 1g/2% RI
Saturated Fat – 0.0g
Sodium (salt) – 135mg/6% RI
Carbohydrates – 26g/9% RI
Sugar – 10g
Fiber – 1g/3% RI
Protein – 2g
Vitamins and Minerals
Vitamin A – 10% RI
Vitamin C – 10% RI
Potassium – 1% RI
Vitamin D – 10% RI
Iron – 25%
Thiamin – 25% RI
Riboflavin – 25% RI
Niacin – 25% RI
Vitamin B6 – 25% RI
Folic Acid – 25% RI
Vitamin B12 – 25% RI
Ingredients
The ingredients in this cereal include:
Corn
Peanuts
Sugar
Honey
Salt
Molasses
Barley malt extract
For any allergens see items highlighted in bold.
Is Crunchy Nut Cereal Healthy?
Kellogg's Crunchy Nut Corn Flakes is not the healthiest breakfast cereal option. It contains 10 grams of sugar per serving, which is roughly a third of your recommended daily intake. This amount of sugar can cause your blood sugar level to spike and may mean you become hungry again quite soon after eating.
The reason for the high sugar content is that the cereal is made using flakes of corn drizzled in honey. This makes them very sweet, and irresistibly tasty but means that they're not ideal for more health-conscious consumers.
On the plus side, this cereal doesn't contain any saturated fat and provides quite a large number of vitamins in each serving. You'll get 10% of your daily Vitamin C intake and 25% of the Vitamin B6 that you need. It's also rich in iron, providing you with 25% of your recommended daily intake.
Is Crunchy Nut Cereal Gluten-Free?
Kellogg's Crunchy Nut Corn Flakes are not gluten-free as they contain barley malt extract. They should be avoided by anyone who suffers from celiac disease or has a gluten intolerance.
Is Crunchy Nut Cereal Vegan?
Kellogg's Crunchy Nut Corn Flakes are not vegan-friendly as they contain honey, which is classed as an animal product.
Although the bees are not killed in the honey extraction process, they are smoked out of the hive. Due to this, vegans do not consider honey to be a vegan product.
Is Crunchy Nut Cereal Keto?
Kellogg's Crunchy Nut Corn Flakes would not be considered to be keto, as it contains 26 grams of carbohydrates in each serving. If you're on a keto diet you shouldn't be consuming more than 30 grams of carbs each day, so one serving of this cereal would put you close to the daily upper limit.
As it's a golden honey nut cereal, it also contains a good amount of honey. This is known to cause spikes in insulin, and will of course raise your blood sugar level, meaning that your body would be prevented from going into ketosis.
Is Crunchy Nut Cereal High in Protein?
The proteins in our bodies are made of chemical building blocks known named amino acids. Our bodies use these acids to repair and build bones and muscles. They also provide us with energy and are used to create enzymes and hormones.
This is why they're a key element of a healthy, balanced diet, and why you need between 46 and 56 grams a day. Unfortunately, Kellogg's Crunchy Nut Corn Flakes only contains 2 grams of protein per serving.
So, if you choose them for breakfast you'll have to make up for it during the day with lots of other foods that are high in protein.
Is Crunchy Nut Cereal High in Fiber?
Kellogg's Crunchy Nut Cornflakes is a breakfast cereal that's very low in fiber. This may be quite surprising, considering it's made with corn, which is naturally high in fiber. But, as the corn is processed a lot of that natural fiber goodness is removed.
This cereal also contains peanuts which are another ingredient that's usually known as a good source of fiber. However, to create that signature honey crunch, Kellogg's only uses shavings of peanuts and so the amount is too small to provide much fiber.
Crunchy Nut Cereal Varieties
Because of the immense popularity of the Crunchy Nut Corn Flakes breakfast cereal, there are several different varieties available. They include:
Where You Can Buy Crunchy Nut Cereal
You can purchase Kellogg's Crunchy Nut Corn Flakes at most grocery stores and online from retailers' websites such as Walmart and Amazon.
Famous Crunchy Nut Cereal Commercials
As Crunchy Nut Cornflakes have been around for a long time, there have been many memorable commercials for them throughout the years. The focus of Kellogg's advertising campaigns for this product is always on how irresistibly tasty they are.
In this classic commercial, a baby starts rolling down a set of stairs in a parking lot. The baby's concerned father chases after the trolley and manages to reach it before it gets to the bottom of the stairs.
He turns around to the mother afterward, but rather than holding his rescued baby, he's holding a box of Crunchy Nut Corn Flakes. The voice-over then says the famous slogan 'ludicrously tasty.'
User Reviews
Review Summary
0 out of 5 stars (based on 0 reviews)
Recent Reviews
There are no reviews yet. Be the first one to write one.
Submit a Review