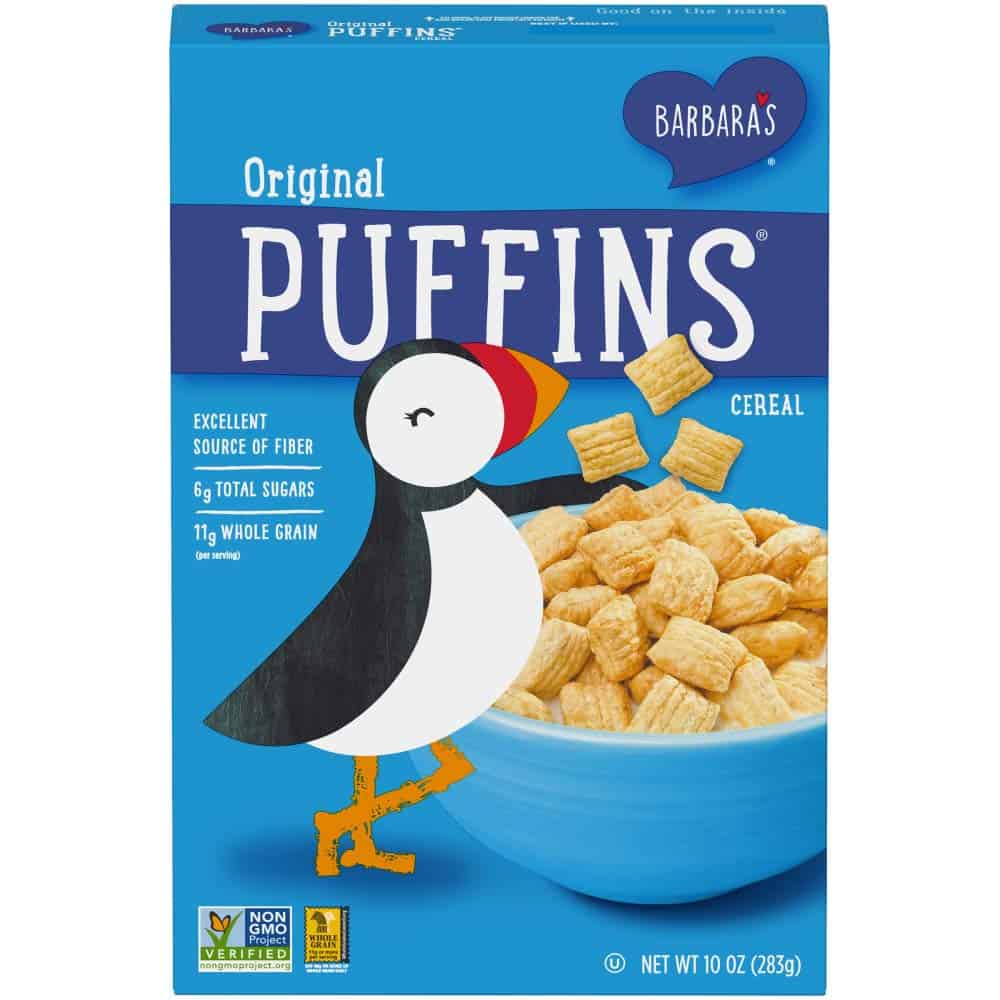 Barbaras Puffins Original Breakfast Cereal is popular amongst kids as well as their parents due to its nutritional value. It is a delicious option packed full of fiber from whole grain oat flour and has a relatively low sugar content. This makes it a great breakfast choice for growing kids that need nutrition to help them grow and a boost to get them off to a good start before school.
Nutrition Facts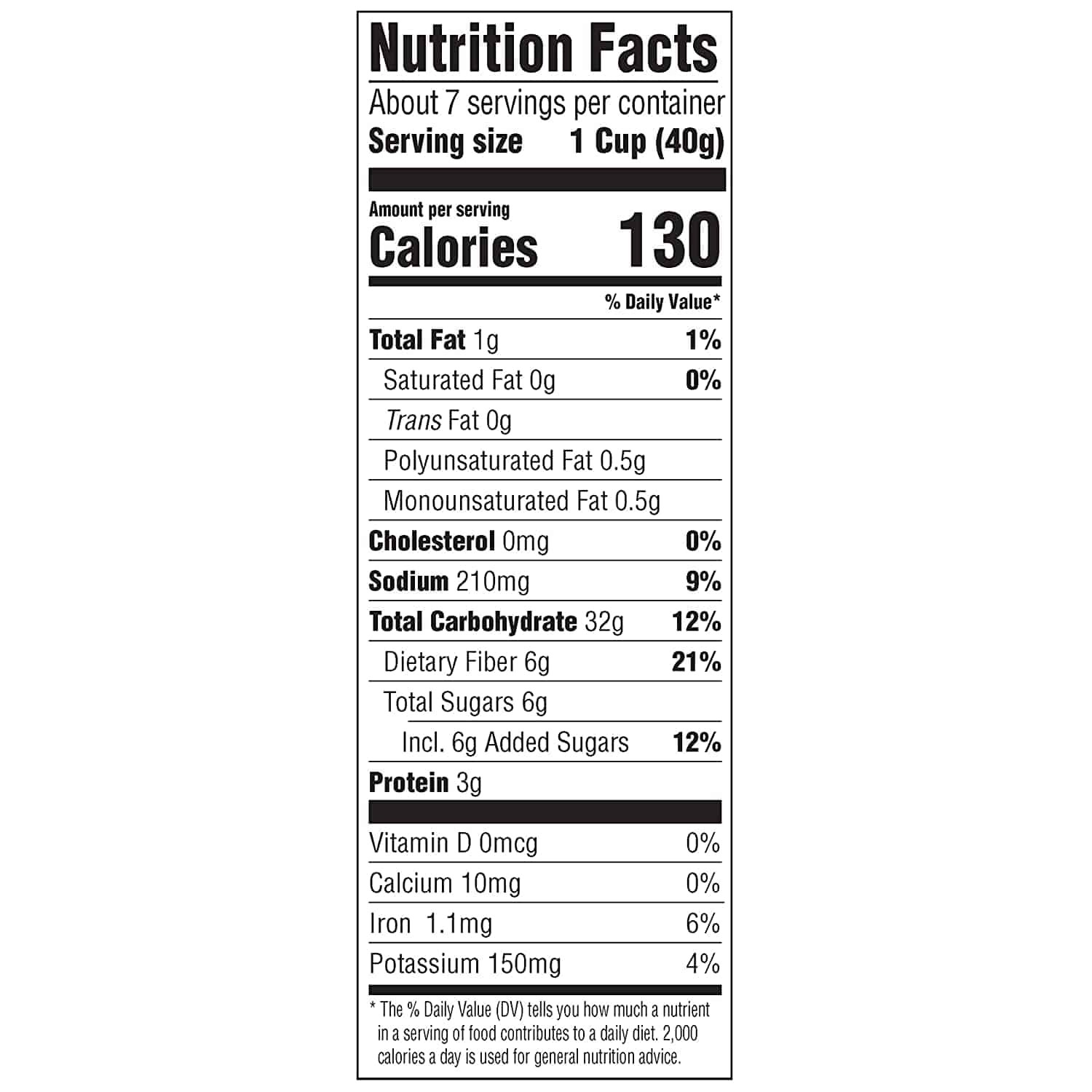 One portion (27g) of Barbaras Puffins Original Breakfast Cereal contains:
Calories – 90
Total fat – 1 grams/1% DV
Trans fat – 0%
Saturated fat – 0%
Sodium – 190mg/8% DV
Cholesterol – 0mg/0% DV
Total carbohydrates – 22.7 grams/8% DV
Total sugars – 5 grams/10% DV
Dietary fiber – 5 grams/18% DV
Protein – 2 grams/ 4% DV
Vitamin D – 0mcg
Calcium – 18.9mg/1% DV
Iron – 0.4mg/2% DV
Vitamin – A 0%
Folic acid – 0 mcg
Vitamin B12 – 0% DV
Vitamin B6 – 20%
Potassium – 85.1mg/ 2% DV
Magnesium – 28.8mg/7% DV
Zinc – 0.3mg/ 3% DV
Vitamin E – 0.2mg/ 2% DV
Vitamin K – 0.2μg/ 0% DV
Vitamin C – 15mg/ 17% DV
Phosphorus – 85.1mg/ 2% DV
DV stands for daily value and refers to how much a nutrient in a single serving makes up the daily average intake.
A 520g box of Puffins cereal contains 19 servings.
Ingredients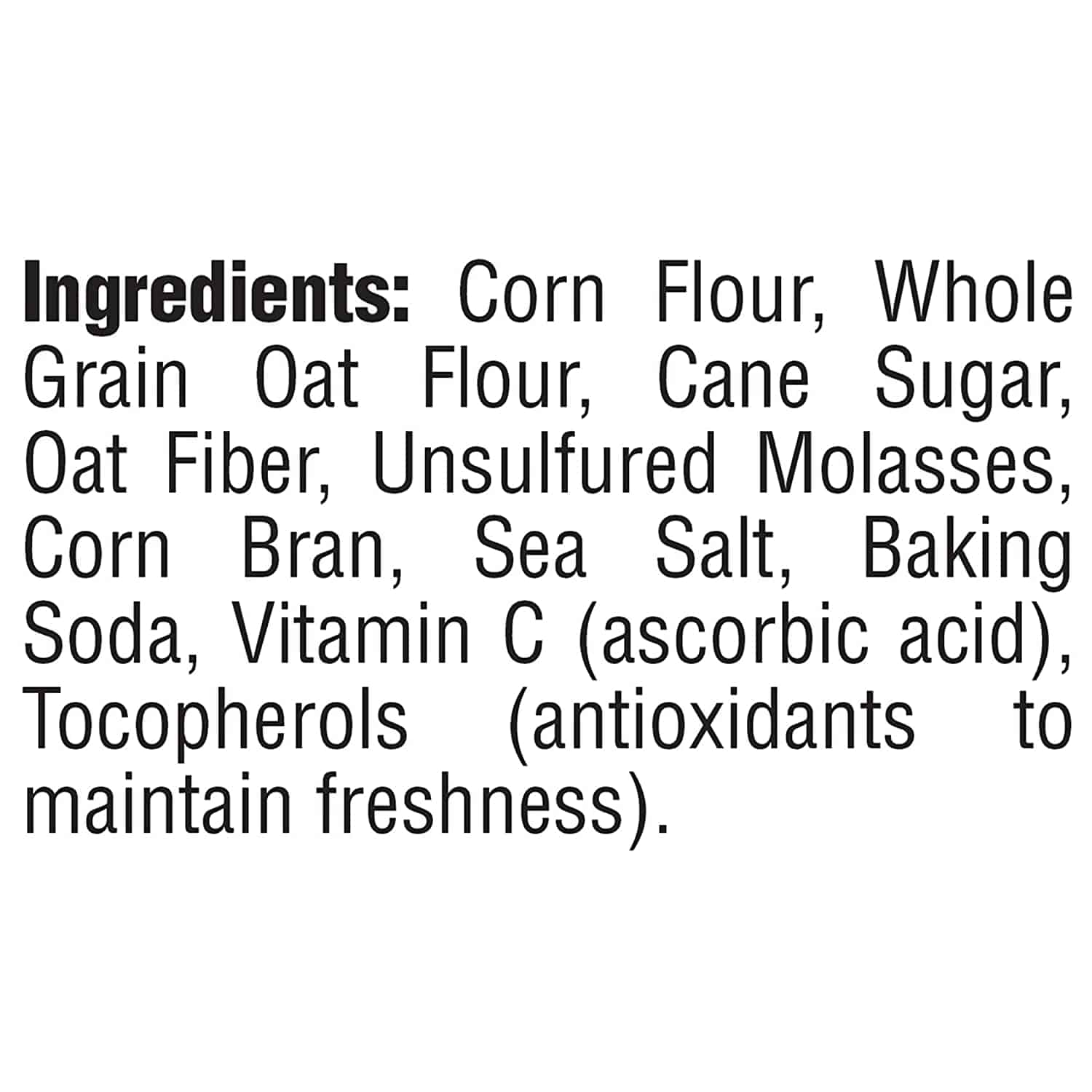 The ingredients list of Barbaras Puffins Original Breakfast Cereal contains:
Corn Flour
Whole Grain Oat Flour
Cane sugar
Unsulfured molasses
Corn bran
Sea salt
Baking soda
Vitamin C (ascorbic acid)
Tocopherols (antioxidants to maintain freshness)
Is Puffins Cereal Healthy?
Yes, Puffins cereal is regarded as a healthy option for breakfast with only 90 calories per serving. In addition to the low-calorie content, you are getting 5 grams of fiber from the whole grain at flour as well as 2 grams of protein and a whole variety of important vitamins and minerals.
Is Puffins Cereal Gluten-Free?
The original recipe for Puffins cereal isn't gluten-free due to having some ingredients that may contain gluten, such as whole grain oat flour. Don't worry, though, because Barbara's makes a gluten-free cereal that is suitable for those that can't digest gluten.
Make sure to check the labels and ingredients before purchasing the cereal in order to ensure that you are getting the right one. The main thing to look out for is the whole grain oat flour which is often not gluten-free if processed in an environment that also makes wheat-based products.
Is Puffins Cereal Vegan?
For all of those vegans out there, you'll be happy to know that Barbara's Puffins cereals are all vegan-friendly except for one. Some of the most popular vegan-friendly options include Cinnamon, Peanut butter, Multigrain, and, of course, the Original Puffins cereal.
Is Puffins Cereal Keto?
Unfortunately, if you are on a keto diet, then you should avoid Puffins original cereal. This is due to the high carbohydrate content in the cereal.
A single serving contains around 22.7 grams of carbohydrates which is too much for those trying to restrict carbohydrate intake.
Is Puffins Cereal High In Protein?
A single serving of Puffins cereal contains around 2 grams of protein which isn't a huge amount, but it is higher than the average of just 1 gram in cereals.
If you're looking to increase protein intake, you could supplement your breakfast with a topping high in protein, such as peanut butter or nuts.
Is Puffins Cereal High In Fiber?
With around 5 grams of dietary fiber per serving from the whole grain oat flour, Barbara's Puffins cereal provides a decent amount of fiber, making up around 18% of your daily intake. If you are looking to increase your daily fiber intake but want to keep eating Puffins cereal, then you can try adding fruit on top of your bowl.
This way, you can increase fiber intake whilst enjoying the additional nutrition and flavors in your breakfast. Fiber is extremely important for maintaining good gut health and allows you to go about your day without stomach problems.
Puffins Cereal Varieties
There is quite a large selection of Puffins cereals available to match your preference. Take a look below to see what catches your eye!
Puffins Original Cereal
Puffins Original Cereal is the classic cereal enjoyed by many around the country and speaks for itself. The light crispy pillows of oat cereal made from whole grain oat flour make for a tasty breakfast that leaves you feeling full and ready for the day.
Puffins Cinnamon Cereal
Those with a sweet tooth might enjoy the cinnamon twist on the Puffins original cereal, full of flavor and nutrition.
Puffins Honey Rice Cereal
Puffins honey rice cereal is similar to the well-known original cereal but has an additional touch of honey that enhances the flavor without the addition of a lot of sugar.
Puffins Peanut Butter Cereal
If you like peanut butter and you like Puffins original cereal, then you will love this option. This cereal is made with real peanut butter and provides maximum satisfaction without the addition of excessive sugar.
Puffins Multigrain Cereal
Puffins Multigrain cereal incorporates oats, rice, and corn into the mix to alter the texture making it more crunchy and satisfying to chew!
Puffins Peanut Butter & Chocolate Cereal
If you like your breakfast sweet and full of peanut butter, then the Peanut Butter & Chocolate option might be the right pick for you. With real peanut butter and chocolate, you'll start the day with a smile on your face if you have this for breakfast.
Where you can buy Puffins cereal
Puffins cereal can be found in many popular supermarkets, from Walmart and Kroger to Trader Joe's.
Puffins Cereal Store Brand Alternatives
One of the most popular Puffins cereal store brand alternatives is Quaker Oat Crisp Original Cereal which has the same crispy pillows of oat cereal. It can also be found at supermarkets such as Kroger and Walmart.
Famous Puffins cereal Commercials
The Puffins cereal commercial "Land & Sea" premiered in 2017 and depicted the popular cereal coming to life and using the bowl of milk as a swimming pool with other pieces of cereal dancing to a DJ on the table.
Another commercial showed two puffins talking to each other in the sea and focused on emphasizing that although the cereal tastes sweet, it isn't too sweet and is still healthy but enjoyable.
User Reviews
Review Summary
0 out of 5 stars (based on 0 reviews)
Recent Reviews
There are no reviews yet. Be the first one to write one.
Submit a Review