Puffed rice – sometimes referred to as popped rice – is a staple food in Southeast Asian countries, used in a variety of dishes and meals. Here, it is a staple breakfast cereal. Most major cereal brands have produced their own creative rice cereals, from Nestle to Kellogg's. The sweet taste of rice allows it to be both a breakfast cereal and a nutritious snack.
Generally, rice is highlighted for its high iron content and the fact that it's gluten-free. But which is the best puffed rice cereal on the market today? This article seeks to find the top 10 puffed rice cereals available in store now!
Arrowhead Mills Puffed Rice
Arrowhead Mills Puffed Rice is the cereal type in its most basic form – it prides itself in being 100% natural. You won't find any other ingredients in Arrowhead Mills Puffed Rice other than puffed brown rice – no flavorings or no extra sugars. Because of this, Arrowhead Mills Puffed Rice can be described as being distinctly plain in terms of taste.
This plainness does not take away from the quality of the product, however. Most consumers buy Arrowhead Mills Puffed Rice to add fruits and other flavorings to it. Plus, brown rice contains plenty of nutrients on its own. It contains a level of protein, fiber, calcium, potassium, iron, thiamin, riboflavin, and niacin.
If you like to add fresh fruit to your cereal, consider Mills Puffed Rice Cereal for your puffed grain needs.
Kellogg's Rice Krispies
Kellogg's Rice Krispies is probably one of the most prominent puffed grain cereals on the market and has been since it was first introduced in 1927. Since then, Kellogg's Rice Krispies has remained much the same – consisting of rice, sugar, salt, and malt flavor. This simple mix gives Rice Krispies its unique flavor and one that makes it pretty appetizing plain.
Its sugar and salt contents are only slight: there are only 4 grams of sugar found in a 40-gram serving. In this same serving size, there are 150 calories, 3 grams of protein, 36 carbohydrates, and a range of vitamins and minerals. You'll meet 60% of your daily iron needs with just one bowl of Rice Krispies, as well as 35% of you're recommended niacin intake.
The nutritional value combined with its distinct taste is why Rice Krispies have remained a favorite cereal for so long.
Quaker Puffed Rice Cereal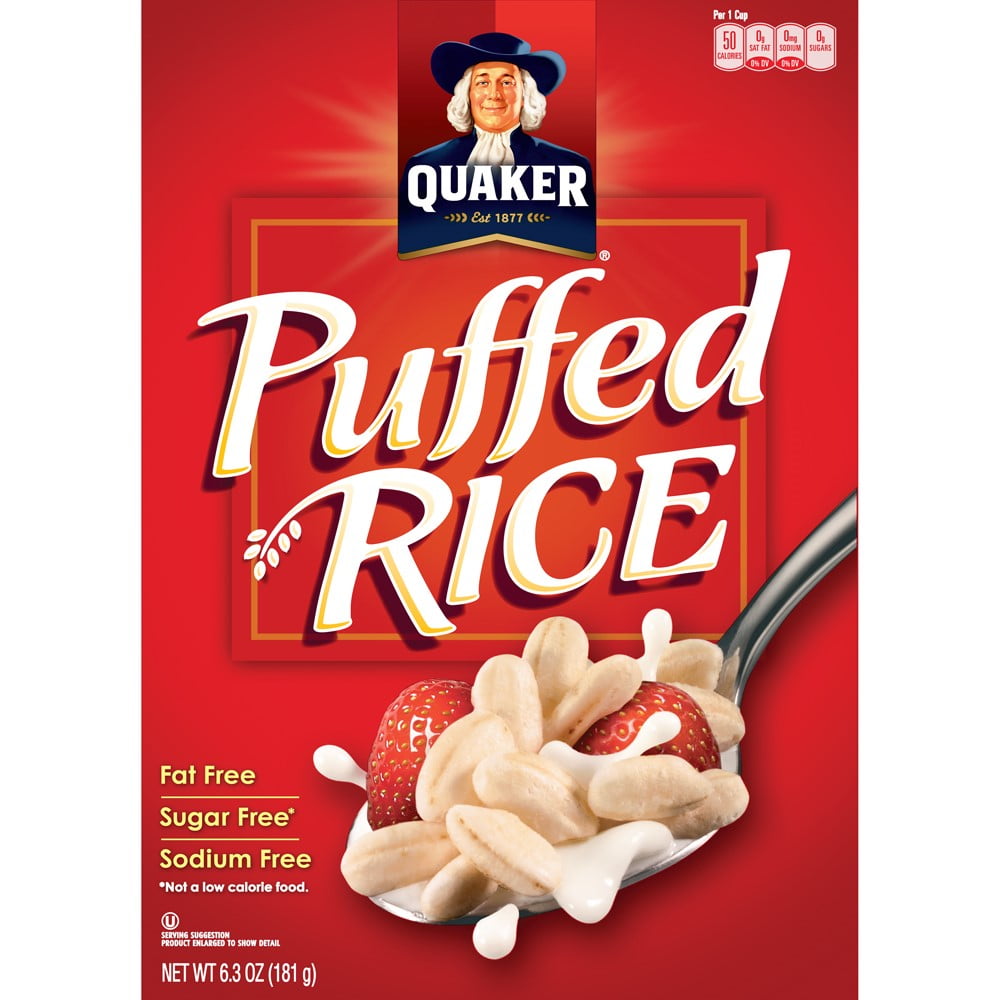 Sodium-free, fat-free, and sugar-free, Quaker Puffed Rice Cereal is a great option for those watching their weight. A standard serving of this cereal only contains 50 calories and 12 grams worth of carbohydrates. If you're looking to cut down on your carbs, whether or not you're following a keto diet, Quaker Puffed Rice Cereal is a perfect cereal option.
Generally, whichever diet you're following, Quaker Puffed Rice Cereal could meet your needs. Like most rice cereal, it can be easily topped up with fruits or sugar, should you need to liven up the taste. As a basic gluten-free puffed cereal, this Quaker product functions well.
Nature's Path Organic Rice Puffs
Nature's Path Organic Rice Puffs features 16 grams of whole grain and consists solely of puffed brown rice. Like a lot of brown rice products, this cereal contains a lot of nutrients despite its limited ingredient list, including vitamin C and A. A standard serving of Rice Puffs will also provide you with 10% of your daily calcium intake.
Living up to its organic title, there is no added flavors, ingredients, or preservatives added to this cereal. It does contain 50mg of sodium, 19g of carbohydrates, 5 grams of protein, and 1 gram of dietary fiber. Its high protein count renders this cereal a good option for athletes looking to boost their breakfast intake.
Barbara's Organic Brown Rice Crisps Cereal
Similar to Rice Krispies, Barabara's Organic Brown Rice Crisps Cereal uses organic whole grain brown rice to create delicious and crunchy rice crisps that make an equally as satisfying noise when you pour milk over them. This rice cereal is gluten-free, light, and perfect for combining with chopped dried or fresh fruits.
What sets these Rice Crisps apart from other types is the addition of organic fruit juice concentrate, which is either pear or apple. This adds a subtle but effective fruitiness to the product, which makes them distinct from the likes of Rice Krispies.
Sea salt is the third and final ingredient of this cereal, which balances out the fruitiness. Only 1 gram of natural sugar can be found per bowl, which is good for breakfast cereal.
Kellogg's Choco Krispies
This kid-friendly rice cereal uses basic rice as its prime ingredient, with a lot of other ingredients to make it more appetizing by itself. It is these additional ingredients that let the product down in terms of nutrition, particularly the 12 grams of added sugar that gets added. A serving contains 37 grams of carbohydrates and 3 grams of protein.
In terms of the ingredient list, this chocolate cereal contains iodized salt, palm kernel oil, and malt flavor. It also features several artificial flavors, including blue 1, yellow 6, and red 40.
Given its unhealthy ingredients, this cereal should only be consumed once every so often.
One Degree Organic Foods Sprouted Brown Rice Crisps
This cereal aims to use only organic produce from trusted farmers, resulting in a highly nutritious breakfast cereal. The simple ingredient list includes organic sprouted whole grain brown rice, unrefined salt, organic coconut sugar, and Tocopherols (Vitamin E).
The coconut sugar creates a lot of sweetness in just a small quantity, with just 1 gram of sugar found in a serving. In this same-sized serving, you'll find 2 grams of protein and 1 gram of dietary fiber, which can easily be increased with the addition of nut milk or fresh fruit.
The vitamins and minerals found in this gluten-free cereal are diverse and feature the likes of phosphorus, vitamin A, vitamin C, calcium, potassium, iron, riboflavin, and zinc, alongside many others.
Barbara's Puffins Honey Rice Cereal
Barbara's Puffin Honey Rice Cereal delivers a little more than your standard rice puff taste by adding real honey to the mix. The all-natural ingredients create a product that is gluten-free, crunchy, appetizing, and particularly moreish. Although advertised as a breakfast cereal, Barabara's Honey Rice Cereal is often consumed as an afternoon snack.
A single bowl of this brown rice breakfast cereal will provide you with 22 grams of whole grain, 3 grams of fiber, and 2 grams of protein. Relative to other rice cereals on this list, the fiber count is pretty good and can always be increased through the simple addition of apple or strawberry chunks.
The cereal is a good source of potassium and calcium and only contains 1 gram of fat.
Malt O Meal Natural Nutrition Cereal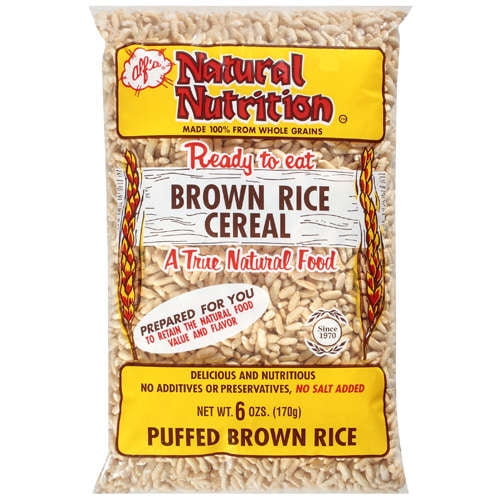 Malt O Meal Natural Nutrition Cereal is amongst the most affordable brown rice cereals and comes with the promise of containing no additives or preservatives. Unlike some other rice puffs, this product contains no salt. This 1-ingredient cereal has 0 fat, 0 cholesterol, and 0 sodium, making for a particularly healthy base for you to add fresh fruit.
This cereal could be described to be lacking in vitamins and minerals, however, as it only features 1% of the daily recommended intake of potassium and 2% of recommended niacin intake. However, it does stand as a good base ingredient for you to build a more nutritious breakfast from.
Abundant Earth – Puffed Rice Cereal
Abundant Earth – Puffed Rice is amongst the most versatile products to make this list; as Abundant Earth states, it can be enjoyed with any milk or juice. It's also great as an ingredient if you want to make rice crispy cakes. Like many other rice products, it contains just whole grain brown rice as its sole ingredient, making it completely preservative and additive-free.
The natural sugars that occur in this cereal will consist of less than 1 gram for the entire packet. In total, the cereal is completely gluten-free and 98% fat-free.
FAQs
Is puffed rice cereal good for you?
Crisp rice cereal is not good for you as a standalone breakfast cereal. Most rice puff cereals are particularly low in fiber and protein, meaning you would have to add these to the cereal to make it healthier.
Is puffed rice a good choice for weight loss?
Rice cereal is not a good choice for weight loss as it tends to be high in carbohydrates. It should be avoided while on a keto diet.
Does puffed rice cause a lot of gas?
One of the benefits of eating rice as a staple food is that rice is the only grain that doesn't cause any gas. You can safely eat rice cereal without having to worry about gas!
Is puffed rice linked to diabetes?
Rice should not be consumed in large quantities regularly due to its carbohydrate count. This level of carbs could lead to weight gains and complications with diabetes.
Conclusion
Puffed rice should be included in your daily diet and be paired with fruits, oat milk, and other high-fiber products. Although the product has some nutritional drawbacks, it serves as a good base from which you can build a healthy cereal. The best rice cereals remain to be Kellogg's Rice Krispies and Barbara's Organic Brown Rice Crip Cereal.