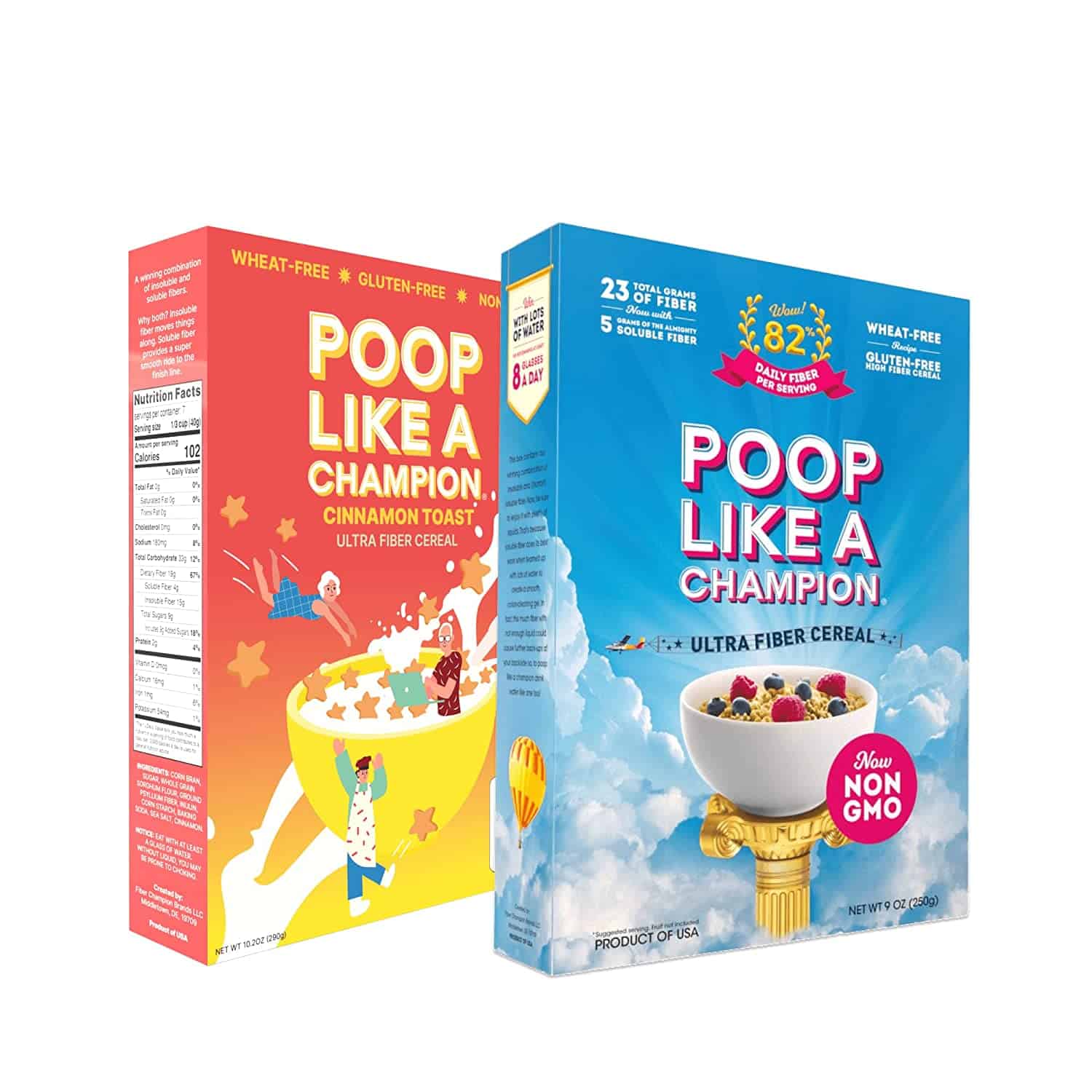 While it may seem to be the title of a sketch comedy show, Poop Like a Champion is indeed a cereal. The issue that this high fiber cereal brand is attempting to combat, despite its humorous name, is constipation.
Several cereal products claim to resolve constipation issues, and based on the reviews, Poop Like A Champion seems to live up to its name. Is this cereal as wholesome as it professes to be?
Nutrition Facts
A half cup (40 grams) of Poop like A Champion Cereal contains:
Calories – 105
Total Fat – 0.3 grams / 1%
Saturated Fat – 0 grams 
Trans Fat – 0 grams
Cholesterol – 0 milligrams 
Sodium – 225 milligrams / 10%
Total Carbohydrates – 234 grams / 12%
Dietary Fiber – 24 grams / 84%
Soluable Fiber – 6 grams
Insoluable Fiber – 18 grams
Total Sugars – 2 grams, includes 2 grams (3%) of Added Sugar
Protein – 3 grams / 5%
Vitamin D – 0%
Potassium – 10 milligrams / 1%
Calcium – 18 milligrams / 1%
Iron – 2 milligrams / 12%
Ingredients
Poop Like A Champion Cereal contains the following ingredients:
Corn Bran
Non-GMO Whole grain sorghum flour
Ground psyllium husk fiber
Inulin
Psyllium husk powder
Cornstarch
Sugar
Baking soda
Sea salt
Is Poop Like A Champion Cereal Healthy?
Poop Like A Champion has a massive 24 grams of fiber, both soluble and insoluble fiber, to help with any digestive system you may be experiencing. One Poop Like a Champion cereal serving provides 84 percent of your daily fiber needs.
Sorghum flour, psyllium husk powder, and maize bran are among the non-GMO and clean plant premium ingredients in the grain cereal, which helps keep you regular without any added sweets, chemicals, or salt. Poop Like A Champion is unquestionably one of the healthiest cereals, and with 1o5 calories per serving, it is an excellent option for those counting carbs.
Is Poop Like A Champion Cereal Gluten-Free?
Anyone suffering from gluten allergies and celiac disease will be happy to know that Poop Like A champion is a natural, gluten-free cereal. Anyone allergic to gluten or has celiac disease often struggles with digestive disorders such as constipation and bloating.
This is because a gluten-free diet eliminates numerous high-fiber foods, such as wheat, which may lead to lower fiber intake and fewer bowel movements.
Similarly, the most common irritable bowel syndrome (IBS) symptoms are bloating and constipation. Poop Like A Champion contains natural fiber that may help you maintain a regular, comfortable bowel movement, alleviate excessive bloating, and encourages digestive function.
Although a gluten-free healthy food, avoid eating a bowl of Poop Like A Champion if you suffer from diarrhea.
Is Poop Like A Champion Cereal Vegan?
This high-fiber cereal is indeed vegan-friendly. Poop Like A champion does not contain any meat, dairy, or eggs and contains plant-based ingredients like psyllium fiber and non-GMO sorghum flour.
Is Poop Like A Champion Cereal Keto?
Whether or not this high-fiber cereal is keto-friendly is a widely debated matter. With just 105 total carbohydrates in one serving, Poop Like A Champion claims that its product is keto-friendly.
A question sent to Poop Like A Champion inquired how the cereal could be classified as keto-friendly. After removing fiber grams, it had 8 grams of carbohydrates, which would be a lot for a half-cup meal for someone following a ketogenic diet.
The company stated that they determined their keto-friendliness using the criterion published by Harvard's School of Public Health, a daily carbohydrate intake of between 20 and 50 grams.
Is Poop Like A Champion Cereal High in Protein?
The cereal has 3 grams of protein per serving, less than most breakfast cereals. Numerous specialists suggest that each meal include a minimum of 20–30 grams of protein. You should eat protein first thing in the morning to help you feel full and keep your blood sugar and insulin levels in check.
Is Poop Like A Champion Cereal High in Fiber?
Poop Like A Champion has a good amount of insoluble fiber and a good amount of soluble fiber, which exceeds your daily fiber needs. The ultra fiber cereal has 24 grams of fiber, covering 84 percent of your daily fiber requirements. The high fiber content may aid in nutrient absorption, digestion, colon cleansing, and regularity.
Poop Like A Champion Cereal Varieties
Cinnamon Toast Ultra-Fiber Cereal
Cinnamon Toast Ultra fiber cereal is the newest kid on the block, manufactured from the same high fiber formulation that outperforms the taste of Poop Like A Champion cereal. If you like the sweet flavor of cinnamon toast, this cereal will fulfill your sweet tooth.
Ultra-Fiber Cereal
The Ultra-Fiber Cereal variety is the original gluten- and wheat-free cereal. Poop Like a Champion is delicious when combined with fruit and nuts for added sweetness. While it is delicious with milk, combine some greek yogurt with your favorite fruit and nuts to boost your natural fiber intake and keep you regular.
Where You Can Buy Poop Like A Champion Cereal
The cereal was exclusive to Amazon, but most significant retailers stock Poop Like A Champion today. Other online retailers include Walmart and eBay.
Famous Poop Like A Champion Cereal Commercials
Poop Like a Champion's founders decided to tackle the issue of constipation and digestive problems by creating a colon cleaning product that comes in the shape of cereal and a gummy.
This cereal is high in fiber and is marketed as "the ultimate colon cleaning solution" or "the #1 cereal for #2s." The creators of the poop cereal are pretty upfront about the fact that it is not the tastiest cereal ever, and in fact, it's not supposed to wow you with its flavor, texture, or anything else.
As far as commercials go, they only have one. And the reason is simple.
The cereal's name was a stroke of brilliance in terms of marketing, and the name alone is distinctive and will pique your interest. Although the name may seem childish, the owners choose to stick by their product because they feel it works, and based on the many Amazon reviews, Poop Like A Champion does work.
User Reviews
Review Summary
0 out of 5 stars (based on 0 reviews)
Recent Reviews
There are no reviews yet. Be the first one to write one.
Submit a Review