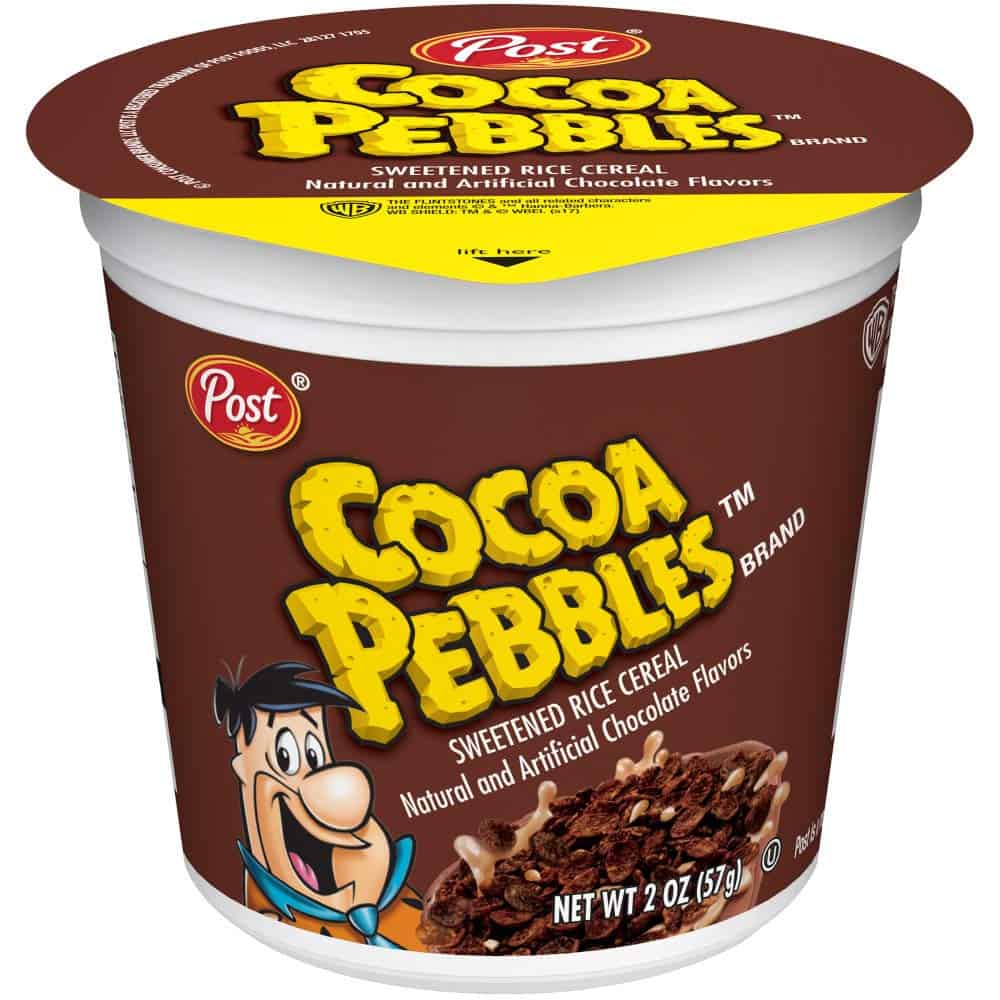 Sporting The Flintstones on the front of the breakfast box, Cocoa Pebbles is a chocolate-rocking choice to treat yourself. Whether you decide to have it every morning or just as an occasional pick-me-up, Cocoa Pebbles have been satisfying foodies for over 40 years now.
Add a Yabba Dabba Doo! to kick-start your mornings, whether it's a breakfast bowl for the kids or a snack that can be enjoyed by the whole household. These cocoa pebbles are a classic that will never get boring, no matter how many bowls you go through – not to mention the chocolate milk it leaves behind.
Nutrition Facts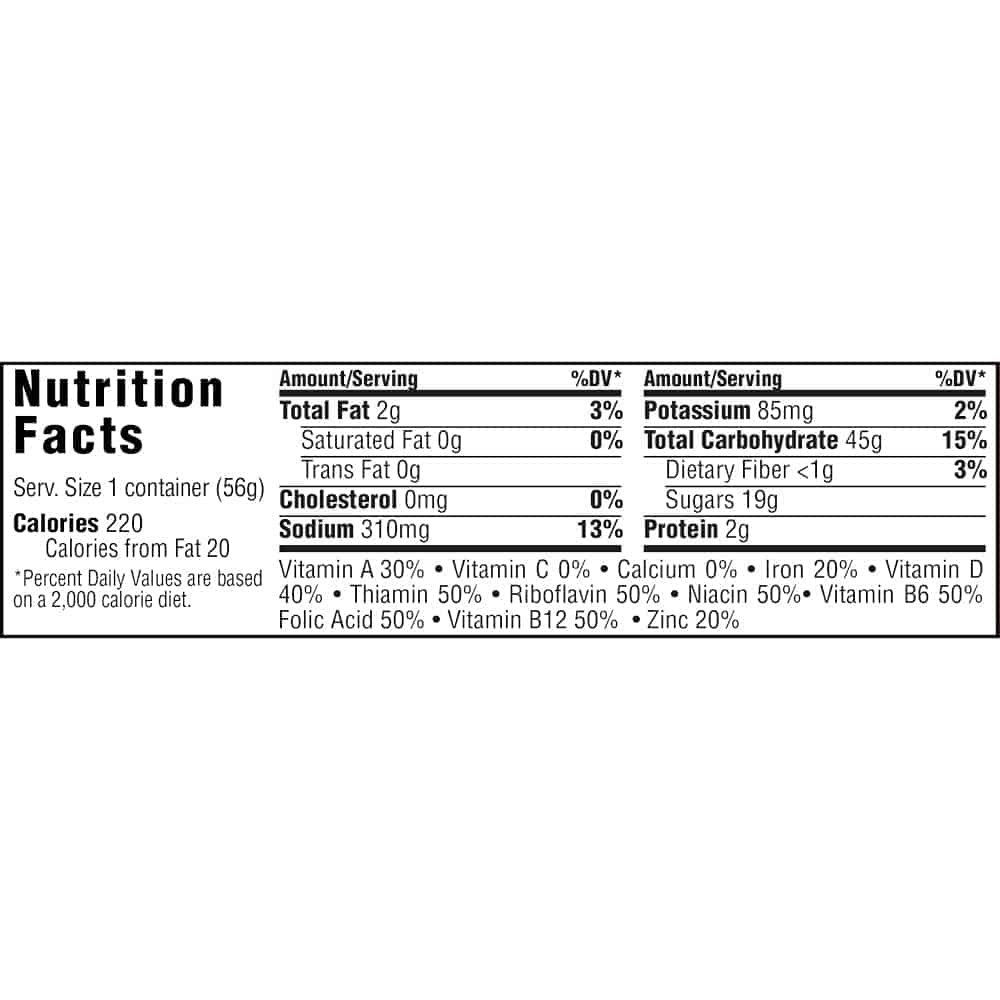 We have to be honest; when it comes to nutritional value, chocolate cereal is never going to be the best. However, here are some nutritional facts for you to digest as you enjoy your chocolatey cereal.
Calories: 140
Saturated Fat:  0g
Trans Fat:  0g
Cholesterol:  0mg
Sodium:  220mg
Potassium:  60mg
Total Carbohydrate: 31g
Dietary Fiber:  <1g
Total Sugars:  12g
Added Sugars:  12g
Protein:  2g
Vitamin B6: 0
Folic Acid: 120mcg
Phosphorus: 0
Iron: 2.7mg
Kosher: 0
Calcium: 0mg
Zinc: 0
Vitamin D: 2mcg
Vitamin B12: 0
Thiamin: 0
Folate DFE: 200mcg
Vitamin A: 0
Niacin: 0
Riboflavin: 0
Ingredients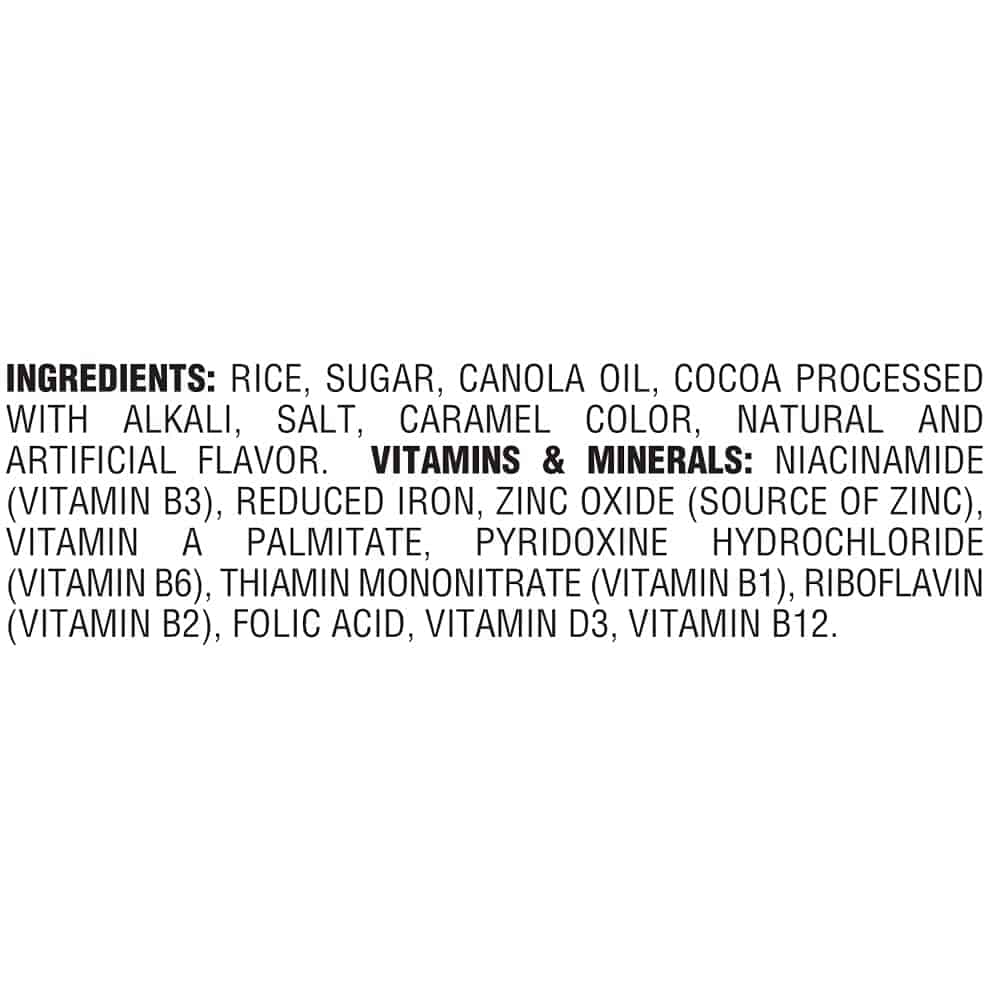 With most processed foods, they tend to offer the same sort of ingredients. This chocolate cereal contains the following ingredients:
Rice
Sugar
Hydrogenated Vegetable Oil (Coconut and Palm Kernel Oil)
Cocoa
Salt
Colour: Plain Caramel
Flavouring
Niacinamide
Reduced Iron
Zinc Oxide
Pyridoxine (Vit. B6)
Retinyl Palmitate
Riboflavin (Vit. B2)
Thiamine Mononitrate (Vit.B1)
Folic Acid
Cobalamin (Vit. B12)
Vitamin D
Are Cocoa Pebbles Healthy?
When it comes to Cocoa Pebbles, they're not the best when it comes to cereal options. If you're looking for a healthy cereal, then you'll want to steer clear of this one, especially with its high sugar content and additional chocolate flavor.
They have certainly been ranked previously as having some unhealthier ingredients in their contents. While that may be true, it shouldn't stop you from enjoying this chocolatey cereal if you fancy having it as your morning breakfast bowl or as the occasional treat on Friday!
Are Cocoa Pebbles Gluten-Free?
Those with gluten intolerance or celiac disease can shout from the rooftops with joy, just like Fred Flintstone, because these Cocoa Pebbles are gluten-free. Yes, you heard us right; this is a type of chocolate cereal that has been made to include those who need a gluten-free option.
While it may not be the healthiest, it does cater to those who require a gluten-free cereal.
Are Cocoa Pebbles Vegan?
The manufacturers are Cocoa Pebbles, aka Post, which will suggest that this cereal is vegan. However, there are some natural and artificial flavors that are produced by plants or animals. As vegans don't eat any foods that are animal byproducts, some vegans may choose not to pick this as their cereal preference.
Of course, what you feel is suitable for your veganism is up to you. While the ingredients themselves are animal products, you may feel that certain flavorings aren't suitable for your food preferences.
Are Cocoa Pebbles Keto?
Cocoa Pebbles aren't considered to be friendly for those on a keto diet because of their carb and sugar content. It's best to avoid them due to the amount of intake you should be having as a person on keto.
For example, your net carb consumption should be somewhere between 20-30g per day. This cereal has 84.72g of carbs per 100g serving.
Sugar is also something that can prevent you from reaching ketosis if you have too much of it and there's too much sugar in Cocoa Pebbles.
Are Cocoa Pebbles High In Protein?
There is 2g of protein within this cereal, and that includes the chocolate milk that you'll devour once you've finished the pebbles themselves.
This delicious cereal, despite its flavor, is one that you might want to swap out for a higher protein option. However, you might not require much protein in your breakfast cereal anyway, opting to get it in your lunch or dinner meals.
Are Cocoa Pebbles High In Fiber?
With less than one gram of fiber in each serving of Cocoa Pebbles, we'd recommend you choose another option if you're looking to improve the fiber intake for your digestive system. If you're not that fussed about the additional fiber that a breakfast meal can present, continue enjoying the chocolate flavor and chocolate milk afterward!
Cocoa Pebbles Varieties
There's the Cocoa Fruity Pebbles cereal available that is part of the Cocoa Pebbles range. This one contains sweet fruity pebbles that are a colorful rainbow for your breakfast bowl.
There's always the marshmallow cocoa pebbles and a range of others, including; Magic Fruity Pebbles and Pebbles Shake-Up.
Cocoa Pebbles Store Brand Alternatives
For Cocoa Pebbles alternatives, there are plenty of brand alternatives, and you may be lucky to find some store brand alternatives in places like Walmart and Target. Here are some brand alternatives that are similar to cocoa pebbles:
Nestle Chocapic
Weetos
Chocolate Shreddies
Chocolate Rice Krispies aka Coco Pops
However, we feel like this cereal is the elite when it comes to the best chocolate cereal picks out there.
Where You Can Buy Cocoa Pebbles
Looking to purchase a Cocoa Pebbles box to get that delicious chocolate taste and chocolate milk to finish? Here's where you can get them:
You'll likely find many of the Cocoa Pebbles cereal in all its varieties in your local supermarket, so keep your eyes peeled!
Famous Cocoa Pebbles Cereal Commercials
As a beloved cartoon, the cereal brand takes full advantage of commercials over the years. Here are a couple of Flintstone Cocoa Pebbles advertisements featuring the cereal box.
This one sees Fred get a visit from his good friend Barney who is pretending to be an angel to get a spoonful of the cocoa pebbles cereal!
This was a similar theme that would continue through commercials like this one where Barney fools Fred again by pretending to be a mum. This video also contains a variety of commercials featuring the Fruity Pebbles alternative too.
User Reviews
Review Summary
0 out of 5 stars (based on 0 reviews)
Recent Reviews
There are no reviews yet. Be the first one to write one.
Submit a Review