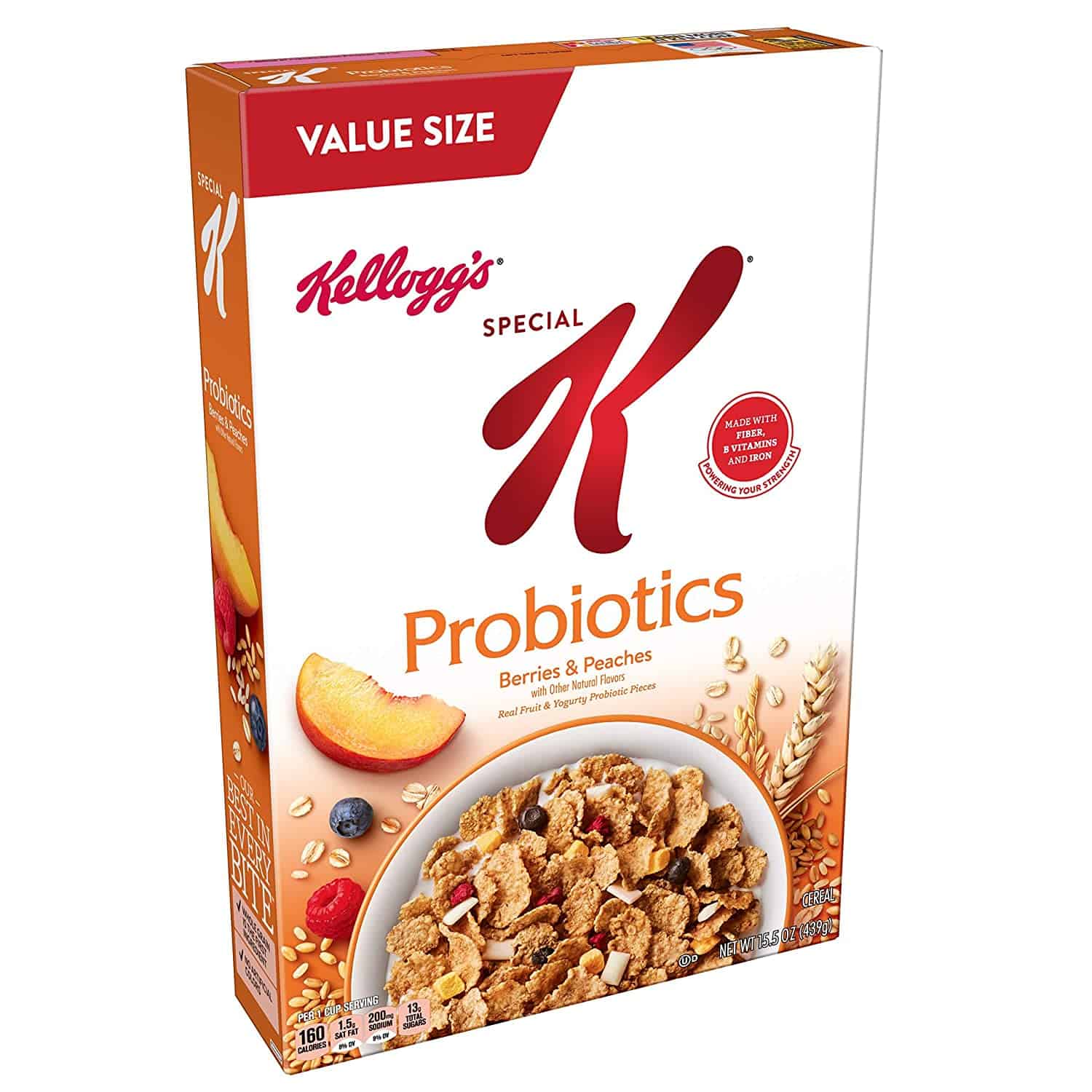 Kellogg's Special K has been a household name since it first hit the shelves back in the 1950s. Way back when, it was marketed as a healthy but delicious breakfast cereal, low on fat and sugar and perfect to help you lose a little weight.
Over the years, Kellogg's Special K has added more and more fabulous flavors to their roster, including Special K Probiotics Berries and Peaches Cereal… and while yes, it might make for a delectable bowl at breakfast time or as a between meal treat, just how healthy is all that amazing flavor?
Special K probiotics, berries and peaches cereal has been well received as a very enjoyable breakfast, mixing real fruit with probiotic yogurt pieces. It can be enjoyed as a breakfast treat or late-night snack, or perhaps add a spoonful of this lovely cereal to your smoothie or trail mix recipe.
Nutrition Facts

Serving size 1 cup (42g)
Calories 160
Total Fat 2g 2.56%
Saturated Fat 1.5g 7.5%
Trans Fat 0g
Polyunsaturated Fat 0g
Monounsaturated Fat 0g
Cholesterol 0mg 0%
Sodium 210mg 9.13%
Total Carbohydrate 36g 13.09%
Dietary Fiber 3g 10.71%
Sugar 13g
Protein 3g
Calcium 20mg 2%
Iron 11mg 60%
Niacin 3.2mg 20%
Potassium 100mg 2%
Riboflavin 0.26mg 20%
Thiamin 0.24mg 20%
Vitamin D 2.1mcg 10%
Ingredients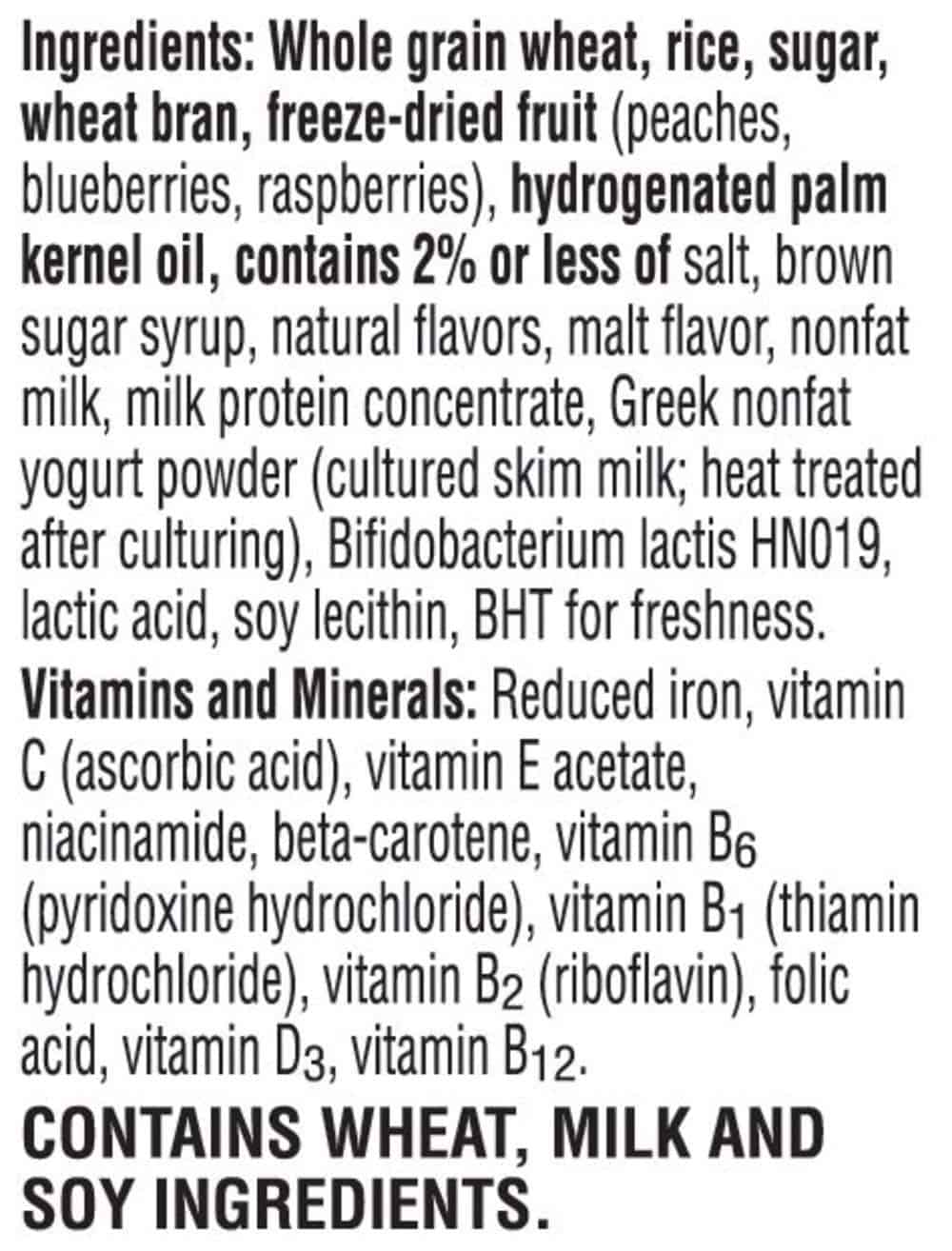 Rice, While Grain Wheat, Sugar, Wheat Bran, Freeze-dried Fruit (Peaches, Blueberries, Raspberries), Hydrogenated Palm Kernel Oil, Contains 2% or Less of Salt, Brown Sugar Syrup, Natural Flavors, Malt Flavor, Nonfat Milk, Milk Protein Concentrate, Greek Nonfat Yogurt Powder (Cultured Skim Milk, heat-treated after culturing), Bifidobacterium Lactis Hn019, Lactic Acid, Soy Lecithin, BHT for Freshness. Vitamins and Minerals: Reduced Iron, Niacinamide, Vitamin D3, Vitamin B6 (Pyridoxine Hydrochloride), Vitamin B2 (Riboflavin), Vitamin B1 (Thiamin Hydrochloride), Folic Acid, Vitamin B12.
Is Special K Probiotics Berries & Peaches Cereal Healthy?
Special K berries and peaches probiotics cereal is built on a base of healthy grain cereal flakes paired with a peach berry mix and favorite yogurt pieces for that extra boost of probiotic health. This nourishing and delectable bowl delivers amazing flavor and it is a good source of 11 vitamins and minerals.
The crunchy whole grain flakes are a good source of fiber, contributing to your recommended daily intake whether enjoyed as dry cereal or paired with dairy or nut milk… however, despite that earthy wheat flavor, this cereal contains just an average amount of fiber for a breakfast cereal, offering nothing more to contribute to your daily intake.
Kellogg's probiotics berries and peaches breakfast cereal does contain real fruit and yogurt pieces that can only help probiotic health. It contains no artificial flavors but rather relies on freeze-dried berries and peaches for a sweet snack that will appeal to just about any cereal enthusiast.
Of course, real fruit is a good source of fiber and all-around goodness; but seeking out a high-fiber, high-protein base and adding your own fresh fruit and sugar-free yogurt would contain all the same goodness and more, right?
On the whole, Kellogg's Special, probiotics berries and peaches cereal has a lot of good points, with limited drawbacks. However, if you are actively searching for a cereal with an above-average rating value of protein and fiber and/or a minimal carbohydrate intake then there are certainly better options out there!
Is Special K Probiotics Berries & Peaches Cereal Gluten-Free?
Containing whole grain wheat and wheat bran, this breakfast cereal is not gluten-free.
Is Special K Probiotics Berries & Peaches Cereal Vegan?
No, this breakfast cereal contains milk and milk derivatives, as well as yogurt powder. The dairy listed is kosher dairy.
It also contains Vitamin B12, which is not usually derived from plant sources but rather acquired from animal ingredients including fish, meat, eggs, and dairy.
Is Special K Probiotics Berries & Peaches Cereal Keto?
Not really, no. Containing 36g of carbohydrate per delectable bowl, Kellogg's Special K probiotics breakfast cereal takes up 13% of your average daily carb intake. A consumer following the ketogenic 'keto' diet is looking to reduce their carb intake.
Kellogg's Special K is available to enjoy in 'keto-friendly' snack bars.
Is Special K Probiotics Berries & Peaches Cereal High in Protein?
Special K probiotics breakfast cereal contains 3g of protein. That's about average among competing cereals… but it's nothing spectacular. If you are looking to give yourself an early morning protein boost then maybe forgo the great peach and berries taste and eat healthy with a high protein cereal instead.
Is Special K Probiotics Berries & Peaches Cereal High in Fiber?
Eating cereal can be a great way to get a bit of a fiber kick in the morning – or any time of the day. Unfortunately, this berries and peach flavor cereal contains just 3g of fiber, which equates to just 10% of your recommended daily intake.
This is not bad per se it's about average, but try adding fresh fruit to a high fiber cereal to enjoy the best of both worlds.
Special K Probiotics Berries & Peaches Cereal Store Brand Alternatives
Besides the original Special K, Kellogg's have released several delicious alternatives:
Brown sugar cinnamon
Chocolatey dipped flakes with almond
Blueberry
Red berries
Fruit and yogurt
Vanilla almond
Chocolatey delight
Protein cereal
Cinnamon brown sugar crunch protein cereal
Cinnamon pecan
Touch of honey granola
You might also enjoy Kellogg's Special K 'calorie conscious' bars; protein bars; and keto-friendly snack bars, available in a range of flavors.
Where You Can Buy Special K Probiotics Berries & Peaches Cereal
This product is no longer available in most grocery stores but if you are yearning to try out Kellogg's Special K Probiotics with peach berry mix highlights for yourself, try searching online for a box – but beware you are likely to pay over the odds!
Famous Special K Probiotics Berries & Peaches Cereal Commercials
Special K Probiotics Berries and Peaches (not available in English)
Special K (1984) famous advert for the original Special K, where the lips turn into the iconic "K"
Special K (2022) new advert showcasing three of the most popular and ensuring flavors of Special K breakfast cereal.
User Reviews
Review Summary
0 out of 5 stars (based on 0 reviews)
Recent Reviews
There are no reviews yet. Be the first one to write one.
Submit a Review