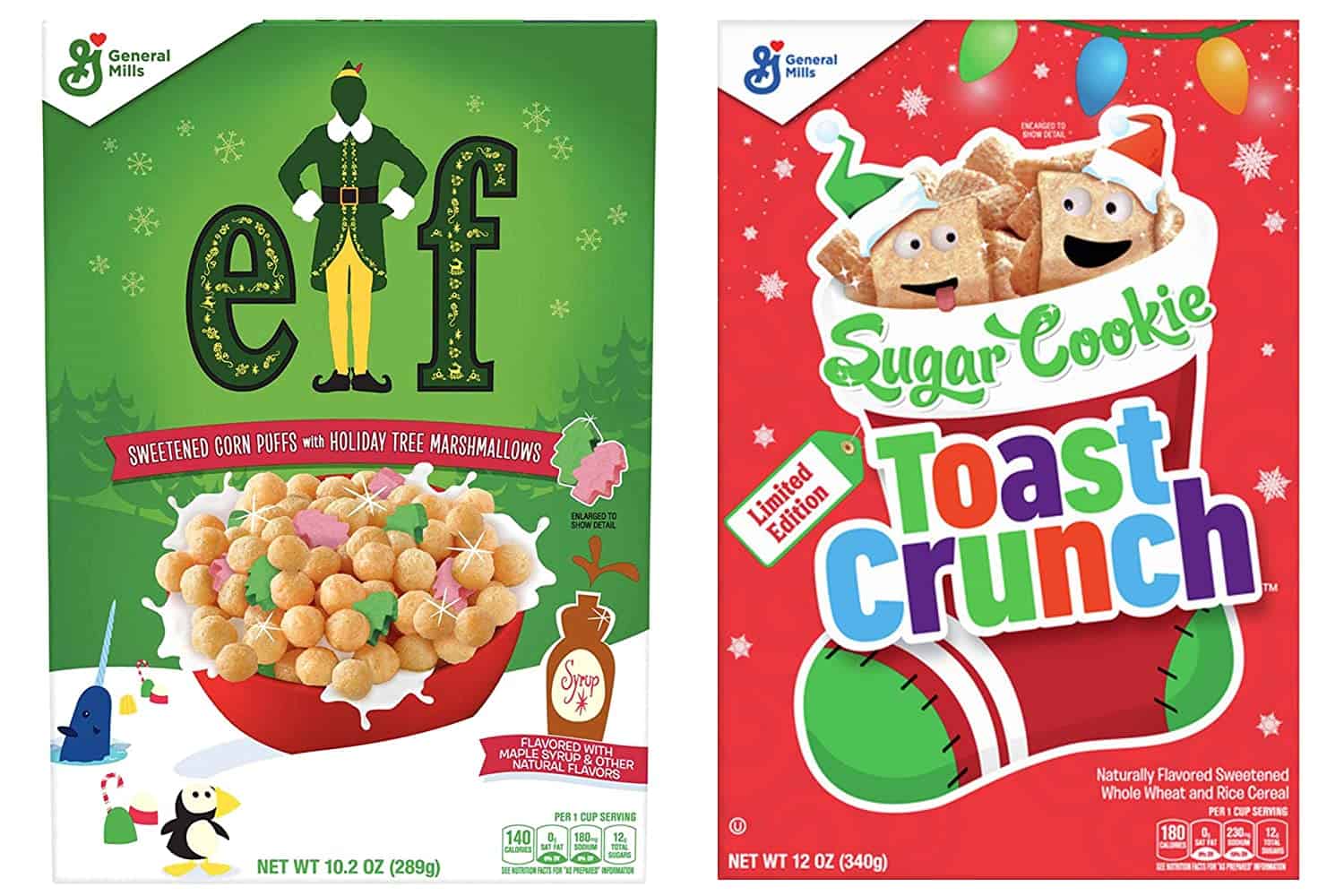 Elf Cereal is a far cry from some of the food Buddy the Elf is used to. There's certainly no spaghetti insight with this seasonal festive cereal box from General Mills. It's a sweet treat for anyone who loves the combination of sweetened corn puffs and holiday tree marshmallow shapes. Not to forget, it brings an extra festive breakfast cheer for all the family to enjoy during the holiday season.
With flavored maple syrup, it's a sweet concoction for any child or child at heart who enjoys a sweet kick to the start of their day. Spread some Christmas cheer with this Buddy, the Elf-inspired breakfast meal.
Nutrition Facts
There are 14 servings per container and contain the following nutritional values:
Calories: 140 per serving size of 160g.
Total Fat: 1.5g
Saturated Fat: 0g
Trans Fat: 0g
Cholesterol: 0.0mg
Sodium: 180mg
Total Carbohydrate: 32g
Dietary Fiber: 1g
Sugars: 12g
Includes added sugars: 12g
Protein: 2g
Calcium: 130g
Potassium: 0mg
Ingredients
Elf Cereal has a selection of ingredients included that make up this delicious breakfast option or snack. These include:
Whole Grain Corn
Sugar
Corn Meal
Brown Sugar Syrup
Maple Syrup
Modified Corn Starch
Corn Syrup
Dextrose
Canola Oil
Salt
Tricalcium Phosphate
Yellow 5 & 6, Red 40, Blue 1
Gelatin
Trisodium Phosphate
Natural and Artificial Flavor
Vitamins and Minerals: Calcium Carbonate, Iron and Zinc, A B Vitamin, Vitamin B6, Vitamin B2, A B Vitamin
Is Elf Cereal Healthy?
Elf Cereal is Buddy-approved but may not be as healthy as some other breakfast cereal alternatives. With the maple syrup flavoring and the addition of marshmallows, this Elf cereal is perhaps not the healthiest when it comes to sugar content.
However, as a holiday season treat, they're appropriate enough to enjoy on the festive occasion when desired.
Is Elf Cereal Gluten-Free?
For anyone with gluten intolerance, unfortunately, the Elf Cereal isn't gluten-free. There are plenty of alternatives when looking for gluten-free options, but these tasty corn puffs with maple syrup and marshmallows should be avoided if you cannot digest gluten safely.
Is Elf Cereal Vegan?
Sadly vegans will have to skip this holiday cereal as it contains an ingredient called gelatin. Gelatin is usually made from animal body parts, which makes this a cereal that isn't vegan-friendly.
Vegans may find an alternative option similar to this cereal but with no gelatin. The gelatin is typically found in marshmallows and other candies.
Is Elf Cereal Keto?
For Keto dieters, corn is one of the ingredients you need to avoid to be successful. While the marshmallow shapes might be appealing for those on this diet, the corn puffs make this a no-go for those on Keto. As this ingredient makes up the majority of the cereal itself, it's not something you could simply pick off and eat the remainder.
For those on Keto, it's best to look elsewhere when wanting a sweet and tasty treat like this brand of cereal.
Is Elf Cereal High In Protein?
The average adult needs 0.8mg of protein per pound of body weight. So for the average American with a body weight of 170lbs, the daily intake of protein is 64g. At 2g per serving, Elf Cereal is fairly low in protein.
At 2g of protein per serving, that's pretty average compared to some other cereals on the market. The new marshmallow shapes and maple syrup flavoring give it that sugary kick, while the sweetened corn provides most of the protein in this dish.
As a breakfast dish, having a high protein option can help keep you energized for the day. This cereal may do that to some extent, but it's likely more of a temporary sugar rush fueling that burst of energy!
Is Elf Cereal High In Fiber?
The fiber contained in this maple syrup flavor treat is 1g. Buddy, the Elf's cereal doesn't contain much fiber. As a result, so you may find it doesn't keep you full for the better part of the morning or throughout the day.
You should have at least 21 to 25 grams of fiber a day for women, and men should aim for 30 to 38 grams a day. For kids, it's 19 to 26 grams, depending on their age. Ultimately, Elf Cereal doesn't contain high fiber content.
Elf Cereal Store Brand Alternatives
If you can find Buddy, the Elf cereal, in your local store or vicinity, then there may be some similar store brand alternatives. Here are a few suggestions:
As this is a limited-edition cereal, you'll likely need to shop some of the alternatives mentioned above. These are similar items to the ingredients that make up this General Mills cereal.
Marshmallows tend to be a favorite flavor combination for many kids' cereals nowadays, and General Mills has many of these delicious cereal combinations.
Where You Can Buy Elf Cereal
While Buddy the elf has inspired some delicious cereal, it's not the easiest to get your hands on. As it's festive cereal, you'll likely only find this available during the festive period. With limited time, you may struggle to buy this cereal, but a few places you could look when shopping for this cereal are Walmart, eBay, and Amazon.
It's hard to find Buddy, the Elf, and his delicious cereal but if you manage to get your hands on a box or two, enjoy every mouthful when you can!
Famous Elf Cereal Commercials
As this is a limited edition holiday season cereal, there aren't any famous commercials. So let's take a look at a classic clip from Elf where Buddy makes the iconic spaghetti breakfast cereal Probably not the best option as a breakfast dish, but it still looks oddly delicious!
Why not unlock your inner elf by munching down on a box of Elf Cereal during the festive holidays?
User Reviews
Review Summary
0 out of 5 stars (based on 0 reviews)
Recent Reviews
There are no reviews yet. Be the first one to write one.
Submit a Review