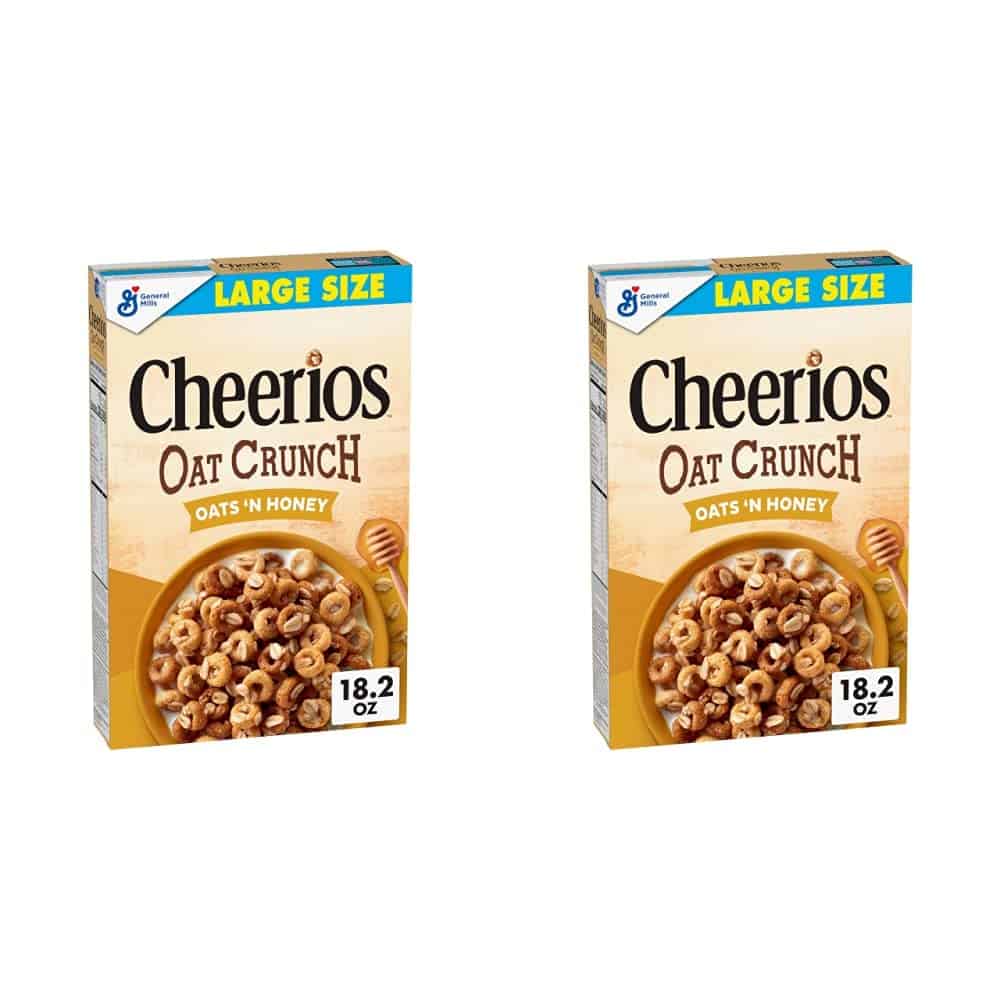 With Cheerios Oat Crunch Oats 'n Honey, you can get all the whole-grain goodness of Cheerios combined with the classic combo of real honey and rolled oats.
Honey is a common ingredient throughout the varieties of Cheerios, as there's something about combining it with those crunchy whole-grain O's that just works.
Add in the modest flavor of rolled oats, and you've got a wholesome, rustic breakfast combo, especially once you add milk and those oats, soak it up and add a little creaminess to the crunch texture.
Honey Nut Cheerios is America's best-selling cereal, so let's see how this beefed-up version compares.
Nutrition Facts

A serving of Cheerios Oat Crunch Almond breakfast cereal (36g) contains:
Calories – 230
Saturated fat – 0.5g/4% RDA
Trans fat – 0g
Polyunsaturated fat – 1.5g
Monounsaturated fat – 2.5g
Cholesterol – omg
Sodium – 230mg/10% RDA
Total carbohydrate – 42g/11% RDA
Dietary fiber – 4g/14% RDA
Total sugars – 15g
Incl. added sugars – 15g/30% RDA
Protein – 4g
Vitamin D – 1.2mcg/6% RDA
Calcium – 70mg/10% RDA
Iron -10.8mg/60% RDA
Potassium – 160mg/4% RDA
Vitamin A – 6%RDA
Vitamin C – 6% RDA
Thiamin Mononitrate- 60% RDA
Riboflavin – 60% RDA
Niacin – 60% RDA
Vitamin B – 60% RDA
Pantothenic acid – 60%RDA
Folate (45mgc folic acid) – 20% RDA
Phosphorus – 8% RDA
Magnesium – 8% RDA
Zinc – 60%
Ingredients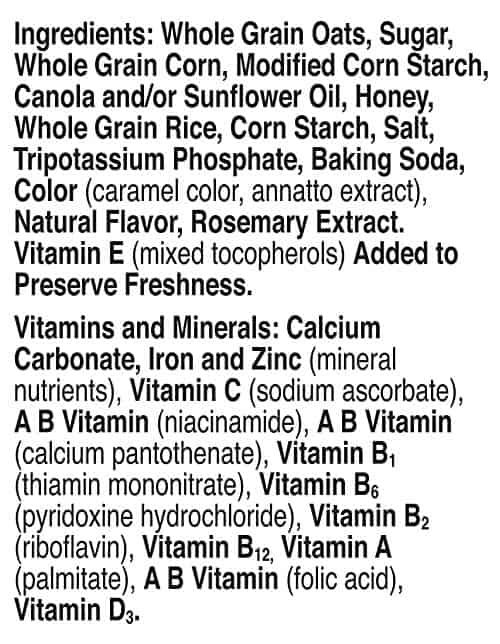 Whole Grain Oats
Sugar
Whole Grain Corn
Modified Corn Starch
Canola Oil
Corn Starch
Honey
Whole Grain Rice
Corn Bran
Whole Grain Sorghum
Whole Grain Millet
Salt
Tripotassium Phosphate
Baking Soda
Color (caramel color and annatto extract)
Natural Flavor
Vitamin E (mixed tocopherols) Added to Preserve Freshness.
Is Cheerios Oat Crunch Oats 'n Honey Healthy?
If we look at the nutritional facts, we can see that Cheerios Oat Crunch Honey 'N Almond is a relatively healthy choice for breakfast.
Like every Cheerios cereal, these are fortified with over a dozen minerals and vitamins, making them a great way to boost your body's defenses and functions first thing in the morning.
Furthermore, it's made with five different kinds of whole-grain oats, including sorghum, millet, and oats, contributing to a total of 5g of soluble fiber in a serving, making it qualify as a high fiber food.
If you combine this with low fat and zero cholesterol, this makes a great cereal for preserving a healthy heart.
It is always important to bear in mind that any cereal will generally be high in sugar, and this one contains 15g of added sugar, which isn't great and a good reason to stick to one bowl a day as best as you can.
Is Cheerios Oat Crunch Oats 'n Honey Gluten-Free?
Most Cheerio products carry the gluten-free badge. However, Cheerio Oat Crunch Oats 'n Honey doesn't.
It's hard to tell exactly why General Mills hasn't branded this as gluten-free as the five grains used in this cereal are all friendly grains.
Many products during the production process share equipment and machinery with products that do contain gluten and therefore wouldn't pass the required 20ppm (parts per million) test needed to be called gluten-free. While we do not know if this is the exact case with this cereal, it is best to err on the side of caution.
Is Cheerios Oat Crunch Oats 'n Honey Vegan?
Unfortunately, this cereal is not suitable for a vegan diet, as you may be able to tell from looking at its name. The genuine honey used to flavor this cereal is an animal-based product, and while some vegans may allow themselves to eat honey, if you want to be truly ethical, then these aren't compatible with your diet.
Is Cheerios Oat Crunch Oats 'n Honey Keto?
A ketogenic diet, or keto diet, is designed to place your body into a state of ketosis by dramatically reducing carbohydrates while increasing fat intake, which encourages your body to create ketones, an alternative and long last energy source.
A maximum of 20g of carbohydrate a day is suggested to maintain ketosis and a serving of Cheerios Oat Crunch Oat Honey contains a whopping 42g, which is a guaranteed way to stop any chances of ketone production.
Further to this, its fat levels are minimal, and a very high fat intake is required for ketosis.
Is Cheerios Oat Crunch Oats 'n Honey High In Protein?
A serving of this honey breakfast cereal contains only 4g of fat, which is very low. Generally, unless specialist fitness brands of cereal, most cereals will contain low levels of protein.
Is Cheerios Oat Crunch Oats 'n Honey High In Fiber?
The FDA states that a food must contain 5g of fiber to be classified as 'high fiber.' This breakfast cereal sits at 4g, which means it doesn't quite qualify but is still a good source of soluble fiber.
Cheerios Oat Crunch Oats 'n Honey Varieties
If you're looking for similar flavors to this honey breakfast cereal, here are a few similar Cheerios alternatives –
Honey Nut – The classic combo that is America's favorite cereal choice that laid the groundwork for Oats 'N Honey. Minus the oats and with a consistency more like classic Cheerios, these make a great alternative choice and are probably easier to find in stores
Oat Crunch Almond – Similar to Honey 'N Almonds, only lighter on the honey and big on almonds. It contains all the vitamins and minerals you would expect and 6g of soluble fiber.
Cheerios Oat Crunch Oats 'n Honey Store Brand Alternatives
The combination of honey and nuts is probably the most popular cereal double act, as shown by Honey Nut Cheerios's popularity. For this reason, it will be easy to find a cheaper store-branded alternative.
Where You Can Buy Cheerios Oat Crunch Oats 'n Honey?
Cheerios Oat Crunch Oat 'N Honey can be found at a grocery store with a good cereal aisle, and if you have no luck locally, it can easily be purchased online through Amazon and Target.
Famous Cheerios Oat Crunch Oats 'n Honey Commercials
The Cheerios Oat Crunch TV Spot commercial introduced us to both original varieties of Oat Crunch Cheerios, Cinnamon, and Honey 'N Oat.
User Reviews
Review Summary
0.0 out of 5 stars (based on 0 reviews)
Recent Reviews
There are no reviews yet. Be the first one to write one.
Submit a Review