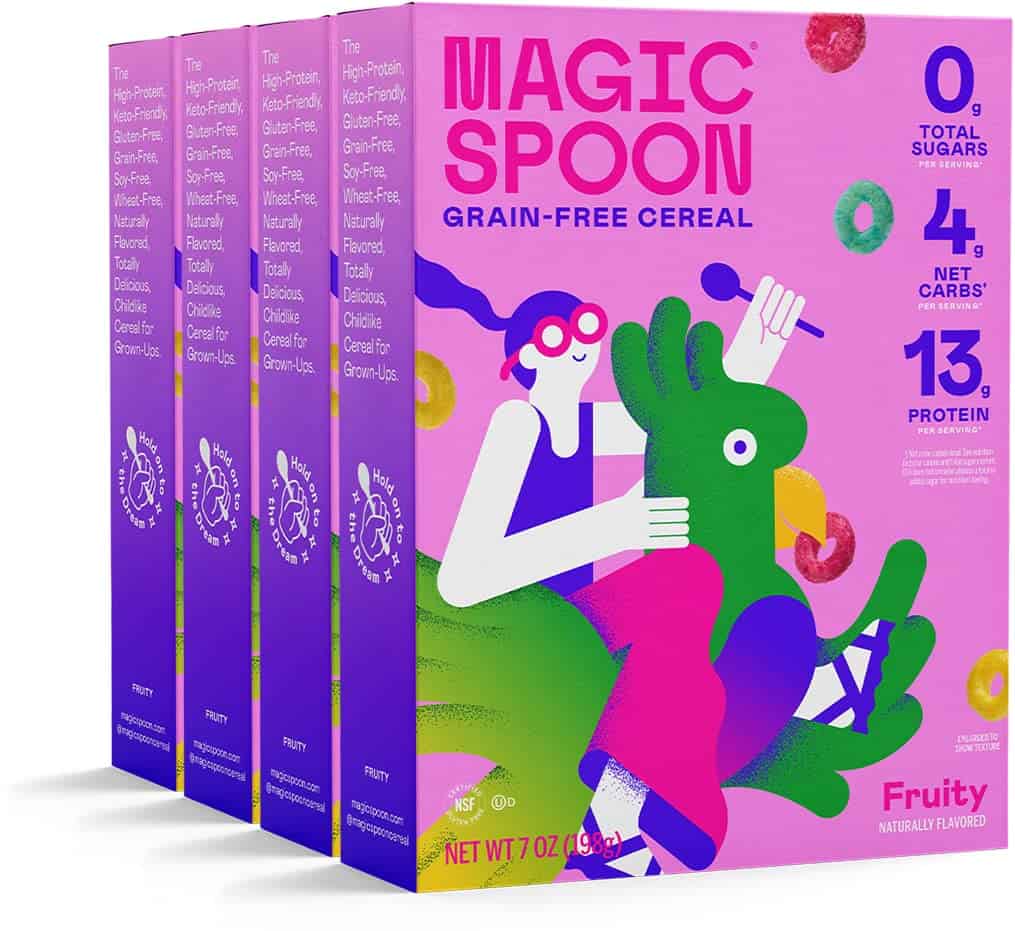 Although extremely fruity, this cereal is by no means loopy. This brand has transformed what was once a favorite fruit-infused childhood cereal into an adult-friendly version boasting just 4 grams of net carbs, only 150 calories, and 13 grams of high protein – all with zero artificial flavors.
The Magic Spoon Fruity grain-free Cereal is perfectly suited to both kids and grown-ups. Despite its great taste, you will be pleasantly surprised to hear it is a healthy option for the entire family and one that almost tastes too good to be true.
This cereal boasts the same awesome taste of the childhood version, only with ingredients that are suited to grown-ups and don't contain mountains of sweetness.
Nutrition Facts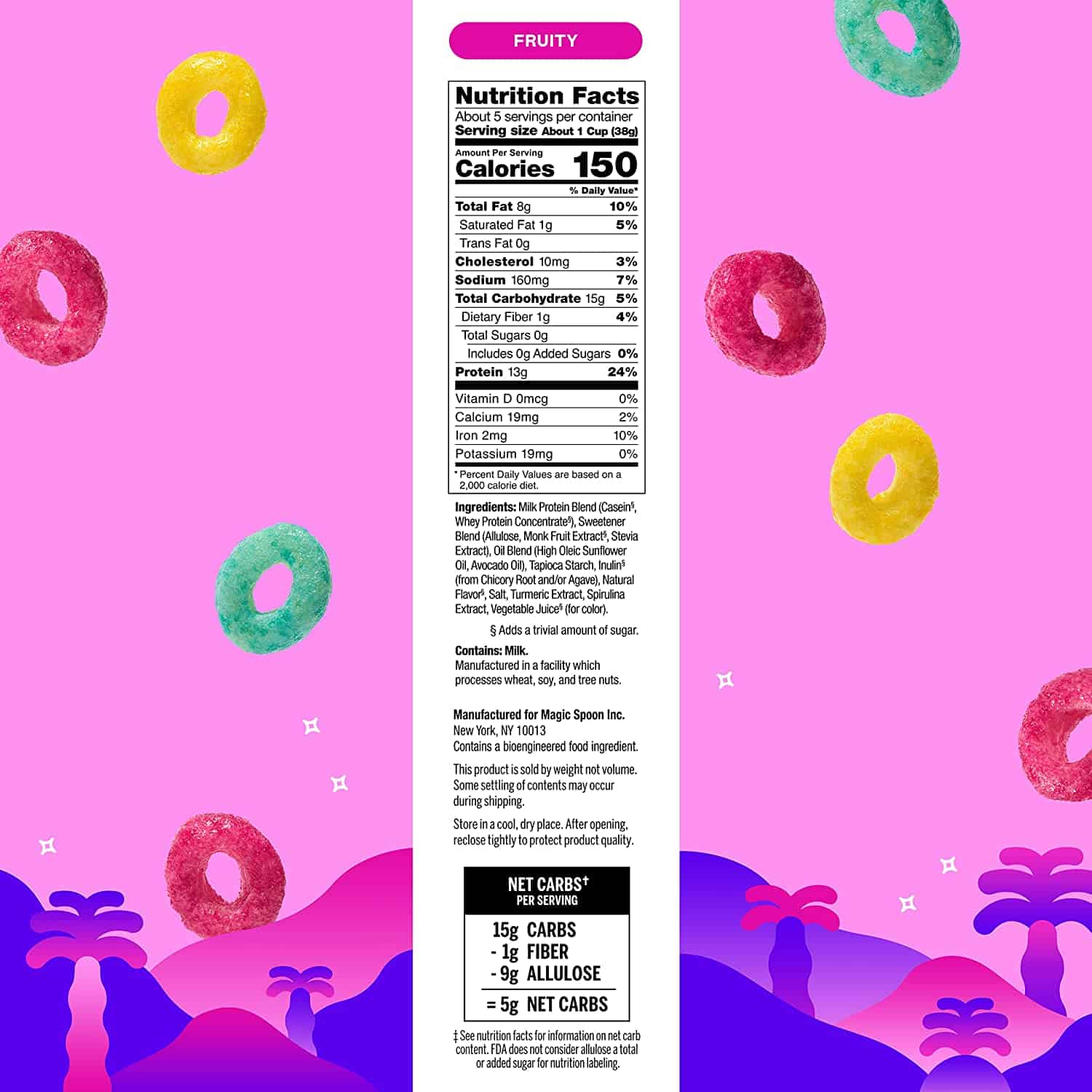 On this box, you will find the following nutrition facts:
Total Fat 6.7 grams (equivalent to 9% of your daily allowance)
Saturated Fat 0.7 grams (equivalent to 3% of your daily allowance)
Cholesterol 7 mg (equivalent to 2% of your daily allowance)
Sodium 160 mg (equivalent to 7% of your daily allowance)
Total Carbs 13 grams (equivalent to 5% of your daily allowance)
Dietary Fiber 1 gram (equivalent to 5% of your daily allowance)
Total Sugars 0 grams
Protein 15 grams (equivalent to 29% of your daily allowance)
Ingredients
Magic Spoon Cereal boasts a blend of whey and milk protein isolates, tapioca flour, coconut oil, and chicory root fiber.
This product is sweetened naturally with stevia, allulose, and the fruit named monk – meaning you get that great, sweet taste without the extra calories or processed sugar alcohols.
Inside this box, you will find the following ingredients:
Milk Protein Blend: Casein and whey protein concentrate boast smooth textures and unique amino acid profiles.
Sweetener Blend: this product is sweetened with the Monk Fruit flavor – A natural food sourced from Southeast Asia that, hence the name, was first farmed in the 13th century by Buddhist monks. Initially, they used this item in a wide range of herbal medicines.
Allulose: A natural, healthy "sugar" sourced from the likes of maple syrup and figs. This product is just as good as standard sugar yet features zero caloriess and therefore has zero effect on blood sugar.
Oil Blend: the high-oleic sunflower oil found in this product boasts similar monounsaturated fats to those derived from healthy avocado oil and extra virgin olive oil, which is brimming with antioxidants and vitamin E.
Tapioca Starch: crafted from cassava, a starchy root, this product is naturally gluten-free.
Chicory Root Inulin: This ingredient comes in the shape of a prebiotic fiber, which assists in keeping us full for longer. On top of this, it heightens gut bacteria.
Natural Flavors: No artificial colors, flavors, or preservatives are found in this product.
Salt: just a pinch to add a little savory flavor to the mix.
Turmeric Extract: This healthy ingredient is both high in antioxidants and anti-inflammatory. It also adds a hot yellow hue to the product.
Spirulina Extract: Although tiny, this alga is brimming with healthy, body-beneficial nutrients and can be used as a pretty green dye and organic flavor.
Is Magic Spoon Fruity Cereal Healthy?
This Magic Spoon cereal is packed with natural sweeteners as opposed to artificial flavors and contains a healthy mix of allulose and monk fruit.
Allulose comes in the form of unique naturally occurring sugar sourced from maple syrup and figs.
It appears to be exactly like sugar but boasts none of the calories and has zero glycemic impact on our bodies (all in all, fewer than 0.4 cal/g).
Is Magic Spoon Fruity Cereal Gluten-Free?
This food is grain-free, which makes it a great option for those wishing to deliver a zero gluten diet.
Is Magic Spoon Fruity Cereal Vegan?
At present, this food is not classed as vegan, and they don't have plans in the current pipeline to create a vegan version; however, they are keeping it in mind for the future.
Is Magic Spoon Fruity Cereal Keto?
Yes, it is. This is an ideal choice for those looking to stick to a low-carb or keto diet. Every serving boasts just 4g of net carbs and between 0.5 and 1.5 grams of saturated fats.
These come from a blend of avocado oil and high-oleic sunflower oil.
Is Magic Spoon Fruity Cereal High in Protein?
Packaged in brightly-hued cartoon boxes, the Magic Spoon cereal bills pose itself as a "healthy cereal that tastes too good to be true."
The reason this product is classed as a healthy option? It boasts high protein, with an impressive 12 grams in every 3/4 cup. You can add even more to your bowl with the addition of peanut butter or peanut oil, vegetable juice, Greek yogurt, or berries.
On top of this, it has just 3 grams of net carbs and only 110 calories per breakfast bowl.
Is Magic Spoon Fruity Cereal High in Fiber?
With just three net carbs per serving, this isn't the best breakfast option for those looking to increase their fiber intake in a big way.
You will find just two grams of fiber per serving and three grams of allulose. It does, however, boast a great flavor.
In comparison to other similar low-carb cereals with the same cocoa flavor or peanut butter or blueberry filling, this is around eight times less.
Magic Spoon Fruity Cereal Store Brand Alternatives
Magic Spoon Cereal comes in a range of other flavors, as well as the fruity variant. These are cinnamon roll, frosted, Maple waffle, blueberry, peanut butter, cookies and cream, and cocoa, to name a few. All are keto-friendly, and all can be purchased as a variety pack.
Alternatives that are similar in style include Special K, Reece's Puffs, Cocoa Puffs, Frosted Flakes, Kashi Go, and Froot Loops.
Where You Can Buy Magic Spoon Fruity Cereal
You can purchase Magic Spoon Fruity Cereal exclusively online through the brand's website and in certain local grocery stores. It tends to sit alongside similar cereals in the cereals aisle.
Famous Magic Spoon Fruity Cereal Commercials
In terms of famous adverts, you'll find more videos detailing reviews of this sweet cereal.
User Reviews
Review Summary
5.0 out of 5 stars (based on 1 review)
Recent Reviews
No Title
I love their fruity cereal it's very delicious and reminds me of the fruit you can find in the grocery stores and it's very healthy
Submit a Review