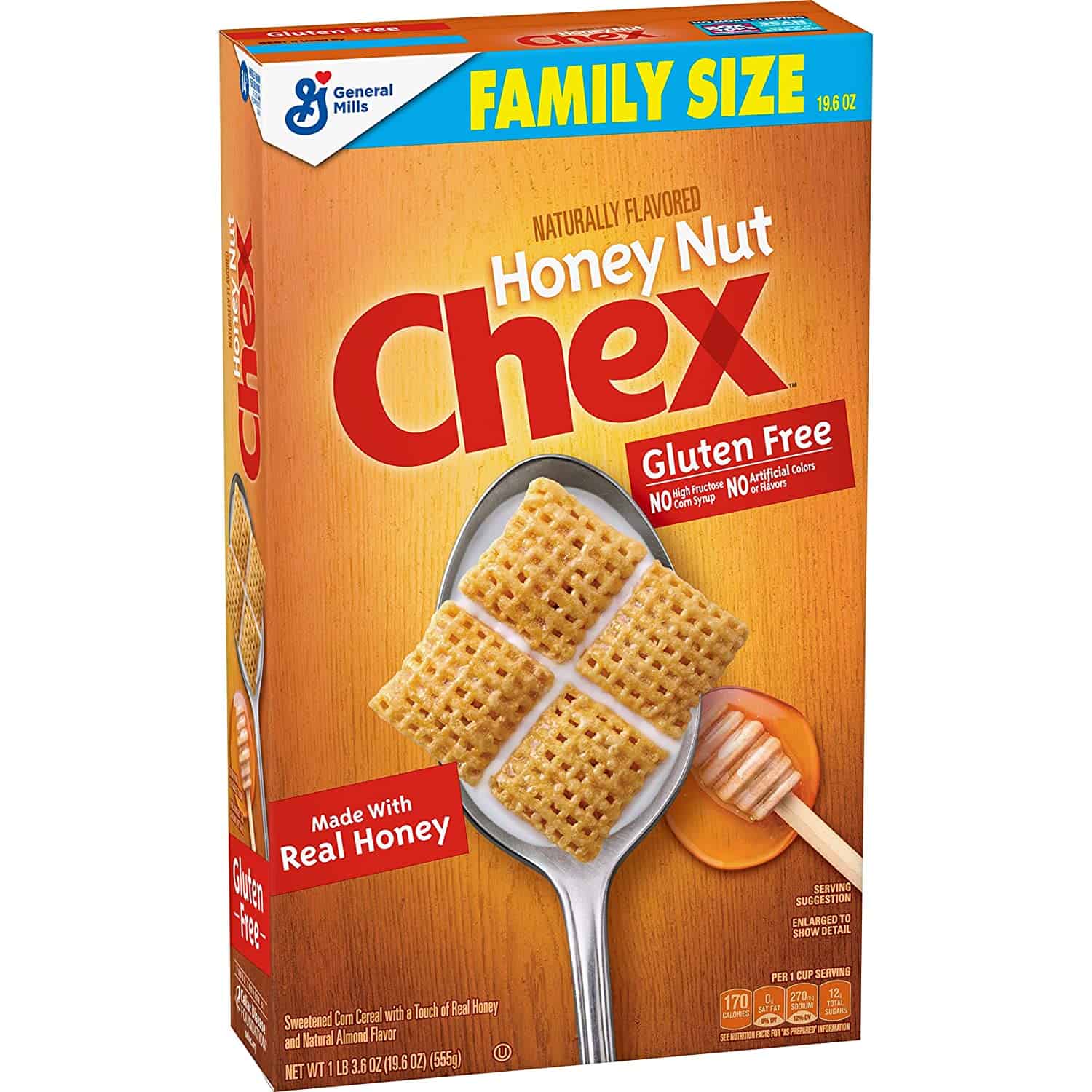 Honey Nut Chex is a wholesome breakfast cereal that is a great source of calcium and other vital nutrients. Sweetened with a hint of honey flavor and almond ingredients, this is one of the most popular Chex cereals on the market.
This breakfast cereal is the ideal way to start your day with a splash of milk or some Greek yogurt and sliced fruit. You can also use it as a key ingredient in many of your favorite snack recipes for things like Classic Muddy Buddies and Chex trail mix. With no artificial flavors and preservatives and no high fructose corn syrup, Honey Nut Chex cereal shines as a healthy and hearty treat for breakfast time.
Each serving of Honey Nut Chex cereal contains 10 grams of whole grain for simple goodness. What's more, it's made with real honey, so you don't need to worry about consuming too much regular or brown sugar so early in the day.
Honey Nut Chex will give you and the whole family the energy you need to take on the day ahead. Or, put some Chex in a snack mix and pack it in your little one's lunchbox as a perfect treat for snack time.
Nutrition Facts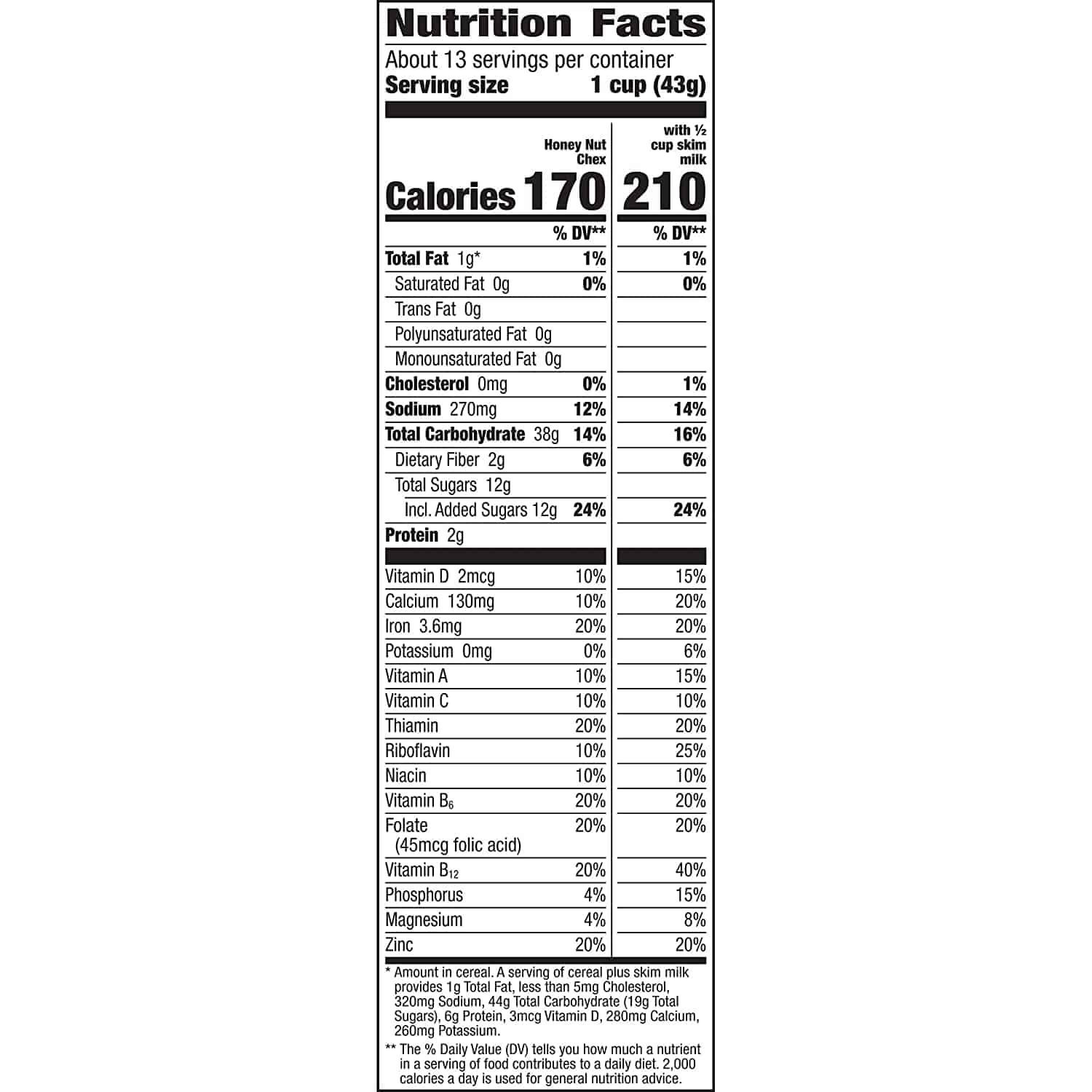 A typical serving size of this cereal is 1 cup (43 grams). There are approximately 8 servings per box.
Percent Daily Values (DV) are based on an average diet of 2000 calories per day. This amount can vary depending on your specific needs.
Total Fat 1g: 1% DV
Saturated Fat: 0g / 0% DV
Trans Fat: 0g
Polyunsaturated Fat: 0g
Monounsaturated Fat: 0g
Cholesterol: 0mg / 0% DV
Sodium: 270mg / 12% DV
Total Carbohydrate: 38g / 14% DV
Dietary Fiber: 2g / 6% DV
Total Sugars: 12g
Incl. Added Sugars: 12g / 24% DV
Protein: 2g
Vitamin D: 2mcg / 10%
Calcium: 130mg / 10%
Iron: 3.6mg / 20%
Potassium: 0mg / 0%
Vitamin A: 10%
Vitamin C: 10%
Thiamin: 20%
Riboflavin: 10%
Niacin: 10%
Vitamin B6: 20%
Folate: 20%
Vitamin B12: 20%
Phosphorus: 4%
Magnesium: 4%
Zinc: 20%
Ingredients
Whole Grain Corn, Corn Meal, Sugar, Corn Starch, Honey, Salt, Molasses, Canola and/or Sunflower Oil, Baking Soda, Natural Flavor, Natural Almond Flavor. Vitamin E (mixed tocopherols) Added to Preserve Freshness. CONTAINS ALMOND INGREDIENTS.
Vitamins and Minerals
Calcium Carbonate, Zinc, and Iron (mineral nutrients), Vitamin C (sodium ascorbate), A B Vitamin (niacinamide), Vitamin B6 (pyridoxine hydrochloride), Vitamin B1 (thiamin mononitrate), Vitamin A (palmitate), Vitamin B2 (riboflavin), A B Vitamin (folic acid), Vitamin B12, Vitamin D3.
Is Honey Nut Chex Cereal Healthy?
With whole grain corn as the main ingredient, Honey Nut Chex is a wholesome way to start the day. This cereal also contains a variety of essential vitamins and minerals to keep you energized throughout the day, such as Vitamin C, Zinc, Iron, and Calcium.
With no artificial colors or flavors, you don't have to worry about this cereal being filled with sugar despite its sweet taste. Gluten-free Honey Nut Chex is also the perfect addition to healthy snacks like popcorn Chex trail mix.
Is Honey Nut Chex Cereal Gluten-Free?
Yes, this is a gluten-free cereal that's suitable for people with an intolerance to gluten, unlike many other breakfast cereal options.
All flavors in the Chex range are gluten-free, including Rice Chex, Corn Chex, and Chocolate Chex. The only exception is Wheat Chex, which is not gluten-free.
Is Honey Nut Chex Cereal Vegan?
Yes, all Chex cereals are generally vegan because they don't contain any dairy or gelatin. However, they do contain sugar and vitamin D3, which many vegans choose to avoid. You can enjoy a bowl of Chex with your favorite dairy milk alternative, like soy milk, rice milk, or coconut milk.
Or, choose to skip the milk altogether and throw some Chex into your favorite snack mix recipes.
Is Honey Nut Chex Cereal Keto?
No, this breakfast cereal is not suitable for a keto diet. With 38 grams of carbohydrates per serving, one bowl of Chex will account for 14% of your daily diet recommended intake.
Those following a keto diet typically tend to favor foods that are high in fat and low in carbohydrates, such as meat, eggs, dairy, and low-carb veggies. They also try to stick to between 20-50 grams of carbohydrates per day, which means that a bowl of this gluten-free cereal simply wouldn't be suited to this diet.
Is Honey Nut Chex Cereal High in Protein?
There are just 2 grams of protein in each serving of this breakfast cereal. Therefore it's not especially high in protein when compared to other breakfast cereal options on the market.
Is Honey Nut Chex Cereal High in Fiber?
Each serving of this breakfast cereal contains just 2 grams of fiber, which means it's not particularly fiber-rich, especially when compared to other breakfast cereals like All Bran, Cheerios, or Wheat Chex.
Honey Nut Chex Cereal Store Brand Alternatives
There are plenty of options when it comes to cereals that are similar in flavor to Honey Nut Chex. If you're not convinced by this cereal but still want to enjoy the delicious honey nut flavor, you could opt for something like Kellogg's Crunchy Nut, Golden Grahams, or Honey Nut Shredded Wheat.
Where You Can Buy Honey Nut Chex Cereal
You can buy Chex cereal from Amazon, Walmart, or your local supermarket. If you're not sure where to buy Chex near you, check out the official website to find out where they're in stock.
Famous Honey Nut Chex Cereal Commercials
General Mills cereals are known for their entertaining commercials and catchy jingles. Chex has been around for a long time since 1950, so there have been plenty of video commercials for its various products.
One famous advert for Honey Nut Chex is this video where two brothers sit at a table; the narrator points out their differences and then says that Chex is what brings them together.
User Reviews
Review Summary
0.0 out of 5 stars (based on 0 reviews)
Recent Reviews
There are no reviews yet. Be the first one to write one.
Submit a Review