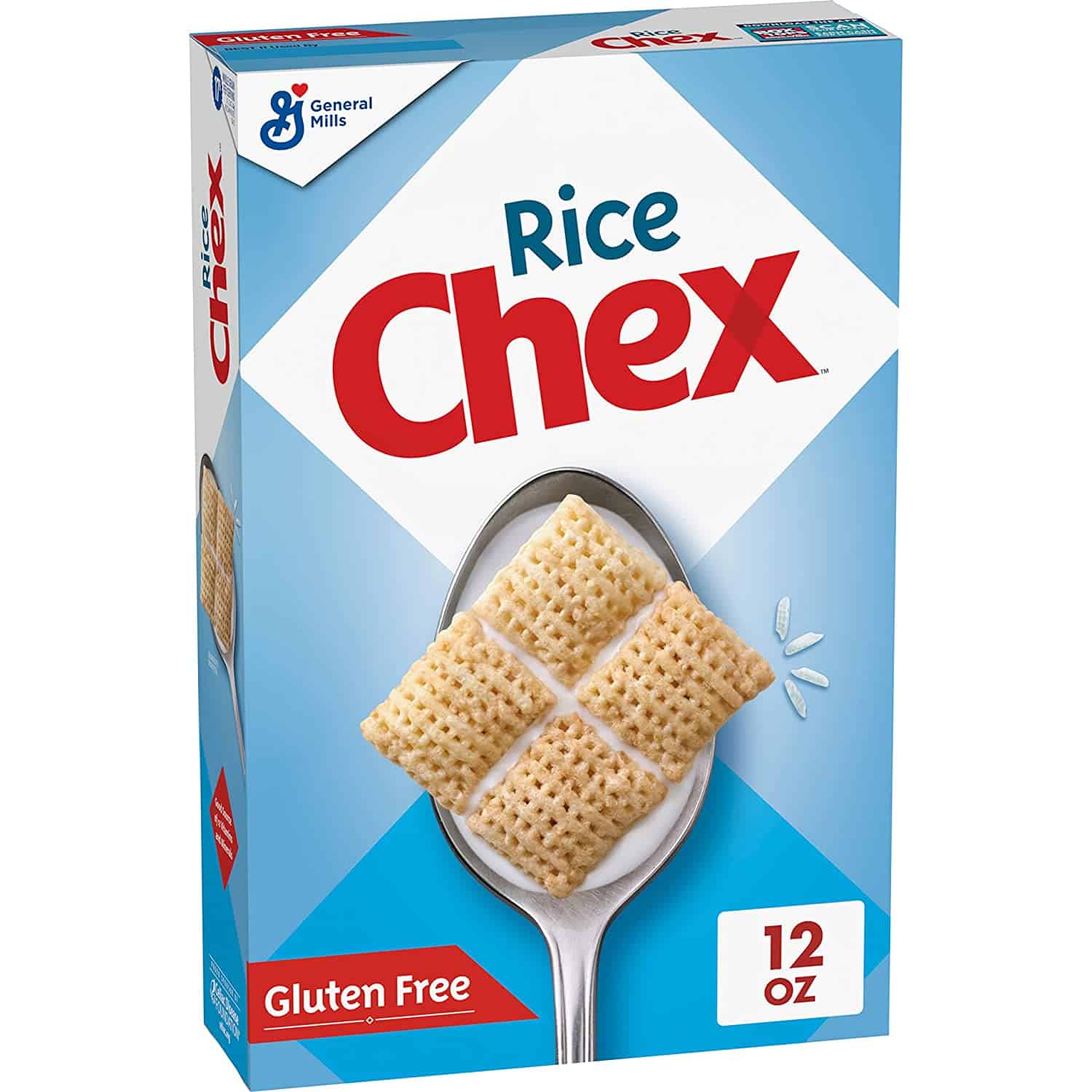 When it comes to catering to all dietary needs, the food world is certainly adapting, and there are now lots of food products on the market that are appealing to those with both intolerances and allergies of all kinds.
Rice Chex breakfast cereal was one of the first to provide a gluten-free option for those who were struggling to find something suitable for them when it came to breakfast time.
This cereal is very much like Shreddies but has a few differences in order to make it an alternative option for those who can't eat whole grains like wheat or barley.
Nutrition Facts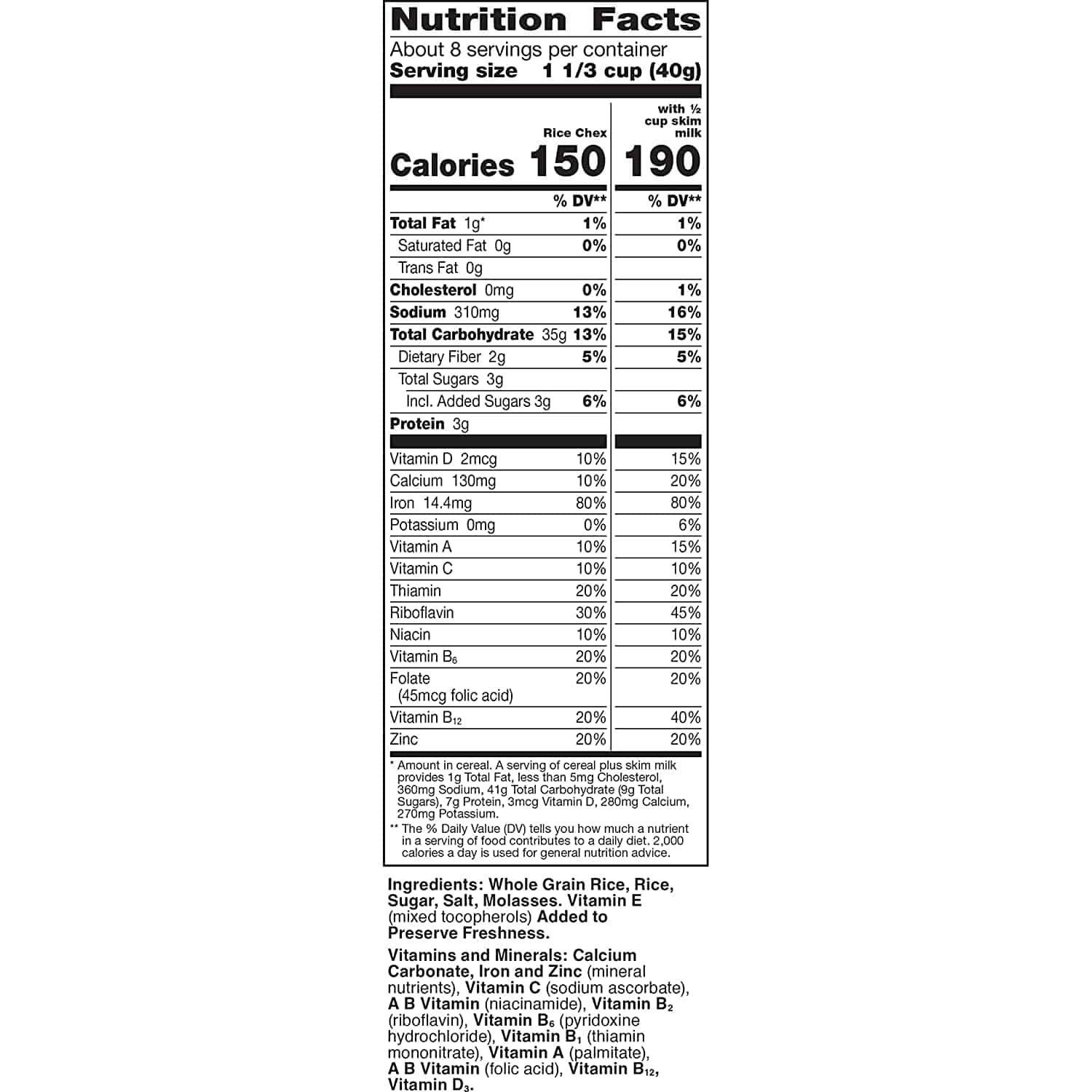 With 11 servings per container, here are some helpful nutritional facts that are worth knowing when it comes to your dietary needs:
Calories: 160
Saturated Fat: 0grm
Trans Fat: 0grm
Polyunsaturated Fat: 0grm
Monounsaturated Fat: 0grm
Cholesterol: 0mg
Sodium: 330mg
Total Carbohydrate: 35g
Dietary Fiber: 2grm
Sugars: 3grm
Includes Added Sugars: 3grm
Protein: 3g
Vitamin A
Vitamin C
Calcium: 130mg
Potassium: 0mg
Iron: 12.6mg
Vitamin D: 2mcg
Thiamin
Riboflavin
Niacin
Vitamin B6
Folic Acid: 45mcg
Vitamin B12
Phosphorus
Magnesium
Zinc
Ingredients
There are a number of ingredients in the cereal but compared to some of the other processed foods; there's a lot less in this one. Here is a full list of ingredients for the Rice Chex breakfast cereal.
Whole Grain Rice
Rice
Sugar
Salt
Molasses
Vitamin E (mixed tocopherols)
Vitamins and Minerals: Calcium Carbonate, Iron and Zinc (mineral nutrients), Vitamin C (sodium ascorbate), A B Vitamin (niacinamide), Vitamin B2 (riboflavin), Vitamin B6 (pyridoxine hydrochloride), Vitamin B1 (thiamin mononitrate), Vitamin A (palmitate), A B Vitamin (folic acid), Vitamin B12, Vitamin D3.
Is Rice Chex Healthy?
As far as cold breakfast cereal goes, the Rice Chex is a healthy breakfast option. There's nowhere near as much sugar in its ingredients when compared to other sugar cereal options.
The crunchy squares holds a flavorful punch that often many will have as favorite snack foods throughout the day. This breakfast cereal is definitely a good one for those who are looking to have a more balanced breakfast rather than opting for some other alternatives that are pretty unhealthy.
Is Rice Chex Gluten-Free?
Yes! As it's already been mentioned, the Rice Chex became one of the ring leaders in offering a gluten-free cereal. It's a game-changer for many cereal brands who've had to recognize the need for gluten-free cereal and provide new cereals that offer this for anyone with an intolerance or celiac disease.
If you're after a gluten-free cold cereal, you'll find it with the Rice Chex cereal.
Is Rice Chex Vegan?
Rice Chex, for the most part, is considered a vegan breakfast. It really depends on what you would consider being vegan or not, depending on your opinion.
The reason why it can't be guaranteed as vegan is due to the gray areas that are Vitamin D3 and sugar. Some vegans may avoid this because of how they're made and how they can sometimes be derived from animals.
Is Rice Chex Keto?
Unfortunately, Rice Chex is not keto-friendly and isn't considered to be something that would pass for being part of the keto diet. The reason for this is that it's a high-carb processed food, and keto diets are limited to a number of carbs per day. This cereal certainly exceeds that amount.
According to the keto diet, there's also the appearance of sugar that is deemed to be unhealthy. It's worth looking elsewhere for a healthier option that will fit the keto diet as a breakfast cereal.
Is Rice Chex High In Protein?
Many foodies give this cereal five stars for its taste and that it helps in serving gluten-free individuals a great breakfast cereal. There is 3g of protein found in each serving size of this cereal. It's not a considerable amount, but slightly higher than most other processed ingredients found in other cereals.
Whether you enjoy it as an afternoon snack or with your favorite greek yogurt, it's a fairly average food for protein intake.
Is Rice Chex High In Fiber?
There's only 2g of fiber found in the Rice Chex cereal, not particularly high compared to some fiber-rich cereals.
While there's only 2g of fiber found in this no high fructose corn syrup cereal, it's still a reasonable amount for your daily intake.
Rice Chex Varieties
There are a number of rice Chex varieties to choose from if you want to expand your tastes beyond the original. Here are some of the flavors to choose from:
Honey Sriracha chex mix
Corn Chex
Wheat Chex box tops
Chocolate Chex
Apple Cinnamon Chex
Peanut Butter Chex
Cinnamon Chex
Blueberry Chex
Rice Chex Store Brand Alternatives
There is a range of store-brand alternatives when it comes to Rice Chex. They have a similar cereal shape to other cereal brands on the market currently. Here are a few alternatives that you might want to try:
Kellogg's Shreddies
Kellogg's Rice Krispies
GoFree Rice Pops
Turtle Color Loops
If you're on a restricted diet, then many of the gluten-free options are going to help maintain your daily value of nutrients without giving you a nasty reaction.
Where You Can Buy Rice Chex
There are a number of places where you can buy Rice Chex breakfast cereal. These are:
Famous Rice Chex Cereal Commercials
There are a number of cereals for Rice Chex, seeing as the cereal itself has been around for a while. Here are a few examples of the commercials over the years:
In this 1980 Rice Chex Cereal commercial, a dad is encouraging his kids to eat the rice Chex, despite their distaste at first. Turns out they love it!
Rewind back to 1961, and in this Rice Chex commercial, see a family enjoying a bowl of Rice Chex while on holiday.
Finally, this commercial sees a top-secret agent promoting the secret agent kit that came with the Rice Chex cereal back in the 1960s.
User Reviews
Review Summary
0 out of 5 stars (based on 0 reviews)
Recent Reviews
There are no reviews yet. Be the first one to write one.
Submit a Review