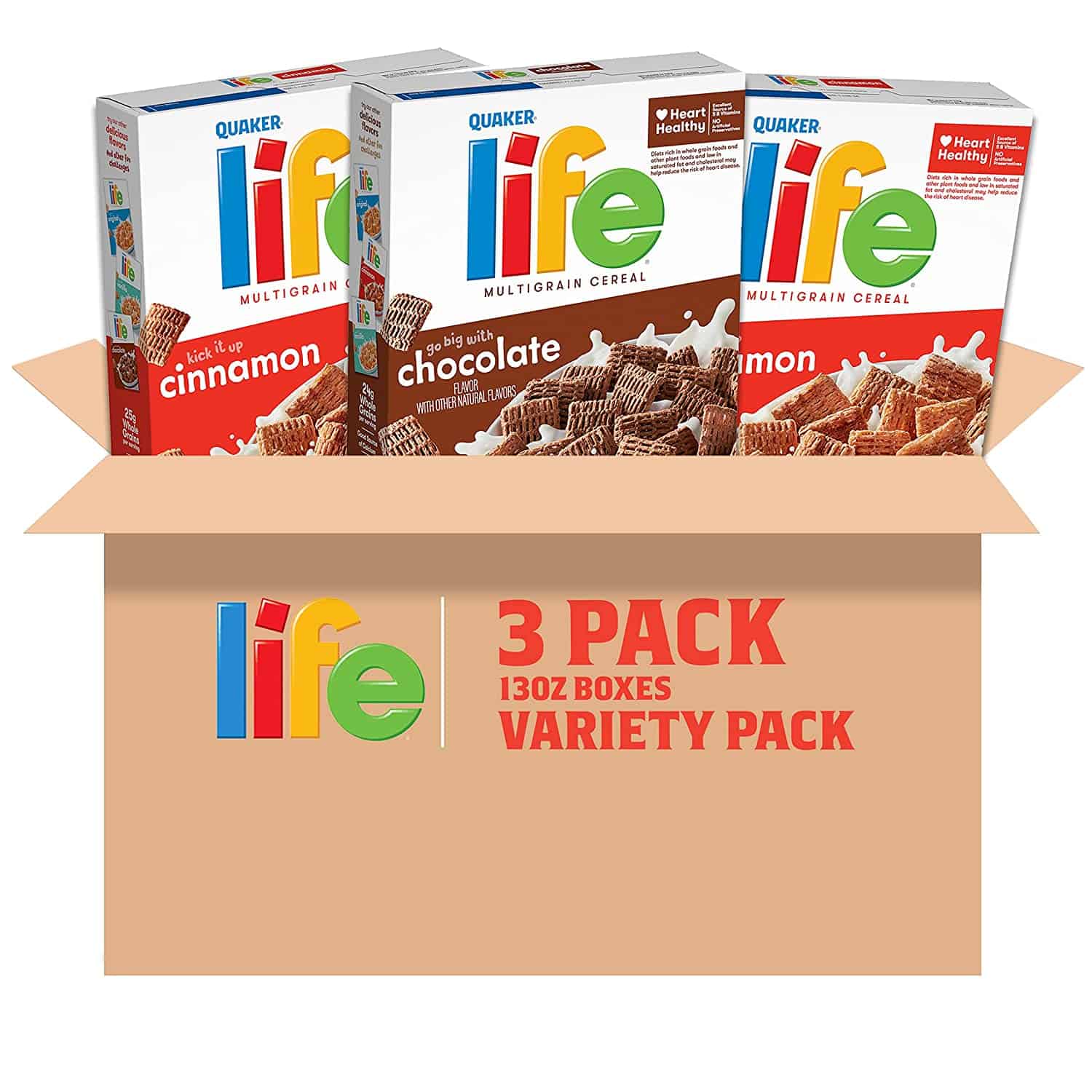 With an impressive 24 grams of whole grains per serving, Chocolate Flavor Life Cereal is a heart-healthy breakfast option and a great choice for those looking to stick to a plant-based diet that is low in cholesterol, saturated and total fat, and also a food type that may lower the risk of heart disease.
On top of all of these benefits, this cereal is a great calcium source, a good source of 5 B Vitamins, and boasts zero artificial flavors or colors.
Every serving of Chocolate flavor Life Cereal gives your family all of the whole grains and essential vitamins they need to ensure great mornings each and every day.
Nutrition Facts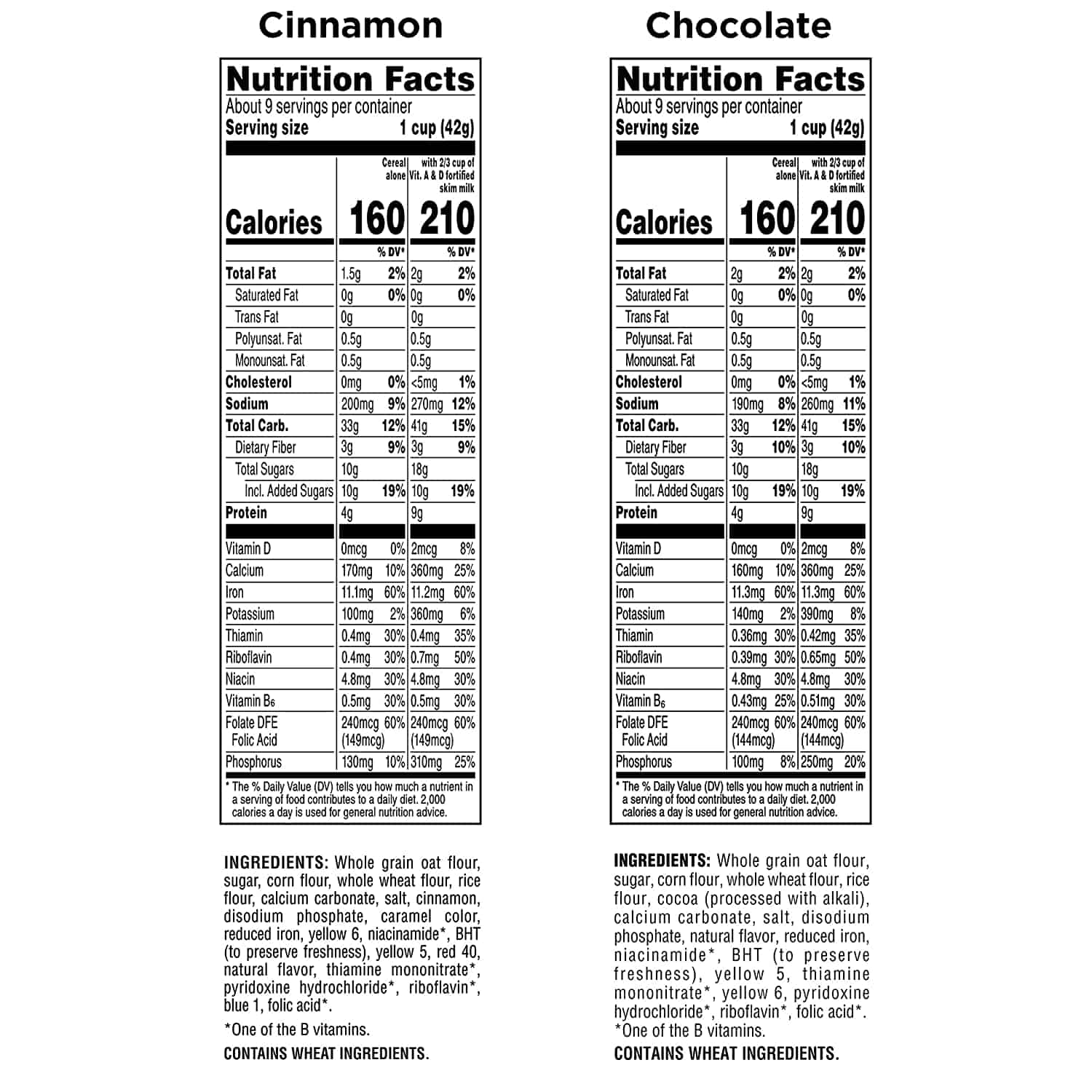 Per one cup, each serving boasts the following nutrition facts:
160 calories
2 grams of fat
0 grams of saturated fat and monounsaturated fat
0 milligrams of cholesterol
190 milligrams of sodium
33 grams of carbohydrates
3 grams of fiber
10 grams of sugar
4 grams of protein
Ingredients
In each box, you will discover the following ingredients:
Whole grain oat flour
Sugar
Corn flour
Whole Wheat flour
Cocoa (processed with alkali)
Calcium carbonate
Salt
Baking soda
Tocopherols (to preserve freshness)
Natural flavor
Reduced iron
Niacinamide
Thiamine mononitrate
Annatto (color)
Pyridoxine hydrochloride
Riboflavin
Folic acid
One of the B vitamins.
Is Chocolate Flavor Life Cereal Healthy?
The multigrain chocolate cereal boasts a great source of calcium and features a total of five B vitamins. Each cup serving is only 160 calories, which makes Life Chocolate Cereal an ideal option for those wishing to steer clear of the sugary stuff.
Is Chocolate Flavor Life Cereal Gluten-Free?
Quaker Chocolate Life Cereal, unfortunately, is not a good breakfast option or favorite cereal for those wishing to stick to a gluten-free diet. Why? It boasts whole wheat in the list of Original Life ingredients.
Instead, you should choose another chocolate-flavored Love Life cereal to eat that features a gluten-free label on the box.
Is Chocolate Flavor Life Cereal Vegan?
Life Cereal Chocolate, in a nutshell, is considered a vegan cereal. However, it does feature a variety of other ingredients that some vegans prefer to avoid, such as natural and artificial flavors and sweeteners.
For best results, read reviews on the best cereals for vegans on the market today, including many vegan chocolate options which taste great yet are still suitable for those with dietary requirements.
Is Chocolate Flavor Life Cereal Keto?
Quaker Chocolate Life Multigrain Cereal isn't classed as a keto-friendly cereal as it comes in the shape of a high-carb processed product that boasts a handful of what are seen as unhealthy ingredients, such as yellow #5, sweeteners, and BHA/BHT.
Is Chocolate Flavor Life Cereal High in Protein?
Life Cereal Chocolate boasts 3 grams per serving. You can add more to your bowl by topping your cereal with delicious nut milk and taste tantalizing Greek yogurt, peanut butter, and sweet berries.
Is Chocolate Flavor Life Cereal High in Fiber?
A single serving of Life Cereal, which equates to 32 grams or three-quarters of a standard cup, boasts 25 grams of carbohydrates and 2 grams of dietary fiber, which equals to just 8 percent of your daily value.
If you're looking to engage in a high fiber diet, you should choose cereals boasting at least 5 grams of fiber or more.
Chocolate Flavor Life Cereal Varieties
There are two other variants of the Quaker Life cereal, which can be eaten as a delicious snack or in the morning as a pretty good source of energy – which you choose is entirely dependent on your tastebuds.
Cinnamon Life
Quaker Life, as well as chocolate cereal and other chocolate items, make a variant jam-packed with cinnamon flavors – a great alternative to add to your daily diet on those mornings when you need a warming pick-me-up.
Vanilla Life
Based on average customer ratings, this cereal is a great option for those looking for a cereal with not much chocolate flavor, yet one that still promises to start your day in the right way, irrespective of whether you're planning on embracing unknown adventures, new possibilities or simply don't know what lies ahead.
Chocolate Flavor Life Cereal Store Brand Alternatives
Looking for an alternative to Life Cereal Chocolate? There are numerous options from Quaker Life and other brands to choose from, including Cocoa Puffs and Quaker Oats – both are a nourishing breakfast option. Simply head to your local grocery store and visit the cereal store shelves.
Where You Can Buy Chocolate Flavor Life Cereal
Whether you're a loyal fan of Quaker Life or buying it as a gift for amazing friends, you will be pleased to learn there are plenty of places to buy the Love Life Cereal, including online and at a variety of grocery stores and supermarkets. You'll find Quaker Life cereals on the cereal aisle, next to Quaker Oats, which taste equally as great.
From Amazon to Walmart to your local grocery store, there are many places you can buy Life Cereal. You can even invest in family-size boxes, which will save you money in the long run.
Famous Chocolate Flavor Life Cereal Commercials
Back in the 1970s, the TV commercial 'Mikey Likes It' was aired regularly. The advert's main star was an adorable youngster, boasting a round face embellished with freckles, who went by the name of Mikey.
As a very fussy eater, the concept of the commercial surrounded the fact that 'Mikey' liked this cereal, which meant an array of children also wanted to try it. As we all know, breakfast is the most important meal of the day; this was a godsend to parents across the country, especially those looking for a breakfast item that promised a great taste and a number of vitamins and minerals.
This particular advert ran for over 13 years. You can view the very cute content and Mikey in action here.
Other adverts, which are more contemporary in style, are reviews of this product, many of which give this item and Quaker Oats 5 stars!
User Reviews
Review Summary
0.0 out of 5 stars (based on 0 reviews)
Recent Reviews
There are no reviews yet. Be the first one to write one.
Submit a Review