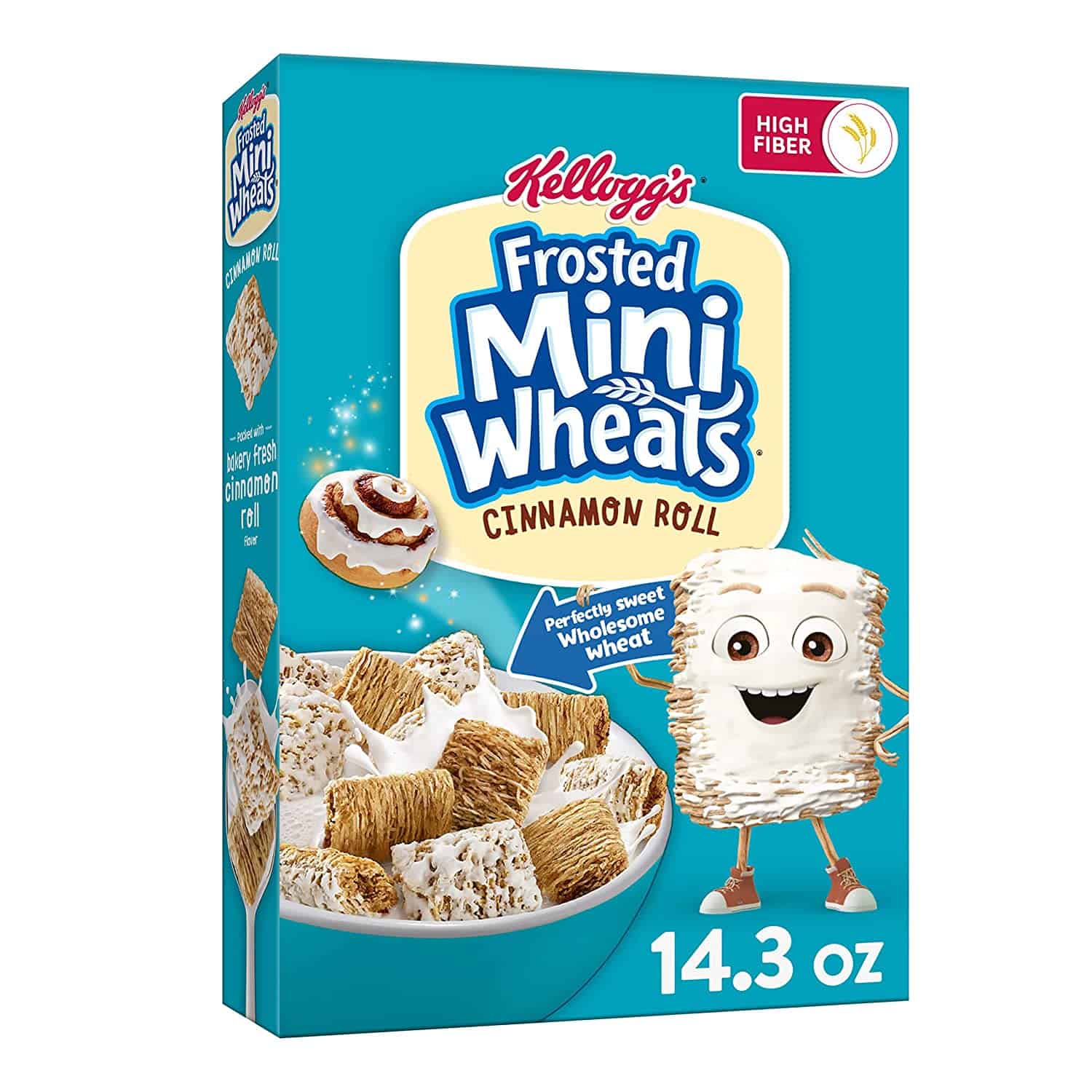 Do you love the taste of a sweet cinnamon roll? Who doesn't, right? Kellogg's Frosted Mini-Wheats Cinnamon Roll cereal is sure to be a hit in your household! With a yummy frosting on each biscuit, this cereal will make you look forward to breakfast.
But is it a healthy choice? Does it provide sufficient fiber and protein? Can vegans and keto dieters eat it? We answer all these questions and more right here! If you'd like to know more about this breakfast cereal, read along as we break down its nutritional facts.
Nutrition Facts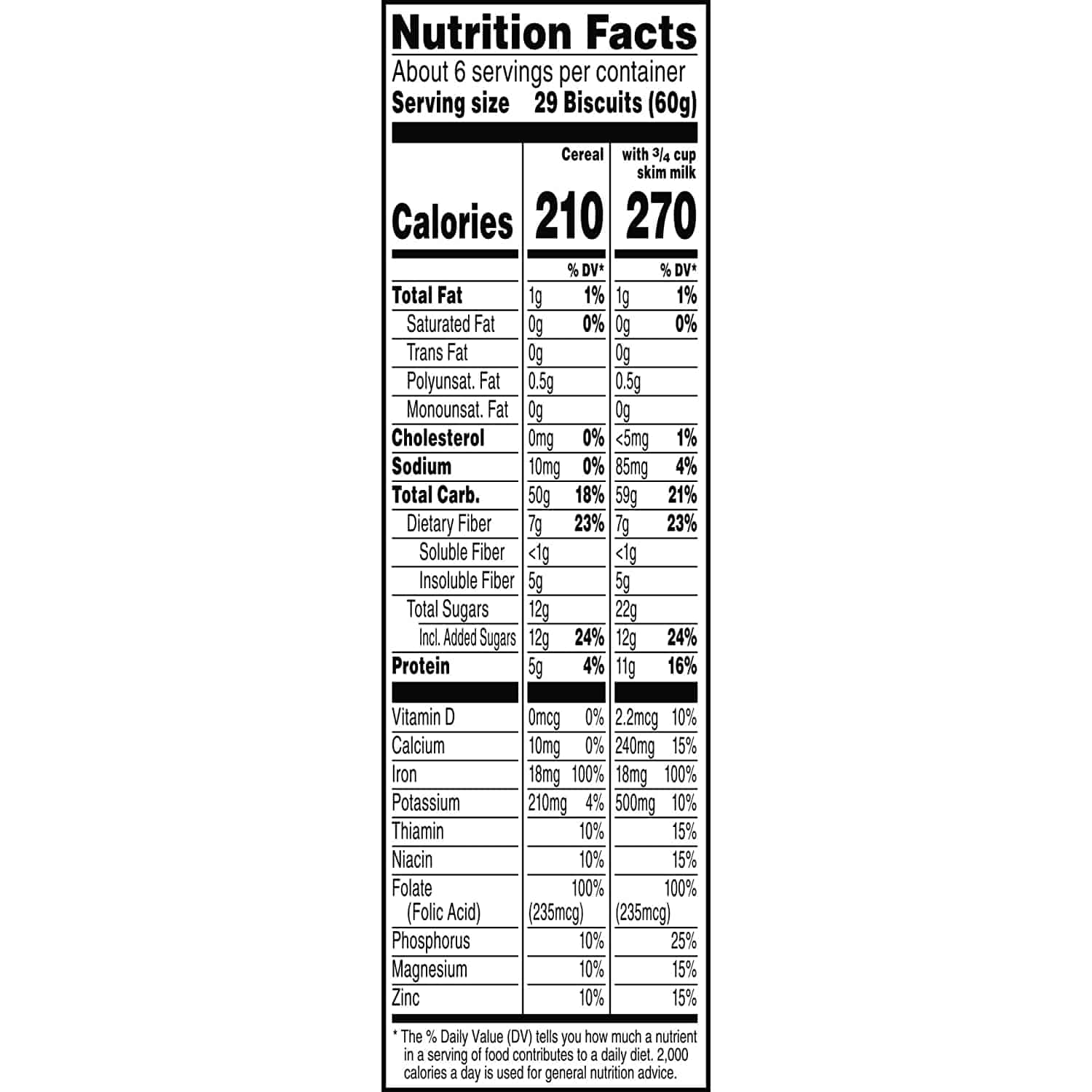 This Cinnamon Roll Frosted Mini-Wheats cereal combines the sweet taste of cinnamon with a delicious frosting on each biscuit. Kelloggs claims that there's real cinnamon baked into each delightfully crunchy golden wheat piece for a wholesome whole-grain crunch in each spoonful!
The delicious cinnamon roll taste makes them perfect for eating past breakfast too. Take them with you to work or snack on them during the boring morning commute. You could even add them to trail mix to add some sweetness or treat the kids with an after-school snack.
Kellogg's mini frosted cinnamon roll wheat cereal is a sweet treat that kids and adults can enjoy throughout the day! But, let's take a look at the nutrition facts:
Calories: 210
Fat: 1g
Sodium: 10mg
Carbohydrates: 50g 18% DV
Fiber: 7g 23% DV
Sugar: 12g 24% DV
Protein: 5g 4% DV
Calcium: 10mg
Iron: 18mg
Potassium: 210mg
Niacin: 10% DV
Ingredients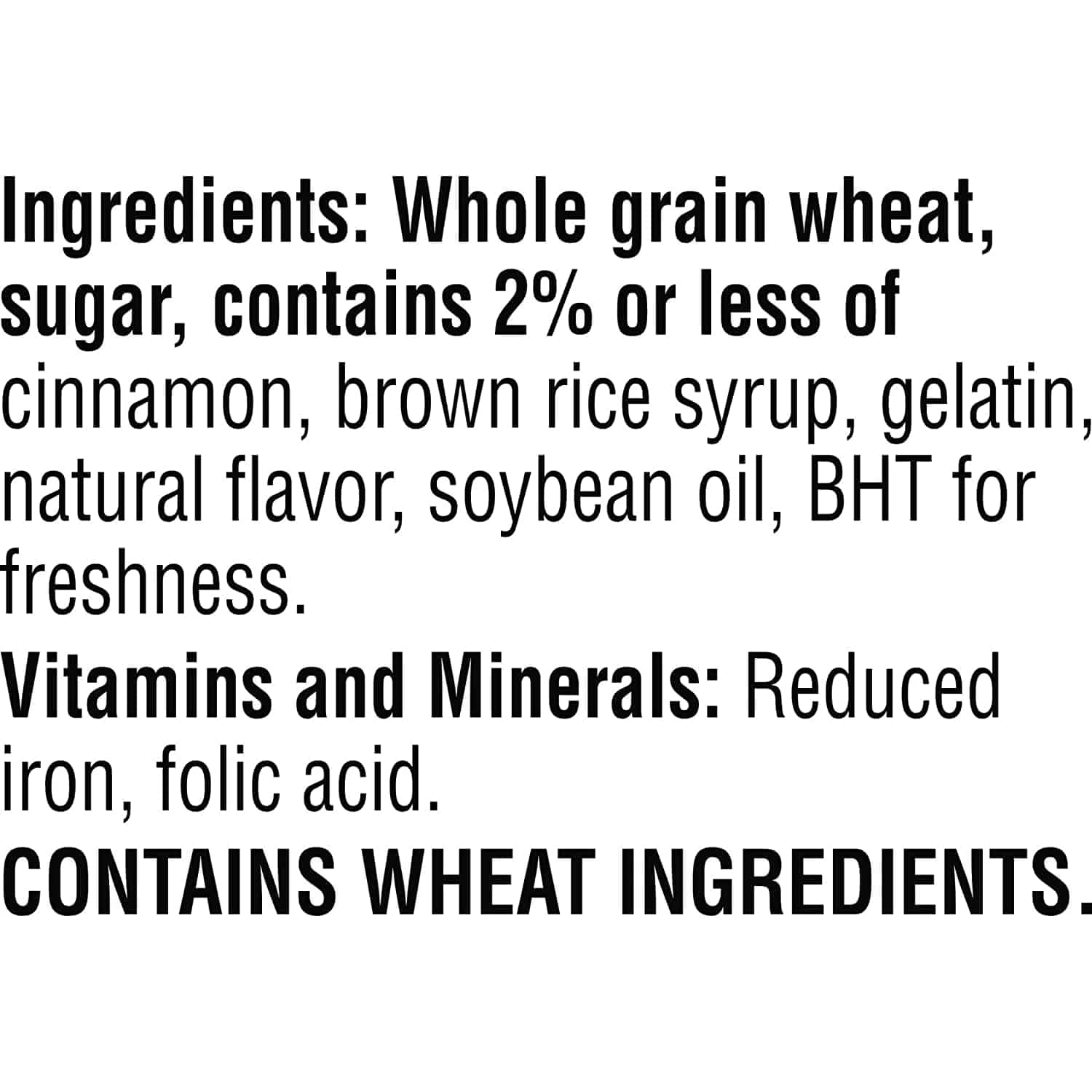 Each serving of this cinnamon flavor cereal contains:
Whole grain wheat
Sugar
Cinnamon – contains 2% or less
Brown rice syrup
Natural flavor
Gelatin
BHT – added to maintain freshness
Soybean oil
Is Frosted Mini-Wheats Cinnamon Roll Cereal Healthy?
Even though this cereal is a good source of fiber, sugar is the second ingredient on the label, so this cereal can't be described as healthy. This isn't surprising either, considering the cinnamon rolls flavor.
It also contains rice syrup which is a sweetener that derives from brown rice. It's manufactured by mixing cooked rice with enzymes that can break down starches.
This transforms them into more condensed sugars and filters out any impurities. The result is a syrup that's thick and sugary. Although brown rice itself is very nutritious, the resulting syrup offers very little nutritional value and acts like 100% sugar once it's consumed.
Considering that this cereal already contains 12 g of sugar in each serving, adding rice syrup on top of that makes for a very unhealthy product. Because of that, this cereal should be thought of as an occasional snack or treat, rather than a daily breakfast choice.
Is Frosted Mini-Wheats Cinnamon Roll Cereal Gluten-Free?
Unfortunately, no, this new Cinnamon Roll Flavor Mini-Wheats variety isn't gluten-free as it contains a large amount of wheat as its main ingredient. If you have gluten intolerance or you suffer from Celiac disease, this is a cereal you'll want to avoid.
Is Frosted Mini-Wheats Cinnamon Roll Cereal Vegan?
No, this cinnamon roll flavored cereal isn't suitable for a vegan diet as it contains gelatin. This is a colorless and flavorless ingredient that's sourced from the bones, cartilage, or skin of animals, making it unsuitable for vegetarians too.
Gelatin isn't used very often in cereals, but it is present in this variety, probably because of its flavor-enhancing qualities. Another ingredient that makes this product unsuitable for vegans is sugar!
This may come as a surprise and it's a bit of a gray area but sugar is quite often produced using animal products. The sugar pulps are filtered of their impurities using animal bone char, which also gives it its snow-white color.
Is Frosted Mini-Wheats Cinnamon Roll Cereal Keto?
Kellogg's Mini Frosted Wheat contains a high amount of net carbs, so it's recommended that you steer clear of it if you're following a keto diet. This cereal has a huge 40g of net carbs in each serving.
Since a keto diet usually requires you to limit your net carb intake to under 30 grams per day, this cereal is far too high in carbs for your body to reach a state of ketosis.
Not only that, but it also contains some ingredients that are super unhealthy, including sugar and rice syrup, which essentially acts as more sugar. These ingredients also have a very high glycemic index, which measures how quickly a food can raise your blood sugar level.
When you eat foods with a high glycemic index, your insulin, and blood sugar levels will increase rapidly before crashing, leaving you feeling hungry and craving more. This type of rice syrup has a shocking GI of 98 out of 100, which is extremely high!
Is Frosted Mini-Wheats Cinnamon Roll Cereal High in Protein?
With 5 grams of protein per serving, this cereal certainly has more protein than most brands. However, 5 grams still isn't a lot and if you're trying to pack on muscle, you may want to look at better sources of this essential macronutrient.
Is Frosted Mini-Wheats Cinnamon Roll Cereal High in Fiber?
With 7 grams of fiber per serving, this cereal is a fairly good source of fiber. This macronutrient is well known for keeping you fuller, but, unfortunately, this cereal contains high levels of sugar, which does the opposite of what fiber does, leaving you craving more.
Frosted Mini-Wheats Cinnamon Roll Cereal Store Brand Alternatives
If you can't find the Cinnamon Roll Mini-Wheats, you might like this other cinnamon-based cereal from Kelloggs. Alternatively, if you're on the go and are craving a cinnamon roll, check out these snack bars from Target!
Where You Can Buy Frosted Mini-Wheats Cinnamon Roll Cereal
If you're looking for a sweet treat, good news! This cereal can be found in many grocery stores across the United States including Kroger, Target, and Walmart!
Famous Frosted Mini-Wheats Cinnamon Roll Cereal Commercials
This Cinnamon Roll Flavored Mini-Wheats cereal is still fairly new, so there aren't any "famous" TV commercials yet. However, this commercial was released in 2021 to advertise the new mini-wheats flavor.
It depicts a family who are all great fans of cinnamon rolls being very excited about a new cinnamon bun flavor cereal!
https://www.youtube.com/watch?v=OpdlnYGAxWw&ab_channel=FrostedMini-Wheats
User Reviews
Review Summary
0.0 out of 5 stars (based on 0 reviews)
Recent Reviews
There are no reviews yet. Be the first one to write one.
Submit a Review