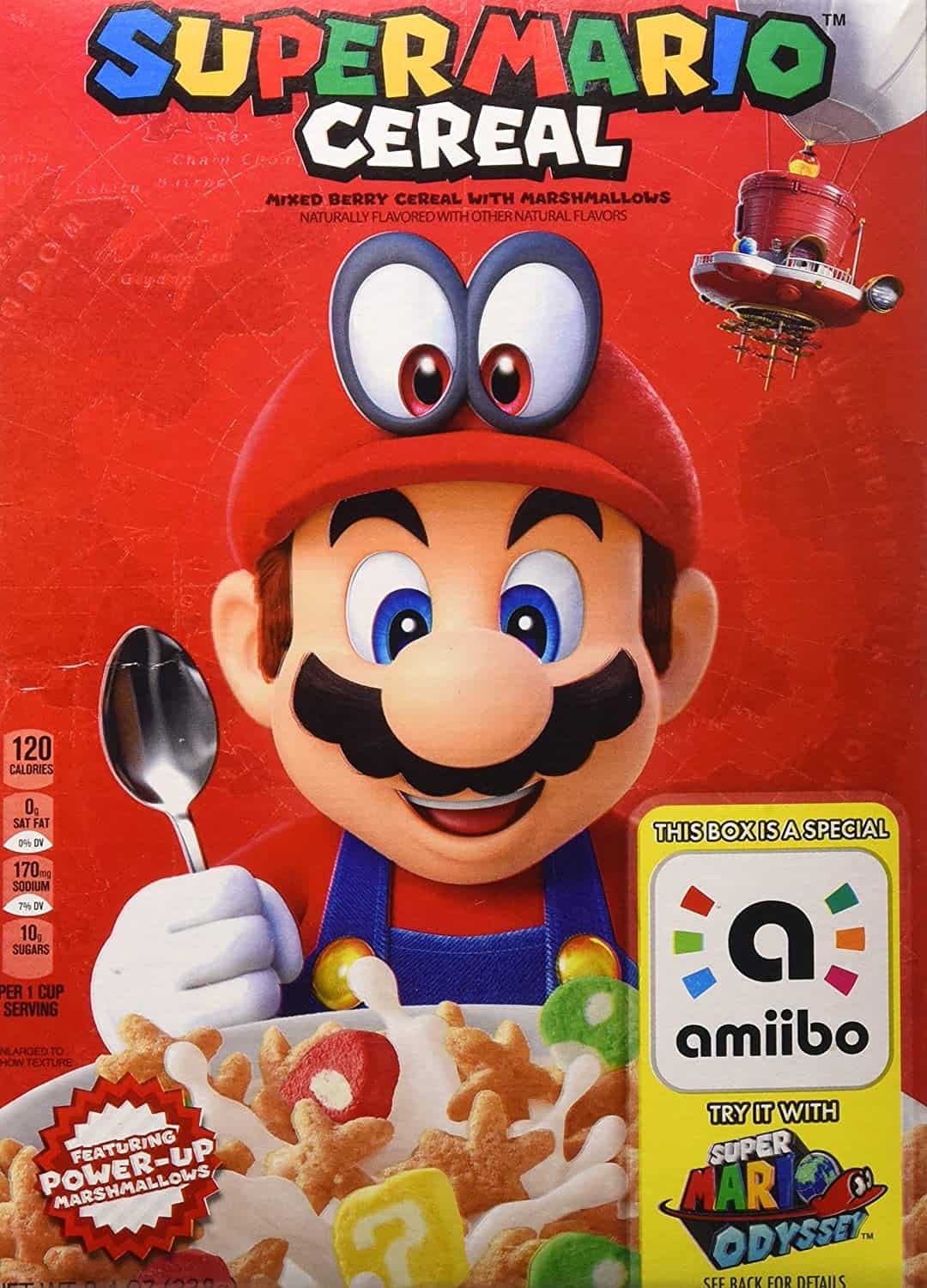 Video games and cereal crossovers make sense for some reason, so it was only a matter of time until everyone's favorite Italian plumber found his way into a cereal box.
Nintendo announced this collaboration with Kellogg's in 2017 to coincide with the release of Super Mario Odyssey Adventure. Super Mario Cereal combines cereal pieces made of whole-grain oat flour and rice flour with tasty mixed berries flavor power-up marshmallows in the shape of 1UP mushrooms, Question Blocks, and Mario's Cap.
A box of Kellogg's Super Mario cereal would even double as an 'amibo,' a wireless item or figurine that can be used to access video game content.
Super Mario cereal is a delightful low-fat breakfast high in fiber and a range of minerals and nutrients. A great snack you can enjoy with or without milk first thing in the morning, after school, or as a quick power-up before game time.
Let's take a look inside the box!
Nutrition Facts

A 1 cup serving of Kellogg's Super Mario cereal (32g) contains:
Calories – 120/160 with skimmed milk
Total fat – 1g/2% RDA
Saturated fat – 0g
Trans fat – 0g
Polyunsaturated fat – 0g
Monounsaturated fat – 0g
Cholesterol – omg
Sodium – 170mg/7%RDA
Potassium – 55mg/2%
Total carbohydrate – 27g/9% RDA
Dietary fiber – 3g/12% RDA
Sugars – 10g
Protein – 2g
Vitamin A – 10% RDA
Vitamin C – 25% RDA
Calcium – 0% RDA
Iron – 25% RDA
Vitamin D – 10% RDA
Thiamin – 25% RDA
Riboflavin – 25% RDA
Niacin – 25% RDA
Vitamin B6 – 25% RDA
Folic acid – 25% RDA
Vitamin B12 – 25% RDA
Zinc – 10% RDA
Ingredients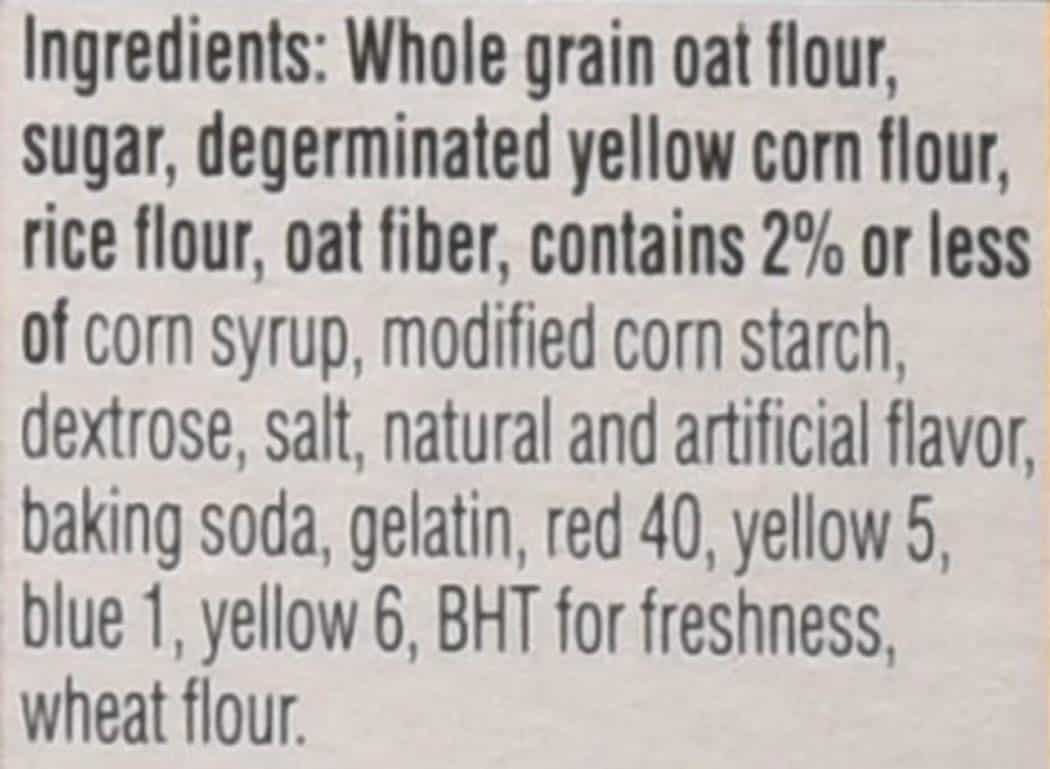 Whole grain oat flour
Sugar degerminated yellow cornflour
Rice flour
Oat fiber
Contains 2% or less corn syrup
Modified corn starch
Dextrose
Salt
Natural and artificial flavor
Baking soda
Gelatin
Red 40
Yellow 5
Blue 1
Yellow 6
Bht for freshness
Wheat flour
Is Super Mario Cereal Healthy?
Kellogg's Super Mario breakfast cereal is low in fat, with only 1g of total fat per serving and zero saturated fat. One bowl of Super Mario contains only ten calories from fat.
The whole grains used to make the cereal pieces contribute towards a serving's generous 12% of your fiber RDA. Whole grain has also been shown to contribute toward solid gastrointestinal function and promote good heart health.
However, it is high in sugar, containing 2.5 tsp of sugars per serving. Sweet cereals like this are often heavily processed to create such great-tasting grains. Furthermore, marshmallows have several artificial colors, posing a risk of allergic reactions, hyperactivity in children, and cancer.
The controversial additive BHT (butylated hydroxytoluene) is also present. Used to preserve foods containing oils and fats, some studies have shown it to be carcinogenic and best avoided.
Is Super Mario Cereal Gluten-Free?
These gluten-friendly crops are two of the three kinds of grain used in Kellogg's Super Mario breakfast cereal, rice flour and whole-grain oat flour. However, wheat flour does contain gluten. The inclusion of this third grain means that this cereal is unsuitable for celiacs or people observing a gluten-free diet.
Is Super Mario Cereal Vegan?
The marshmallows in Kellogg's Super Mario breakfast cereal are made with gluten, a bonding agent derived from rendering animal fat, and are therefore unsuitable for a vegan diet.
Is Super Mario Cereal Keto?
A ketogenic diet requires replacing carbohydrates with fat as your body's primary energy source. This results in putting your body into a state of ketosis, where your body produces ketones as a new form of energy.
To reach ketosis, it's recommended that you keep your daily carb intake below 20g. With 27g of carbohydrate in a serving, this cereal would prevent any chance your body has of getting into ketosis for 24 hours.
Further to this, eating foods high in fat is necessary for the production of ketones. This Nintendo-themed cereal offers virtually zero fat and is not suitable for promoting ketone production, which provides energy while in ketosis.
Is Super Mario Cereal High in Protein?
A serving of Super Mario cereal contains only 2g of protein in a serving and is not what we would consider a high protein food source. That's why many parents prefer their children to have it as a treat or a snack rather than a breakfast cereal that may not provide them with the energy they need to start their day.
Is Super Mario Cereal High in Fiber?
The FDA recommends that a food qualifies as being high in fiber if it contains over 5g of fat per serving.
Kellogg's Super Mario breakfast cereal contains only 3g of fiber, 12% of your RDA, and is therefore not high in fiber, but is still a good source for helping you reach your daily quota.
Super Mario Cereal Store Brand Alternatives
If you're trying to satisfy the gamers in your home, Minecraft Creeper Crunch is an excellent alternative to Super Mario cereal. Also, a crossover between Kellogg's and a popular gaming franchise, Creeper Crunch is a similar combination of sweetened cereal pieces and tasty game-themed marshmallows.
And of course, both of these cereals are spin-offs of General Mills breakfast time classic Lucky Charms. General Mills pioneered the marshmallow and cereal blend many years ago and has kept a firm foothold on America's breakfast table.
Where You Can Buy Super Mario Cereal
Unfortunately, Kellogg's collaboration with Nintendo was a timed release to coincide with the release of Super Mario Odyssey. It went on sale in 2017 and was discontinued shortly after, and is now more of a rare collector's item with a steep price tag.
Famous Super Mario Cereal Commercials
When this cereal was released, no commercials were made to promote it. This is probably because Kellogg's relied on power-up enthusiastic game fans to go out and spread the word.
User Reviews
Review Summary
0 out of 5 stars (based on 0 reviews)
Recent Reviews
There are no reviews yet. Be the first one to write one.
Submit a Review