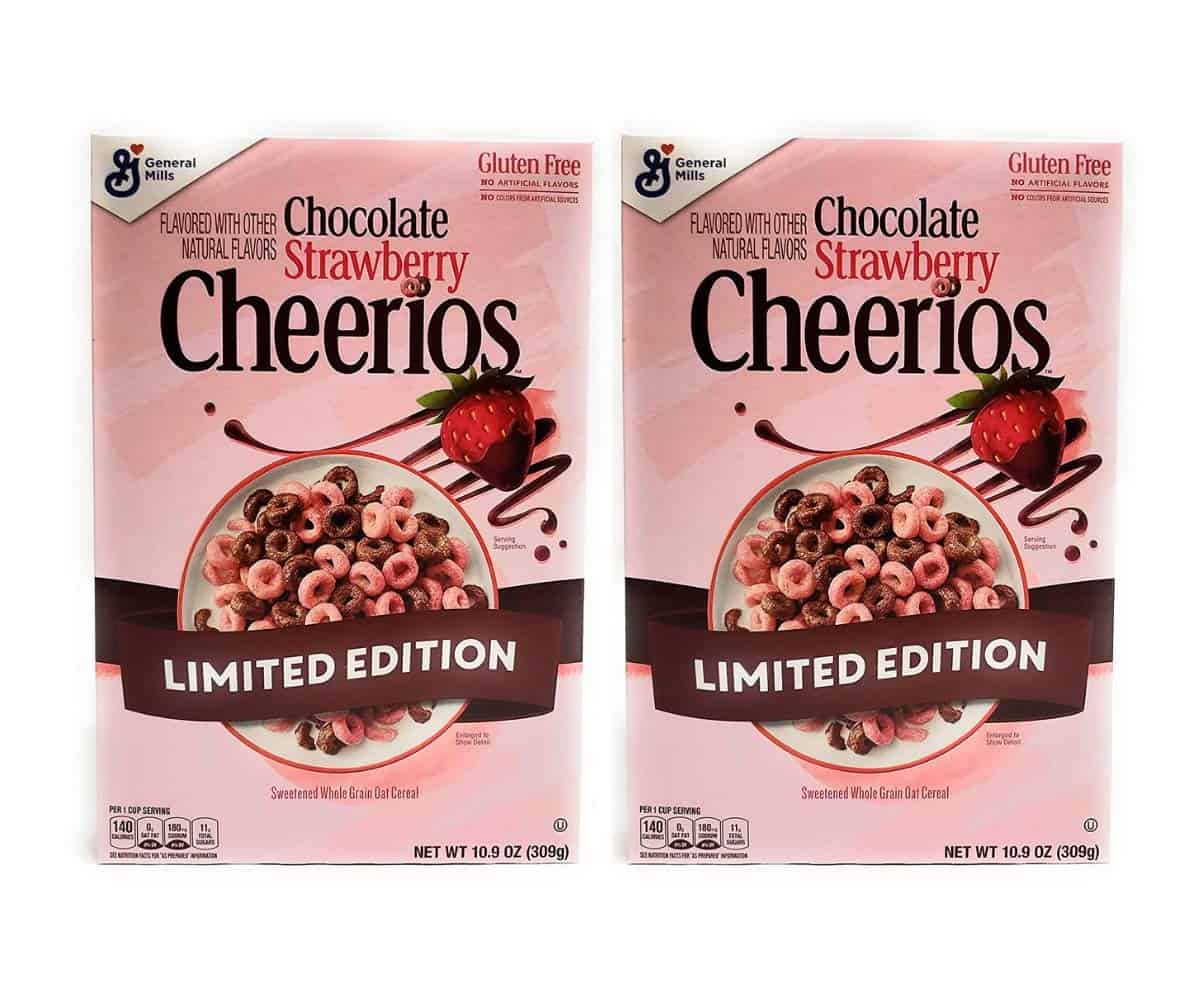 Seasonal specials are common for many products, especially cereals. Capitalizing on the seasonal spirit is a great way to drum up some excitement around your brand and get fans rushing out to buy the limited edition specials.
So in 2021, General Mills got a little romantic around Valentine's Day and decided to run a limited release of this delicious pairing of delectable strawberries dipped in rich chocolatey sauce. It's hard to think of a better combination.
This genius move combines the universally loved flavor with the classic gluten-free crunch of this whole grain oat cereal. What better way to celebrate the start of this special day with your loved one?
Let's take a quick look inside the box of this dreamy, chocolate-dipped strawberries breakfast cereal special.
Nutrition Facts

One serving of Chocolate Strawberry Cheerios breakfast cereal (36g) contains:
Calories – 140
Saturated fat – 0g
Trans fat – 0g
Polyunsaturated fat – 0.5g
Monounsaturated fat – 0.5g
Cholesterol – omg
Sodium – 180mg/8% RDA
Total carbohydrate – 29g/11% RDA
Dietary fiber – 3g/11% RDA
Total sugars – 11g
Incl. added sugars – 11g/22% RDA
Protein – 3g
Vitamin D – 2mcg/10% RDA
Calcium – 130mg/10% RDA
Iron -3.6mg/60% RDA
Potassium – 180mg
Vitamin A – 10%RDA
Vitamin C – 10% RDA
Thiamin – 20% RDA
Riboflavin – 10% RDA
Niacin – 10% RDA
Vitamin B6 – 20% RDA
Folate (45mgc folic acid) – 20% RDA
Phosphorus – 8% RDA
Magnesium – 8% RDA
Zinc – 20%
Ingredients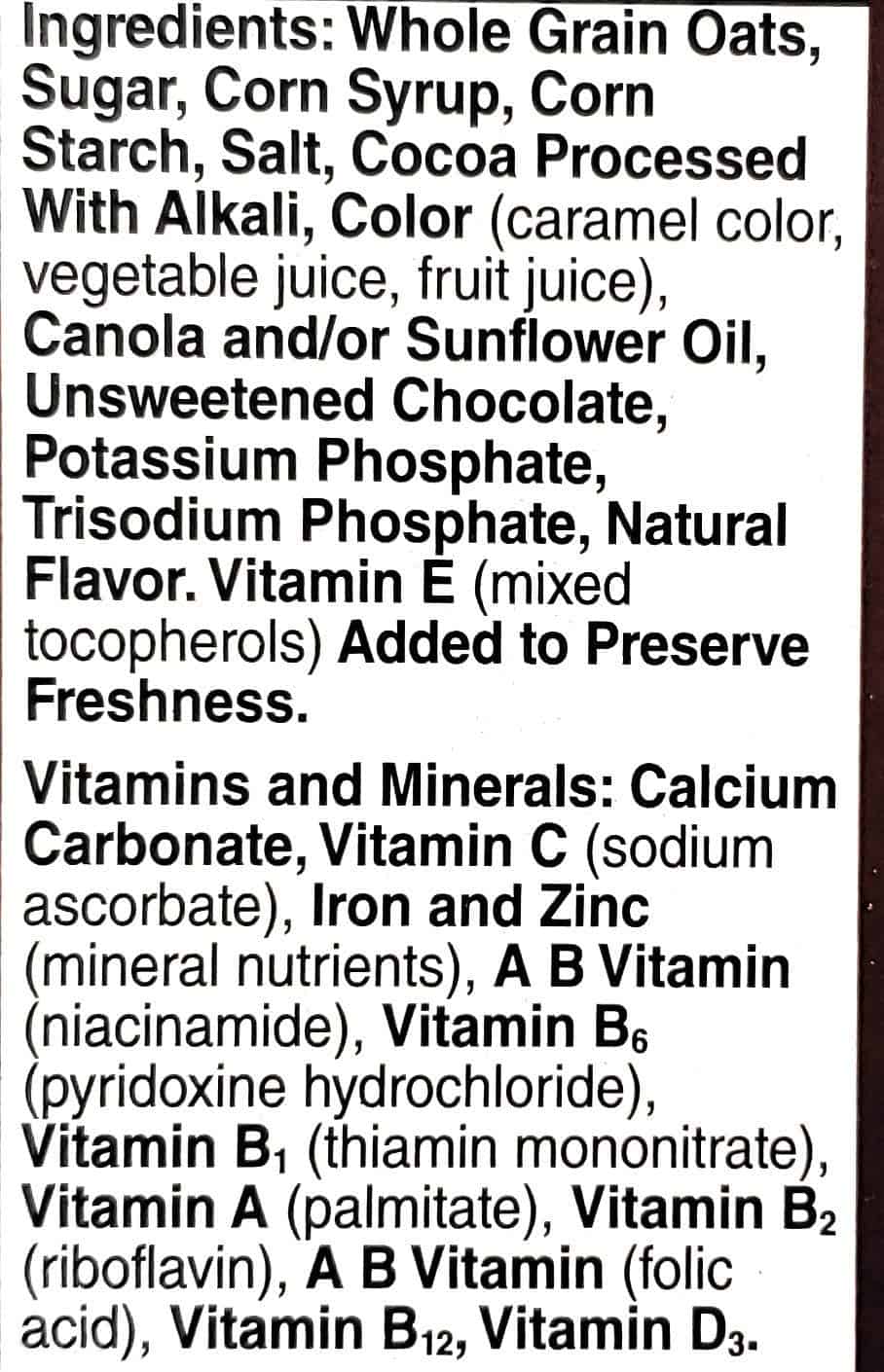 Whole grain oats
Sugar
Corn syrup
Corn starch
Salt
Cocoa processed with alkali
Color (caramel color, vegetable juice, fruit juice)
Canola and/or Sunflower oil
Unsweetened chocolate
Potassium phosphate
Trisodium phosphate
Natural flavor
Vitamin E (mixed tocopherols) is added to preserve freshness.
Are Chocolate Strawberry Cheerios Healthy?
It's wise to assume that a breakfast cereal designed to taste like chocolate-dipped strawberries is not the healthiest cereal available to us, but it's not as bad as it could be.
To start with, there are no artificial flavors or colorings in this cereal, which is a nice surprise once you see the beautiful pink color of the strawberry pieces. They're also stacked with healthy doses of vitamins and minerals.
The Cheerio formula is always very low in saturated fat and cholesterol, and there's zero of both in this cereal. So these can be a great way to eat a heart-healthy diet and keep your cholesterol low, especially with whole-grain soluble fiber, which has been proven to reduce the risk of heart disease.
For a sweet cereal, these are relatively low in sugar with only 11g, though this is still fairly high. Furthermore, at only 140 calories in a serving, you will find yourself craving more food shortly afterward, which might lead you to a second bowl! For this reason, it may be better to pour yourself a bowl of this cereal in the evening and not for lasting energy first thing.
But who are we kidding? You're not buying this breakfast cereal because you're health-conscious!
Are Chocolate Strawberry Cheerios Gluten-Free?
Made with the traditional Cheerios formula, Chocolate Strawberries Cheerios is made with whole grain oats, a gluten-free grain and suitable for those with a gluten-restrictive diet.
Are Chocolate Strawberry Cheerios Vegan?
Cheerios Chocolate Strawberry contains no obvious animal products. However, it's wise to use discretion when it comes to cereals if you're trying to follow an ethical diet.
Are Chocolate Strawberry Cheerios Keto?
A ketogenic, or keto, the diet focuses on cutting out carbohydrates as your main energy source and relying on fat instead, which will induce a state called ketosis where your body creates ketones as an alternative, long-lasting energy source.
Chocolate Strawberry Cheerios contain 29g of carbohydrate in each serving; it's recommended to consume less than 20g daily to enable your body to reach ketosis. They also contain zero fat which is crucial to ketone production.
Therefore, this cereal is unsuitable for a keto diet.
Are Chocolate Strawberry Cheerios High In Protein?
This breakfast cereal contains 3g of protein, so it is very low on protein and not a good way to help meet your daily requirements.
Are Chocolate Strawberry Cheerios High In Fiber?
The FDA's guidelines say that for a food to be high in fiber, it has to have more than 5g of fiber per serving. This breakfast cereal only contains 3g, so it's not quite high in fiber, but it's a good way to contribute to reaching your daily intake.
Chocolate Strawberry Cheerios Varieties
It's almost cruel to discuss a cereal that is no longer available and may not be available again unless General Mills catches the lovebug, so let's look at some alternatives that we can still buy.
Multi-Grain Cheerios with Real Strawberries – A new addition to the permanent Cheerios family, this takes classic multi-grain Cheerios and throws in a bunch of dried strawberries, so you get that wholesome crunch with the taste of juicy berries. The gluten-free multi-grain O's also provide 100% of 9 vitamins and minerals.
Chocolate Peanut Butter Cheerios – Another extra special combo that the good folks at General Mills decided to keep permanently. Think all the peanutty, chocolatey flavor of Reese's Puffs but the nutritional profile of gluten-free Cheerios.
Chocolate Strawberry Cheerios Store Brand Alternatives
As this was such a limited release and shows no sign of coming back, it is unlikely that you will find a close alternative to such a short-lived cereal.
Where You Can Buy Chocolate Strawberry Cheerios?
As they were only a timed release in 2021, you can no longer purchase Chocolate Strawberry Cheerios, so you'll just have to imagine how good they must have tasted!
Famous Chocolate Strawberry Cheerios Cereal Commercials
There were no commercials for Chocolate Strawberry; we can assume this might've been because it was only a seasonal timed release, and they didn't feel the need to advertise.
User Reviews
Review Summary
0.0 out of 5 stars (based on 0 reviews)
Recent Reviews
There are no reviews yet. Be the first one to write one.
Submit a Review