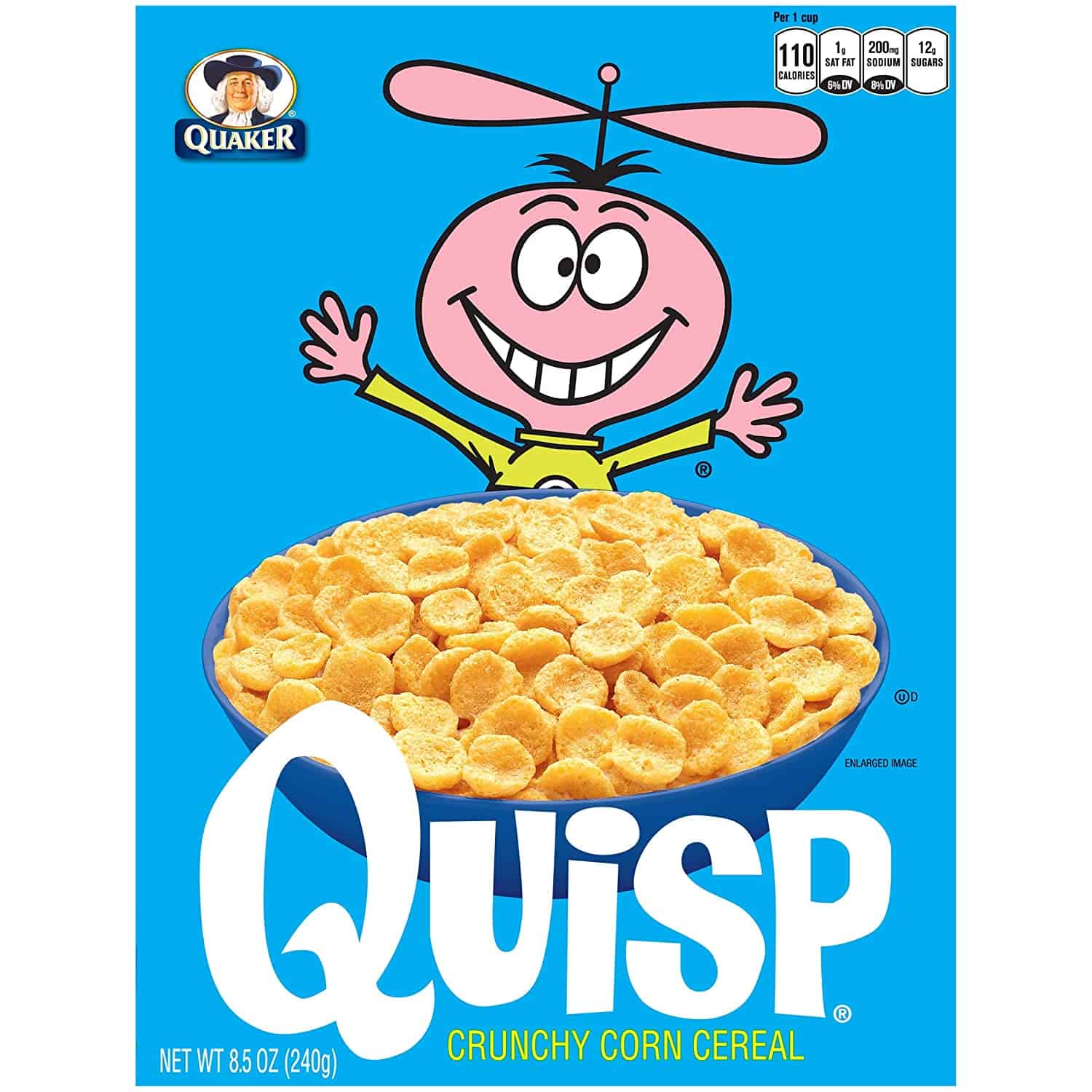 Quisp crunchy corn cereal was first introduced in 1965 by the Quaker Oats company and has been a favorite cereal ever since for both children and adults. It was once voted as "the greatest breakfast cereal of all time" and is known for its saucer shape and crispy flavor.
It is also known as "Quazy Energy Cereal," and it promotes itself as an excellent source of the seven essential vitamins.
Nutrition Facts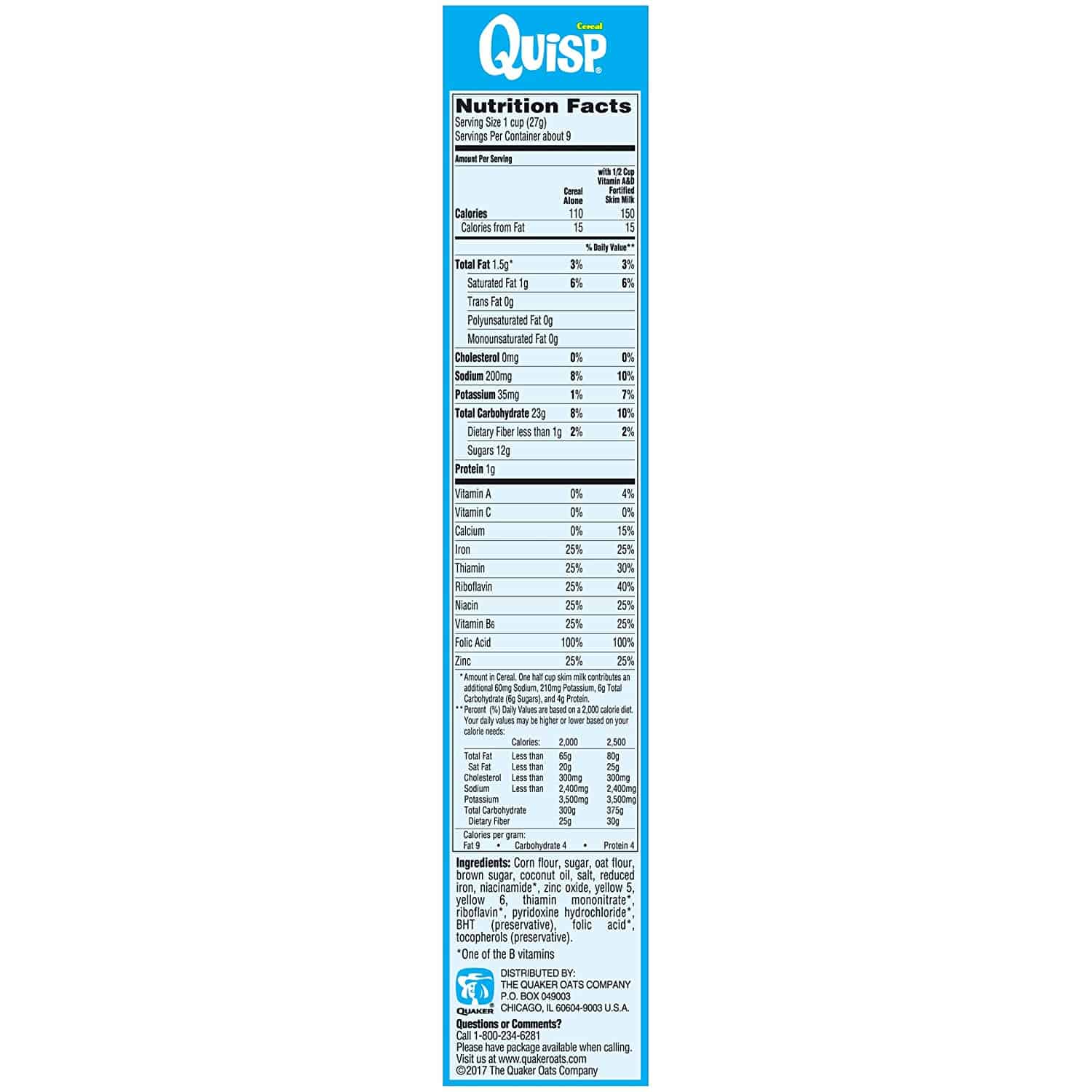 1-1/4 of a cup (43g) of Quaker Quisp cereal contains the following:
Calories – 170
Total fat – 2.5 grams/3% DV
Trans fat – 0 grams
Saturated fat – 2 grams/9% DV
Monosaturated fat – 0 grams
Polyunsaturated fat – 0 grams
Sodium – 310mg/14% DV
Cholesterol – 0mg/0% DV
Total carbohydrates – 37 grams/13% DV
Total sugars – 19 grams
Dietary fiber – <1 gram/3% DV
Protein – 2 grams
Vitamin D – 0 mcg
Calcium – o mg/0% DV
Iron – 8.2mg/45% DV
Potassium – 60mg/0% DV
Thiamine – 0.5mg/40% DV
Riboflavin – 0.7mg/50% DV
Niacin – 4.8mg/30% DV
Vitamin B6 – 0.5mg/30% DV
Folate – 240mcg/60% DFE
Folic acid – 150mcg
The Daily Value (DV) percentages above are based on a daily diet of about 2000 calories.
You can get about six servings from a 240-gram box of Quaker Quisp cereal.
The cereal is cholesterol-free and low fat.
Ingredients
These are the following ingredients you'll find in Quisp, Quaker's crunchy corn cereal:
Whole-grain out flour
Corn flour
Sugar
Brown sugar
Coconut oil
Salt
Reduced iron
Tocopherols (this is what keeps the cereal fresh for a reasonable amount of time)
Niacinamide (a form of vitamin B3)
Thiamine mononitrate (a form of vitamin B1)
Pyridoxine hydrochloride (vitamin B6)
Riboflavin
Folic acid
Is Quisp Cereal Healthy?
Quisp is known for being a delicious cereal rather than a healthy cereal. A healthy cereal generally has about 10 grams of protein, whereas Quisp only has two grams. A single serving of Quisp contains 12 grams of sugar, so nearly half of the cereal is sugar.
Quisp also contains 310 mg of sodium, and the less sodium a cereal has, the better. You should look for cereals with less than 140 mg in a serving, so according to these stats, Quisp is not the healthiest choice.
Is Quisp Cereal Gluten-Free?
Quisp does not contain any wheat ingredients in it. However, gluten could still be in the cereal due to cross-contamination. If the facility where Quisp is made produces products that have gluten in them, then there will likely be traces of it in Quisp. So Quisp doesn't contain any ingredients with gluten, but it may not be 100% gluten-free.
If you are looking for a gluten-free option, then Cheerios is an excellent choice!
Is Quisp Cereal Vegan?
Quisp cereal is vegan friendly if we look at the main list of ingredients as it does not contain any animal products.
Is Quisp Cereal Keto?
The cereal does fall within the keto diet guidelines as it contains about 25 grams of carbohydrates. But under a keto diet, most sources say that you should be eating less than 50g of carbohydrates a day.
So you should consider what else you've eaten that day or what you are going to eat. Quisp makes up for half of your allowed carb intake for the day and won't leave room for much more.
Is Quisp Cereal High in Protein?
Cereal generally has about 2.4 grams of protein in one cup. Whereas Quisp cereal only has one gram of protein in a cup, this is generally lower than most other cereals. So no, Quisp cereal is not very high in protein.
If you want a high-protein cereal, we suggest Bran Flakes (11g of protein per serving).
Is Quisp Cereal High in Fiber?
According to nutritionists, for a cereal to be considered high in fiber, it should contain 5 grams or more per serving. Quisp cereal only has about one gram of fiber per serving, making it relatively lower than what is recommended.
The Institute of Medicine states that women need about 25 grams of fiber daily, and men need about 38 grams. So if you want to meet the daily requirements, we suggest Nature's Path Organic Smart bran or FiberOne Original. They contain 10 grams and 14 grams of fiber, respectively.
Quisp Cereal Varieties
There are no varieties, but there have been in the past. But Quaker Oats released a sister cereal called Quake cereal. The cereal came in the shape of small gears and had the same great taste as Quisp. It was discontinued in 1972 as Quisp won the vote as the best cereal between the two.
Quake cereal also released Quangaroos, an orange-flavored cereal. However, it also got discontinued in 1976. People still seemed to prefer the original saucer-shaped Quisp cereal they came to love!
Quisp Cereal Store Brand Alternatives
Quisp cereal has a taste similar to Cap'n Crunch and is the closest alternative. Some other options include Corn Chex, Corn Flakes, or Corn Pops.
Where You Can Buy Quisp Cereal
You can buy Quisp cereal from various retail giants like Walmart– you'll find it in the cereal aisle alongside the likes of Cap'n Crunch. It is also available on Amazon and from the Quaker official website if you can't find it in your local grocery store.
Famous Quisp Cereal Commercials
The Quaker Oats Company had some iconic and memorable commercials. When they released Quake, Quisps rival, they had various commercials for the battle of the breakfast bowls, and kids had to pick their favorite. One commercial was called "Save Little Nell from the ravenous wolves," and it came out in the 1960s.
Quake had big biceps, a cape, and yellow hair, and Quisp came from outer space in a spaceship. The two of them would try to help any person in distress. In this particular commercial, they had to save Nell from the wolves. Nell had to choose which cereal she'd rather eat, ending with a cliffhanger. Kids had to watch the commercial to find out which one won!
User Reviews
Review Summary
0 out of 5 stars (based on 0 reviews)
Recent Reviews
There are no reviews yet. Be the first one to write one.
Submit a Review