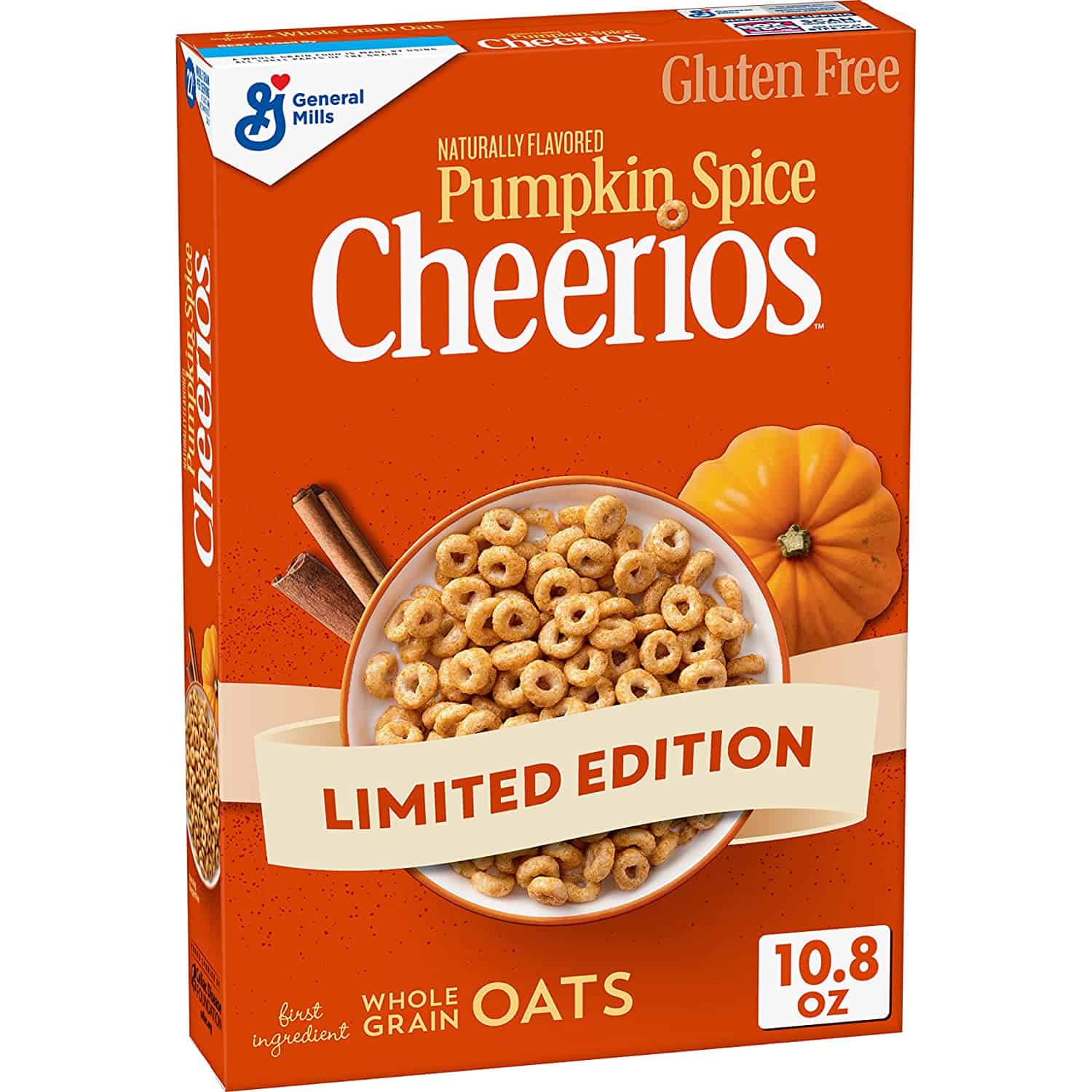 Since 1941 when Cheerios were first introduced, General Mills has regularly released permanent and limited edition varieties of this classic cereal. From Toasted Coconut to Peach, they've done it all.
Temporary, seasonal releases are a great way to get people excited about your product, especially around Halloween when our sweet teeth are in overdrive. It made perfect sense when Pumpkin Spice Cheerios were released in 2016.
It's hard to think about Halloween and Fall without thinking of everything coming with a pumpkin spice twist, so these crunchy O's, flavored with real pumpkin puree, cinnamon, cloves, and nutmeg, fit right in. They're like a slice of pumpkin pie in your cereal bowl.
Let's look inside the box and get excited for when the spooky season rolls around!
Nutrition Facts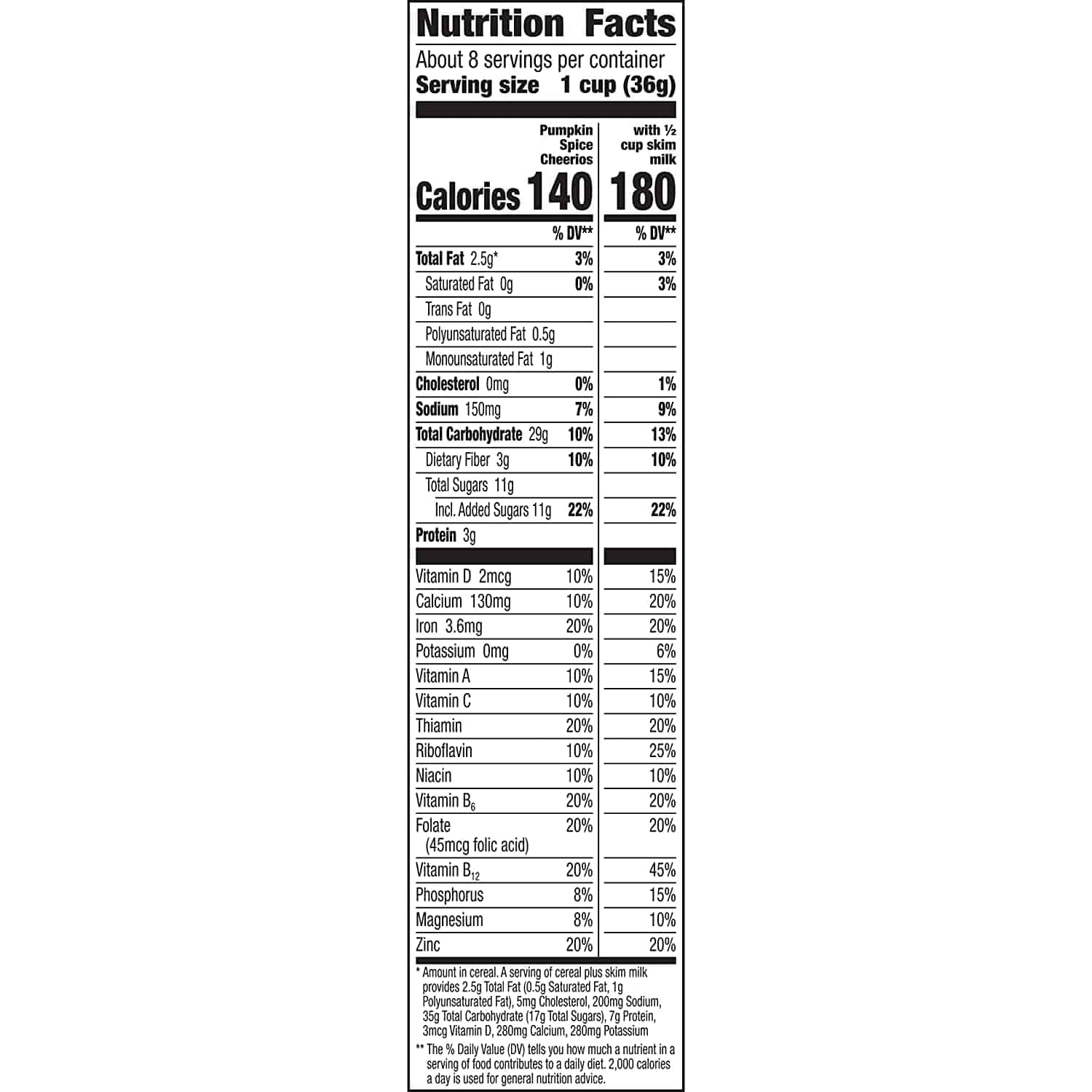 A serving of Pumpkin Spice Cheerios Cheerios breakfast cereal (36g) contains:
Calories – 140
Total fat – 2.5g/6% RDA
Saturated fat – 0g/
Trans fat – 0g
Polyunsaturated fat – 0.5g
Monounsaturated fat – 1g
Cholesterol – omg
Sodium – 150mg/7% RDA
Total carbohydrate – 29g/11% RDA
Dietary fiber – 3g/11% RDA
Total sugars – 11g
Incl. added sugars – 11g/17% RDA
Protein – 3g
Vitamin D – 2mcg/10% RDA
Calcium – 130mg/10% RDA
Iron -3.6mg/20% RDA
Potassium – 160mg
Vitamin A – 90mcg/10%RDA
Vitamin C – 90mcg/10% RDA
Ingredients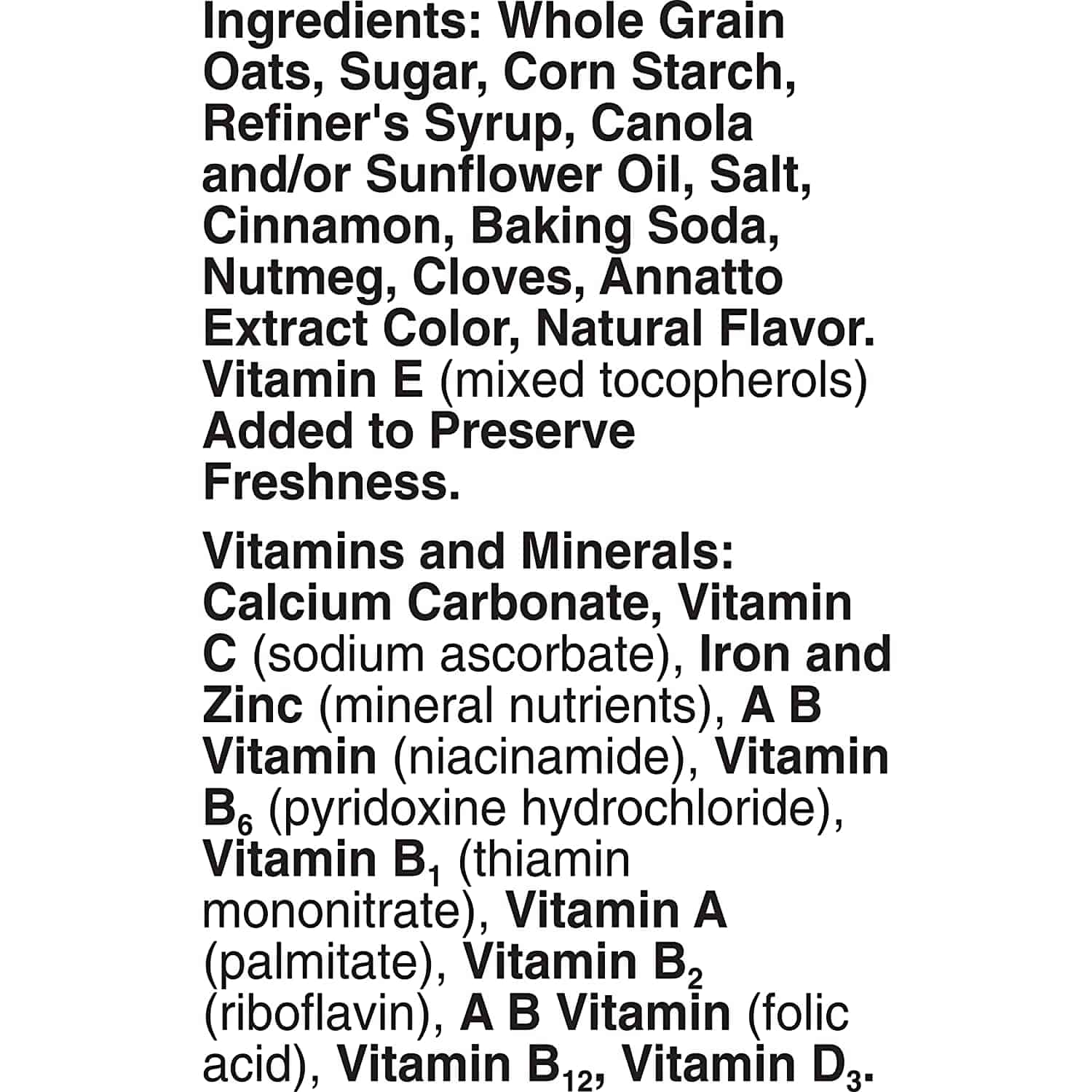 Whole grain oats
Sugar
Corn starch
Canola oil
Salt
Pumpkin puree
Refiner's syrup
Corn syrup
Cinnamon
Trisomy phosphate
Nutmeg
Cloves
Annatto extract color
Natural flavor, vitamin E (mixed tocopherols) Added to preserve freshness
Calcium carbonate
Zinc and iron (mineral nutrients)
Vitamin c (sodium ascorbate)
A vitamin (niacinamide)
Vitamin b(pyridoxine hydrochloride)
Folic acid
Are Pumpkin Spice Cheerios Healthy?
Sweeter varieties of Cheerios are a healthier choice than lots of other popular sweet cereals as they never use artificial flavors or colors. Most cereals rely on these for their sweet taste and bright colors, so it's nice that Cheerios stick to their guns without sacrificing flavor.
You also get 3g of healthy whole grain oats in each serving, which is a great way to take on soluble fiber. There's also no fat or cholesterol in a single serving, so they're great on a low-fat diet.
This combination of high fiber and low fat and cholesterol has been proven to lower your cholesterol and lower the risk of heart disease, making them great for a heart-healthy diet.
However, at only 140 calories per serving, these will not fill you up for very long. Though there are complex carbohydrates in this cereal, a 140-calorie level will only keep you full for a short time until you're hungry again and craving another bowl. For this reason, they don't make a great breakfast, but make for a great late-night treat to end your day.
Are Pumpkin Spice Cheerios Gluten-Free?
Pumpkin Spice Cheerios are gluten-free as they only use whole grain oats, a gluten-free grain, making them suitable for anyone observing a gluten-restricted diet.
It's always important to read labels. Cheerios boxes will not always carry the Gluten Free label, though there are many varieties that do. In this case, it's because they are not suitable for gluten intolerance. This will be in products that use other grains as well as oats.
Are Pumpkin Spice Cheerios Vegan?
There are no animal products listed in the ingredients of Pumpkin Spice Cheerios, so they are compatible with people observing an ethical diet.
Are Pumpkin Spice Cheerios Keto?
A keto diet involves restricts the use of carbohydrates as the main source of energy and uses fat instead. This creates a state called ketosis, where your body produces a long-lasting energy source known as ketones.
To achieve ketosis, you must consume less than 20g of carbohydrates a day. Pumpkin Spice Cheerios contain 29g of carbohydrate in a serving, which will prohibit the body's ability to reach ketosis, so they are not suited to keto.
As well as this, the fat intake needs to be very high while observing keto, so your body has the energy to produce ketones. With zero fat of any sort, this cereal gives your body no fuel to enter ketosis.
As a rule of thumb, if you are observing keto, it is wise to avoid breakfast cereals as they are generally high in sugar and very low in fat.
Are Pumpkin Spice Cheerios High In Protein?
Pumpkin Spice Cheerios contain only 3g of protein in a 36g serving, meaning less than 10% of a serving is protein. These are very low levels, making these a poor source of protein.
Are Pumpkin Spice Cheerios High In Fiber?
For a food to be classified as high fiber, the FDA recommends that it contains 5g of fiber per serving.
Generally, unless a special variety, a standard box of Cheerios will contain 3g of fiber, which means it's technically not a high fiber food but still a solid way to top up your daily values.
Pumpkin Spice Cheerios Varieties
With this warming pumpkin pie treat only available for a few weeks out of the year, you're going need to other Cheerios to keep you going until the spooky season and that natural pumpkin flavor comes back around, so let's have a look at other Cheerios varieties that are on offer.
Honey Nut Cheerios – A pantry staple, this classic combination is America's most popular cereal. The sweet simplicity of honey and almonds appeals to kids and adults alike. They're gluten-free, low in fat and cholesterol so that they can be eaten as part of a heart-healthy diet, and they're fortified with 12 vitamins and minerals.
Cinnamon Cheerios – A perfect replacement for Pumpkin Spice. Take a few of the extra spices out, and you're left with this sweet, warming combination that's big on whole grain and low on fat.
Pumpkin Spice Cheerios Store Brand Alternatives
Sadly, as pumpkin is usually a once-a-year season special, you are unlikely to find a store-brand variety of pumpkin cereals.
Where You Can Buy Pumpkin Spice Cheerios?
During Fall, you will be able to find Pumpkin Spice Cheerios in a reputable grocery store or online.
Famous Pumpkin Spice Cheerios Cereal Commercials
There have been no commercials for Pumpkin Spice Cheerios.
User Reviews
Review Summary
0 out of 5 stars (based on 0 reviews)
Recent Reviews
There are no reviews yet. Be the first one to write one.
Submit a Review