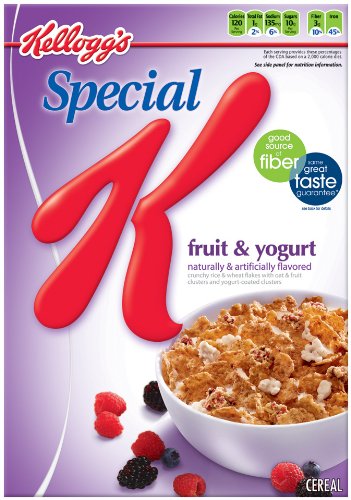 Special K Fruit & Yogurt is a popular variety of Kellogg's classic Special K cereal. It features crunchy rice, yogurt clusters, and a great fruity taste. It's marketed as a healthy alternative to other, sugary breakfast cereals, and it certainly does have a few health benefits.
As it's high in fiber and contains quite a lot of vitamins, it can form part of a well-balanced diet. But, it does still pack a fair bit of sugar and may not be the best choice to have for breakfast every day. It's always important to know the key facts about the food that you eat.
So, just how healthy is Special K Fruit & Yogurt?
Nutrition Facts
One serving (32g) contains:
Calories – 160
Total Fat – 1g
Salt – 140mg/6%
Potassium – 50mg
Carbohydrates – 27g
Sugar – 10g
Fiber 3g/12%
Protein – 2g
Vitamin A – 180ug
Vitamin B6 – 0.5mg
Vitamin B12 – 0.8ug
Vitamin C – 21mg
Vitamin D – 1.5ug
Thiamine – 0.5mg
Riboflavin – 0.5mg
Niacin – 7mg
Folate – 140ug
Ingredients
Whole grain wheat, rice, sugar, whole grain oats, and wheat bran, corn syrup, salt, palm kernel oil, dried apples, brown sugar syrup, rice flour, nonfat milk, natural flavors, nonfat yogurt powder (cultured nonfat milk; heat-treated after culturing), mixed tocopherols for freshness, wheat, citric acid, molasses, vegetable juice for color, modified corn starch, lactic acid, honey, soy lecithin, barley malt extract, malt flavor, spice, BHT for freshness.
Vitamins and Minerals: Reduced iron, vitamin C (ascorbic acid), niacinamide, vitamin E acetate, beta-carotene, vitamin B6 (pyridoxine hydrochloride), vitamin B1 (thiamin hydrochloride), vitamin B2 (riboflavin), folic acid, vitamin D3, vitamin B12.
Is Special K Fruit & Yogurt Cereal Healthy?
Kellogg's Special K Fruit and Yogurt is certainly healthy in some aspects, due to the fact it contains nonfat yogurt powder, dried apples, wheat flakes, and fruit clusters. However, it does also contain 10 grams of sugar per serving, which is quite a large amount, potentially because of all the yogurt balls.
Though it is low fat, brown sugar syrup and corn syrup are certainly not the healthiest of sweeteners, and this cereal contains both. It doesn't have as much sugar as many of your other sweet, favorite cereal though, and uses natural flavors.
It's also low in sodium (salt) and does provide a good amount of vitamins in each serving. One bowl will provide you with around 25% of your recommended daily Vitamin D intake.
Is Special K Fruit & Yogurt Cereal Gluten-Free?
Kellogg's Special K Fruit and Yogurt isn't considered gluten-free as it contains barley malt extract, which is used to give its distinctive malt flavor. This means it should be avoided by people with celiac disease and those that have an intolerance to gluten.
Is Special K Fruit & Yogurt Cereal Vegan?
Special K Fruit and Yogurt isn't vegan as it contains several ingredients that are sourced from animals. It contains cultured nonfat milk and yogurt, which are both dairy products. One of the cereal's ingredients is honey, which is not considered vegan as the bees are smoked out of the hive.
Vitamin D3, another ingredient, comes from sheep's lanolin, so is also non-vegan.
Is Special K Fruit & Yogurt Cereal Keto?
This cereal is not keto as it contains 27 grams of carbohydrates in a serving. The recommended daily amount of carbs for a keto diet is between 20 to 30 grams, so after one serving of Special K Fruit and Yogurt, you wouldn't be able to eat any more carbs for the rest of the day.
It also contains a fairly high amount of sugar, as well as honey, which raises the blood sugar level and can prevent your body from going into ketosis.
Is Special K Fruit & Yogurt Cereal High in Protein?
Protein is an important part of a healthy lifestyle because it serves as the chemical building block used to make muscle and bone. It's recommended that adults eat between 46 and 56 grams of protein a day.
Special K Fruit & Yogurt only contains around 2 grams of protein per serving. So, if you choose to have this cereal for breakfast you'll need to make sure you're getting lots of protein from other foods throughout the day.
Is Special K Fruit & Yogurt Cereal High in Fiber?
Fiber is particularly important for the digestive system and also keeps you feeling full for longer after eating. In diets that contain high amounts of carbohydrates, it helps to keep the blood sugar levels from getting too high, and so it's a key ingredient for a healthy lifestyle.
The recommended daily amount of fiber for females is between 21 to 25 grams, and for men, it's between 30 and 38 grams.
Special K Fruit & Yogurt contains 3 grams of fiber in each serving, which is about 12% of the recommended daily intake. This makes it a good breakfast choice for those on a high-fiber diet. It could be a fairly healthy and delicious way for you to aid your digestion throughout the day.
Special K Fruit & Yogurt Cereal Store Brand Alternatives
Currently, Kellogg's has pretty much cornered the market with this cereal and most stores don't yet offer their alternatives. The exception is Walmart, which has created Fruit & Yogurt Awake.
It contains wheat bran, yogurt balls, and real fruit. It also has a similar vitamin and fiber content to Special K Fruit & Yogurt.
Where You Can Buy Special K Fruit & Yogurt Cereal
Special K Fruit & Yogurt is available in many grocery stores and is also available to purchase online from such retailers as Amazon, Walmart, and Target.
Famous Special K Fruit & Yogurt Cereal Commercials
Like the other Special K varieties, this cereal has mostly been marketed by Kellogg's as a healthy alternative to other sugary breakfast options. The idea is that it's supposed to help you lose weight and stay in good shape, whilst still tasting great.
You can sense that message in this commercial from 2007.
In the commercial, two office workers take a moment to each have a bowl of Special K Fruit & Yogurt. The man in the commercial comments specifically on the ingredients, such as the yogurt balls and fruit. The woman focuses on the fact that the cereal makes her feel good.
At the end of the commercial, the advertising slogan 'feelin' good never looked better' appears on the screen. This clearly shows that this cereal is targeted toward health-conscious people.
User Reviews
Review Summary
0 out of 5 stars (based on 0 reviews)
Recent Reviews
There are no reviews yet. Be the first one to write one.
Submit a Review