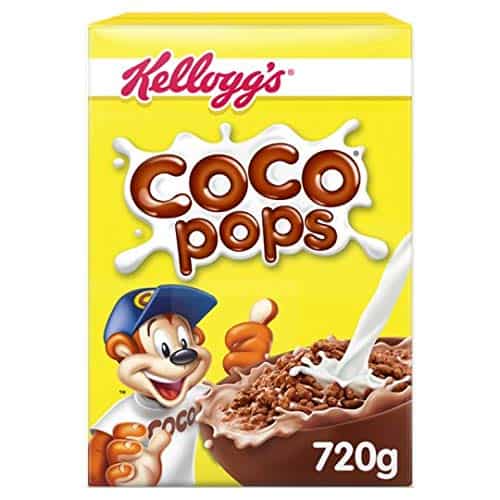 Kellogg's Coco Pops has been a family favorite in the United States since they first appeared in 1958. They're made with cocoa powder and toasted rice puffs, which gives them their distinct taste and texture.
Since 2018, they've had 30% less sugar than they did previously, and they still don't contain any artificial sweeteners. This means they're very low in sugar for a chocolate-flavored cereal.
Adults love them for their cocoa taste, and kids love the fact that they turn the milk in their bowl chocolatey brown. They're still beloved today and can form part of a good diet, for both children and adults.
Nutrition Facts
One serving (30g) of Coco Pops contains:
Calories – 116
Fat – 0.6g/1%
Saturated Fat – 0.3g/2%
Carbohydrate – 25g
Fiber – 1.1g
Protein – 1.9g
Salt – 0.2g/3%
Vitamin D – 2.5ug/50%
Thiamin (B1) – 0.27mg
Riboflavin (B2) – 0.36mg
Niacin – 4.0mg
Vitamin B6 – 0.36mg
Folic Acid – 49.8ug
Vitamin B12 – 0.63ug
Iron – 2.4mg
Ingredients
The ingredients in this serial include:
Glucose Syrup
Sugar
Fat Reduced Cocoa Powder
Rice
Cocoa Mass
Salt
Barley Malt Extract
Flavorings
Vitamins and Minerals:
Iron
Niacin
Vitamin B6
Riboflaving
Thiamin
Folic acid
Vitamin D
Vitamin B12
Is Coco Pops Cereal Healthy?
Kellogg's Coco Pops contains 116 calories and 5.1g of sugar in a serving which is pretty low for a chocolate-flavored cereal. They're also low in fat with just 0.3g of saturated fat per serving. This is partly because they now contain a fat-reduced cocoa mass.
If you have Coco Pops for breakfast you'll be getting 50% of your reference intake of Vitamin D for the day, as well as six other vitamins and 17% of the iron you need.
Vitamin D is important as it helps your body to absorb calcium and then use it to create healthy, normal bones.
So, if eaten as part of a balanced diet they are pretty healthy when compared with other breakfast cereals.
Is Coco Pops Cereal Gluten-Free?
Kellogg's Coco Pops is not gluten-free as it contains barley malt extract. It should be avoided by anyone who has celiac disease or gluten intolerance.
Is Coco Pops Cereal Vegan?
This cereal contains Vitamin D, meaning it is not considered to be vegan. Vitamin D3, which has been used to fortify this product, is sourced from lanolin, which is an animal product. The lanolin is sourced from sheep without killing them, meaning the cereal is vegetarian, but not vegan.
Coco Pops may contain milk as well which would also make them non-vegan.
Is Coco Pops Cereal Keto?
Coco Pops should be avoided if you're on a keto diet. The recommended intake of carbohydrates to keep your body in ketosis is between 20 and 30 grams per day.
This cereal contains 25 grams of carbs per serving, so you wouldn't be able to ingest any more carbohydrates for the rest of the day after one serving.
Coco Pops also contain 5.1 grams of sugar per serving which may stop your body from entering ketosis.
Is Coco Pops Cereal High in Protein?
The recommended daily amount of protein for an adult is between 46 and 56 grams. Coco Pops only contains 1.9 grams in each serving, so they are pretty low in protein.
This cereal is made using toasted rice, but other cereals that are made with grains or oatmeal often have a much higher protein content.
So, if you're looking for a cereal to complement a high protein diet, then Coco Pops may not be the best choice.
Is Coco Pops Cereal High in Fiber?
Getting enough fiber in your diet is an important part of living a healthy lifestyle. It helps to keep you feeling full after a meal, and aids in good digestion. Fiber also helps to keep your blood sugar levels down, especially if you consume a lot of carbohydrates.
It's recommended that the average adult male eats between 30 and 38 grams of fiber a day. For the average adult female, 21 to 25 grams a day is recommended.
Kellogg's Coco Pops contains just 1.1 grams of fiber per bowl, which is low. If you choose to eat this cereal for breakfast, you'll need to make sure you're getting lots of fiber from other sources throughout the day.
Coco Pops Cereal Varieties
There are several different varieties of Coco Pops now available, which differ from the original recipe which first appeared in 1958.
Coco Rocks: multi-grain cereal pillows and chocolate maize cereal. Although it's not made with the classic, toasted rice this cereal still has the same great chocolatey taste as the original.
White Choc Coco Pops: a new take on the original milk chocolate flavor. Made with toasted rice, but coated in white chocolate instead.
Coco Pops Snack Bars: a toasted rice cereal and milk bar for when you're on the go.
Where You Can Buy Coco Pops Cereal
You can purchase Coco Pops in most big grocery stores, and also online at retailers' websites, such as Walmart and Amazon. Contacting retailers directly might also help you in finding this product quickly.
Famous Coco Pops Cereal Commercials
As a product, Coco Pops has had lots of famous and memorable commercials over the years. In the UK the marketing slogan 'I'd rather have a bowl of Coco Pops' became well-known, and Kellogg's became renowned for their fun commercials, aimed at kids, that featured cartoon characters.
In this classic commercial, from 1996, a hippo attempts the world's highest jump into a pool but loses his nerve. The day is saved by Coco the Monkey, the cereal's mascot, who fills the pool with milk and Coco Pops.
In a more recent commercial, from 2018, Kellogg's promotes the fact that its new recipe now means that Coco Pops has 30% less sugar than previously.
Coco the Monkey stars again, this time as a CGI character, and battles a reptile on the side of a volcano, before escaping by parachute. The commercial demonstrates the evolution of Kellogg's marketing campaign in the 21st century.
User Reviews
Review Summary
0 out of 5 stars (based on 0 reviews)
Recent Reviews
There are no reviews yet. Be the first one to write one.
Submit a Review