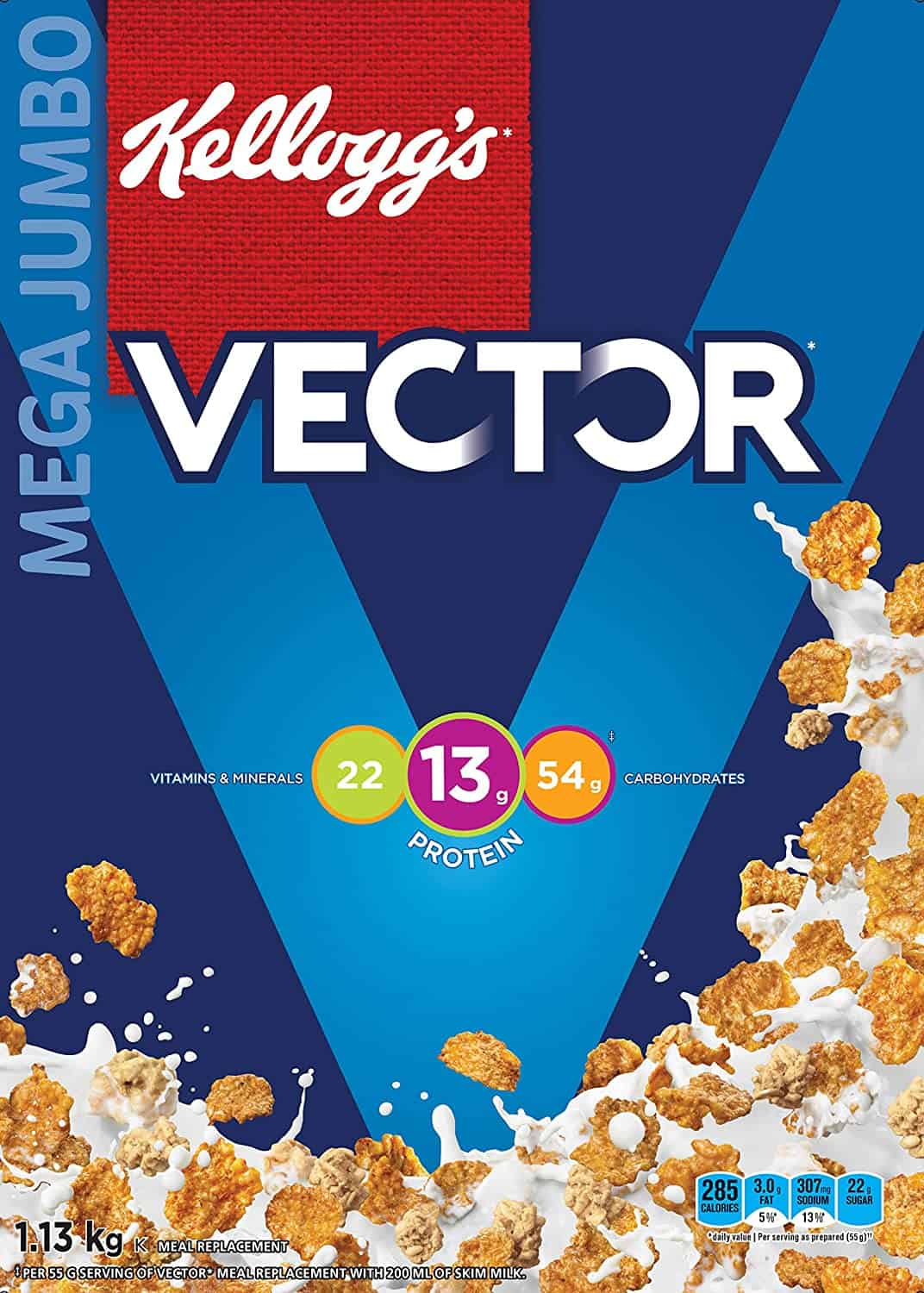 Kellogg's Vector cereal comes in three different varieties: maple crunch, granola clusters, and, probably its most well-known form, a meal replacement cereal. This article will focus on the Kellogg's Vector meal replacement cereal, made up of flakes and granola clusters, and will explore just how nutritious the cereal is.
Later on, we will touch on the other varieties of Vector cereal that are on the market too.
Nutrition Facts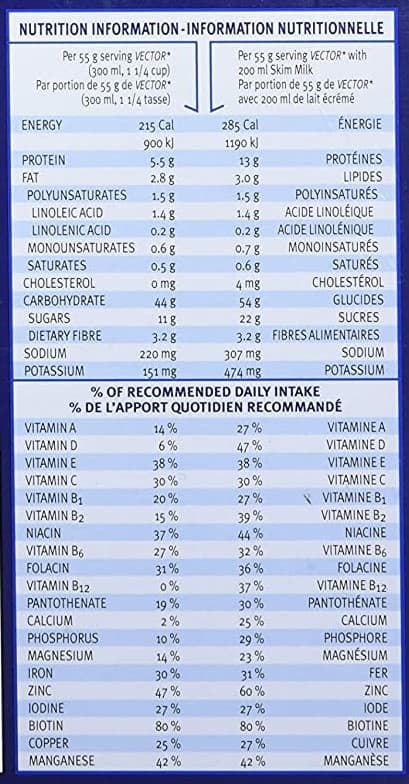 According to the official Kellogg's website, one portion of Vector meal replacement cereal contains 54 g of carbohydrates, a satisfactory source of protein, and 22 other vitamins and minerals.
1 NLEA serving (55g) without skim milk contains:
Calories – 219
Total Fat – 2.7 g
Polyunsaturated Fat – 1.3 g
Monounsaturated Fat – 0.5 g
Carbohydrate – 45 g
Dietary Fiber – 3.3 g
Sugars – 12 g
Protein – 5.7 g
Sodium – 212 mg
Potassium – 175 mg
Ingredients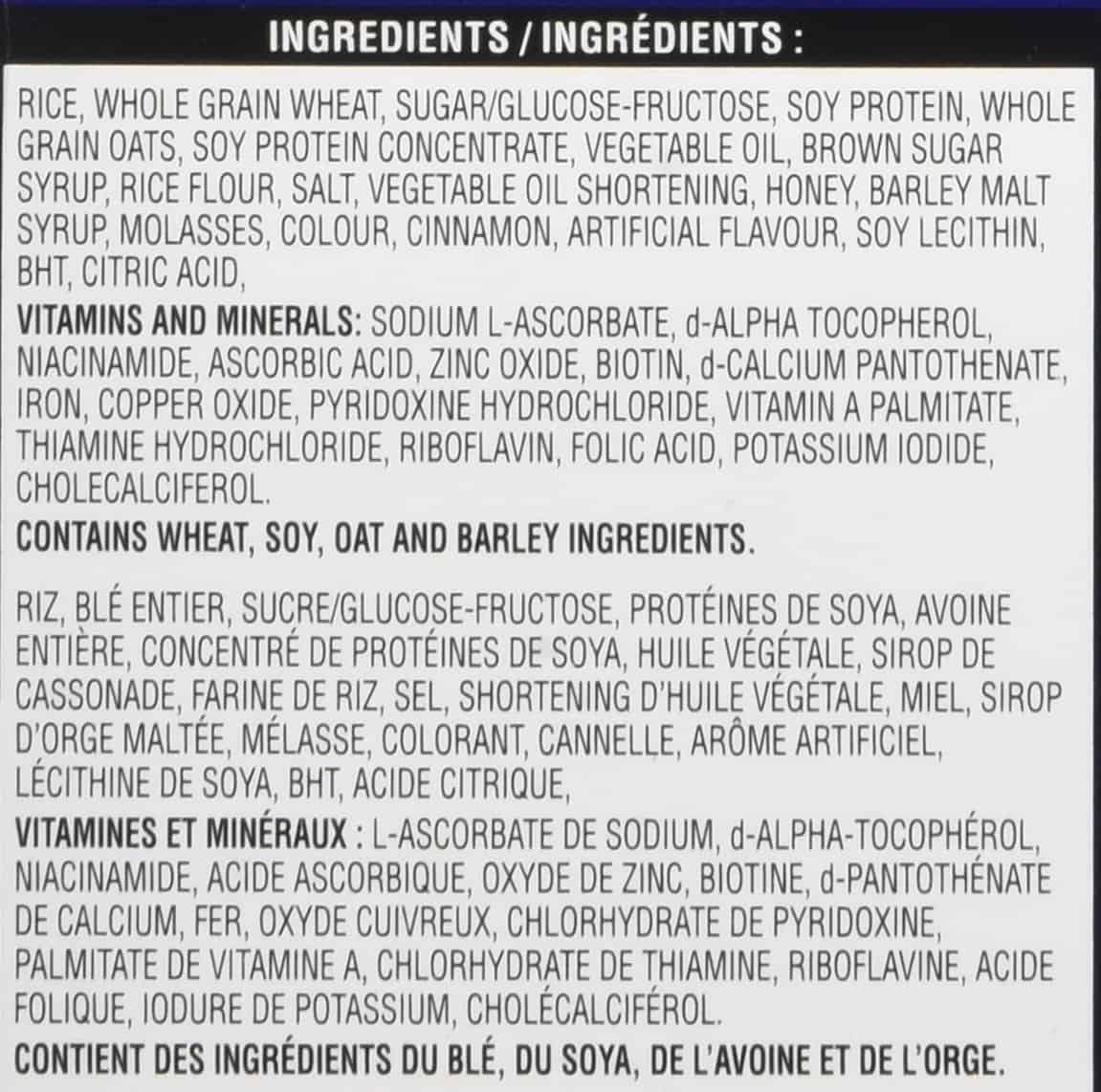 The long list of ingredients in the meal replacement cereal are as follows:
Rice
Whole grain wheat
Sugars (sugar, corn syrup, blackstrap molasses, honey, malted barley syrup)
Roasted soybeans
Vegetable oil
Soy protein concentrate
Whole grain oats
Rice flour
Salt
Natural flavor
Wheat flakes
Cinnamon
Baking soda
Soy lecithin
Mixed tocopherols (for freshness)
Vitamins and minerals:
Ascorbic acid (vitamin C)
Dicalcium phosphate
Magnesium oxide
Niacinamide
Zinc oxide
Biotin
Iron
D-calcium pantothenate
Potassium iodide
Vitamin A palmitate
Manganese sulfate monohydrate
Copper oxide
Pyridoxine hydrochloride (vitamin B6)
Riboflavin
Thiamine hydrochloride
Folic acid
Cholecalciferol (vitamin D3)
Is Vector Cereal Healthy?
There are many aspects of this crunchy cereal that makes it a healthy option, as it contains a wide amount of vitamins. For a start, it is a good source of fiber, making up 9% of a male's ideal daily fiber intake and 11% of females.
Because of the amount of added vitamins and minerals, the great-tasting crunchy flakes can be considered a nutritious option. One portion of Vector meal replacement cereal contains a desirable amount of biotin, folate, iodine, manganese, vitamins C and E, and zinc.
The great-tasting crunchy flakes are also a good source of protein, with each serving of cereal containing the equivalent amount that one whole egg can provide. The meal replacement cereal is also low in fat, with no traces of cholesterol with each serving.
Unfortunately, it is not all good news. Each serving contains a high amount of sugar, which may make it taste nice and sweet, but it is not good for your health. Out of the 44 grams of carbohydrates in one bowl, 11 grams are simple added sugars.
It's the same story with salt. One portion without milk has 220mg of sodium, a high percentage of one's daily guideline amount.
All in all, if you follow the correct portion size, then the meal replacement cereal is not a bad choice as it can provide you with vitamins and minerals. Furthermore, if you choose skim milk over full-fat milk, it makes the meal overall more nutritious.
Is Vector Cereal Gluten-Free?
Vector meal replacement is not gluten-free.
Is Vector Vegan?
Kellogg's chooses not to label any of their cereals vegan or vegetarian. According to Kellogg's, this is because there are varying definitions of vegetarianism and veganism, and they encourage their customers to inspect the product labels themselves to see if it is suitable for their personal diet before eating some.
From a broad perspective, however, the product does not seem to be vegan, as it does contain honey and vitamin D3 (cholecalciferol).
Is Vector Keto?
There is no Kellogg's Cereal box that is suitable for those on a keto diet, unfortunately. Despite the health benefits of the flakes and granola clusters combined, the amount of carbs is simply too high and will put somebody on a keto diet out of ketosis.
Is Vector High in Protein?
Absolutely, with each 55g of the cereal served with 200ml of skim milk, you will find 13g of protein in the Vector meal replacement. Not bad!
Is Vector High in Fiber?
Yes, the meal replacement is high in fiber. For women, one portion contains 11% of the guideline daily amount of fiber, and for men, a bowl contains 9%.
Vector Cereal Varieties
Besides the meal replacement, there are two other types of cereals on the market, Granola, and Maple Crunch.
Vector Granola Honey Almond Flavour
Despite being delicious as a treat or snack with its honey and crunchy almond sweetness, the Granola clusters are also great for breakfast, with a good source of protein with 20g per portion. With 1/2 cup of skim milk, the granola clusters come to a total of 340 calories and provide 20% of your daily fiber intake.
It's popular to eat Kellogg's Vector Granola with Greek yogurt and fresh fruit, and it is overall very filling and will provide you with energy to keep you going the whole day.
Vector Maple Crunch Cereal
If you have a particularly sweet tooth, then the brand's Maple Crunch Cereal might be your new favorite breakfast choice! Out of all of the Kellogg's Vector varieties, this is the product with the least amount of nutrition, offering 10g of protein and 14g of whole grain per portion.
That being said, the taste of the crunchy maple pieces can be too hard to resist for some, and it does contain 11 vitamins and minerals, so it is not all bad for you.
Where You Can Buy Vector
You can find Kellogg's Vector products at your nearest supermarket and on Amazon.
Famous Vector Commercials
According to Jeff Chatterton, senior brand manager at Kellogg Canada, when the cereal was first launched by the company, it was aimed toward high-performance athletes. This can be seen in their commercials, which showed sportsmen and women pushing themselves to the limit and achieving their goals.
The emphasis was put on the high quantity of nutrients and carbs that the cereal could give you so that you could 'fuel up' and excel at your chosen activity.
More recently, the company has chosen to promote the product to a wider audience in order to appear more accessible. This included the launch of their Maple Crunch product. Their more current commercials show slightly more average individuals consuming Kellogg's Vector and then going out and playing a range of sports from soccer to baseball.
User Reviews
Review Summary
0.0 out of 5 stars (based on 0 reviews)
Recent Reviews
There are no reviews yet. Be the first one to write one.
Submit a Review