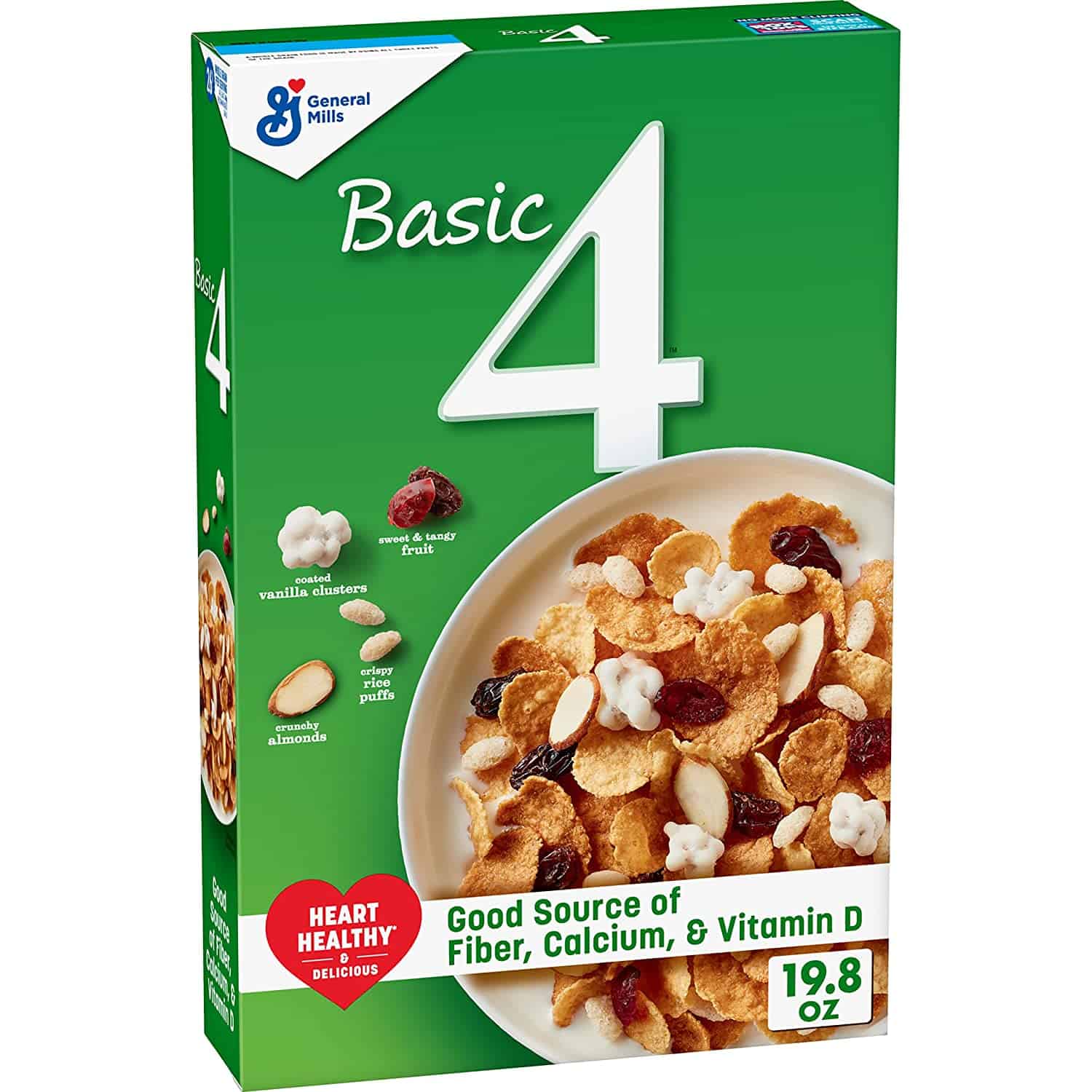 Basic 4 is anything but a basic choice for your breakfast cereal.
Brought to you by General Mills, Basic 4 is a perfect blend of a wholesome variety of sweet and tangy fruits, coated vanilla clusters, crispy rice puffs, and crunchy almonds. This combination is a great way to avoid sugary, sweet cereals with little nutritional value without sacrificing taste.
This wholesome variety of complex carbohydrates will provide long-lasting energy at the start of your day. The combination of crunch and chew creates a classic trail mix style cereal that goes great with milk but can also be eaten dry or with yogurt.
Basic 4 is an excellent choice for a health-conscious breakfast, with 26 grams of whole grain oats in each serving, more than half of your daily requirements, and a great source of calcium, vitamin D, and fiber.
The low fat, saturated fat, and cholesterol content are also great for those looking for a better cereal for health. Today we're going to take a look at the benefits of this great cereal.
Nutrition Facts

A 1 cup serving of Basic 4 Cereal (55g) contains:
Calories – 200
Total fat – 2g/3%
Saturated fat – 1g
Trans fat – og
Polyunsaturated fat – 0.5g
Monounsaturated fat – 0.5g
Cholesterol – 0mg
Sodium – 270mg/12% RDA
Total carbohydrate – 44g/16%
Dietary fiber – 5g/18%
Sugars – 12g/Includes added sugars – 9g
Protein – 4g
Vitamin A – 20%
Vitamin C – 0%
Calcium carbonate – 130mg/10% RDA
Potassium – 170mg/4%RDA
Iron – 3.6mg/20% RDA
Vitamin D – 2mcg/10% RDA
Thiamin mononitrate – 25% RDA
Riboflavin – 10% RDA
Niacin – 10% RDA
Vitamin B6 – 20% RDA
Folic acid – 45mcg/ -% RDA
Vitamin B12 – 20% RDA
Phosphorus – 15% RDA
Magnesium – 10% RDA
Zinc – 20% RDA
Ingredients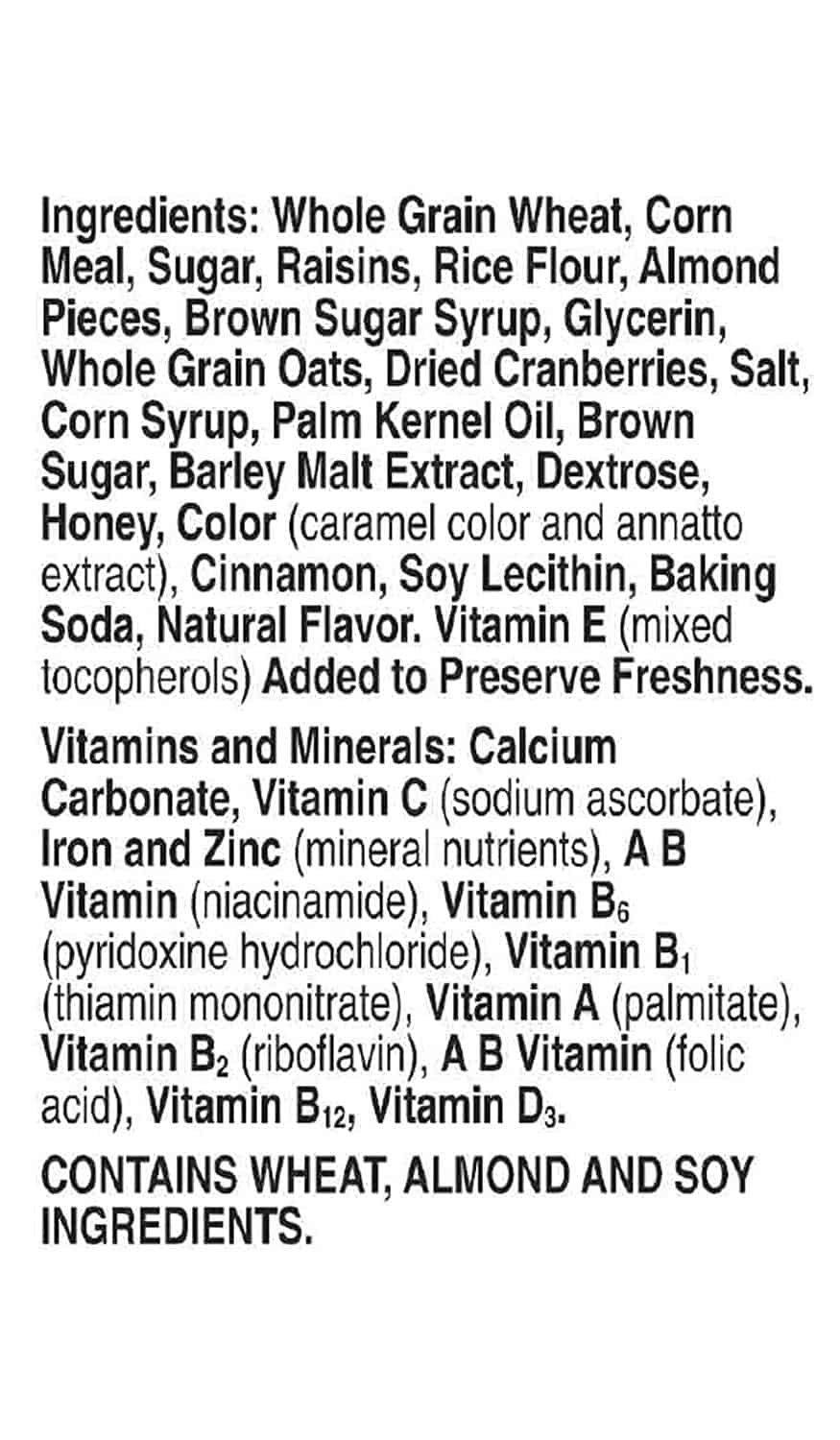 Whole grain wheat
Corn meal
Sugar
Raisins
Rice flour
Almond pieces
Brown sugar syrup
Glycerin
Whole grain oats
Dried cranberries
Salt
Corn syrup
Palm kernel oil
Brown sugar
Barley malt extract
Dextrose
Honey
Color (caramel color and annatto extract)
Cinnamon
Soy lecithin
Baking Soda
Natural flavor
Vitamin E (mixed tocopherols) added to preserve freshness
Calcium
Vitamin C (sodium ascorbate)
Iron and Zinc
A B Vitamin (niacinamide)
Vitamin B6 (pyridoxine hydrochloride)
Vitamin B1 (thiamin mononitrate)
Vitamin A (palmitate)
Vitamin B2 (Riboflavin)
A B vitamin (folic acid)
Vitamin B12
Vitamin D3
Is Basic 4 Cereal Healthy?
Basic 4 is an excellent choice for a healthy breakfast. It has no artificial colors or flavorings and contains a generous amount of whole-grain wheat, suitable for maintaining heart health. It's also stacked with mineral nutrients, including Vitamin D and Vitamin E, and is low in sugar.
Beyond this, it's naturally low in cholesterol and fat, so it's a great choice if you're hunting for a cereal suitable for a low-fat diet.
Is Basic 4 Cereal Gluten-Free?
With Basic 4s high levels of whole grain wheat, it is unsuitable for eating if you are a celiac or are following a gluten-free diet.
Is Basic 4 Cereal Vegan?
This will depend on how strict the vegan is.
Basic 4 contains honey, which is an animal product obviously, which means that some strict vegans will not be able to eat it. Some more relaxed vegans don't mind honey, so the choice is really up to you and how much you want to dedicate to your diet.
It's important to remember to read labels closely to ensure there aren't any animal products sneaking into your diet.
Is Basic 4 Cereal Keto?
A keto diet revolves around lowering your carb intake to an absolute minimum while dramatically increasing your fat intake. This encourages your body to create ketones from the fat, taking away your reliance on carbohydrates as an energy source.
To maintain ketosis, it's suggested to eat less than 20g of carbohydrates a day. The wheat, honey, and brown sugar syrup in Basic 4 contains 44g of carbohydrates and will stop any chances you have of getting your body into ketosis. It is also too low in fat to encourage the production of ketones.
Is Basic 4 Cereal High in Protein?
Basic 4 contains 4g of protein, which is medium to high as far as cereals go but not enough to be considered a high protein food.
Is Basic 4 Cereal High in Fiber?
The whole grain oats in Basic 4 are a fantastic source of fiber that can help regulate gastrointestinal function and a smooth digestion process. It is also known for its cholesterol-lowering, antidiabetic benefits, and anti-inflammatory properties.
Basic 4 Cereal Store Brand Alternatives
If you want an alternative to Basic 4, you'll want to find a cereal low in sugars, high in fiber, with a good range of vitamins and minerals that don't skimp on taste.
Magic Spoon is a healthy alternative that offers 14g of protein per serving, with only 4g of carbs. In 4 tasty varieties, unlike Basic 4, it is grain-free but gives you taste and lasting energy while delivering on nutrients.
Total cereal is another healthy alternative, guaranteeing 100% of 11 vitamins and minerals in every serving. The flakes are made with 100% wholegrain, offering 21g per serving, 16g more than Basic 4, so they're high in fiber and great for healthy hearts.
Where You Can Buy Basic 4 Cereal
Basic 4 was discontinued for a while but has returned to stores now. However, it is currently only available rarely at grocery stores. If you are craving a fix, it can be purchased easily at Walmart's online store, Target, or Amazon.
Famous Basic 4 Cereal Commercials
This fun, nostalgic commercial shows that while a healthy, clean cereal provides long-lasting energy, Basic 4 still has a great appeal because it doesn't sacrifice flavor. It has no artificial flavors or high fructose corn syrup.
User Reviews
Review Summary
0 out of 5 stars (based on 0 reviews)
Recent Reviews
There are no reviews yet. Be the first one to write one.
Submit a Review