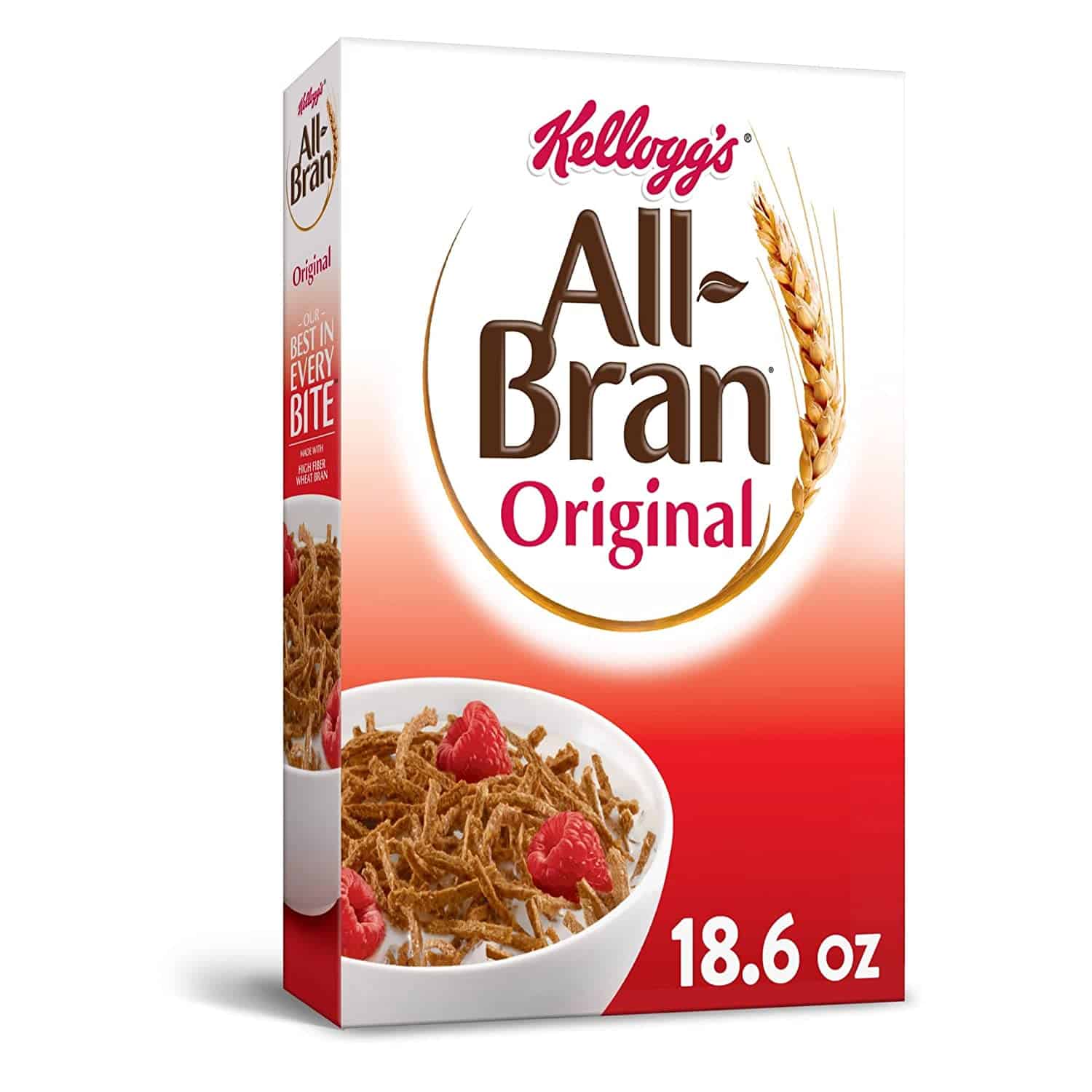 All-Bran cereal is a high fiber cereal designed for those looking to lead a healthy lifestyle and diet. The high fiber content promotes a healthy gut which helps speed up the digestion in your intestines.
Not only does it help you feel your best throughout your day, but it is also a very tasty way to start your morning off right!
Nutrition Facts
One portion (41g) of Kellogg's® All-Bran® Original Cereal contains:
Calories – 120
Total fat – 2 grams/2% DV
Trans fat – 0%
Saturated fat – 0%
Monosaturated fat – 0 grams
Polyunsaturated fat – 1.5 grams
Sodium – 95mg/4% DV
Cholesterol – 0mg/0% DV
Total carbohydrates – 32 grams/12% DV
Total sugars – 9 grams
Dietary fiber – 12 grams/44% DV
Protein – 5 grams
Vitamin D – 2mcg
Calcium – 0mg/0% DV
Iron – 4.6mg/25% DV
Potassium – 330mg/6% DV
Thiamine – 20% DV
Riboflavin – 20% DV
Niacin – 20% DV
Vitamin B6 – 20% DV
Folate – 80mcg/20% DV
Folic acid – 45mcg
Vitamin B12 – 20% DV
DV stands for daily value and refers to how much a nutrient in a single serving makes up the daily average intake.
A 750g box of Kellogg's All-bran Original cereal contains 18 servings.
Ingredients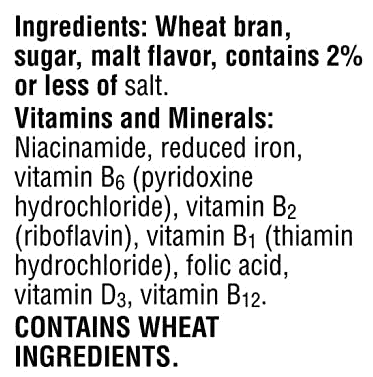 The ingredients list of Kellogg's® All-Bran® Original Cereal contains:
Wheat bran
Sugar
Malt flavor
2% or less salt
Niacinamide
Reduced iron
Vitamin B6 (pyridoxine hydrochloride)
Vitamin B2 (riboflavin)
Vitamin (thiamin hydrochloride)
Folic acid
Vitamin D3
Vitamin B12
Is All-Bran Cereal Healthy?
Yes! All-Bran breakfast cereal is one of the most healthy cereal options currently available.
It's low calorie while providing you with a large amount of fiber which is extremely important in a healthy diet. It tastes great and will keep you feeling full until lunchtime comes around.
Is All-Bran Cereal Gluten-Free?
All-Bran breakfast cereal is not gluten-free because it is a wheat-based cereal and also contains other ingredients that contain gluten.
If you have coeliac disease, then you should not consume All-Bran cereal as your body will not be able to digest the main ingredient of wheat.
Is All-Bran Cereal Vegan?
In general, a lot of the bran flake breakfast cereals are vegan; however, you should always check the list of ingredients. This is because some brands use casein or whey, which are milk proteins and therefore are not suitable for vegans.
Other things to look out for are All-Bran cereals that contain vitamin D, as this can often be derived from sheep wool.
Is All-Bran Cereal Keto?
If you are on a keto diet, then you should avoid all-bran breakfast cereal as it is extremely high in carbohydrates. If you are looking for an alternative, try to find a cereal with low net carbohydrates.
In just one portion of All-Bran cereal, there are 32 grams of carbohydrates which is something you want to avoid when on a keto diet.
On average, a keto diet means restricting your net carbohydrate intake to less than 50 grams a day and, therefore, you would be getting a huge proportion of this in a single bowl of cereal.
Is All-Bran Cereal High In Protein?
All-bran cereal is a good source of protein, containing around 5 grams of protein per serving. This is substantially higher than other types of cereal, with the average protein content per serving being just 1 gram.
This fact, in addition to the high fiber content in All-Bran cereal, adds to the high nutritional value it brings as the first meal of the day.
Is All-Bran Cereal High In Fiber?
All-Bran cereal has one of the highest-fiber contents of all the cereals currently available. With around 12 grams of fiber per serving, you'll get 44% of your daily intake of fiber in just your breakfast cereal.
Fiber is super important for maintaining a healthy gut and reducing the strain on your lower gastrointestinal tract. Not only does the cereal leave you feeling satisfied and full, but you will also promote a healthy stomach helping you to get through the day.
All-Bran Cereal Varieties
Kelloggs is probably the most dominant provider of All-Bran breakfast cereals with 3 different types to suit your preferences.
Kellogg's All-Bran Original Cereal
The classic Kellogg's all-bran original cereal is a classic cereal that has been a favorite for many generations. The high fiber content from this deliciously wholesome cereal starts your day off right, leaving you feeling satisfied and energized.
Kellogg's All-Bran Bran Buds Cereal
Kellogg's All-Bran Bran Buds Cereal offers a slightly different twist on the original All-Bran cereal, which crunchy clusters made from psyllium and wheat bran. This food contributes around 5 grams of fiber per serving.
Kellogg's All-Bran Complete Wheat Flakes Cereal
Kellogg's All-Bran Complete Wheat Flakes Cereal focuses on providing a wide range of additional nutritional ingredients, including high iron and folate, as well as 11 types of vitamins and minerals.
All-Bran Cereal Store Brand Alternatives
You can find alternative store brand bran cereal in shops that often contain similar nutritional content but at a considerably lower price, so make sure to check your local shop before opting for the well-known brand.
If you want to make bran muffins, for example, then an alternative all-bran cereal might be a good option. These alternative cereals are also great for making molasses breakfast muffins.
Where To Buy All-Bran Cereal
You can find all of your favorite all-bran cereal brands in supermarkets such as Walmart and Kroger. There are so many cereals to choose from, so make sure to have a good browse to find the best-tasting high fiber cereal.
Famous All-Bran Cereal Commercials
All bran cereal commercials date all the way back to 1952 with a black and white cartoon promoting the wholesome wheat bran cereal. Throughout the years, there have been plenty of commercials incorporating humor to advertise the product, like Kellogg's all-bran flakes advert – Tall Jan is Malicious.
User Reviews
Review Summary
5 out of 5 stars (based on 1 review)
Recent Reviews
No Title
Was a good review and helped me thanks as I'm trying to make better food choices
Submit a Review