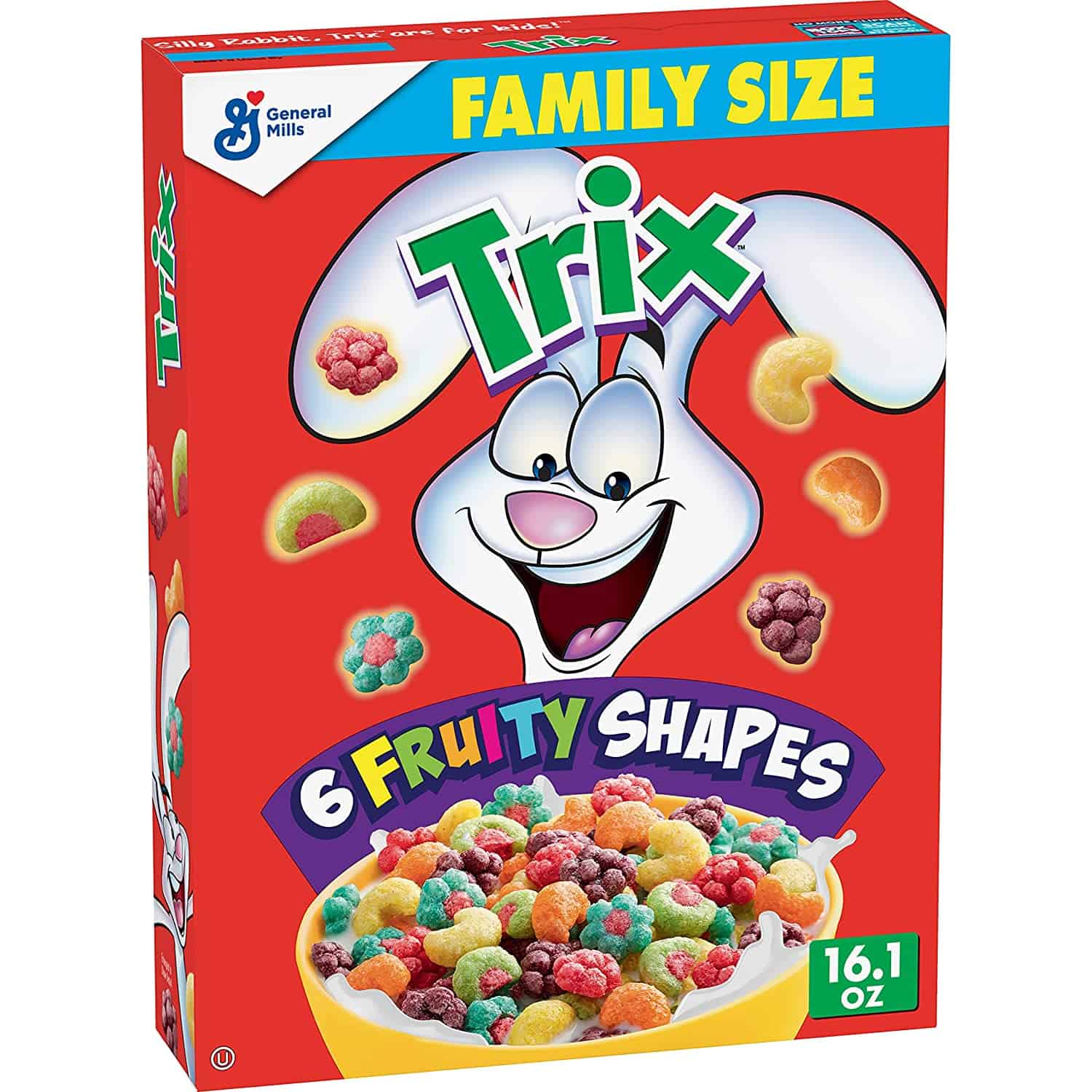 Trix is a cereal produced by General Mills, which was originally released as a sugary alternative to the company's Kix cereals. The cereal is whole grain corn-based, fruit-flavored, and currently fruit-shaped.
It is one of the oldest American breakfast cereals that is still sold today, having been first introduced in 1954. Understandably, the breakfast cereal has undergone many changes in the time since, particularly concerning its ingredient list. The sugar count has gradually decreased over the decades, as has the use of artificial flavor. The shape of the cereal has also periodically been changed from fruit shapes to puff shapes.
Have these changes improved the nutritional value of this delicious breakfast cereal? Let's find out!
Nutrition Facts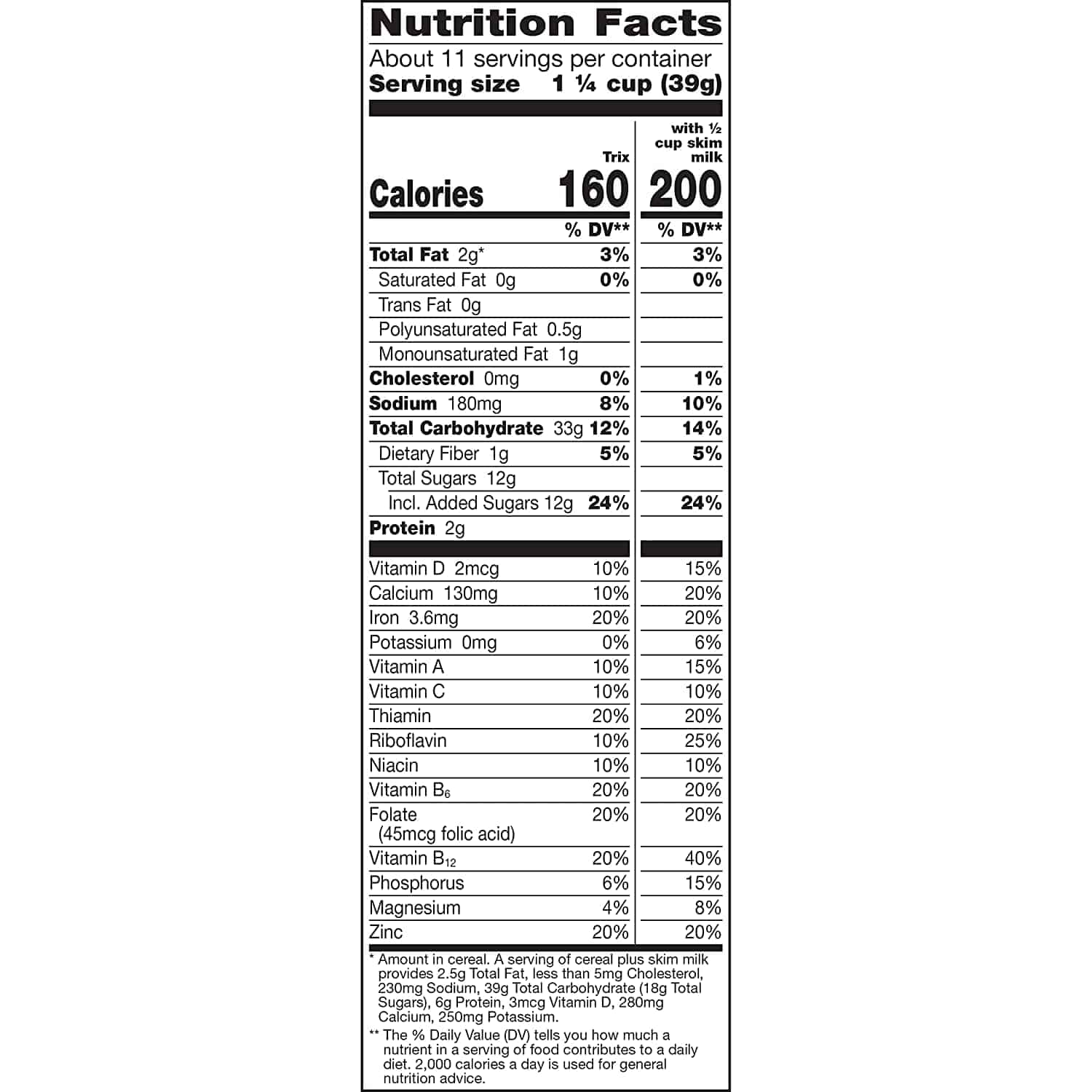 A standard 419g box of Trix normally contains 13 servings.
One cup (32 grams) of Trix contains:
Calories – 122.6
Total fat – 1.3 grams
Saturated fat – 0.2 grams
Polyunsaturated fat – 0.4 grams
Monounsaturated fat – 0.6 grams
Carbohydrates – 27.4 grams
Net carbs – 26 grams
Fiber – 1.6 grams/6% DV
Sugar – 10.2 grams
Protein – 1.6 grams
Sodium – 178.2mg/8% DV
Potassium – 54.1mg/2% DV
Calcium -100.2mg/11% DV
Iron – 4.5mg/57% DV
Magnesium – 8mg/3% DV
Phosphorus – 60.2mg/7% DV
Zinc – 3.7mg/25% DV
Thiamine – 0.4mg/26% DV
Riboflavin – 0.4mg/25% DV
Niacin – 5mg/25% DV
The above daily value is based on a diet of 2,000 calories per day.
Ingredients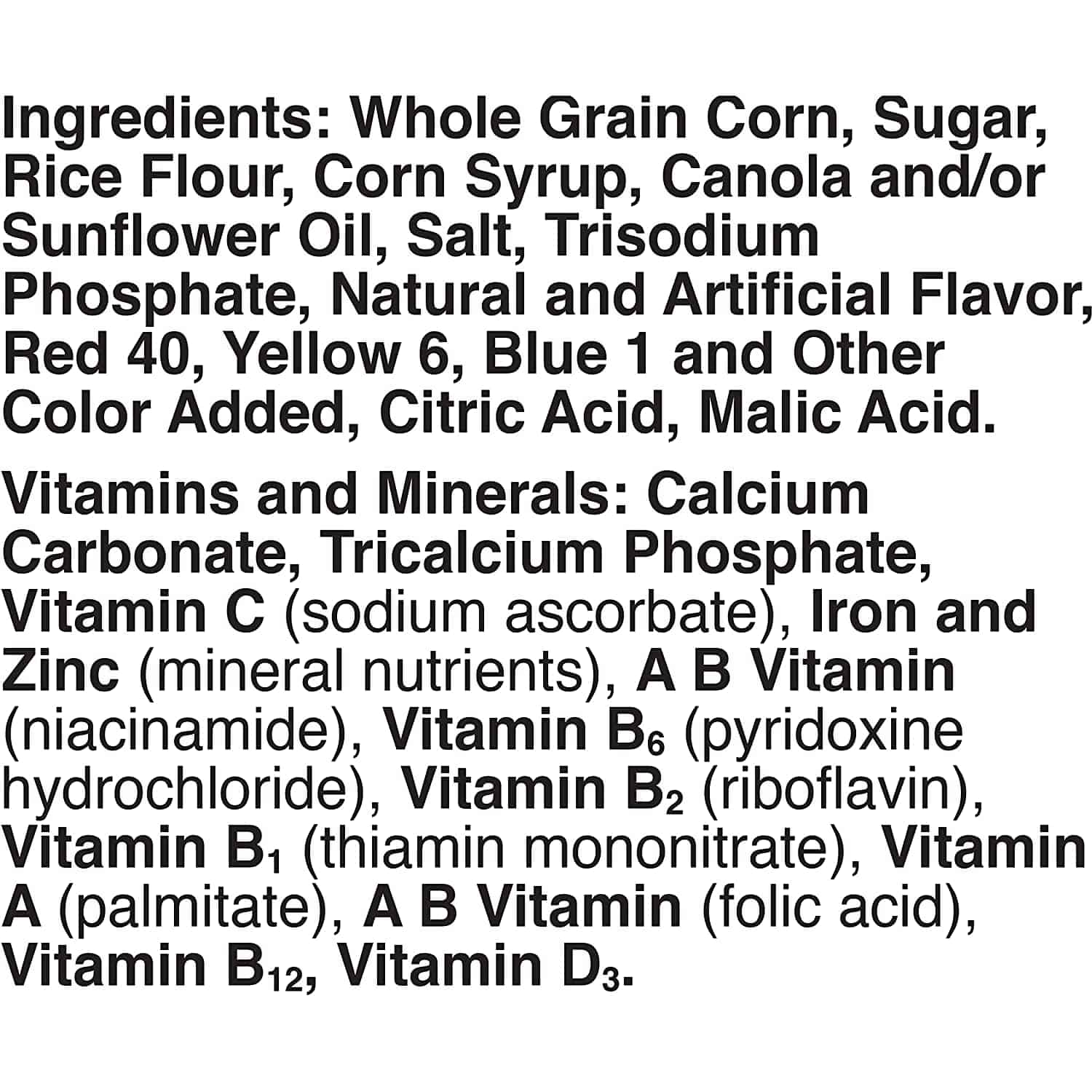 The ingredients of Trix includes:
Whole grain corn
Corn syrup
Rice flour
Sugar
Salt
Canola oil
Natural and artificial flavor
Trisodium Phosphate
Yellow 6
Red 40
Blue 1
Malic acid
Citric acid
Is Trix Cereal Healthy?
Trix is not a particularly healthy choice to consume every day. With a high sugar content of 10.2 grams per 32 grams, nearly a third of every portion of Trix is sugar. Additionally, one bowl of Trix equates to nearly half of the American Heart Association's daily sugar intake recommendations for women. This would suggest that Trix has too high a sugar count to be part of a healthy lifestyle.
In a bid to make Trix a more healthy breakfast choice, General Mills removed the artificial colors from the cereal and used natural flavorings instead. However, due to complaints, Trix reintroduced the artificial colorings in 2017. The Trix of today, therefore, is not a healthy cereal option as it remains rich in artificial flavors and dyes.
It could be argued that such ingredients as whole grain corn and rice flour add some level of health benefits to the cereal, as they contain fiber, vitamins, and mineral nutrients.
Is Trix Cereal Gluten-Free?
Trix is technically a gluten-free breakfast cereal, as it does not contain any wheat, barley, or any other gluten-rich ingredients, and instead contains whole grain corn and rice flour. However, the cereal is not labeled as being gluten-free, which suggests that General Mills cannot 100% guarantee that their product is free from gluten. This could be due to a possible risk of cross-contamination with a gluten product somewhere along the production line.
As a general rule for those suffering from celiac disease, it's better to stick to products that can confidently advertise a gluten-free label.
Is Trix Cereal Vegan?
On a surface level, Trix can be considered a vegan-friendly breakfast cereal. It does not contain any animal products or animal by-products, such as milk, butter, whey, or lactose in its ingredient list.
However, Trix does include some ingredients that many vegans would consider unethical to consume. For example, 'natural flavors' should always be treated with suspicion, as it could refer to either plant-derived or animal-derived additions.
Secondly, there is always a risk that sugary products may not be vegan, as sugar is sometimes processed alongside animal bone char.
Thirdly, the artificial colors present in Trix have been tested on animals in the past, and may still be.
Finally, vitamin D3 is a product of lanolin, which comes from sheepskin. Although D3 is only used minorly in the makeup of Trix, it is still an animal product, which may put some vegans off the cereal.
Is Trix Cereal Keto?
Trix is not keto-friendly for a variety of reasons. For one, the cereal is loaded with carbohydrates. A one-cup serving (32 grams) of Trix contains 27.4 grams of carbs, 26 grams of which are net carbs. This renders Trix unsuitable if you're following a keto diet, which encourages a limited carb intake of no more than 50 grams per day.
Trix also contains canola oil and several additives that are not appropriate for a keto diet, such as red #40 and blue #1.
Additionally, the sugars and high fructose corn syrup that appear on the Trix ingredient list can hamper your ability to reach ketosis by causing a blood sugar spike.
Is Trix Cereal High In Protein?
36 grams of Trix contains 1.6 grams of protein, which is average for a breakfast cereal with high sugar content. However, Trix should not be classed as a high protein source, considering the likes of Magic Spoon contains over 11 grams of protein in every 3/4 cup portion.
Is Trix Cereal High In Fiber?
Trix is very low in fiber, providing 1.4 grams per cup serving. This equates to just 6% of your Daily Value. To meet the daily fiber target of 25-38 grams per day, your breakfast should include a high dose of fiber. Despite containing such ingredients as rice flour, grain corn, and whole-grain corn, there simply isn't enough of each to create sufficient fiber.
Therefore, you cannot rely on Trix to provide you with adequate fiber for a healthy lifestyle.
Where You Buy Can Trix
You can buy Trix, alongside other General Mills products, at Walmart, Kroger, and many other supermarkets across the country. Trix can also be bought online on Amazon.
Famous Trix Cereal Commercials
Since 1955, the cereal has been promoted by the Trix Rabbit. Originally a puppet, the animated Trix Rabbit has made an appearance in nearly every Trix commercial that has been televised.
The plot of each commercial generally revolves around the Trix rabbit confessing how much he dislikes normal rabbit food, and how much he likes Trix. However, before he gets to taste the cereal, a child normally takes the box away, explaining to the Trix rabbit that 'Trix are for kids'.
A famous Trix commercial campaign in 1985 saw the Trix rabbit team up with Bugs Bunny.
User Reviews
Review Summary
0 out of 5 stars (based on 0 reviews)
Recent Reviews
There are no reviews yet. Be the first one to write one.
Submit a Review