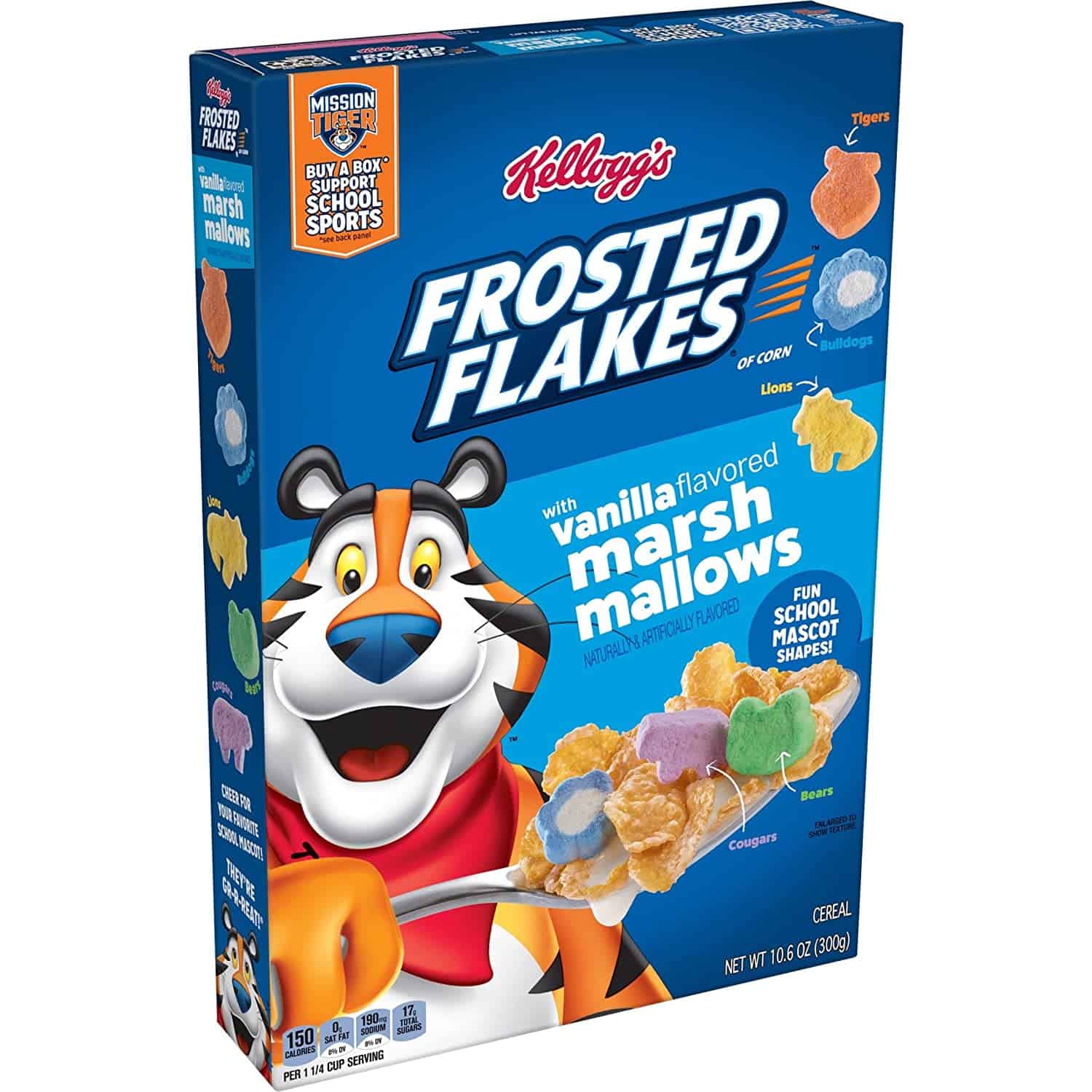 Something about the combination of cereal and marshmallow just works. The way the soft bite of the marshmallow offsets a crunchy sweet cereal has made this blend a hit at breakfast time for generations.
Lucky Charms, Count Chocula, Marshmallow Mateys, the list of tasty cereals sprinkled with soft marshmallows goes on, so it's a surprise that it took Kellogg's so long to add marshmallows to their classic frosted flakes recipe. But it's here now, and the combination of the sweet malt flavor of Kellogg's Frosted Flakes cereal and mini semi-crunchy marshmallows just works.
Unfortunately, this crispy frosted corn flakes special was just a limited-time release, so even though our taste buds can't get to grips with it anymore, let's have a look inside the box anyway.
Nutrition Facts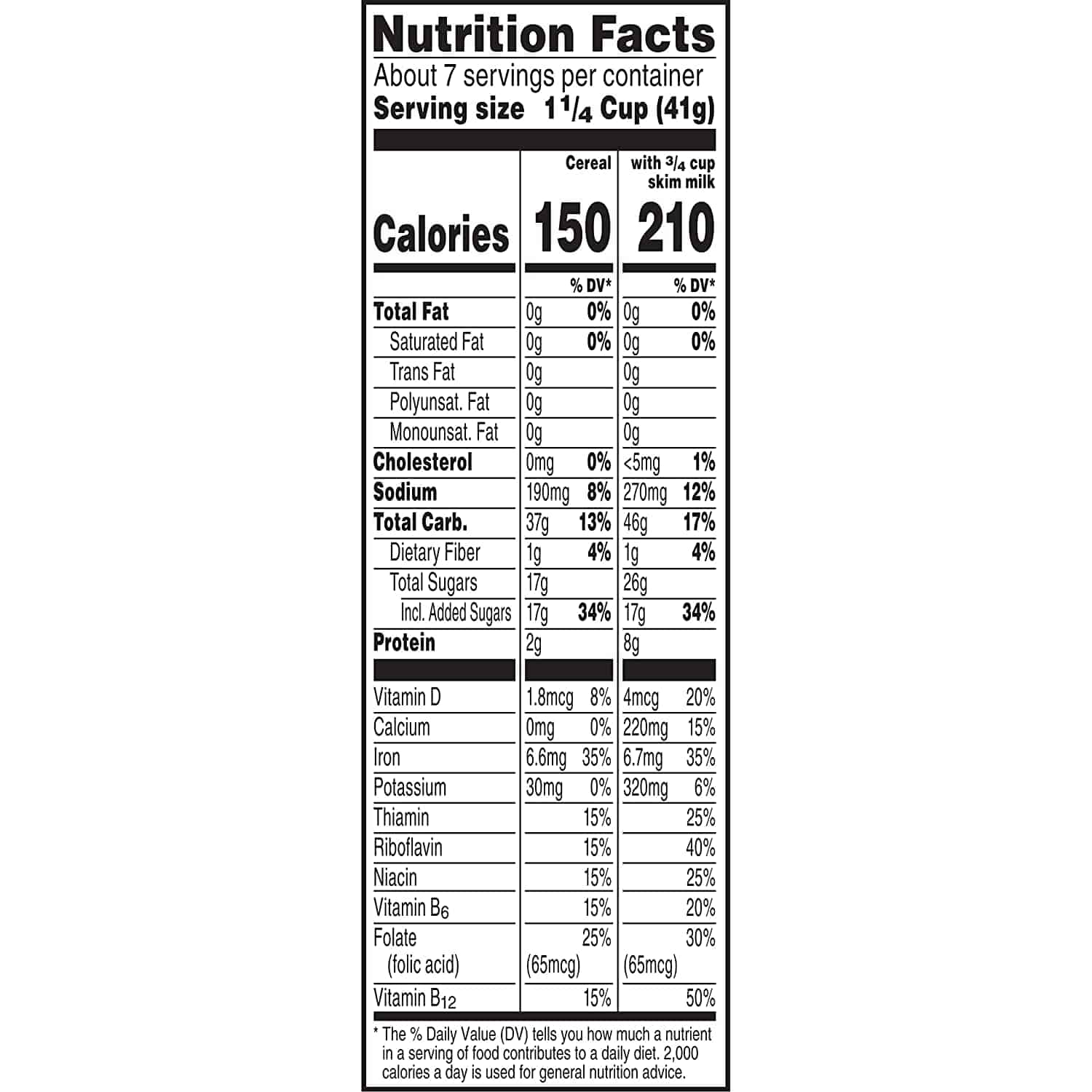 One 41g serving of Kellogg's Frosted Flakes with Marshmallows contains:
Calories 150
Total Fat 0 g
Saturated Fat 0g
Trans Fat 0g
Polyunsaturated Fat 0 g
Monounsaturated Fat 0g
Cholesterol 0 mg
Sodium 210 mg/9% DV
Total Carbohydrate 36 g/13% DV
Dietary Fiber <1 g/4% DV
Total Sugars 13 g
Includes 13g Added Sugars/26% DV
Protein 2 g
Vitamin D 1.7 mcg/8% DV
Calcium 0 mg/0% DV
Iron 6.1 mg/30% DV
Potassium40 mg/0% DV
Thiamin 15%
Riboflavin 15%
Niacin 15%
Vitamin B6 15%
Folate (60 mcg Folic Acid) 100 mcg/25% DV
Vitamin B12 15%
Ingredients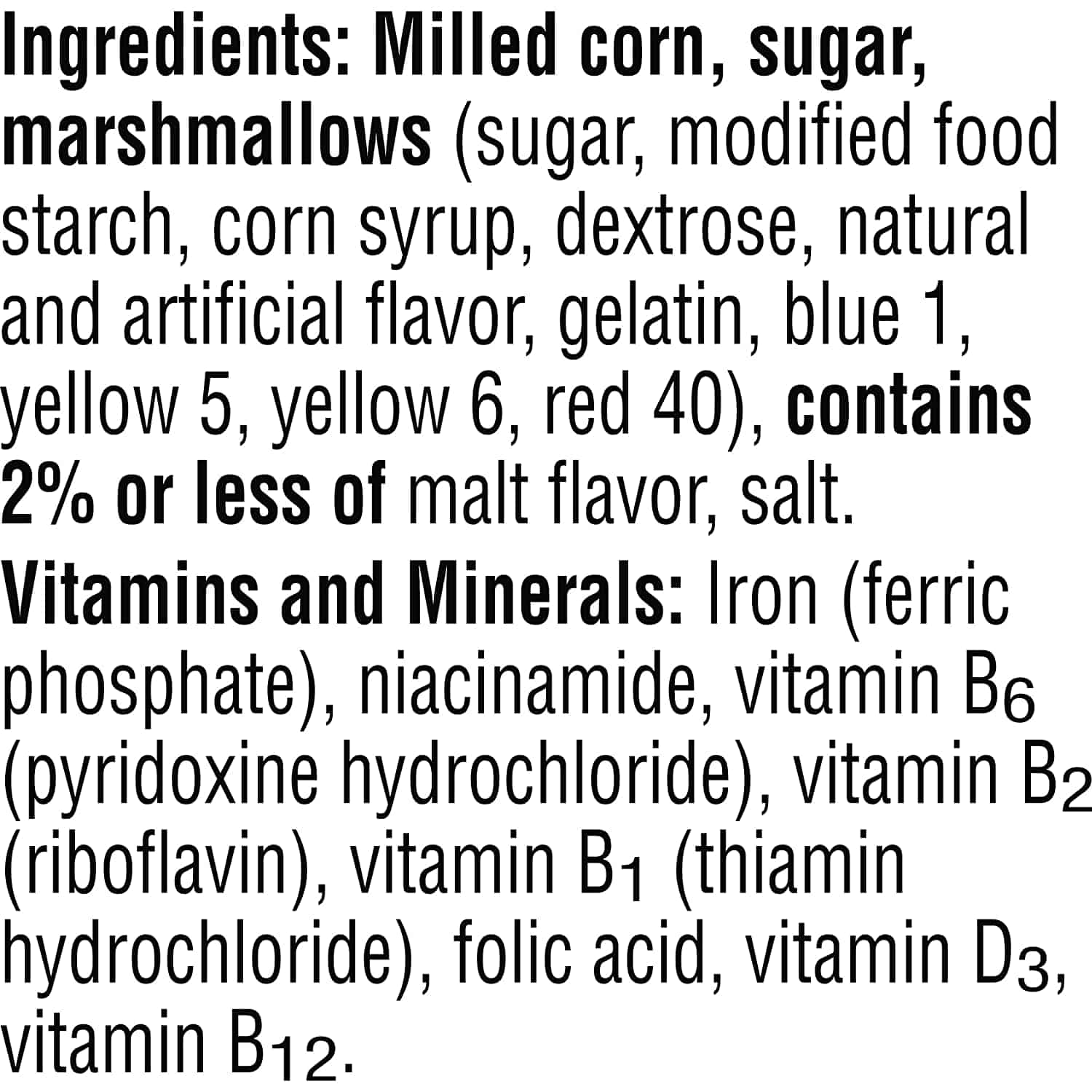 Milled corn
Sugar
Marshmallows (sugar, corn syrup, dextrose, gelatin, natural flavor, yellow 6, red 40, blue 1)
Malt flavor
Contains 2% or less of modified food starch
Salt
Natural flavor
Vitamins and Minerals:
Iron (ferric phosphate)
Niacinamide
Vitamin B6 (pyridoxine hydrochloride)
Vitamin B2 (riboflavin)
Vitamin B1 (thiamin hydrochloride)
Folic acid
Vitamin D3
Vitamin B12
Are Frosted Flakes With Marshmallows Healthy?
Kellogg's Frosted Flakes cereal with Marshmallow contains zero fat and cholesterol. If you're trying to maintain your cholesterol levels and reduce fat intake, this could be a good option.
They're also a good source of 7 vitamins and minerals, including Vitamin D.
The marshmallows also contain three artificial colors, which have been linked to hyperactivity in children.
It has a high carbohydrate content of 36g, meaning all but 5 grams of this cereal is carbohydrate. Then when we see that there are also 150 calories in a serving, we can understand that this cereal is not designed to give lasting energy and should not be relied on to fuel us until lunchtime at the start of the day.
When we're buying Kellogg's frosted flakes cereal with marshmallows, we're probably doing it for the great taste and not the health benefits. These corn flakes are designed to be a super yummy treat for the whole family and not a superfood!
Are Frosted Flakes With Marshmallows Gluten-Free?
The malt flavor used to create the sweet frosting of this breakfast cereal is made with barley, a gluten-containing grain, so it is unfortunately not compatible with those following a gluten-free diet.
Are Frosted Flakes With Marshmallows Vegan?
Frosted Flakes themselves are safe for vegan consumption; however, with the addition of marshmallows, this cereal is not suitable for an ethical diet.
Listed among the ingredients for the marshmallows is gelatin, a binding agent obtained from the bones of cattle. Sorry, vegans!
Are Frosted Flakes With Marshmallows Keto?
For a keto or ketogenic diet to be effective, sugar intake must be dramatically lowered so that replacing carbohydrates with fat as the body's main energy source. This creates a ketosis state where the body uses fat to manufacture ketones, a long-lasting alternative energy source.
Unfortunately, the 36g carbohydrate values in this tasty snack are much too high to allow the body to reach ketosis; 20 g is the maximum suggested amount over a 24-hou24 hours
The fat content is also much too low to offer your body any fuel to create ketones. Because of these reasons, this cereal is incompatible with following a keto diet.
Are Frosted Flakes With Marshmallows High In Protein?
Frosted Flakes with Marshmallows contains only 2g of protein in a 41g serving, so it is very low in protein.
Are Frosted Flakes With Marshmallows High In Fiber?
For food to qualify as high fiber, the FDA states that it should contain 5g of fiber per serving. This frosted corn flakes cereal with marshmallows contains less than a gram of soluble fiber, so it doesn't come close to this qualification.
Frosted Flakes With Marshmallows Varieties
Shortly after the release of this deliciously crafted cereal, Kellogg's released two slight variations on the frosted flakes cereal with marshmallows format:
Chocolate Frosted Flakes with Spooky Marshmallows – If you're a Frosted Flakes fan, you'll be kicking yourself if you missed this limited edition Halloween special. Here, Kellogg's combined crispy marshmallows with chocolate-flavored frosted flakes, creating a combination that sounds too good be to true.
Frosted Flakes with Vanilla Marshmallows – Here, we're talking pretty much the same classically crunchy taste as the original Frosted Flakes with marshmallows but with a hint of vanilla flavor in those mini marshmallows. It also came with good doses of 7 essential daily vitamins and minerals.
Frosted Flakes With Marshmallows Store Brand Alternatives
The combination of any sort of cereal and mini marshmallows is so popular that every grocery store will have its own store brand to take on this treat for the entire family.
Where You Can Buy Frosted Flakes With Marshmallows?
Unfortunately, every variation of Frosted Flakes with Marshmallows has been a limited run and is no longer available for purchase.
Famous Frosted Flakes With Marshmallows Commercials
Kellogg's did not release a television commercial for this limited cereal, relying instead on the enthusiastic word of mouth they expected to spread the popularity of this one-time delicious golden corn cereal.
User Reviews
Review Summary
0.0 out of 5 stars (based on 0 reviews)
Recent Reviews
There are no reviews yet. Be the first one to write one.
Submit a Review